We independently source all of the awesome products and experiences that we feature on Thrillist. If you buy or book from the links on our site, we may receive an affiliate commission — which in turn supports our work.
Scorpios are known for their mysterious and secretive energy. So when it came time to figure out what kind of vacation homes they'd most appreciate, we had to bring in the experts. Enter Stephanie Whaley, founder and CEO of Oromoon, an astrologically-informed dating app for those who believe in "Love at First Sign."
To understand what a Scorpio (October 23–November 21) wants in a getaway, we first must understand who Scorpios are. According to Whaley, they are passionate explorers of the taboo, intense and observant souls with high emotional IQs, and incredibly curious people with an obsession to uncover the truth. They also love to hide, which makes Whaley suggest moody cabins in the woods or any rentals with secret nooks or hidden staircases. "They would be over the moon for that," she says. (Spoiler alert: There are two castles on this list, because that's precisely where you head for secret passageways.)
As for their ideal travel companions? "Scorpios love to be alone," Whaley says. "Being tucked away somewhere would be perfect." They are much more interested in staying in a rental that lets them be independent and quiet, rather than raging at a huge house party. If they do take a trip with friends, it tends to be a bonding experience with a few people they deeply care about.
Whether you are an enigmatic Scorpio yourself, are planning a getaway with one, or just feel like leaning into Scorpio season, these nine vacation rentals are sure to both inspire creativity and provide some much-needed downtime.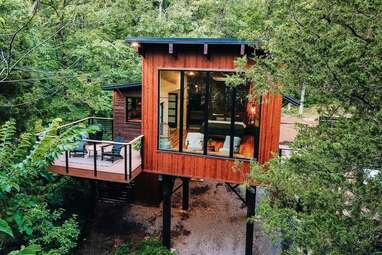 Airbnb
2 guests/$268 per night

For those who appreciate luxurious touches but also want to stay somewhere off the beaten path, this "TreeLoft'' is the perfect way to, ahem, branch out a little. Situated on a 120-acre farm, the custom-built home is nestled in the woods for maximum privacy, allowing guests to thoroughly enjoy every detail: the modern gas fireplace, skylight above the king-sized bed, rain shower for two, soaking tub and plush robes, hot tub next to towering trees, a separate deck for grilling, and a fire pit below.

What guests say: "Our experience at the tree loft was incredible. The attention to detail in the layout and decor of the space was impeccable. Cozy robes, a s'mores kit, books & board games, and a record player are just a few of the nice touches that made us feel at home. We enjoyed evenings in the hot tub and mornings on the coffee deck. Love that there is no cell service. It was so nice to unplug for the weekend!"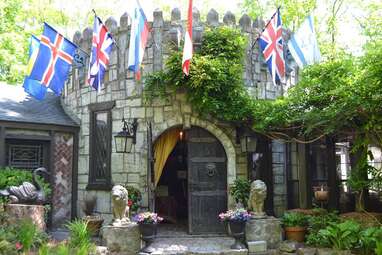 Williamswood Castle
6 guests/$503 per night

Though a replica of a medieval Scottish hunting lodge may seem a little cheesy at first glance, there are many things a Scorpio will appreciate about the Williamswood Castle—namely that it is surrounded by a 300-acre forested nature preserve and sits on 500 feet of riverfront (with a multi-level balcony that overlooks it). But it's the secret staircase hidden behind a bookshelf that will really delight, as well as the fact that guests don't even have to leave the house to go to the Black Dog Pub, a private bar inside of the home perfect for enjoying a proper pint.

What guests say: "Hands down one of the most unique Airbnb's I've ever stayed in. It has all the basic amenities of modern life but still somehow transports you back to medieval times. Lots of weird quirks to find all throughout the house in art, decorations, secret passageways, dungeons, and leftover clues from an old scavenger hunt."
Airbnb
8 guests/$306 per night

Scorpios are interested in the taboo and are also very connected to spirits, which is why they'll appreciate a getaway to New Orleans—especially if there's a ghost tour on the itinerary. "They're very connected to spirits, and they won't be afraid of it; they'll enjoy it," Whaley says. They'll also appreciate this historic but newly renovated condo, with a balcony overlooking Bourbon Street (the end though, so it's not too noisy), 14-foot ceilings, a dramatic five-foot French chandelier, original 1830s brick fireplace, and a courtyard for afternoon cocktails.

What guests say: "I can't imagine experiencing New Orleans any other way! The condo was beautifully decorated, and the location was unbeatable! It was like staying in a museum. Sitting on the balcony at night with a cool glass of wine watching the horse-drawn carriages go by was magical! Love this city and everything is easily within a 10-15 minute walk from this condo."
Airbnb
4 guests/$161 per night

The listing for the Roundabout Cabin says it sleeps four, but the open concept of the winding rooms (the bathroom and shower are open to the bedroom, which has no door) feels better suited for a couple. Sitting on four acres along a creek, this cabin has walls of windows that let the outside in, plus outdoor patios for chilling and cocktail-enjoying, a stone fireplace, a shower that almost every reviewer raves about, paths to wander, a platform overlooking the creek, and two fire pits. It's also close to downtown Portsmouth for those who prefer to dine out.

What guests say: "The roundabout cabin was the perfect getaway, especially during winter! Everything we could need was provided, and we fell in love with the kitchen and view it provided. The shower is unlike anything we've experienced and was so cool. This cabin truly is a delight. From the spacious bedroom to the bottom room with a fireplace, we cannot wait to come back! Please do yourselves a favor and book a stay here!"
Airbnb
4 guests/$221 per night

Spend the night in a 40-foot tower modeled after Fire Lookout Towers built by the US Forest Service in the early 1900s. The tower sits in a 40-acre meadow surrounded by the Umpqua National Forest in Douglas County, Oregon, and has all of the modern comforts one could need—plus views, views, and more views. Though there's tons to see and do nearby, the property has so many activities that there's really no need to leave: Take a nap in the hammocks down the hill, soak in a secluded wood-fired, spring-fed hot tub, take a hot shower outside on the deck in front of the entire world (and also no one at all), sit around the firepit and make s'mores, stargaze on the deck, or just wander the land and see what you discover.

What guests say: "The lookout tower was beyond our wildest dreams. We spent hours just staring out at the view while enjoying conversation and wine. We made amazing meals in the kitchen. We read books at the hammock lookout, explored and picnicked on the property, and enjoyed the vast emptiness of the woods.

Time slows down when you're in the prairie. We found so much peace sitting on the deck, listening to the birds and frogs, and watching the horizon change. We'll never forget soaking in the hot tub while the sun sets and the sky turns into a starry night of constellations. Thank you, Dabney and Alan, for creating this magical place. It changed us for the better. We definitely want to come back."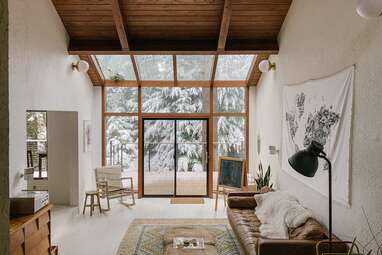 Airbnb
7 guests/$417 per night

Just because you're staying in the middle of the woods doesn't mean your experience has to be "rustic." In fact, this mid-century modern, Scandinavian-inspired home is anything but. Inside, you'll find vaulted ceilings, floor-to-ceiling windows, zero clutter, a massive two-story stone fireplace, and a hanging chair perfect for reading or just staring out the window. Outside, you'll find a home that blends in perfectly with its surroundings in the middle of an old-growth forest with a trickling creek, a deck with a hot tub, and a "backyard" full of trails. Oh, and Mt. Hood is just 30 minutes away, in case skiing or snowboarding is of interest.

What guests say: "Wow! What an amazing home. I could curl up on the couch, outside on the beautiful patio, or in the hot tub with a good book for hours. The home is everything the pictures portray and more. They thought of all the details, from lots of kitchen extras to multiple ways to play music in the home. I definitely recommend a stay here if you get the chance."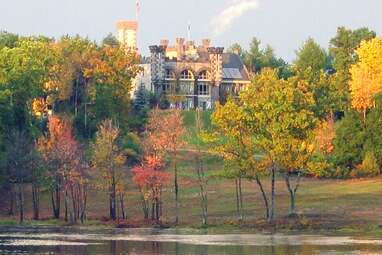 Vrbo
22 guests/$1,700 per night

A typical Scorpio probably isn't looking to vacation with 21 friends, but this would be a great spot for one to go with a smaller group—especially since there are plenty of hiding spots for when they want to be left alone with their thoughts. It's easy to sneak away in an 11,000-square-foot castle with secret doorways throughout, including hidden passages that lead to the rooftop spires. (Those will appeal to the lighter side of what Whaley describes as Scorpio's "tenacity to discover hidden truths.") When they want to escape to the outdoors, there's a huge property with plenty of hiking trails and a lake with boats. And for those rare times when socializing is on the table, there's a game room with a full mahogany bar, ping pong table, foosball table, pool table, card table, and dartboard. They can also choose to soak in the outdoor hot tub, enjoy drinks around the fire pit, or play a round of disc golf.

What guests say: "We played a few rounds of disc golf, grilled tons of food, roamed the castle like kings, and hung out outside by the beach and had a blast. This place is magical, and I couldn't recommend it more to anyone who is even considering staying...do it. There are hidden passageways, hallways, hideaways, and the details throughout the property keep popping up everywhere. Thank you to the hunts for building this place so my friends and I can carry this moment in our minds forever. Simply, WOW."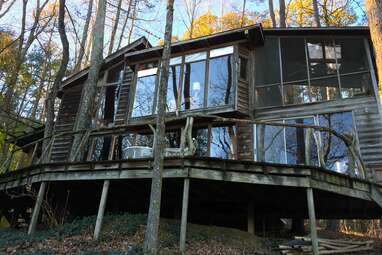 Airbnb
5 guests/$225 per night
This hand-built treehouse, surrounded by forests with secluded waterfalls and swimming holes, offers lots of privacy. That will definitely please any Scorpio, as will the huge glass windows that look out over the trees. And what Scorpio wouldn't appreciate a "provocative art collection, centuries of antiques, and eclectic collection of recorded music"? Though the home is completely safe, they will also find joy in the precarious moments throughout, like the steep staircase to get to the house, the "nest" (i.e. deck) that overlooks the forest, and maybe even the knowledge that the land has venomous snakes and—wait for it—scorpions.

What guests say: "The scenery and waterfalls are magical and worth the effort to see, just hug the river and you can find most stuff easily. Finally, the house itself is very eclectic and loaded with art, music, books, board games, and more. Huge collection of records, so there is something for everyone. The art might not be for everyone, but if you can handle avant-garde and light adult-themed expressions, you will appreciate it."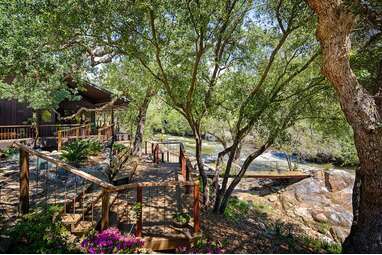 Vrbo
8 guests/$892 per night
Close to Sequoia National Park, Mineral King, and Kings Canyon, this modern and tranquil home sits right on the Kaweah River near a small waterfall and oak trees. Though this home is an ideal basecamp for anyone who is looking for adventure, it's also an idyllic place to just kick back and chill for a couple of days. Hang out on the beach by the river, sit on the back porch swing with a book, enjoy dinner outside under the twinkle lights, or gather around the fire pit for s'mores and cocktails—even if you're not actively trying to relax, you really won't have a choice.

What guests say: "We were stunned by the natural beauty of the location of Chris's house. It was so beautiful that we remarked on it randomly throughout our stay. The house is even more lovely than the photos. Every bedroom had its own charm. The decks created gathering places to enjoy socializing, playing cards, and soaking in the beauty. The spot on the river is so special; we could see why people had been drawn to it for centuries. The little details like sharp knives in the kitchen, a truly well-stocked kitchen for cooking every single meal while we were there, great towels, comfortable furniture, and a spotless house made our stay so perfect that we booked to return next year on our drive out. Although we were just a few minutes drive to the National Park, we had to force ourselves to leave to go for a visit."
Daisy Barringer is a freelance writer and a Taurus with an oldest brother who is a Scorpio, so she knows firsthand that Taurus and Scorpio are the two most stubborn signs in the Zodiac. Follow her on Twitter
@daisy
to see for yourself.