We independently source all of the awesome products and experiences that we feature on Thrillist. If you buy or book from the links on our site, we may receive an affiliate commission — which in turn supports our work.
There are a lot of reasons to hit the road solo these days. You get to go and eat wherever and whatever you want. You don't have to talk if you don't want to (more time for reading). You can stay up late or sleep through the morning completely guilt-free. You're more likely to meet new people. You'll get out of your comfort zone. You can listen to and sing along with whatever music you want. And you'll avoid all the regret that comes with putting off an adventure just because you're waiting for an exploring partner.
Whether you want to escape from it all, discover a new town or city, find solitude for reflecting, hammock-swinging, and cocktail-making, or just aren't in the mood to coordinate travel plans with other people, these 10 Airbnbs prove why you shouldn't put off your solo expedition for even one more day.
Airbnb
2 guests/$145 per night
If you're one of those people who tells yourself you really want to escape from it all but has difficulty not checking Twitter or email, this secluded log cabin in the Green Mountains will hold you accountable. That's 'cause it's completely off the grid. That means no electricity (though there are battery-powered lights, an outdoor solar-heated shower, and a wood cookstove). And no WiFi (meaning no apps of any kind, especially those involving swiping). Pack light (or be in good shape) because you'll have to carry your luggage, food, and alcohol from the driveway (about a 10-minute hike). Entertain yourself by going on hikes with panoramic views, kayaking, fishing, mountain biking, taking a dip in the nearby swimming hole, roasting marshmallows over the campfire, or sitting in the rocking chair and reading a book. However, if (when?) all of the alone time starts to feel like a bit much, you can also drive 30 minutes to Burlington for a refresher on why you wanted to escape in the first place.
What guests say: "The sun begins to rise and songbirds ease you into awakening. Coffee in the French press, pack up the day pack and off on a hike, bike ride, trip to Burlington, swimming holes, or wherever the wind takes you. Afterward, the trek up to the cabin feels just a little longer on tired legs, so a refreshing outdoor shower is just the ticket. Put a few logs on for a fire, play some cards, strum on the guitar, or just take in the sights and sounds that nature has to offer. If the season is right, enjoy a few raspberries or blackberries. The sunset paints the sky and forest in gold, so use the last of the daylight, and fall asleep to the wind in the trees and the sounds of wildlife."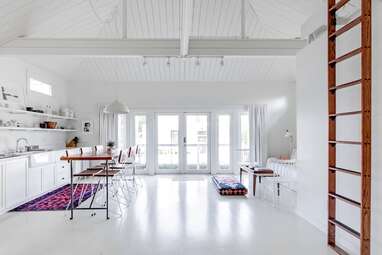 Airbnb
4 guests/$137 per night
Honky-tonk bars with live music, the Grand Ole Opry, Country Music Hall of Fame, the Johnny Cash Museum, estate tours, distilleries, great food, and so many bachelorette parties—there's plenty to do in Nashville, and this charming (very, very, very white) 1928 studio guesthouse with a loft bed is the perfect pied-à-terre to rest your weary head after an adventure-filled day. Need some R&R before you head back out on the town? Guests have access to the outdoor area with a swimming pool, chaise lounges, and a firepit.
What guests say: "The space is clean, well decorated, and very functional, with lots of thoughtful extra touches to make our stay extra comfortable. The neighborhood is absolutely adorable and within walking distance of many great bars and restaurants. We would stay here again in a heartbeat!"
Airbnb
Santa Barbara, California
2 guests/$302 per night
If you need to disappear for a few days, you can do so almost literally with a stay at this mirrored glass cottage that reflects the giant sycamores and native oaks that surround it so as to almost camouflage it. The cottage sits near another nearby (but they face away from each other), and they both share the outside kitchen, lounge area, outdoor shower, redwood bathhouse, pool, hot tub, hammocks, and trampoline. (You can rent the two together if you want complete privacy or just the one if you think having company on occasion may be fun.) And though you really will feel like you're in the middle of nowhere, you'll only be five minutes from a trailhead that leads to the ocean and 10 minutes from all of the restaurants, tasting rooms, and shopping in downtown Santa Barbara.
What guests say: "What a magical space to be in! Jennifer was communicative, and the logistics of the stay were seamless. As for the glass home and surrounding amenities... words cannot describe how beautiful it was to wake up amongst the trees and chirping birds to sit in the hammock and use the swings on the land. The bed itself was deliciously comfy too! Such an explorative space to connect with the earth and be drawn into the grounding powers of mindfulness."
Airbnb
4 guests/$143 per night
This adobe home in Taos, New Mexico, was originally the dance studio of renowned flamenco artist Maria Benitez. Today, it's a semi-rustic, romantic getaway in a private park-like setting perfect for a true escape from real life, especially for those who appreciate a touch (okay, a lot) of Bohemian flair. In this case, it comes in the form of exposed log ceiling beams, woven art on the walls, shabby chic design elements, and an indoor hammock for maximum afternoon napping. The studio is close to downtown Taos where you'll find restaurants, art galleries, and live music, and is also close to lots of hiking trails. When you get home at night, you can watch Netflix or cable TV and, according to the reviews, sleep in one of the most comfortable king beds in all of the land.
What guests say: "Guys. This spot was unreal. The space is even more beautiful in person, and the location is so peaceful. Bed was super comfy, and the thoughtful decor just lends to a really relaxing space. We especially loved all of Justin and Katya's restaurant recommendations and the hiking! If you can book a stay here, I'd highly recommend it. The cutest Airbnb I've ever stayed in, hands down."
Airbnb
2 guests/$84 per night
This "glamping" yurt is perfect for a traveler who wants to keep it low-key but also likes meeting other people while sharing a communal space since there are a couple of vintage campers nearby, and you'll all share the communal fire pit. Don't worry though: you'll still have plenty of privacy and an outdoor shower and outhouse all to yourself. And, when you feel like getting out and exploring, downtown Austin is just a couple of miles away.
What guests say: "For those who haven't experienced glamping before, this is the ideal intro. The Yurt will have everything you need while offering the campy experience at the same time. It was beautiful and we did not want to leave one bit. Outdoor shower was spot on, with everything you need to feel comfortable. Afraid it will be too hot? Don't fret; in the blistering heat of August, the AC kept the space nice and chilly for us throughout our stay."
Airbnb
2 guests/$350 per night
You'll never get bored traveling solo in NYC, and that's doubly so if you book a stay at this eclectic loft in a historic brownstone near Gramercy Park. The loft is ornate (to say the least—or rather: the most), so if you're a minimalist, it will be way too hectic for you. But if you appreciate details like exposed brick walls and wood beams, ornate rugs and decor, a four-post bed, an antique secretary desk for catching up on your correspondence, an extra-deep clawfoot tub in the middle of the bedroom next to a roaring fireplace, then you'll be in heaven.
What guests say: "My childhood dream was to spend the night in the Metropolitan Museum of Art. Staying at Clara's is probably the closest I'll ever get. The studio is full of interesting art, sculpture, and textiles. From our first communication until the day we left, Clara was a fantastic host -- attentive, hospitable, and altogether charming. She supplied the apartment with lovely linens, towels, soaps, and all manner of snacks and treats. Location is convenient to subway and bus, easy to take in many parts of the city."
Airbnb
2 guests/$239 per night
Part hobbit house, part Flinstone home, part igloo (except made of stone instead of snow), this cottage is comprised of two interconnected domes that look like they're from another land and time but have legit modern amenities, like heated bathroom floors, WiFi, a "thermostatically controlled propane-fueled" wood stove, and a garden patio with a gas grill. The Battenkill River is a hop, skip, and a jump away for swimming, fishing, and kayaking; there's plenty of nearby hiking (but the Appalachian Trail is just a 30-minute drive), and even though it feels completely remote, the bars and restaurants of Arlington are only 10 minutes by car.
What guests say: "There is so much positive to comment on, but to sum it up: if you are looking for a place to get some space from the business of your life, heal, process, and/or connect with a loved one - this is it. The detailed beauty and care put into the dome is unlike anything I have ever seen. It feels like you are a part of nature without the actual camping aspect. Every corner and place you look is something to sit with and take in for a while. And it doesn't just end with the inside of the dome - the entire property is magical. I felt like I was inside of a fairy tale, given the nurturing and care to process and heal from my life."
Airbnb
2 guests/$182 per night
Set amid 72 acres in the Santa Cruz Mountains, you'll find this enchanted dwelling that's straight out of every child's dreams. Or at least every child whose dreams involve a crazy treehouse in the middle of a redwood forest. (So, yeah—every child.) The tree house has tall ceilings (especially, you know, for a tree house). This oak spiral staircase leads to your cozy nest, where you'll spend the night after a day of hiking, reading (books provided) by the pond, and soaking in the clawfoot bathtub under the canopy of redwood branches. If you get a hankering for human interaction, you'll easily find it at the nearby wineries and restaurants.
What guests say: "The Magical Treehouse did not disappoint! Pictures don't do this place justice. It exceeded all of our expectations. A quiet, serene location filled with wildlife; it's the perfect getaway from a busy life. The outdoor tub with endless hot water was also a treat. The treehouse itself is whimsical and fun with the modern convenience of a real toilet and sink- no small thing."
Airbnb
2 guests/$325 per night
There once was a man from Nantucket / who had an old boat and said, "**** it "I'll make it cheap / for people to sleep / If they don't like it, then they can suck it!" That is definitely not a limerick the person who owns this 36-foot skiff wrote, but we wish he had, especially because no one who loves a boat would have to suck it because they'll obviously love this 1953 Hinckley docked on a private mooring where one can swim, chill on the deck, and take in the sunset with a cold beer in hand. When the boat starts a-rockin' and no one comes a-knockin,' head to town on a boat taxi to explore the island.
What guests say: "Our stay on the Roshika was incredible. We were right in the heart of all island happenings, but had all the privacy in the world. We went for daily swims, caught fish off the side, and lounged around on the deck drinking champagne."
Airbnb
4 guests/$182 per night
All aboard (okay, so maybe just you) this renovated World War II train car that was once a troop kitchen car for the U.S. Military and is now a relaxing getaway that sits at the foot of the Smoky Mountains. The converted train car has been very much updated with an open-plan layout (for, like, a train car anyway), plank wood floors, and modern furnishings. Outside you'll enjoy the gazebo, firepit, grill, and possibly new friends in the form of the many dogs who live on the property or the people staying in the two-bedroom aircraft hangar loft space or the Dolly Parton Fantasy Camper (the final piece of the owner's "Planes, Trains, and Automobiles" B&B dream).
What guests say: "What a fun and unique stay! This place is not too far from town but tucked away enough that it feels extremely private. A lot of thought and care have been put into everything on the property. Everything you could possibly need to make your stay enjoyable for a very extended time. There are plenty of spots inside and out to enjoy the view, and the lovely bathtub was my favorite way to wind down for the night. Highly recommend making a short drive out to Look Rock to enjoy the sunset!"
Daisy Barringer is a freelance writer who, as a child, dreamed of living in a boxcar, a garret, any museum willing to host her, a farm in Prydain, and with the Ewoks. Today she just lives in an apartment in San Francisco. But it's rent-controlled, so she's never leaving, not even for a boxcar with a garret located on a farm in Prydain. Follow her on Instagram
@daisysf
.