Airbnb
Airbnb
We independently source all of the awesome products and experiences that we feature on Thrillist. If you buy or book from the links on our site, we may receive an affiliate commission — which in turn supports our work.
Let us guess: You probably don't see too many stars from your apartment window. With more and more city skyscrapers going up every day (plus increasing light pollution), it can be difficult to appreciate—or even see!—the night sky in all of its remarkable detail.
Luckily, there are countless locations all over the United States primed for stargazing—and dedicating an entire trip to admiring the constellations is good for the soul. Of course, there are some things to consider if you're seeking this memorable experience. Valerie Stimac, author of Lonely Planet's Dark Skies: A Practical Guide to Astrotourism, says that in addition to limited light pollution, ideal stargazing locations "offer an unobstructed view of the night sky."
Then there's the matter of the house itself. "The best dark sky homes have designed exterior lighting to make stargazing easier—hooded lights that point only at the ground, and may even only be motion-activated (so they turn off after you settle in for stargazing)," she adds.
To help you plan this incredible stargazing journey, we've tracked down 18 easily bookable Airbnbs around the country that will ensure you'll get an exceptional view of the celestial world after dark from down here on little ol' Earth.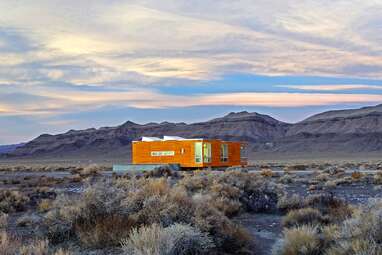 Airbnb
6 guests/$529 per night
Death Valley is the largest Dark Sky National Park in the U.S., but you may want to forego camping if you're visiting in the summer (temperatues can hit over 100 degrees even after the sun sets). Luckily, there are plenty of Airbnbs nearby, including this modern design home sitting on 80 acres of desert land. That means there's not a drop of light pollution to be found, so go ahead and enjoy those starry views from the huge bedroom windows, skylights, or hot tub.
What guests say: "Beautiful place in the middle of nowhere, must be seen to be believed. Truly one of the coolest Airbnbs I've ever stayed at."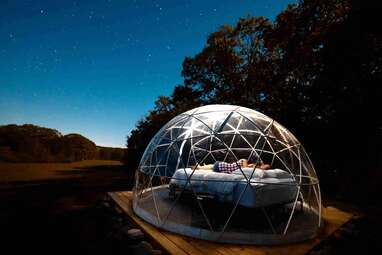 Airbnb
2 guests/$164 per night
If you're looking to connect with nature, this upscale camping experience is for you. Nestled in an open field in Jefferson, Maine, this dome offers you 360-degree views of your surroundings as you fall asleep. Use the telescope (available to rent) to get a closer look at the Maine countryside and breathtaking night sky. Amenities include fire pits, solar power, and outdoor chairs and umbrellas.
What guests say: "Sleeping under the stars in a ComfyDome was an experience like no other. Seth was an amazing host and went above and beyond to make sure we were comfortable. Would highly recommend this spot for a weekend getaway."
Airbnb
4 guests/$182 per night
This lookout tower in the middle of an open meadow was built in 2009 and modeled after a old-school fire towers erected in the early 1900s by the US Forest Service. However, it's stocked with plenty of cozy amenities (including a wood-fired hot tub) that'll make your off-the-grid stay very comfortable. And beyond the epic daytime view from up top of the surrounds (and the wildlife below), at night you have a front row seat for some serious stargazing, either indoors through the windows or on the wraparound deck. Just note that this home goes fast on Airbnb: They are already booked through the 2022 season, so start planning now for 2023!
What guests say: "The views here alone are worth the trip. Sunsets, sunrise, the vast forest greeting you in the morning—it's tranquility personified. And don't even get me started about the stars at night (we were lucky enough to see the NEOWISE comet)."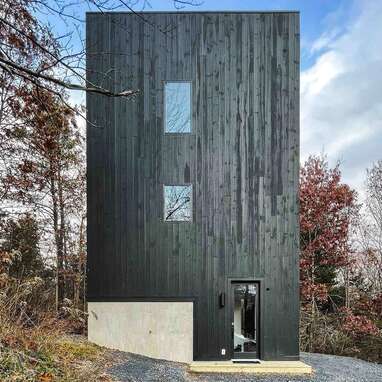 Airbnb
4 guests/$400 per night
This three-story home has everything you need for a relaxing weekend getaway, including deep soaking tubs, a fully-loaded kitchen, and a fire pit with Adirondack chairs. But the real draw here is the 400-square-foot roof deck overlooking the Hudson Valley and mountains. We can't think of a better place to enjoy some morning coffee or do a little stargazing come nighttime (the hosts even provide a telescope). The rooftop is closed during the winter, but you can still get incredible views from the massive living room windows.
What guests say: "This is one of the best and the most of memorable Airbnb experiences we've had! The moment we walked in, we were transformed to a completely different state of mind—calm and peaceful. The view from each window is like a framed piece of art and the rooftop was just breathtaking."
Airbnb
2 guests/$145 per night
This new 24-foot RV is located on 50 private acres of desert real estate, with several of Big Bend National Park's trailheads less than ten minutes away. You can also find 20+ miles of dirt roads crossing the property (perfect for mountain biking), plus a covered patio to watch the sunset and do some stargazing. The interior of the trailer features a murphy bed, kitchen with stove and refrigerator, and bathroom with shower.
What guests say: "It is a special place to stay in Big Bend...close to everything but feels remote and wild. Lots of birds and bunnies. And stars! The camper was well equiped and Kerri was very welcoming and helpful."
Airbnb
2 guests/$295 per night
Don't think for a second that stargazing is limited to Midwestern national parks and remote deserts. In Volcano, located on Hawaii's Big Island, this bamboo treehouse sees stars every night—and you can join in on the fun. Climb up the 14-foot-tall spiral staircase to get to this rental's main digs, where you'll find a living area and spacious queen-sized bed. Come nightfall, simply step outside to see the sky shining brightly through a break in the trees.
What guests say: "We could not have had a better experience. It was so special, so unique, and such a cool way to experience the Big Island. If you see an opening BOOK IMMEDIATELY!!"
airbnb
2 guests/$113 per night
Pack your telescope and head to this dreamy Monticello stay, where you can enjoy the stars from the comfort of bed, or visit a nearby International Dark Sky Association-certified location. (Utah is known for its many, many stargazing locations, including the nearby Capitol Reef National Park and Goblin Valley State Park.) In addition to its top-notch positioning, this quaint Airbnb offers string lights and board games to help you further unplug.
What guests say: "A perfect spot to unwind, see some fantastic stars, and still have tons of comforts. I would recommend their tents to anyone looking for a special experience! Loved every minute."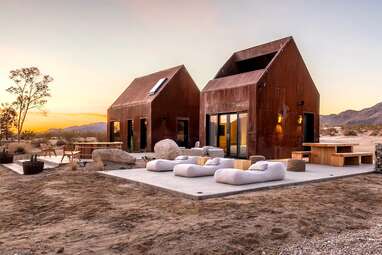 Airbnb
Twentynine Palms, California
8 guests/$723 per night
When we say this property is made for stargazing, we mean that literally—the architect designed every inch of the space around seeing the night sky, from the huge windows and skylights to the open-air bedroom. There are even plenty of outdoor spaces with sun loungers, a fire pit, and a hot tub for completely unobstructed views.
What guests say: "What a magical place—so thoughtfully constructed and designed. The roofless bedroom is unforgettable."
Airbnb
6 guests/$232 per night
Alaska is a must on any stargazing bucket list. This remote cabin in Talkeetna (about 115 miles north of Anchorage) offers swimming and canoeing on its pond, plus hiking trails to check out the stars. Time it right, and you may even get to see the northern lights from the balcony.
What guests say: "Our family had a fantastic visit at Diane's cozy cabin! We especially loved exploring the nearby trails and seeing northern lights from right outside the cabin."
Airbnb
Coudersport, Pennsylvania
6 guests/$353 per night
Trade in a desert escape for this log cabin built alongside a peaceful stream in northern Pennsylvania. Not only does the home feature outdoor space galore (like a finished deck, balcony, and backyard), but it's suitable for six guests, making it perfect for a family vacay, bachelor party, or couples retreat. Now, let's talk about the stargazing opportunities. Since the home is located just minutes away from Cherry Springs State Park, the only certified International Dark Sky Park on the East Coast, you can expect to see the galaxy like never before.
What guests say: "We loved our stay! I surprised my girlfriend with a last-minute trip to see the stars and asked her to marry me on the cabin porch the first night. We had an amazing weekend and the cabin was identical to all the pictures and descriptions provided by Chris."
Airbnb
3 guests/$121 per night
Tucked away an hour outside Vegas, this tranquil hideaway is one of two tiny homes on a dude ranch where you'll be able to visit the horses and other animals during the day, catch a stunning sunset over the Mojave Desert at dusk, and be treated to a dazzling display of stars from the rooftop patio at night.
What guests say: "Such a cute tiny house—had all the amenities we needed for a quick weekend getaway. It was so nice to take in the cool desert nights and enjoy the fire under the stars."
Airbnb
4 guests/$195 per night
This unbelievable home was featured on CNBC's "Cash Pad," and you're about to understand why. Situated 6,500 feet high in the mountains, the modern home touts luxurious amenities in a rustic setting. Enjoy an outdoor gas grill and al fresco dining, modern kitchen appliances, and a washer/dryer to make your stay more comfortable. Of course, it wouldn't be "majestic" without the sprawling mountain and valley views, plus giant windows for stargazing in bed.
What guests say: "This place is an easy drive from Phoenix and it feels a million miles away! It feels like you can reach out and touch the stars. The sky is so clear and beautiful! With the wall of windows in the bedroom, you can stargaze the night away."