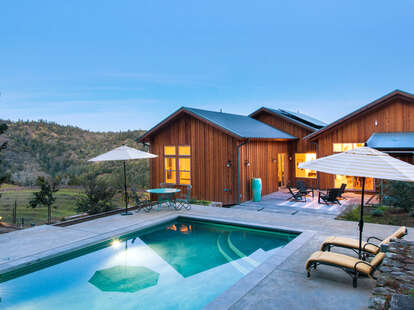 We independently source all of the awesome products and experiences that we feature on Thrillist. If you buy or book from the links on our site, we may receive an affiliate commission — which in turn supports our work.
Taurus season has arrived, and with it, the birthdays of all of the earth signs symbolized by the Bull. Since this particular time is all about indulging in sensual pleasures and surrounding ourselves with nature and beauty, it's really not a matter of if a Taurean should book a vacation, but rather where they should go. And what better way to decide a location than by letting astrology be the guide?
We reached out to Stephanie Whaley, expert astrologer and founder of the astrologically-informed dating app Oromoon, which uses your birth chart to find your cosmic connection, to get her thoughts on vacation rentals that Taureans (born between April 20 and May 20) would most enjoy on their next getaway. (Not looking to date, but interested in astrology? You can also join Oromoon's new Discord community, where you can ask any of your astrology-related questions or just vent about how frustrating it is when Mercury is in retrograde.)
"Taureans are sensual creatures who really appreciate the physical pleasures of life," Whaley says. "They work extremely hard for their dreams and goals, and once they have their eyes set on the prize, it's very difficult to deter them from the direction they want to go." (So make sure you have their input if you're in charge of planning the trip!)
"They represent the five senses and love the earthly pleasures in life," Whaley continues, which makes her think of "wining and dining" and maybe even a little gluttony. Taureans enjoy the aroma of a home-cooked meal, the taste of the fanciest Swiss chocolates, and the finest, softest linens—but they also enjoy being connected to nature. "They want to be pampered, but they also have a ruggedness to their approach, so having nature and fresh air nearby is crucial."
Taureans also aren't interested in a vacation that's all about partying—their idea of "playing hard" is more about enjoying a spa day and getting rest and repose. So when it comes to traveling companions, they're more likely to want a couples retreat or reunion with a small group of friends. "They just want to live a good life. If we can only emulate the Taurean energy, I think we would all live more happily," Whaley says.
Keeping all of that in mind (as well as strict instructions to avoid homes with lots of red, for obvious Bull-related reasons), here are nine Airbnbs where any Taurus baby can slow down and focus on life's simple pleasures on their next vacation.
Airbnb
10 guests/$2,215 per night
Ten guests might be a bigger crowd than the typical Taurean wants on a typical getaway—but since this home has 5,100 square feet of living space, including two primary bedrooms, an exception seems possible. The estate sits on a bluff on the coast of Maine and is full of luxurious details at every turn, including a chef's kitchen and spacious dining room (both with ocean views), overstuffed sofas in front of the fireplace, heated towel racks and bathroom floors, a deck with a built-in grill and lobster cooker, a fire pit, and 456 feet of private, rugged coastline. Maine's mild climate is also ideal for a Taurean since they appreciate a cool breeze over super hot weather.
What guests say: "This house is a game changer! We were 4 adults and 3 children and had so much space to spread out and have private nooks for relaxation. I travel widely and have discerning taste and would not hesitate to encourage anyone lucky enough to experience this home."
Airbnb
6 guests/$749 per night
Taureans appreciate the finer things in life, especially when it comes to wine. ("You cannot go wrong with that," Whaley says.) So a farmhouse in Willamette Valley with more than 50 wineries within 10 miles is an ideal getaway. This one is even more special because it sits on a 100-acre hazelnut orchard—perfect for Taureans who can get anxious in crowded settings and need space to roam—and has everything one could need to maximize relaxation, including a large patio perfect for sunset cocktails, a gourmet kitchen, a soaking tub, fireplace, comfy couches, and a pool table and ping pong table. And in case they get the motivation to leave for anything other than wine tasting, there are also breweries, restaurants, and boutiques nearby.
What guests say: "We were greeted by Aida with great information, welcoming flowers, a gift basket, and oodles of hazelnuts (with a nutcracker!). The house is well equipped and well-appointed. We could not have asked for a better setting for our party of 6 adults."
Airbnb
Capon Bridge, West Virginia
11 guests/$879 per night
This luxurious mountain lodge made of 100-year-old logs has everything a Taurean could want: access to amazing hiking in the mountains, but also plenty of excuses never to leave. Those excuses come in the form of a wraparound porch with rocking chairs, mountain views and sounds of the river, multiple fireplaces (indoors and out), a hot tub, a heated plunge pool, a fire table, and a mini log cabin treehouse. Inside, the excuses remain plentiful thanks to a primary bedroom with a four-poster bed (Taureans love to sleep and "honor that time to rest"), soaking tub, a steam shower with jets, a huge kitchen, and lots of plush blankets and pillows—key to a Taurus looking to unwind, Whaley says.
What guests say: "If you're looking for an amazingly furnished property with all sorts of special touches and great privacy, then this is the place for you. We were particularly impressed with how well stocked the kitchen is and how easy to use all the amazing amenities are. This place is amazing!"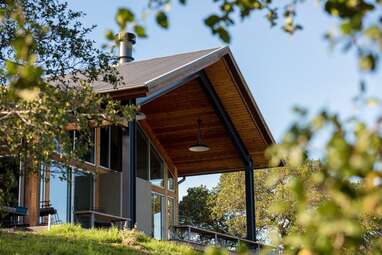 Airbnb
10 guests/$2,200 per night
It doesn't get better than a wine country retreat for a Taurean—all the better if it includes extravagant amenities. This modern villa set on a 55-acre private vineyard checks all the boxes. The house has windows everywhere, so the vineyard and pine forest setting is never forgotten, a well-stocked kitchen (with the option to bring in a private chef, which any Taurean will happily take advantage of), a terrace with a swimming pool, and a hot tub perfect for a sunset soak. Best of all, the space feels completely private while also being less than 10 minutes from world-class wineries and restaurants.
What guests say: "Wow! If you are a foodie and love to cook, this is the place to stay. The views are beautiful, and the house was so comfortable and well-appointed. The owners go above and beyond to make your stay the best experience you can have at a luxury home."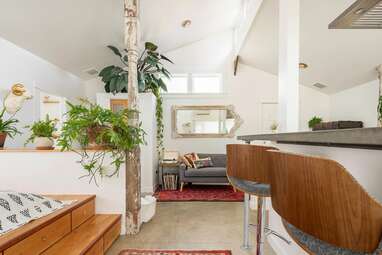 Airbnb
2 guests/$173 per night
This light- and plant-filled studio in Portland's Alberta Arts District will satisfy any Taurean looking for a romantic weekend away, if only because it has two very important things: a king-sized Tempur-Pedic platform bed and a two-person soaking tub. The hosts also leave welcome gifts "strictly for 21 and over guests" and promise "hidden secrets and gems" that aren't in the listing because they don't want to spoil the delight of the surprise. (Spoiler alert: Numerous reviews mention hilarious handwritten notes.) For "non-sleeping" (if you know what we mean, which…you do) and soaking times, guests can venture out to explore the very walkable Arts District, which has shopping, bars, art (of course), theater, and many of Portland's most popular restaurants.
What guests say: "I loved this Airbnb!! Such a perfect spot for a getaway. The bed is so cozy, and the big soaking tub was divine!!! Would absolutely stay here again. Raychel was communicative but gave me privacy; perfect balance."
Airbnb
6 guests/$900 per night
Taureans love a lush mountain area, but they also love 5-star restaurants and being pampered, which makes Aspen a dream getaway. This condo is located in the downtown area and is within walking distance of everything that makes Aspen "Aspen," including the gondola, ski runs, hiking trails, restaurants, and shopping (Taureans very much appreciate a well-curated boutique, Whaley says). The condo itself is newly-renovated with stylish details, neutral and calming colors, quality linens, a wood-burning fireplace, and a shared hot tub.
What guests say: "Fantastic place in Aspen! Beautiful (as pictured) and a short walk to shuttles to hop around to all of the mountains."
Airbnb
2 guests/$645 per night
Taureans are willing to pay for a place to relax, Whaley says. And that is exactly what they will do at this historic studio apartment in one of the highest residential areas in Sedona. To start, it is very stylish with maple floors, curved adobe brick walls (it was designed by a famous architect, and that's his signature style), two private decks, a fire pit, and almost-too-stunning-to-be-real Red Rock views. Even better, there's a spa that is only for guests, with an aromatherapy (eucalyptus-infused) steam room, commercial-grade cedar dry sauna, deluxe therapeutic hot tub designed to target specific muscle groups, and a saltwater swimming pool—all perfect for a Taurus who loves relaxing in serene environments with calming smells.
There's also an option to add on massages, Reiki, private yoga classes, wine tasting, sound healing, and more. "If we can learn anything about our mental health, it's that sometimes you have to relax and take care of your body," Whaley says. "And Taureans do that incredibly well." So even though there are tons of hikes within walking distance, there's a good chance many of them remain unexplored.
What guests say: "Iona + Huib's place is just MAGICAL. The views are the best you will find in all of Sedona, and you can enjoy them from the comfort of your bed. The property is incredible; we especially enjoyed doing many circuits in the sauna, steam room, and hot tub. Our room was stocked with snacks and goodies upon arrival as well. Cannot wait to return."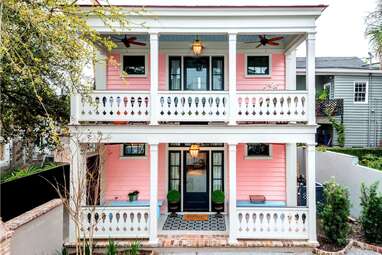 Airbnb
Charleston, South Carolina
2 guests/$306 per night
The way to any Taurean's heart is through gourmet food; and since Charleston is known for its culinary scene, it only makes sense that a visit there would be on every Bull's bucket list. This adorable little pink house, which sits under live oaks and has a second-floor porch for morning coffee or evening cocktails, is a delightful place to call home for a few days. It is also close to downtown Charleston and King Street, where all of the best restaurants and shopping can be found.
What guests say: "The Little Pink House was very cozy, clean, and comfy. We had so much fun exploring Charleston and soaking in the history. The location is an easy walking distance to wonderful local restaurants as well as the more renowned downtown eateries."
Airbnb
4 guests/$479 per night
This restored 1800s mining cabin is definitely rustic, but it has enough lavish touches to please any Taurean. Located in the Rocky Mountains and bordering a creek, the secluded cabin (that's also close to town) is reached by crossing a wooden bridge above a rushing creek and is close to hiking and all kinds of other outdoor activities. The biggest selling point, however, is the custom soaking tub that was built with rocks from the property and overlooks the rushing jewel-blue water—the perfect place to soothe sore muscles after a day full of adventures.
What guests say: "A truly unique refuge. We have returned for several visits and each time have experienced renewal and inspiration from the tranquility and beauty of the private hot springs pool in its natural rock setting and the cozy comfort of the cabin."
Daisy Barringer is a Thrillist contributor.