We independently source all of the awesome products and experiences that we feature on Thrillist. If you buy or book from the links on our site, we may receive an affiliate commission — which in turn supports our work.
With the arrival of fall comes the harvest, which requires practicality, reliability, and hard work, all traits that the Virgo (August 23-September 22) embodies. Though they are one of the zodiac's most grounded signs (Virgo is an earth sign, after all), this can also manifest in a desire for perfection and a need to problem solve and take care of others. That's great, most of the time, but if you're a Virgo, you, more than anyone, deserve an escape. To help find you a getaway destination that aligns with the traits of your star sign, we reached out to Stephanie Whaley, founder of the "astrologically-informed" dating app Oromoon that uses your birth chart to find your match. She shared insight on Virgo's personality traits and what a Virgo should look for when planning an escape. Because, as she points out, it will be the Virgo making the plans "being the organizers that they are."
"Virgos are so lovely. They are incredibly nurturing souls. They have many archetypes, one of which is having pure virgin energy. The way I translate that is that for Virgos, purity comes via aesthetics." Virgos are governed by the planet Mercury, which Whaley explains is all about thought, reasoning, and analytics. "Virgos get a bad rep in being deemed perfectionists," she explains, but because they are the sixth sign—right in the middle—it actually signifies that they just want to be a helping hand. "They will do anything for people in terms of favors because they want the world to live at peace." She says one can think of a Virgo as a gardener. "They're the ones tending to the gardens, watering the plants, talking to the plants in hopes to create growth." And while that's an obvious metaphor, it does affect the kind of vacation home a Virgo would enjoy, including literal gardens and earth tones.
Whaley explains that Virgos are also minimalists. They believe that when it comes to design, taking away is much harder than adding. They appreciate a clean and refined aesthetic, somewhere they can disconnect, a simple space where they can take advantage of nature and gardens. And because they're scholars and philosophers, "a mini library where they can randomly pick a book that inspires them to explore more" would be perfect.
Keeping all of this in mind, we gathered some of the best places for Virgos to appreciate simple earthly pleasures, declutter their minds, nurture themselves and their friends, and also, maybe most important—enjoy some fun and relaxation. Read on for places that any Virgo, even the most meticulous and modest among them, will want to book for a much-deserved escape.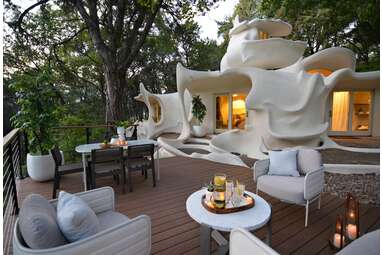 Airbnb
4 guests/$560 per night
This one-of-a-kind award-winning home that the owners describe as a "giant seashell unicorn" literally bends the rules; there's not one straight line or corner in the entire structure. This will definitely appeal to Virgos, who, Whaley notes, can be put off by the hard edges to which their eyes are immediately drawn. "There is a nice balance and harmony that exists when a Virgo finds themselves in a space where there are a lot of round edges," she says. The all-white structure is full of curvy lines and whimsical details, like a hearth that swirls to the ceiling and a built-in cherry wood wet bar. Any Virgo will enjoy walking up a winding staircase to a tower with a day bed/reading nook shaped like a shell. Or getting comfy on the wooden deck that overlooks 2.5 acres of tree-covered hills. And, the furnishings are all mid-century modern pieces that complement the home's design and help maintain a sense of repose.
What guests say: "Let me just say: In 64 years on planet Earth, I have never slept in a more fully-realized piece of architecture than the Bloomhouse. There are so many uniquely wonderful things about the house that it is difficult to compare it with any other lodging. It is a genuinely immersive experience from the moment the building first enters your field of view until you (reluctantly) climb the winding path back to the everyday world as you depart."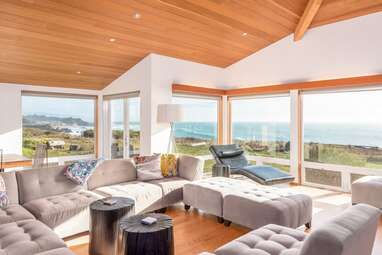 Airbnb
The. Sea Ranch, California
6 guests/$480 per night
Perched on a bluff in the exclusive Sea Ranch community, this home is the perfect Northern California coastal escape for any Virgo as it provides the "simple earthly pleasures" they crave and a view of the water, which provides a wellness retreat vibe for rest and restoration. The open floorplan connects the living and dining areas, all with stylish and streamlined furniture that does its job by not distracting from the home's best feature: huge glass windows that look out at spectacular ocean views. It also has light-wood (Virgo's favorite, as it's very peaceful) ceilings and accents throughout. The house is in the Sea Ranch community, which also has a 50-mile trail system, access points to the beach, a restaurant, rec centers with outdoor pools, and more. And after getting tuckered out from all of that, a sunset soak in the hot tub is the perfect way to unwind.
What guests say: "Jaw-dropping views of the southern coastline from almost every room of the home. We loved being right on the bluff and spent hours watching the waves as well as a few whales! The beds were wonderfully comfortable and the linens were exquisite. The kitchen had just about everything we could've needed for all of the dinners we had around the giant dining table. Plus, there was ample sofa space to flop and chill. Loved this home!"
Airbnb
4 guests/$380 per night
This stylish and beautifully decorated home looks like it was transported from Scandinavia to the Hudson River Valley and is a relaxing retreat any time of year. The big windows let in a ton of natural light, and there's a fireplace perfect for cozying around at night. It comes fully stocked with everything a Virgo could possibly need but is also just minutes away from restaurants and shops if you need to pick something up or want to explore the area. (You won't need to get eggs, though, because you're welcome to the ones you'll find in the treehouse chicken coop.) And while these are all things that any Virgo would love, just wait. The piece de resistance is the Hemmelig Rom, which translates in Norwegian to "secret room." The stark black exterior both contrasts and blends into the landscape, but the interior is warm and inviting with a wood stove, picture window looking out at the forest, comfortable bed, and tons of built-in shelves filled with books, books, and more books. Perfect for reading and reflection.
What guests say: "The house is beautifully designed with every detail carefully considered from the Noguchi lamps to the classic shelving units. The freestanding studio/library is also straight out of a feature on stylish and sustainable Scandinavian architecture. The chicken coop must be the coolest ever constructed! You certainly won't miss any creature comforts, and we hope you like fresh eggs! And all of this surrounded by gorgeous trees. And if it rains, there is the hosts' great library."
Airbnb
Carmel-by-the-Sea, California
5 guests/$840 per night
This light-filled seaside cottage on a triple lot (12,100 square feet) has all of the amenities you'll need, including luxurious bedding and towels, a chef's kitchen with top-of-the-line appliances, and a fireplace. But that's not why Virgos are booking it. They're booking it for the view: exquisitely manicured private gardens begging to be explored. Once you do, you'll discover several seating and dining areas, two outdoor fire pits, birdhouses, baths, and feeders, boxwood-edged pathways, flowers blooming everywhere, and a bubbling fountain in a stone courtyard. If you ever decide you do want to leave, downtown Carmel is just a short walk away.
What guests say: "What a magical place! This cottage is beyond amazing, and the photos cannot capture the unending beauty of this property. The gardens surrounding the home are so incredible, and the yard has complete privacy. Every room in the cottage looks out to the amazing garden views. The inside of the cottage is beautifully decorated and filled with every item you might need and more. It is stunningly decorated but not fussy and very homey. The kitchen is gorgeous and includes everything one might need or desire."
Airbnb
16 guests/$1,500 per night
The interior of this 8,000 square foot home, located at the base of Taos Ski Valley, was designed by a notable and free-spirited clothing designer, so it's no surprise that it's beautifully curated with attention to both the space and the furniture. The arched windows (another thing Virgo likes aesthetically), high ceilings, and wood-burning fireplace add to the beauty, and guests sing praises about the privacy and peacefulness. That continues across the five-acre property which is maintained bio-dynamically and has views of the mountains, ponds and waterfalls (yes, plural), and trees and flowers that create beauty that changes with the seasons.
What guests say: "I love this haven. It's private, peaceful, full of plants and wonderful birdlife. The grounds are great for roaming around; catching the sunset every day was an event. The trees in the yard are the [most] beautiful willows I've seen in a long time. I loved the design inside, spacious with great views and loads of plants throughout. It's the best getaway for anyone who loves nature, each side from north to south has its magic."
Airbnb
5 guests/$550 per night
This stunning solar-powered glass house in the metaphorical middle of nowhere (or at least the middle of the desert) is perfect for Virgos as they appreciate a getaway to complete solitude. This glass house located on a secluded ranch has views in every direction, and though the house is modern, it is clean and refined and respects the surroundings. Those things come together to feel like a breath of fresh air, which Whaley says creates peace for Earth signs. Virgos are connected to the beginning of the wheat harvest, so they appreciate earth tones that represent that crop, an impression they'll take in no matter where they look. This home also has a chef's kitchen equipped with everything you'll need and more (just bring groceries), French linens, private baths with views, an outdoor shower, and plenty of hiking around the property. It also doesn't have cell service, which, Whaley points out, "really caters to a Virgo's desire to tap out of technology" and a need to disconnect.
What guests say: "Michael's place is, true to every other review, completely epic. The setting is unparalleled—incredible views, wildlife for days, sunrises, and sunsets. We really enjoyed cooking every night, enjoying coffee overlooking the multiple mountain ranges, and watching westerns with a view of Mexico. Many things about this place feel magic: On our last morning, I sat up to a family of javelina sipping from fresh puddles right out the window."
Airbnb
2 guests/$199 per night
Hidden in the suburbs of Columbus, Ohio, is a custom-crafted villa surrounded by private gardens that will, as Whaley says, "be music to a Virgo's ears because it's a reflection of their nurturing." They will also appreciate that this space is small and contained, as that only adds to the balance and harmony. They can take it all in a while walking along the stone pathways among the verdant plants and trickling fountain, drinking a glass of wine under the stars, or while they soak in the outdoor tub and literally smell the roses. When it's time to retreat for the day, they'll be thankful for the modern but warm furniture, the lack of clutter, and luxury amenities.
What guests say: "I cannot say enough good things about this beautiful villa. The pictures are 100% accurate, and this is the perfect little oasis for a weekend getaway. We both slept so well, everything was comfortable, and the outside space was so nice! We really enjoyed the patio area and just enjoying the evening while my husband grilled our dinner the second night. The grounds are beautiful!"
Airbnb
16 guests/$2,786 per night
This private compound in the heart of the Hamptons will appeal to a Virgo for several reasons. First, it has everything their guests could possibly want and more, which will soothe their organizer side. And though it's a behemoth of a property, which isn't always their favorite, it allows them to entertain and take care of their guests, which definitely sparks joy. Mostly though, if you're a Virgo, you'll appreciate the lavish landscape, bursting with flourishing foliage, the outdoor barrel sauna that overlooks the Koi pond/stream/waterfall with over 200 exotic Koi fish, bullfrogs, and turtles, the infinity-edge pool, 12-person spa, eco-friendly bamboo double fire pit, and outdoor grill with an 18-foot mahogany picnic table.
What guests say: "To say Michael's home is beautiful is an understatement. Our jaws dropped as we drove through the estate with beautiful foliage and trees. It was beautifully decorated with carefully curated antiques and vintage instruments (the old school typewriters, stoves, and microscopes come to mind). Also, the space was immaculately clean, and almost everything was provided for us. We enjoyed evenings by the two fire pits with our glasses of wine and late nights around the table playing cards and exchanging stories. The outdoor area led to a great communal space for brunch and drinks."
Airbnb
8 guests/$259 per night
The typical Virgo won't like the clutter that can come with many historic homes in New Orleans, which is why this third-floor condo in a historic home on Bourbon Street is the perfect compromise. The house's exterior has plenty of Creole/French Colonial style, including a cast-iron balcony, shuttered windows, and a charming courtyard. The interior has been updated, but not all of the charm has been lost: there are red oak exposed beams throughout and exposed brick walls. They're just juxtaposed with clean lines, modern appliances, and bright white throughout, a color Whaley says helps open up the space, which appeals to a Virgo's independence, but also represents purity (something they're probably not going to find a whole helluva lot of if they make their way to Bourbon Street at night).
What guests say: "Honestly, best trip of my life. The location was perfect. Far enough away to escape the volume of Bourbon street, but close enough to get right in the middle of the constant celebration of the city. Our host was quick to respond and helpful. House was clean and spacious. We had a great time! Thank you! We will be staying again."
Airbnb
Colorado Springs, Colorado
5 guests/$205 per night
This guest house in Colorado Springs feels more like a Nordic cabin and has the "hygge" that Whaley says really represents Virgo's aesthetic inside and out. Set in a wooded area, the guest house reflects the best of Scandinavian design; it's uncluttered and contemporary but features rich textures and whimsical moments throughout. Add in the ponderosa pine forest, and it's pretty much a Virgo's dream Airbnb. A few other awesome features: the pellet stove/fireplace, a floating sofa/sofa bed in the living room, an idyllic reading nook, a record player, an old-school selfie station, and peaceful outdoor space with hammocks. (Not to mention that you won't even mind doing the dishes since the kitchen sink looks out at the woods.)
What guests say: "What a wonderful place to stay! The Lofthouse is clean, comfortable, well-appointed and simply beautiful. The space is an oasis…we walked in and immediately felt relaxed and at ease. The outdoor spaces are also impressive and inviting. The location is worth note as well. Colorado Springs is a busy city. This unit offers great access to everything Colorado Springs has to offer while being far enough out that you truly feel that you're away from it all."
Daisy Barringer is a freelance writer who is constantly in desperate need of a road trip. Tell her your favorite place off-the-beaten-path on Twitter
@daisy
.