We independently source all of the awesome products and experiences that we feature on Thrillist. If you buy or book from the links on our site, we may receive an affiliate commission — which in turn supports our work.
It's nearly impossible to pick a favorite U.S. national park. From the otherworldly rock formations of Bryce Canyon to the epic sunrises of Acadia, every park offers outdoor adventures and natural beauty well worth traveling the country to experience. But we must admit, there is something particularly special about Glacier National Park in Montana. This million-acre wonderland has epic wildlife, hundreds of miles of hiking trails, and the kind of mountain and lake views that are usually reserved for postcards.
While there are plenty of campsites, cabins, and lodges within the park's borders, they all require at least some degree of roughing it. If you want to experience Glacier National Park but still have access to a hot shower and full kitchen, consider booking one of the many Airbnbs that are within an hour's drive from the GNP entrance. These vacation rentals offer all the Rocky Mountain views and solitude that a Big Sky trip warrants, without sacrificing even a little bit of comfort (hello, hot tubs). Without further ado, here are the best Airbnbs near Glacier National Park.
Airbnb
6 guests/$191 per night
Distance to GNP: 9 minutes
Less than 10 minutes from the entrance to Glacier National Park, this authentic log cabin is about as convenient as they come. The cabin was once used by foresters in the area, but now serves as a charming vacation rental with renovated fixtures, comfortable bedrooms, and very cute, summer camp-esque decor. Get unobstructed mountain views from both the front porch (complete with twinkle lights) and backyard (complete with barbecue grill).
What guests say: "What a great place to stay when visiting Glacier! Comfortable, clean, and very well-equipped. Love all of the 'woodsy' decor. Has lots of extras like cards and board games. Bill and Laura were great hosts and easy to work with."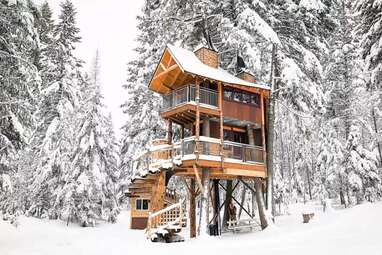 Airbnb
2 guests/$599 per night
Distance to GNP: 28 minutes

This dreamy treehouse is one of the most wish-listed properties on Airbnb, and it's easy to see why. The two-story structure comes with a master suite, a full kitchen, and two decks to soak up those woodsy views. Glacier National Park is only a 30-minute drive away, so you can spend all day in the park and return home to unwind by the fire pit or read a book on the cozy window seat in the living room.
What guests say: "This treehouse was a perfect, quiet, peaceful getaway. It's super cozy and clean, the host was great to work with, and it's a plus that it's close to both Glacier and a variety of food and gas options."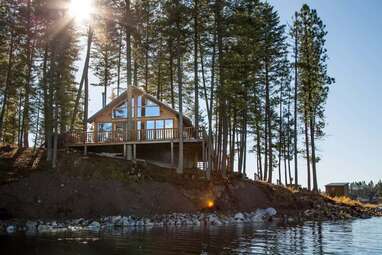 Airbnb
6 guests/$635 per night
Distance to GNP: 50 minutes
If you're craving some solitude and serenity, you can't do much better than this waterfront cabin on the west side of Deer Island. The house is only accessible via pontoon boat (don't worry, the host provides one for the duration of your stay), which means you won't have any zooming cars drowning out the gentle sound of lapping lake waters. The cabin has enough room to sleep six people, plus a vaulted living room with a fireplace, a wraparound deck with tons of seating, and a fire pit for chilly nights beside the water.
What guests say: "Stunning setting and magical stay! The lake surrounded by Swan Mountains was so beautiful, reminding us that we were in a very special place, unlike any other! The locale was remote, but we accessed Glacier park every day, and arrived back to the cabin oasis on the island at the end of each day in time for dinner and sunsets, then star watching."
Airbnb
6 guests/$395 per night
Distance to GNP: 15 minutes
This log cabin may look rustic (it's over 100 years old, after all), but it has been renovated to include enough modern amenities to make even the pickiest travelers feel comfortable. The two-bedroom house features cozy beds, a full kitchen, a gorgeous front porch with wooden Adirondack chairs, a fire pit, and—best of all—a hot tub where you can really enjoy those Rocky Mountain views.
What guests say: "My husband and I came with another couple and we all seriously considered moving to Montana because of this Airbnb! So cute for a family or friends trip! Great views with a hot tub and close to Glacier and the airport!"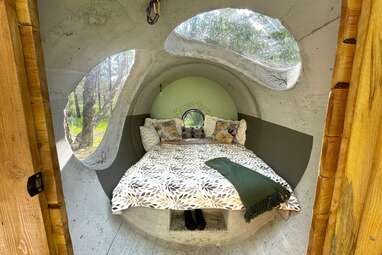 Airbnb
2 guests/$140 per night
Distance to GNP: 11 minutes
This rental is essentially a concrete tube in the middle of the woods, but it is much cooler than it sounds. Named the "Stargazer Tube Tent," the glamping cabin is outfitted with a single queen-size mattress and has two skylights (plus a Hobbit-esque circular window) that let you watch the stars as you drift to sleep. Guests will have to share an outhouse with other campers, but given the fact that the listing is only 7 miles from GNP, we'd say that's only a small sacrifice.
What guests say: "AMAZING! This little tube is perfect. The two nights I was there were in the 40s and it stayed surprisingly warm inside! Jake was amazing and brought over an extra blanket just in case though it didn't end up being needed. The hammock was a perfect touch for reading at night and unwinding from a day of hiking in the park."
Airbnb
4 guests/$250 per night
Distance to GNP: 50 minutes
This surprisingly luxurious yurt is located on a private farm near Flathead Lake, with 360-degree views of the lake and mountains. The space has two bedrooms, a full kitchen with Miele appliances, and a bathroom with a very nice walk-in shower. You'll probably spend most of your non-park time on the attacked deck, which has a fire pit, grill, picnic table, and several chairs for ultra-relaxing evenings.
What guests say: "What an incredible stay at the yurt! Linda was a wonderful host and there were lots of special touches and details to make your stay even more comfortable. We had such a wonderful time and the view of the night sky was breathtaking from the patio."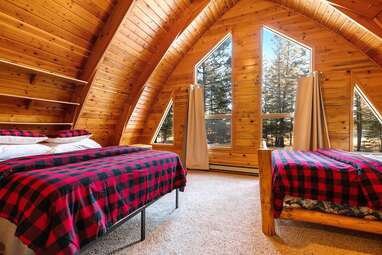 Airbnb
8 guests/$306 per night
Distance to GNP: 32 minutes
This all-wood chalet is an excellent option for a group trip to Glacier National Park, as it has three bedrooms, a spacious living room, and a huge backyard with two fire pits and a volleyball net. While you can expect total solitude from humans that aren't part of your party, the hosts say you will get "frequent visits from deer, foxes, and small woodland creatures." In addition to being about 30 minutes from Glacier, the house is also an 8-minute drive from downtown Whitefish, a fun small town with boutique shops and ski slopes.
What guests say: "One of the first Airbnb that we actually didn't want to have to leave. Felt so welcoming and cozy! The kitchen had everything we needed to cook meals for a family of four, the beds were very comfortable, and the location was absolutely perfect for all the day's activities! Would absolutely stay here again."
Airbnb
6 guests/$650 per night
Distance to GNP: 50 minutes
Another great Whitefish property, this impeccably designed chalet is particularly great for winter trips to Montana (it's within walking distance of the ski lifts at Whitefish Mountain Resort). Its Scandinavian decor gives off major hygge vibes, with a hanging wood fireplace, fully modern kitchen, deep soaking tub, and fur pillows and throws. If you visit on non-snowy days, you can move your cuddle sessions outside to the elevated patio with string lights and a fire pit.
What guests say: "This place was a dream. Even when all our friends cancelled and we ended up with the house to ourselves and loved every second! The space is gorgeously designed, with outstanding views from every room, right off the ski mountain. Everything was pristinely clean and easy to use, with a fantastically well-stocked kitchen, Sonos sound system, and radiant heating in the master bathroom floors. We had so many plans, but barely left the house, because it was the best of everything."
Caitlin Morton is a Commerce Editor at Thrillist. You can follow her on Instagram
@CaitlinMorton23
.