We independently source all of the awesome products and experiences that we feature on Thrillist. If you buy or book from the links on our site, we may receive an affiliate commission — which in turn supports our work.
As you well know, Orlando is home to some of the world's best theme parks, including Walt Disney World, Universal Orlando, Islands of Adventure, Volcano Bay, and SeaWorld, each of which offer endless days of adventures. But the sprawling metro area is not all Mickey Mouse, thrilling rides, and long lines. There are also gorgeous parks of the non-themed variety, fun museums (the World Chocolate Museum, anyone?), tons of golf courses, water sports and boat tours, and amazing restaurants. All of this to say: Kids aren't the only ones who will appreciate a getaway to this Florida vacation spot, especially if you're there with a bunch of people you really like (whether that's friends, family, or a mix is a decision only you can make).
But really, can you ever go wrong with a trip to the home of the Most Magical Place on Earth? Even if your aunt's weird new boyfriend who takes lightsaber classes and insists on challenging you to a duel is there? (That's rhetorical. Because lightsabers are FUN.) And though Orlando has over 120,000 hotel rooms, sometimes after a long day of non-stop fun, it's nice to throw your Mouse ears on the bed of a place that feels like home. If that home had swimming pools and waterparks and poolside bars and golf courses.
Airbnb
16 guests/$3,636 per night
If leaving the house is a thing you're planning on doing, you might not want to rent this over-the-top home that sleeps up to 30 people and has two swimming pools (one on the roof with a spa and another one with a lazy river), bowling alley, indoor basketball court, movie theater, arcade with pinball games, karaoke lounge, spa room with a jacuzzi, sauna, and steam room, HDTVs throughout, golf simulator, pool table, and, fully-equipped gym. If you do manage to pull yourself away, the house is just 11 miles from Walt Disney World and 20 miles from Universal Studios.
What guests say: "The best way to describe your stay at this property is like renting an entire hotel for your personal use. The property will surpass your expectations. Each bedroom is more like a hotel suite with coffee machines, wine coolers, accent chairs, and the most amazing upgraded bathrooms. The entertainment area has a BEAUTIFUL bowling alley, basketball/racquetball court, arcade, 2 poker tables with chips and cards. The spa is nicer than commercial spas with ceramic beds, sauna, whirlpools, steam room. I pray we can come back one day as this was a once-in-a-lifetime unforgettable weekend."
VRBO
19 guests/$1,173 per night
Spend the night in Cinderella's pumpkin carriage bed or the Millennium Falcon at this villa that leaves the themes to just two bedrooms and is otherwise very clean and modern. For those who don't want to play neglected orphan girl or defender of galactic freedom, there are plenty of "normal" bedrooms, as well as a home theater with reclining massage chairs, a game room with a pool table, a second Star Wars-themed game room with air hockey, ping pong, and foosball. Outside you'll find a spacious patio with a pool, waterfall, grotto, spa, summer kitchen, outdoor fireplace, and television. It's located inside Reunion Resort, so you'll also have access to amenities like three golf courses, a water park, tennis and pickleball courts, miniature golf, community pools, bocce ball, golf cart, bike rentals, and a handful of restaurants. And it's just six miles from all of the Disney parks.
What guests say: "This is an amazing home for a big group. Everything is beautifully decorated, and no details were missed. The backyard feels like your own personal oasis! Would love to stay here again!"
Airbnb
10 guests/$422 per night
There are no moving staircases inside of this five-story home (and whether or not there's a Room of Requirement is something only you'll be able to determine), but you will find plenty of other Hogwarts-esque details, including a primary bedroom that looks like Dumbledore's office, a "dining hall" with suits of armor and "floating" candles, and bedrooms representing all of the houses (and a sorting hat in case you're unsure in which one you belong). There's also a covered outdoor patio with a swimming pool and grill, and, if you've picked this home, perhaps most important: the Wizarding World of Harry Potter is just 10 miles away.
What guests say: "This home is fantastic! From the outside, it is just a typical house in a normal neighborhood, but inside they have transformed it into Hogwarts. The design and decor are perfect, with tons of small touches that make the experience of staying here very immersive and special, yet still very comfortable."
Airbnb
15 guests/$236 per night
This modern (5 bedroom, 5 bath) home has everything you'll need for a comfortable stay—private pool and spa, game room with a pool table and foosball, and lots of space—but the reason to rent it is the amenities inside of the community. These include mini-golf, a sand volleyball court, a lake with a canoe/kayak launch, heated pool and a lazy river, a fitness center, a tiki bar, ice cream shop, water slides, and more. And it's close to Disney and Universal.
What guests say: "This house was fantastic. Spacious, clean, and equipped with everything we could have asked for, there was ample space for our extended family to spread out and relax! We would 100% recommend a stay here. Our only regret was having to leave it daily to explore the delights of Disney and Universal, which are nearby—as are ample restaurants and supermarkets. There are also very well-equipped recreation facilities within the complex. Pool, slides, lazy river, bar, etc. Thanks for a wonderful stay!"
VRBO
Bay Lake, Lake Buena Vista, Florida
10 guests/$468 per night
This clean and modern home comes equipped with a home theater, fully-equipped kitchen, outdoor space with a pool, spa, covered patio, dining table, grill, pool table, and foosball table, and is inside Reunion Resort and Spa, which offers a shuttle to Disney parks, access to three PGA golf courses, an on-site waterpark with a lazy river, slides, jets, pools, and cabanas, tennis, bocce, and pickleball courts, 11 resort pools, a spa and salon, state-of-the-art fitness center, and arcade. The only issue? Trying to figure out who gets to sleep in the Candyland-themed bedroom (there's a slide!).
What guests say: "Everything about the property was incredible. Loved the house, location, amenities, pool, beds, etc. My kids loved the Mario Room and the Candy Land Room. They actually begged to leave Disney World so we could go back to the house and play."
10 guests/$188 per night
This recently renovated penthouse is the perfect "crash pad" for a stay in Orlando. It's close to the convention center and the theme parks and has views of the city and a lake. Plus, it's inside of the luxurious Vista Cay Resort, which has a huge swimming pool and poolside bar, barbecue pits and picnic tables, game rooms with arcade games and pool tables, a jogging trail along the lake, a fitness center, and grocery (and liquor) delivery.
What guests say: "Many times you wonder if the pictures you see online are accurate once you walk into the place. That is not the case here. This is a beautiful place to stay. The picture understates it, if anything. Three great bedrooms, large bathrooms, and super clean."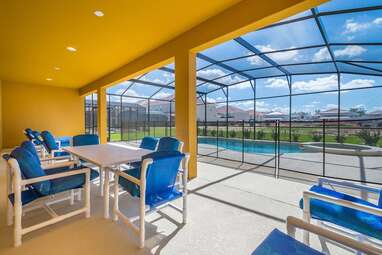 VRBO
28 guests/$408 per night
If you need a house for a big group, and we mean big, this 11-bedroom, 9.5-bath house that sleeps 28 people oughta do it. There's tons of living space, a kitchen that overlooks the pool (with two refrigerators and two dishwashers, both things you need when sharing a home with that many people), a pool and spa, and a pool table. Located inside of the newly-built Solterra community, the home is close to the Disney resorts, as well as tons of restaurants and shopping, and you can also take advantage of the resort amenities, including a clubhouse, resort pool with water slide and lazy river, cabanas, fitness room, tennis and volleyball courts, and a poolside cafe, perfect for cooling off with a frozen drink.
What guests say: "We had a great family reunion. The house was simply perfect. We went to the parks every day, but one in which we stayed home to enjoy the clubhouse (kids zone, pool, and water slide) and the house amenities. The two refrigerators, two dishwashers and two washing machines and dryers were very convenient (we were 22). Susie and Paul are great hosts, very responsive. They answered quickly and efficiently each question that we had, and they contacted us to make sure we were having a great experience."
Airbnb
12 guests/$385 per night
This six-bedroom home in Winter Park is perfect for a group of adults who want to take advantage of one of Orlando's most charming tree-lined cobblestone neighborhoods with lots of restaurants, shopping, galleries, and lakes (12 in all), while also enjoying comfortable and private digs for chilling out after a fun day. The house's best feature is the backyard area which is surrounded by trees, has a private pool and spa and outdoor kitchen with grill, and opens to a public botanical garden. Someone in your group good at tickling the ivories? There's a baby grand waiting to be played.
What guests say: "Jennifer's place was absolutely phenomenal—a hidden gem tucked away on a quiet street in Winter Park. The house is absolutely full of natural sunlight that streams in through the floor-to-ceiling windows on the first floor, and we had a wonderful time relaxing by the beautiful swimming pool."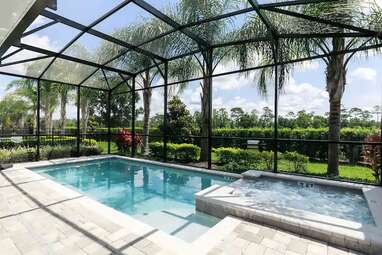 Airbnb
14 guests/$353 per night
This (5 bedroom, 9 bath) home is situated overlooking a pond inside the Encore Resort and has a private pool, spa, theater, game room, and touches of Disney throughout, including Frozen- and Star Wars-themed bedrooms. It's the perfect place to stay if you're planning on visiting all of the parks, as there are shuttles to Disney, Universal Studios, and Sea World. The Encore Resort also has a ton of amenities, like a water park, arcade, adult pool, beach volleyball, basketball court, fitness center, spa services, and several restaurants.
What guests say: "This beautiful home was perfect for our family's Orlando vacation. There were 12 of us, and we all had comfortable beds, lots of bathrooms, and a comfortable living space. The pool and hot tub were great after a long day at theme parks. The kitchen was well stocked with all the dishes and utensils we needed. The kids especially appreciated the "Frozen" and "Star Wars" bedrooms. The host was very attentive and helpful."
Daisy Barringer is a writer who grew up in San Francisco and has never been sad that she hasn't been to all of the Orlando theme parks until now. Follow her on Twitter
@daisy
to see what else she's sad about. (Spoiler alert: It's usually the 49ers.)