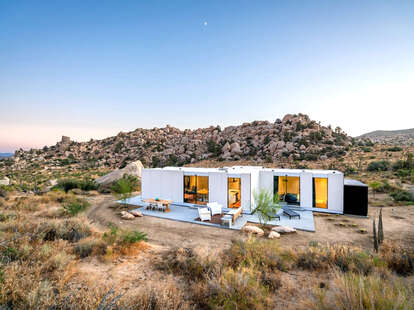 We independently source all of the awesome products and experiences that we feature on Thrillist. If you buy or book from the links on our site, we may receive an affiliate commission — which in turn supports our work.
While Los Angeles has enough weekend activities to last a lifetime, there's something to be said for getting out of town from Friday through Sunday—especially during the summer. California has tons of quick getaways for anyone craving a few days of beaches and sunshine (or vineyards and deserts), many of them within driving distance of LA.
Even better? Most of these road trip-worthy towns have excellent options when it comes to vacation rentals. Whether you want an architectural gem in Palm Springs or a group-friendly villa in Santa Barbara, here are the best Airbnbs within 3 hours of Los Angeles.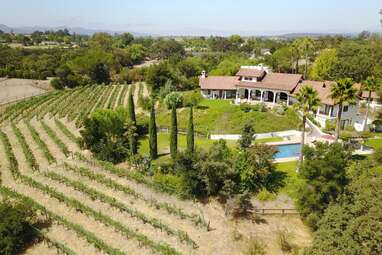 Airbnb
6 guests/$1,225 per night
If you want the vineyards of Napa without the crowds, head to Santa Ynez in Santa Barbara County (about 2.5 hours northwest of Los Angeles). Here you'll find streets lined with wine shops and tasting rooms, plus some of the most luxurious Airbnbs you could dream of. Take this hacienda-style home, for example—aside from a pool, hot tub, and roof deck with 360-degree views, the property comes with its own vineyard and complimentary bottle of wine. And just wait until you see the library…
What guests say: "Beautiful home in a very peaceful and quiet community. The home is decorated with interesting and tasteful art acquired from world travels. All furnishings and amenities were very clean and comfortable. Setting is wonderful with hilltop views and a lovely garden. Perfect place to unwind and rest with family and take day trips to nearby places."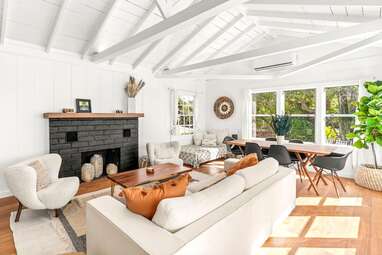 Airbnb
3 guests/$295 per night
Just north of San Diego, Carlsbad is easily one of the most charming coastal towns in California—just check out this bright, one-bedroom Airbnb for proof. The house is a quick drive or bike ride away from the beach and downtown area, but you may find it hard to leave once you check out the secluded backyard, sun-filled living room, and comfy king-size bedroom. Even the little breakfast nook in the kitchen is downright adorable.
What guests say: "The house is located in a low-key, quiet neighborhood. Everyone around is very friendly. It's located in a perfect area, not too far away from beach and stores. The house is just as beautiful and comfy as the pictures. It had everything we needed. Strongly recommended! :)"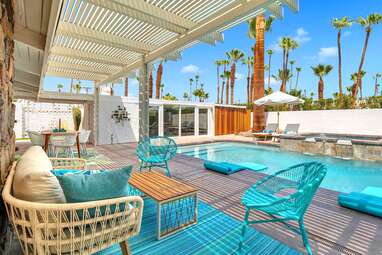 Airbnb
4 guests/$474 per night
Palm Springs truly has some of the best Airbnbs in the entire country, but we're particular fans of this mid-century modern masterpiece, complete with a saltwater pool and funky interiors. Spend a few lazy afternoons lounging by the pool (or hot tub, take your pick) and soaking in the mountain views, then retreat indoors to cook dinner in the huge kitchen and rest up in the three perfectly decorated bedrooms. Even Don Draper would be jealous of this vacation.
What guests say: "My boyfriend and I stayed at the house with 2 other friends and had an absolutely amazing time. The house is gorgeous and beautifully decorated. Everyone also enjoyed the 3 king beds the house offered to really sprawl out and get some great sleep. The pool and spa were definitely the highlight for us where we spent most of our days, and then a quick trip to some beautiful hiking trails or downtown for dinner. I'd definitely recommend this house if available."
Airbnb
6 guests/$280 per night
With its laid-back vibe and delicious local restaurants, Ojai Valley is the perfect respite from busy Los Angeles. While most of your weekend will be spent exploring the town and its surrounding nature, you'll still want an excellent place to rest up between excursions—and we can't think of anywhere more relaxing than this charming family cottage. With its hot tub, collection of fruit trees, and bright and breezy interiors, this is truly Ojai living at its best.
What guests say: "This is a sweet and sacred home in a wonderful area of Ojai. Looking out at the mountains in the mornings, walking as the sun was setting in the evenings, and spending time in the garden with hummingbirds was all good medicine."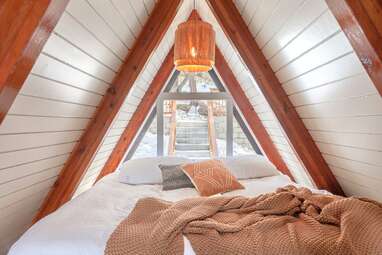 Airbnb
Running Springs, California
4 guests/$156 per night
A weekend in Running Springs doesn't exactly come with a packed itinerary (the mountain community is remote, to say the least)—and therein lies its charm. Lean into the whole "off the grid" vibe at this A-frame cabin, which is cater-made for unplugging, recharging, and sipping a few glasses of wine. From the essential oil bath products to the record player in the living room, every detail of this space is dedicated to helping you live your best, most socially distanced life.
What guests say: "My mom and I chose the Star Gazer as a little staycation and we loved it! The home is cozy but still spacious for two people, and the view was beautiful. We actually never left the home during our two night stay because we simply loved how beautiful the space and view was! The balcony overlooks the mountains and the sunset is gorgeous. We spent our mornings drinking coffee on the balcony and spent sunset having dinner on the balcony table."
Airbnb
8 guests/$1,130 per night
Getting to Catalina Island takes a little bit of extra work—from Los Angeles, it's a 45-minute drive plus an hour on the ferry—but it's well worth the effort. The island has some of the best snorkeling in California, not to mention countless other water sports and hiking trails. This three-story home in Avalon is the perfect place to rest up between outings, especially given the stunning panoramic vistas from the living room.
What guests say: "Spectacular views through huge grandiose windows in multiple rooms. Immediately forgot about LA and thought about the Italian Riviera."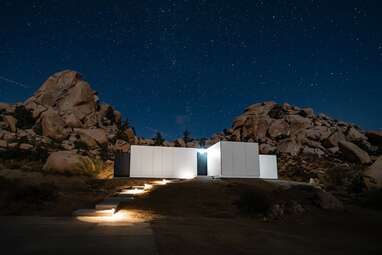 Airbnb
4 guests/$635 per night
If it's isolation you want, it's isolation you'll get at this impossibly chic home just west of Joshua Tree National Park. The modern house sits on 10 private acres, surrounded by boulders and tucked under incredible night skies. Take in the views from the saltwater hot tub, fire pit, outdoor shower, or any of the floor-to-ceiling windows in the home itself.
What guests say: "Not sure where to begin with this review. We are both big design enthusiasts and have rented beautiful architectural homes in the past, only to have them fall short with the interiors and the details. This home delivers on all fronts. It's the epitome of great taste. We loved every single part of it, have referred our friends, and will certainly be back!! LOVE, LOVE, LOVE this home and Leslie is fantastic."
Airbnb
Santa Barbara, California
10 guests/$1,591 per night
Whether you're craving outdoor adventures or serious spa treatments, it's hard to turn down a weekend trip to Santa Barbara. Gather up your entire crew and spend a few days at this gorgeous Airbnb just minutes from the beach, with enough ocean views and chic decor to make any coastal grandma swoon. Pretty much every square inch is worthy of an afternoon hang-out, but we're partial to the hot tub on the third-floor balcony.
What guests say: "The home is lovely with its oversized windows and spectacular views of the ocean. The home has everything you would need, including bathrobes in the bedrooms and a beautiful backyard for you and your furry family member to enjoy the CA weather. Best house ever!"