We independently source all of the awesome products and experiences that we feature on Thrillist. If you buy or book from the links on our site, we may receive an affiliate commission — which in turn supports our work.
If your sign is Sagittarius, chances are you're down for pretty much anything. After all, Sagittarians tend to be optimistic extroverts who find friends wherever they go. Still, whether you're a Sag yourself or simply want to travel with one, Stephanie Whaley—astrologist extraordinaire, founder of the astrologically-informed dating app Oromoon, and a proud Sagittarius herself—says there are some things to consider in order to choose the perfect place to stay.
"Sagittarians are seeking truth at every angle and knowledge for ultimate consumption," Whaley explains. "Their knowledge is fed from people they meet and cultures they interact with." This means that traveling is especially important for people with this fire sign, because it's how they garner much of their wisdom. Archers are very much adventurers and risk-takers, often just as interested in what lies beyond their accommodation for the night as they are in exploring every nook, cranny, and bookshelf in any given Airbnb. This penchant for adventure can make the road feel rocky if you aren't careful, so if you're planning on traveling with a Sagittarian, be sure to keep things flexible to allow for unexpected changes.
Lastly, it's important to know that this 9th sign of the zodiac appreciates being around friends—"The more, the merrier," Whaley says—so any Sagittarius-attended trip would be better with pals. If you're lucky enough to be invited along, it's probably not a trip you'll want to turn down. Sagittarians will cheer you on at every stage of life, and it's not uncommon for those around them to want to feed off their positive energy.
So, where should Sagittarians book their next getaway? Read on to find out.
Airbnb
8 guests/$331 per night
Sedona is a perfect destination for a Sagittarius, since the city provides ample opportunity for freedom, spontaneity, and adventure—and lots of amazing restaurants. Archers can satiate their need to discover new things by visiting ancient cliff dwellings, exploring the rugged red-rock buttes, and watching the rotating night sky. They can also socialize at popular hangout spots surrounded by nature and finish every day with an incredible meal. This home in particular is ideal for a group of friends, with a hot tub that faces the red rocks and wrap-around deck to wind down after a day of fun.
What guests say: "Gorgeous daytime and nighttime views! Our group of four enjoyed hanging out, drinking wines, cooking our meals, and stargazing in the hot tub. We appreciated the fully stocked kitchen so much. We were able to check out a couple hikes during our stay. Sedona sunsets are unreal!"
Airbnb
6 guests/$225 per night
This former church is now a cozy cottage with high ceilings, a grand piano, and more than a thousand books (so you'll want to read fast). The rolling ladder makes it easy to grab high-up books, a dream come true for any bibliophile—which many Sagittarians are, since they constantly want to learn. The cottage sits in the village of Waterford, one of only two towns in the U.S. that is listed as a National Historic Landmark. That means there's plenty of sites to explore, including well-preserved 18th- and 19th-century architecture, picturesque nature hikes, and craft breweries and wineries.
What guests say: "Grace Cottage is a truly unique experience and one you won't soon forget. Every detail of the repurposed church has been lovingly attended to with clear affection. The cottage's wall of books, alone, is worth the visit and truly Instagram-worthy. Cat is the perfect hostess: Communicative, responsive, warm, and full of good ideas on nearby places to eat and drink."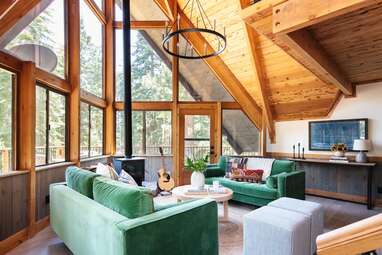 Airbnb
Carnelian Bay, California
12 guests/$716 per night
"Tahoe would be awesome for a Sagittarius," Whaley says. And archers will especially enjoy staying in this chalet-style Tahoe cabin, which is big enough to host a bunch of friends. Sit around the fire pit and swap stories after a day of outdoor adventures, whether it's hiking, mountain biking, skiing, or boating on the lake. This home also has an outdoor hot tub, rec room with a pool table, spacious deck, and even a theater room complete with a projector, appealing to the sign that appreciates endless opportunities for fun.

What guests say: "Great stay with a group of 11 friends, we fit with ease and room to spare. Huge kitchen to use, nice grill, hot tub, and fire pit all were amazing to have! Would stay again."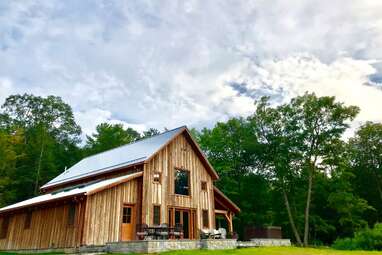 Airbnb
10 guests/$700 per night
This solar-powered house in the Catskills is an incredible place for Sagittarians to indulge in all their favorite things. It has enough room for ten people to stay—and cook in the large kitchen, sprawl around the fireplace or outdoor fire pit, soak in the hot tub, and have drinks beside the wet bar—so they can bring plenty of friends along. The home is set on 18 private acres (and in the mountains) for lots of fun exploration, but Sagittarians will also find plenty of ways to seek knowledge and indulge in creativity indoors. There's a library for readers, a DVD and Blu-ray collection and 60-inch TV for cinephiles, and an incredible fully-outfitted kitchen for cooks. Best of all, musicians will find the house makes the perfect place to learn, create, and listen to new music. The house comes with a separate music studio, which has everything you need to jam, including drums, an electric piano, amps for guitar and bass, a synth, a mixer, and more. Inside the main house, the great room has a Steinway grand piano, plus Focal speakers and a Bryston sound system for listening parties. Whether you're recording an album or just playing around, it's an awesome place for all kinds of tunes.
What guests say: "This house is great! Better than the pictures. We had an amazing time here. We built a lot of fires in the fire place and wood burning stove. The hot tub was awesome. The kitchen is well stocked and the high end appliances were appreciated. The beds are comfortable. This is a perfect place for music lovers with a piano and amazing sound system in the great room. As well as a music studio. Icing on the cake it's pet friendly! We all really enjoyed our stay. It was super relaxing and a perfect snowy mountain get away."
Airbnb
6 guests/$286 per night
Sagittarians love to spend time with friends. This spacious cabin is the perfect place for a friendship-filled getaway, with a pool table, a deck with mountain views, a hot tub, and rocking chairs for appreciating the sunset. During the day, there is plenty of fun to be had. Great Smoky Mountains National Park and the Forbidden Caverns are nearby, as are opportunities for ATV riding, rafting, canoeing, and horseback riding. When you need a break from the outdoors, the town has a lot of art galleries, boutiques, flea markets, and restaurants.
What guests say: "This was easily one of the best Airbnbs we've stayed in. The photos don't do it justice - particularly the spectacular view, which we spent hours absorbing. We loved the decor, and having a fully-stocked kitchen meant that we didn't leave for the entirety of our stay. The hot tub on the balcony, with its view of the mountains, was out of this world. We had to drag ourselves away, and would go back in a heartbeat."
Airbnb
2 guests/$245 per night
Sagittarians typically need the freedom to roam but Whaley says they won't mind staying in small spaces. A tiny house would actually be great, she says, especially if it's an experience that's new to them. This pint-sized home, which is tucked away in a mountainside sanctuary garden, is close to lots of hiking and gorgeous beaches. It's also near the town of Topanga, which attracts artists, musicians, and writers with its vintage shops, interesting bookstores, and great restaurants. Brazen Sagittarians also won't mind the outdoor shower and bathtub.
What guests say: "This is my second time visiting Tom's oasis in Topanga and it will not be my last. The outdoor shower and tub and dreamy (especially at night with the twinkle lights on). I recommend bringing a book to read in the tree swing and packing light because there are a lot of steps to go down to get to your destination. This space is so peaceful. If you are looking for a unique, unforgettable place to stay, this is it!"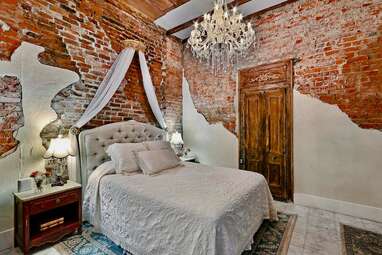 Airbnb
5 guests/$438 per night
Sagittarians thrive on energy and spontaneity, and what better place to find exactly that than in New Orleans? This luxury loft inside of a converted 1820s mansion will appeal to curious Sags, who will appreciate the opulence of the 18-foot ceilings, dramatic chandeliers, wooden ceiling beams, original exposed brick walls, and marble floors—all details that serve as a callback to the glory days of New Orleans's oldest neighborhood. They will also appreciate that Bourbon Street is right outside the door, complete with live music, street performers, amazing restaurants, and non-stop nightlife. Keep in mind that it's really one big room with curtains for privacy, but that's not something open-minded Sagittarians are likely to mind.
What guests say: "The room itself was like an artwork, the heavy drapes, the chandeliers, the big mirror, just beautiful. The courtyard was secluded with its fountain and plenty of chairs to relax. I loved waking up early in the morning and walk up to the Clover Grill to grab coffee. It was so private and I slept like a baby, I couldn't hear any noise from the street. It was accessible to everything in the French Quarters and I would definitely come back again!"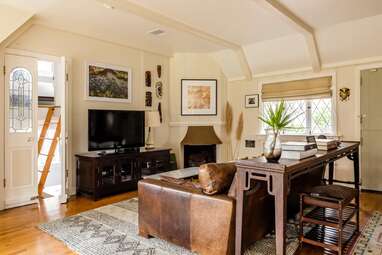 6 guests/$404 per night

This well-styled, charming cottage is perfect for a peaceful and private retreat. The home has two comfy bedrooms (including one with a loft that doubles as a perfect reading nook), a spacious deck with a grill and dining table that sits beneath twinkle lights, and a lush backyard with a hammock—all perfect for relaxing. But when it's time to go out, there are plenty of shops and restaurants just a short walk away.

What guests say: "The house is just as charming as it looks in the pictures. Convenient to so many things in LA but quietly tucked away in a nice neighborhood. We had everything we needed for our stay including a few option for coffee prep which was fantastic! Interior layout felt very spacious and the back yard was beautiful and relaxing. Having a parking space was great, as street parking would have been a challenge. Callie was kind and quick to respond when we had a question. Just can't say enough about this house. We would definitely stay again if we were ever back in LA."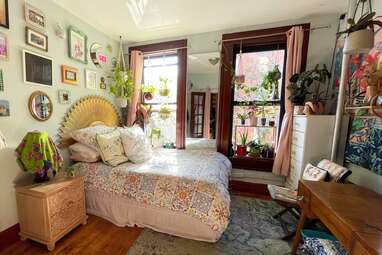 Airbnb
3 guests/$324 per night
This two-bedroom apartment has everything one could need for a comfortable stay, including an adorable pink kitchen and lots of funky art. But the eclectic apartment itself is hardly the reason why a Sagittarius would love it—rather, this one is all about location, location, location. It's right in Lower Manhattan's East Village, which means tons of events, spontaneity, live music, and amazing food—especially late-night food, which Whaley says is an option any Sagittarius will appreciate.
What guests say: "Sibet's Apartment is better than advertised. What a great location in the middle of the East Village! Everything is nearby, the apartment is cozy welcoming warm and everything is where it should be. Strongly recommended"