We independently source all of the awesome products and experiences that we feature on Thrillist. If you buy or book from the links on our site, we may receive an affiliate commission — which in turn supports our work.
Located in southern Arizona, Saguaro National Park is the picture-perfect representation of the American Southwest: think exposed rocks and mountains, colorful sunsets, and saguaro cacti as far as the eye can see. If you visit during the springtime, you might even get to see the desert landscape erupt with blooms from more than 100 wildflower species.
While Saguaro National Park is an easy day trip from Tucson (about 14 miles), you should skip the hotels and opt for a park-adjacent vacation home on Airbnb. The booking site has properties ranging from sprawling retreats with private pools to refurbished campers plopped in the middle of the Sonoran desert. We've rounded up some of our favorites below, sure to fit a variety of budgets and group sizes.
Airbnb
2 guests/$324 per night
The Posada is a five-suite inn bordering the west side of Saguaro National Park, with each suite available to rent via Airbnb. The Agave Suite is particularly lovely, with a queen-size bedroom, fireplace, full kitchen, and upper-level private balcony with fantastic views. The booking also grants access to the inn's common areas, including a pool, yoga room, rooftop lounge, and living room—all decorated to perfection.
What guests say: "Loved my one night stay! The sunset from the private balcony overlooking Saguaro National Park was truly magical."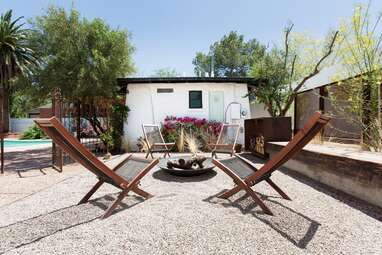 Airbnb
4 guests/$117 per night
The terracotta tiles and Southwestern decor at this cozy casita perfectly reflect their environs, with a private, cactus-lined backyard ready for guests to relax in the sunshine. The casita shares some outdoor amenities (a pool, fire pit, and hammocks) with the main house, but the sunny and breezy bedrooms and bright blue kitchen are perfect for some relaxing alone time.
What guests say: "The casita was super comfy, well decorated, and quiet with a good balance of indoor/outdoor space. Would stay there again in a heartbeat."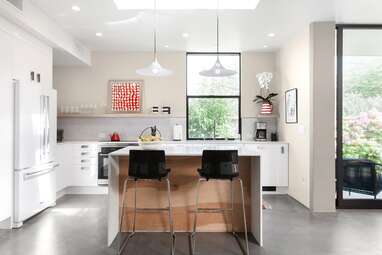 Airbnb
4 guests/$191 per night
This brand-new house in central Tucson offers tons of luxurious touches, like king-size beds, walk-in rain showers, and carefully curated furniture and artwork. But it doesn't completely cut you off from nature, either—floor-to-ceiling windows in the bedroom overlook walls crawling with ivy and bright flowers, while skylights let in that bright Arizona sunshine. (Don't worry, there's also air conditioning.)
What guests say: "We have stayed here a number of times while visiting Tucson and consider it our go-to if it's available. It is private, very clean and modern, full of everything we need, and in a great location."
Airbnb
2 guests/$70 per night
Just big enough for two people, this vintage aluminum camper has been refurbished with tons of comfy add-ons, like an elevated deck with outdoor shower and a covered patio with dining table. The inside is decked out with 60s and 70s decor, including beaded curtains, flower garlands, a record player, and a lava lamp. Those desert views, though? Timeless.
What guests say: "Awesome place to stay after exploring Saguaro National Park, great birds right on the property and beautiful view of the stars. Outdoor shower was amazing—even in February!"
Airbnb
8 guests/$309 per night
Perfect for groups and families, this private retreat has both indoor and outdoor spaces curated to be warm and welcoming. Play all day in the private pool, or relax in the backyard with a hot tub, fire pit, outdoor dining area, charcoal grill, and string lights. Curl up in the cozy organic cotton bedding to rest up for your next outdoor adventure.
What guests say: "I can't say enough about how amazing this house is! The decor is stunning, the pool is perfect, and Erin was a fantastic host."
Airbnb
4 guests/$150 per night
This listing includes a private casita on a five-acre farm, complete with an organic garden and resident chickens, goats, bunnies, tortoises, and dogs. The guesthouse has comfortable beds and Netflix, but you'll want to spend most of your time outside. Watch the sunset from your private patio with Adirondack chairs, or head over the playground for some rock climbing and zip lining.
What guests say: "Excellent spot, great location, and we got our animal fix anytime we wanted it! Super clean and cute."
Airbnb
6 guests/$450 per night
The mud adobe walls of this house date back to the 1870s, with regional antiques and local artwork adding to the authentic and historic vibe. You can find distinctively Southwestern architectural details like brick tile floors and a kiva fireplace, plus luxurious amenities like HD televisions and Italian road bicycles for guests to use. Sit on the private patio to watch the sunset over the Santa Catalina Mountains.
What guests say: "We have stayed in Airbnbs all over the world and this was probably the best. The house is beautiful, spacious, comfortable, and historic."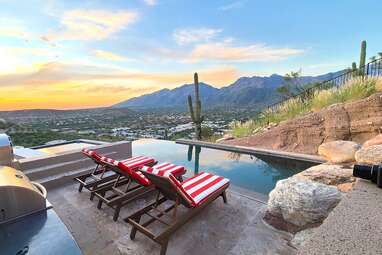 Airbnb
8 guests/$600 per night
This unique home is built on the side of a rock mountain, affording incredible views of the mountains from the two-story living room and luxurious infinity pool. The four-bedroom house is perfect for guests, with plenty of room to mingle in the game room, gourmet kitchen, outdoor terrace, and spacious dining room.
What guests say: "This place was absolutely stunning! The infinity pool with the mountains and cacti in the background made it picture perfect."
Airbnb
3 guests/$293 per night
This newly renovated house is located in a quiet central area in the Catalina Foothills, within 15 minutes of Saguaro National Park. Aside from absolutely perfect landscaping (so many succulents!), the home has covered patio areas, a huge eat-in kitchen, and a master suite with its own kiva fireplace.
What guests say: "Staying at Guinevere's place is like staying at a fancy hotel. The covered outdoor patio was my favorite place to sit and enjoy the cactus garden with lots of birds, rabbits, lizards, and squirrels to watch."
Caitlin Morton is a travel and lifestyle writer based in Kansas City. You can follow her on Twitter
@CaitlinMorton23
.