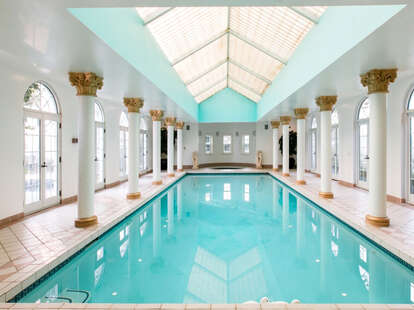 We independently source all of the awesome products and experiences that we feature on Thrillist. If you buy or book from the links on our site, we may receive an affiliate commission — which in turn supports our work.
Airbnb properties have no shortage of incredible amenities, from fully-stocked kitchens to personal saunas. But none quite compare to the weather-defying luxury of a private indoor pool. This single perk guarantees fun all year round, letting your travel party splash it up while the rest of us shiver through the winter months.
Finding an Airbnb with an indoor pool is no easy feat, but we did some digging to find some truly incredible properties around the country with private pockets of chlorinated glory. Each rental is big enough for large groups, comes with tons of other amenities, and has great reviews from past customers. So grab your swimsuit, and get ready for an amazing vacation—come rain or come shine.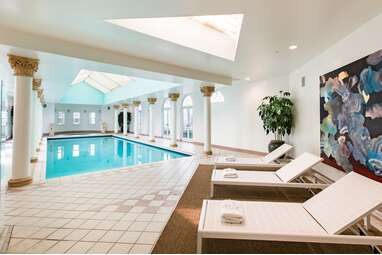 Airbnb
Belvedere Tiburon, California
14 guests/$2,995 per night
More like a private resort than vacation house, this sprawling estate near San Francisco has a sauna, gym, five patios with seating areas, and a backyard with a tennis court, trampoline, and bay views. There's also an indoor pool that looks like a Moroccan palace, with ornate columns and a glass roof.
What guests say: "We had a wonderful stay and enjoyed the property to its fullest! The gardens are amazing, the views are stunning, and the house itself is gorgeous and grand."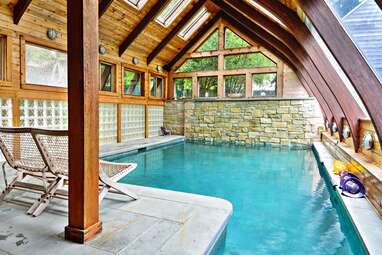 Airbnb
5 guests/$703 per night
The Hamptons are a popular spot for New Yorkers to escape, and this Sag Harbor retreat is the perfect place to totally unwind. Aside from features like a sauna, hot tub, and stone-wall indoor pool, the house is down the street from some of the best bars and restaurants on the East End.
What guests say: "A great indoor pool and sauna—the perfect winter getaway! And the best communication I've ever had with an Airbnb."
Airbnb
2 guests/$178 per night
This warm and cozy farmhouse suite is a romantic spot to hole up for a weekend, whether by the fireplace or solarium-shrouded indoor pool. When you're ready for some fresh air, you can walk the 6-8 miles of hiking trails, go snowshoeing, or pay a visit to the resident sheep and horses.
What guests say: "A perfect escape with my wife and our pups! It's a beautiful location with a cozy fireplace, amazing indoor pool, and lots of outdoor space!"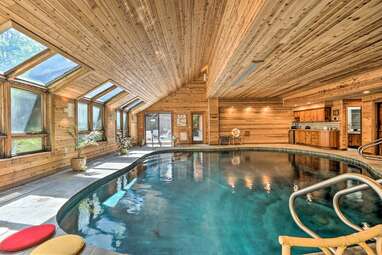 Airbnb
8 guests/$888 per night
If you can't make it to Aspen or Zermatt for ski season, this chalet tucked away in central Vermont might be the next-best thing. It's just a quick drive away from the Okemo Mountain and Killington ski resorts, so you can spend your days on the slopes before heading home for the total après-ski relaxation—complete with an indoor pool and stone waterfall.
What guests say: "Honestly one of the best places I've stayed at. We did not have to leave the house for any activities, the house was truly enough."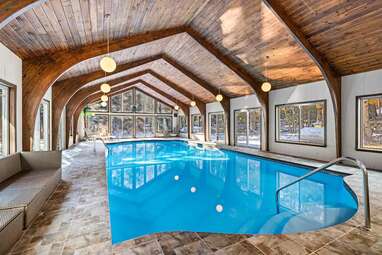 Airbnb
16 guests/$1,657 per night
Looking for your next great group escape? Look no further. This huge house in the heart of the Pocono Mountains fits up to 16 people, with fun amenities like a heated indoor pool, full-size volleyball court, and game room with pool table and ping pong table. It's a 15-minute drive from the Camelback ski slopes, but you might just decide to stay put the entire time.
What guests say: "This property is phenomenal—don't hesitate booking it! Huge space, super clean, and the pool is glorious!"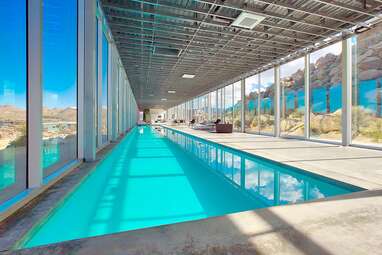 Airbnb
8 guests/$2,980 per night
We've long been fans of the "Invisible House"—a 22-story skyscraper turned on its side just outside Joshua Tree National Park. The property comes fully loaded with a huge marble kitchen, a fire pit for stargazing, and luxurious interiors with glass walls affording views of the surrounding desert. There's even a 100-foot indoor pool, and the vistas here are just as spectacular.
What guests say: "Imagine a piece of modern art that looks like a luxury space station housing quarters, or pool house from the future that dropped from the sky and landed in the desert many years from now? That's what it felt like at the Invisible House."
Airbnb
12 guests/$411 per night
If you like your cabins to skew more ritzy than rustic, this NoCal property should fit the bill. It still has some traditional elements like stone fireplaces and wood walls, but bumps up the comfort level with a hot tub, pool table, solarium with indoor pool, and multiple balconies and covered patios. The Trinity River and tons of wildlife are just outside the door.
What guests say: "This place is a gem in the middle of the mountains. Coming back to the indoor pool and hot tub was just what we needed after a long, cold eight hours fishing on the river."
Airbnb
North Hampton, New Hampshire
16 guests/$1,500 per night
This massive New England retreat is located just two miles from the New Hampshire shoreline, though the property itself has plenty of amenities to entice you to stay put for your entire stay. It boasts a gorgeous indoor pool, hot tub, and sauna, plus a 10-acre manicured lawn, cookout-worthy patio, and even a home theater.
What guests say: "We had a wonderful stay for the weekend at this gorgeous historic home! The huge indoor pool was amazing! It was warm and relaxing and we couldn't have had a more lovely getaway in January."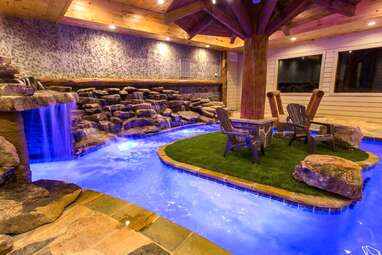 Airbnb
16 guests/$1,093 per night
This is not your typical "lodge" experience—it's way, way better. Eagle River Lodge sits on a private five-acre lot, boasts 6 bedrooms, and has a litany of super fun amenities. Just check out the indoor pool room (complete with a hot tub and mini "island" with faux grass), several luxuriously rustic lounge and hangout areas, massive kitchen, and amazing lofted game room.
What guests say: "10/10 would recommend to a friend! The home is beautiful, the amenities are amazing, and the views were jaw dropping. I would love to revisit this place!"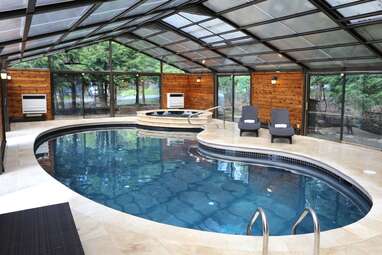 Airbnb
12 guests/$705 per night
Pairing the comfort of community amenities like a lake and tennis and basketball courts with private luxury, this Pocono Mountain Retreat is the ultimate group getaway hub. It's equipped with plenty of hangout spaces, including two furnished decks, a lovely living room, a media room, and a game room complete with ping pong, foosball, and shuffleboard. Of course, the crown jewel of this place is its gorgeous kidney-shaped heated indoor pool and hot tub, which make for the perfect place to unwind after a long day on the slopes at the nearby Camelback Resort.
What guests say: "We enjoyed the house thoroughly! The pool and hot tub were amazing and such an amazing novelty especially in the winter."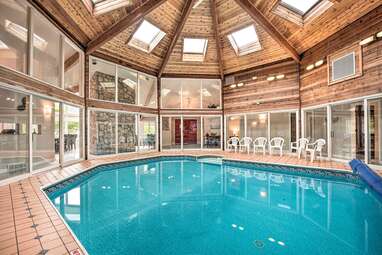 Airbnb
16 guests/$1,160 per night
Roughly 90 minutes outside of Chicago, this rental just two blocks from the coast of Lake Michigan has been dubbed "Asolare," an Italian verb for passing time "in a delightful but meaningless way." Honestly, we couldn't imagine a better place to do just that. The 3,500 square foot property is stocked with amenities, including a private tennis court, pool table, huge screened-in porch, large deck, a sauna, and a lovely indoor heated pool that can be viewed from a number of different interior rooms.
What guests say: "We had an amazing weekend! It was the perfect house for our girl's getaway. The pool was a fabulous addition and we were just a short walk away from the beach. We would definitely like to return in the future!"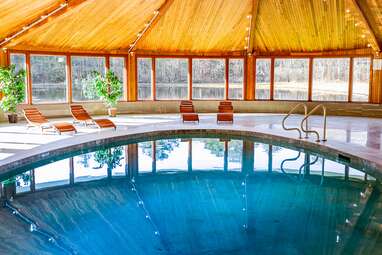 Airbnb
16 guests/$1,892 per night
Okay, so you want to do a little tranquil getaway to the Catskills, but you also want the fun and revelry that comes with having access to your own private indoor heated pool, hot tub, and sauna? We got you. Twin Ponds Estate boasts 6,000 square feet of living space, 13 bedrooms, and lots of group-friendly areas for lounging and hanging, many of which enjoy sweeping views of the pastoral 33-acre property and its two private ponds.
What guests say: "George's house was a great place to stay for a weekend getaway! Everything was as described and he was very responsive to all the questions I had. 10/10 would book again!!"
Caitlin Morton is a travel and lifestyle writer based in Kansas City. You can follow her on Twitter
@CaitlinMorton23
.