Energy-Packed Snacks That Will Power You Through the Work Day
Although it's no-doubt been drilled into you for decades that skipping breakfast is a bad move, adulting is tough, and getting to work on time is even tougher...
We independently source all of the awesome products and experiences that we feature on Thrillist. If you buy or book from the links on our site, we may receive an affiliate commission — which in turn supports our work.
Although it's no-doubt been drilled into you for decades that skipping breakfast is a bad move, adulting is tough, and getting to work on time is even tougher. It's no wonder 31 million Americans miss the most important meal of the day.
Still, no one likes a hangry colleague, and you owe it to yours to spare them from the peaks and valleys of your blood sugar. So, for your sake and theirs, we've pulled together a list of solid energy-packed snacks that can be easily delivered straight to your workplace in 2 days or less courtesy of Prime Pantry.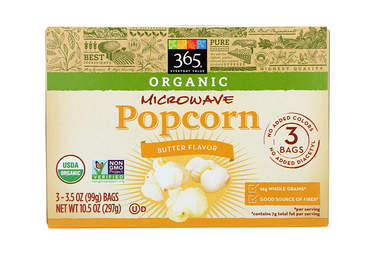 Amazon
Organic Microwave Popcorn, Butter Flavor
Price: $2.99
The popcorn aisle of any grocery store is a paradox of options these days There's popcorn that's Skinny. There's popcorn that's Buddhist. And now there's popcorn made out of cauliflower which is genuinely confusing because then where's the corn? Still, we will always support the theory that freshly-popped microwave popcorn is the best. The generic Whole Foods brand is our favorite because it comes in three variations of buttery-ness to match butter-lovers of all stripes.
Amazon
Peanut Butter Pretzel Nuggets 
Price: $2.49
Just like one might judge you based on how you eat Oreos (cookie, then cookie/creme combo, duh), some may judge you based how you eat these mini delicacies. Despite that, the combo of a thin pretzel outer shell and delectable peanut butter center packs a hunger-quenching punch, no matter how you choose to consume them.
Amazon
Roasted & Unsalted Almonds
Price: $6.99
Ah, the humble almond. A true hero in the pantheon of snacks. They're simple, healthy, and packed with enough protein to give you just the right amount of pick-me-up at any time of day. Honestly, you owe it to yourself to keep a stash in your filing cabinet. 
Amazon
Classic Animal Cookies
Price: $3.99
Last time we checked, these were called Animal "Crackers," which made them an intrinsically healthier and more viable snack. However, it is 2019, and we will accept whatever they want to be identified as: cracker, cookie or animal. These nostalgic little guys are delicious no matter what you call 'em.
Amazon
Organic Dried Sliced Mango
Price: $7.99
Dried fruit isn't exactly the sexiest snack, but it's a tried-and-true trail mix staple that deserves a moment to shine on its own. A big bag of this stuff should last you a while, and help satisfy any sweet tooth craving when you're jonesing for some much-less-healthy (or energy-sustaining) candy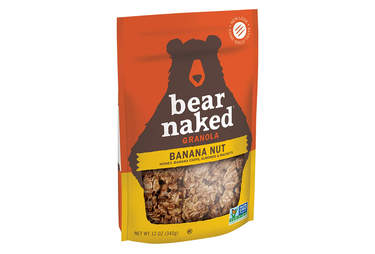 Amazon
Bear Naked Banana Nut Granola
Price: $4.59
Much like popcorn, the variety of granola on the market is downright intimidating. Worse yet, many of them are packed with more sugar than you'd think, and less than healthy than you'd hope. Not so with this delicious stuff from Bear Naked, which delivers just the right amount of sweet and isn't too crunchy. Throw some in a bowl, add a little almond milk, and you're golden.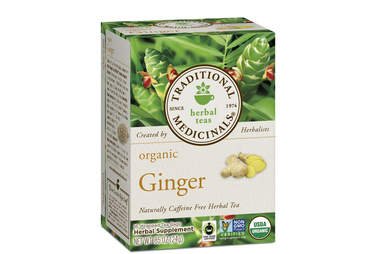 Amazon
Traditional Medicinals Ginger Herbal Tea
Price: $3.69
Technically, this is not a food. However, if you're recovering from a big night out and not quite ready to eat anything, consider this your appetizer. 
Amazon
Multigrain & Chia Triple Berry Instant Oatmeal
Price: $1.99
Even if you're convinced the oat craze are just the latest hipstery health trend, you should give these a shot. These are hugely flavorful and pair well with coffee in the morning. Add some cocoa powder, peanut butter, and frozen berries and you've got quite a nice little meal for yourself. Either way, they're just filling enough to help curb your mid-day cookie cravings.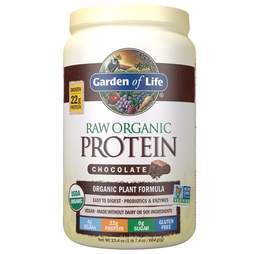 Amazon
Garden of Life Vegan Protein Powder
Price: $27.99
Though you may associate it with gym-rats obsessed with "bulking season" protein powder is a great addition to any smoothie, and is makes anything its added to a little more filling. And while many powders can taste chalky and gross, this stuff is straight-up delicious. You're welcome, chocoholics.