We independently source all of the awesome products and experiences that we feature on Thrillist. If you buy or book from the links on our site, we may receive an affiliate commission — which in turn supports our work.
Whether you're a bachelor with room to spare, a parent desperately trying to keep their kids occupied, or a startup trying to make your office seem cooler than it actually is, there's no denying the allure of an arcade or table game. When conversations run dry, a quality foosball table or air hockey table can keep a party (or work day) going for hours.
Instead of throwing down for a disappointing 10-in-1 combination table meant for children, you should consider committing to a single game. That's why we've rounded up the best table and arcade games you can snag on Amazon right now.
Amazon
A dive bar favorite, nothing says "let's do this" quite like an arcade basketball set. If you've got the space for it, a dual hoop model is the logical choice; you can't establish dominance over your guests with just one hoop.
Amazon
Yes, you can get a surprisingly legit air hockey table for under $200. With LED and abacus scoring options, as well as a puck and paddles that actually light up to let you play in the dark, the only thing missing here is the cacophony that comes with a busy arcade. Not that it won't be loud on its own; you're going to want to put this thing far, far away from any bedrooms or quiet spaces.
Amazon
If air hockey's not your thing, or you're after a different sort of nostalgia trip, consider checking out an old-school table hockey game. This classic tabletop set isn't much different from the ones that existed in the '70s and '80s, complete with 3D-modeled Detroit Red Wings and Toronto Maple Leafs players who slide around on tracks in the board. Since the game only comes with two pucks, you'll want to pick up some spares to avoid the time-honored "Well, I guess we can't play anymore" dilemma.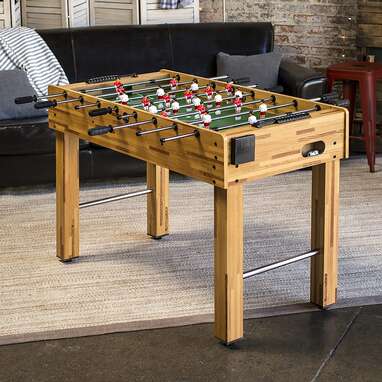 Amazon
This competition-sized foosball table has everything you need to get started: two balls, a playing field, and a bunch of little foosguys on sticks. It even comes with two cup holders, which any player knows is the mark of a truly thoughtful foosball table. Just, whatever you do, be sure to obey and enforce the cardinal rule: no spinning.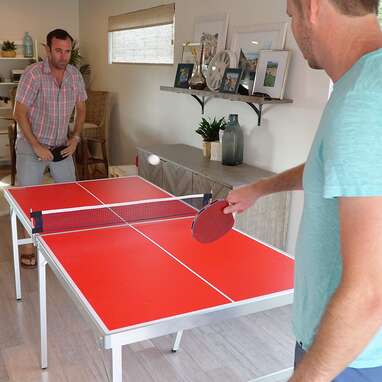 Amazon
There's a subtle difference between table tennis and ping pong that's beyond the scope of this article, but suffice it to say that you can play them both on this table, whether you pick the red or blue version. Plus, it folds up conveniently to let you stash it away when it's not in use, making it the perfect option for a cohabitating gamer with space constraints.
Amazon
While we'd all love to have enough space and money for a full-sized poker table, in reality it's probably not…in the cards. Stomach-churning puns aside, this folding poker mat lets you give any table the authentic poker treatment, complete with green felt, cup holders, and chip trays. Just supply your own cards and chips, and you're ready to go. When the game is over, the whole thing collapses down and slips into a convenient carrying bag—so if you're a truly degenerate gambler, you can go all in and throw the table itself into the pot.
Amazon
Originating in India, carrom is pretty similar to pool, except you try to get little wooden rings (carroms) into the pockets instead of spherical balls, and nobody's likely to bash you over the head with a carrom cue if you hustle them. This reversible wooden board is beautifully detailed, and claims to feature more than 100 different playable games including checkers, shuffleboard, crokinole, and backgammon.
Amazon
Billed as a blend between foosball and air hockey, this popular pub game from Denmark sees two players use magnetic pieces to try and push the ball into the opponent's hole while avoiding magnetic obstacles. It's easy to learn but tricky to master, and perfect for whiling away the hours with friends over some beers.