12 Amazing Austin Airbnbs That Are Perfect for Big Groups
We independently source all of the awesome products and experiences that we feature on Thrillist. If you buy or book from the links on our site, we may receive an affiliate commission — which in turn supports our work.
Make no mistake, Austin is a great city for romantic weekend getaways and solo travelers, but it's also one of those places that's perfectly suited to play host to a group trip. From the unmatched selection of incredible food and a rowdy-as-you-want-it-to-be nightlife, to its ever-buzzing music scene and proximity to nature and water, it's the sort of locale that has plenty to offer everyone -- something that's particularly important if you're rolling deep. 
And since it's notoriously difficult to get everyone on the same page when you're trying book a big getaway en masse, we figured we'd make at least deciding where to stay while you're there a bit easier by pulling together some of our favorite large-capacity Airbnbs you can rent in and around ATX.
Just don't ask us to help get your whole crew on board with the same itinerary. That's on you.
Airbnb
If you're looking to catch sprawling city views poolside
10 guests (2 bedrooms), $550 per night
Waterford Place (short drive to downtown)
If you're cool sharing the property with its owners (who occupy the top two floors), this spot is pretty spectacular, and a relative bargain. You'll get the first floor apartment all to yourself, which comes with its own full kitchen, living room, and dining room, but you'll likely end up spending most of your time in the gorgeous backyard. There's a lovely heated pool and hot tub, copious lounging areas, and sprawling views of downtown, which is just minutes away.
Best review: "The house and location were amazing. Our host was very attentive to details, and even had breakfast tacos delivered for us in the morning at check out. We were able to walk to a few bars and spots locally. The pool area and hot tub and grill were really great as well. We honestly could not have asked for a better trip or stay!!!"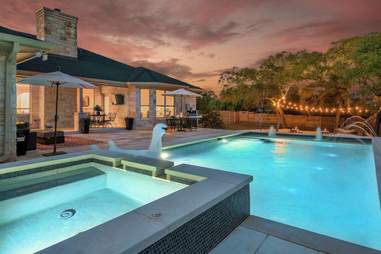 Backyard view of Live Oak Lodge

| Airbnb
An oasis in the heart of Hill Country
16+ guests (5 bedrooms), $999 per night
12 minutes to downtown Austin
Set on two acres and just eight miles from downtown, this 4,000 square foot spot is ideal for extra-large groups (there are sleeping arrangements for up to 20 people). It's also stacked with amenities that make it a destination unto itself, including a pool, hot tub, fire pit, outdoor TV, grill and smoker, a basketball court, Bocce ball, corn hole, Kan Jam, billiards, a covered patio, and even a "hammock garden."
Best review: "The house was very clean and organized. We spent most of our time outside in the pool and hot tub as well as grilling and enjoying the open space in the back yard. The pool table and the basketball court provided great entertainment and the house had more than enough beds for all 15 of us. The location is in close proximity to downtown Austin, about a 10 to 15-minute drive depending on the Uber driver. We had a blast!"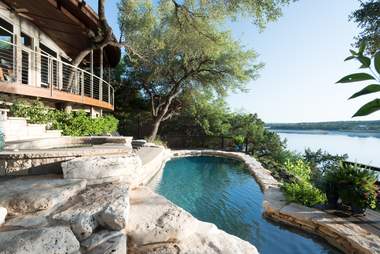 Lake Travis views

| Airbnb
If you're interested in a lakeside treehouse with a saltwater pool
9 guests (3 bedrooms), $595 per night
Leander (26 miles to downtown Austin)
If you're cool staying a bit further from the action downtown, this treehouse-esque hideaway is a great match. It's nestled on the banks of Lake Travis and boasts several sundecks where you can get your tan on while marveling at the views, plus a saltwater pool and hot tub, a huge kitchen, and plenty of space to lounge inside. And if you feel like actually getting out on the water, there's a kayak you can use whenever you want.
Best review: "Wow! Couldn't have asked for a better house and host. Indoor space is great but the deck, pool, hot tub, and lake view steal the show! Very Thoughtful and well done outdoor living space. Kathryn was super responsive to all our needs, delivering a new coffee pot within a few hours of us accidentally knocking it off the counter, along with a few other things we needed during our stay. She was pleasant and so accommodating."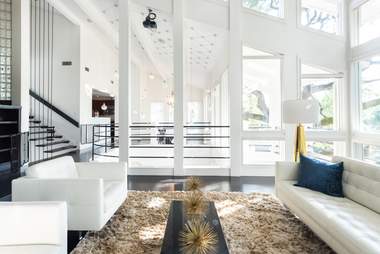 A modern mansion near Lake Travis

| Airbnb
A modern mansion steps from the water
14 guests (5 bedrooms), $457 per night
15-20 minute drive to downtown Austin
There's no other way to say this: this place is a dream house. The modern digs offer everything you'd possibly need for a big crew (including plenty of space for everyone to feel like they have their own private area), a top-of-the-line kitchen, and a secluded and tranquil backyard complete with a pool and hot tub. And while it's a short drive to the big hotspots downtown, it's just steps from Lake Austin.
Best review: "I usually do not write reviews, but had to share my experience with any future travelers. This house blew my mind, these pictures do not it justice. This is something you see in Hollywood movies, just unbelievable modern design throughout. The house is sprawling and you will find yourself with more than enough space for even the largest of groups. Every single Uber driver that took us back to the home even made a comment. The location is perfect for being right near the heart of town while having your own private oasis when you want to pull back."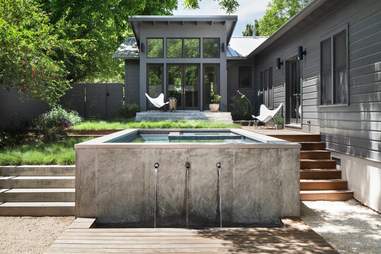 Kick back after a long day of exploring in the backyard pool or hot tub

| Airbnb
A modern and low-key escape with a backyard pool & hot tub
6 guests (4 bedrooms), $800 per night
Zilker (2 miles to downtown Austin)
If your group is on the smaller side, this impeccably designed home just south of downtown is the ultimate escape. It's bright and airy with plenty of space for everyone, and boasts a lush backyard with a pool and hot tub, fire pit, and a private outdoor shower. There's also a charming casita (separate mini house) in back equipped with its own lounge-like living quarters and a lofted bedroom.
Best review: "This is an amazing place! Absolutely loved staying here. The most chic home I've ever stayed in on my many trips to Austin. The home is comfortable and clean, with a great atmosphere... it was as lovely to hang out at the house as to go out! The location is great, an easy walk, scooter or Uber ride to many locations."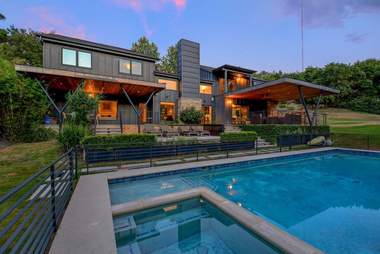 Enjoy the pool, hot tub, sports court, and in-ground trampoline

| Airbnb
A sprawling rural spread with a ton of outdoor amenities
15 guests (5 bedrooms), $556 per night
Toro Canyon (10-15 minutes to downtown Austin)
A short drive from the all the action downtown, this architectural gem has the space to fit a substantial crew and is nestled on a meticulously landscaped acre of land. And while you'll be more than tempted to spend your time indoors (the open concept living spaces are airy and full of loungeable areas), out back is where this place really shines. The backyard is decked out with a pool, spa, basketball court, in-ground trampoline, fire pit, and an impressive full outdoor kitchen.
Best review: "This home and property is spectacular. A great place to spend an entire weekend if Austin itself weren't just as wonderful."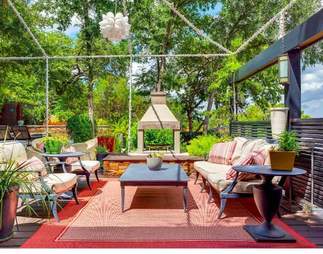 A modern escape in Central Austin

| Airbnb
A quaint hideaway steps from downtown
8 guests (4 bedrooms), $1,000 per night
Less than 3 miles from downtown Austin
With the main house and a full master apartment, there's plenty of space here to host a sizable crew, and though you're close enough to get downtown quickly in an Uber, this place has enough to entice you to stay put. The backyard is stocked with amenities including a large covered deck, a comfy lounge with a well-appointed outdoor fireplace, and a stunning pool and hot tub.
Best review: "Wow!!!! This home is amazing. The location is just minutes from SOCO and downtown. The backyard space is paradise. Ronnie even made sure the pool temperature was just right when we arrived."
An open air oasis right downtown

| Airbnb
If you're looking for an open-concept hub steps from downtown
10 guests (5 bedrooms), $1,199 per night
5 minute drive to downtown Austin
If you're a fan of massive winding staircases and lots of outdoor hanging areas, this spot should suit you well. There's enough room for nearly a dozen overnighters, a full chef's kitchen (including a massive wine fridge), and a wonderful backyard complete with an elevated patio that's perfect for pre-dinner cocktails, and a pool and hot tub.
Best review: "It was the perfect house for our bachelorette weekend, and was truly a home away from home. It's so convenient to everything you could want to do in Austin, and you can't ask for a more beautiful setting."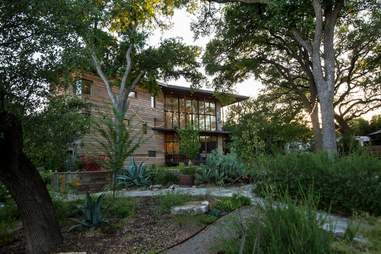 A hilltop escape steps from downtown

| Airbnb
A hilltop retreat overlooking downtown
16+ guests (3 bedrooms and separate guest apartment), $2,295 per night
5 minutes to downtown Austin
Overlooking downtown, this property includes a main house and a separate apartment (plus a tiny home in back that sleeps two), so it's suitably equipped to handle a large crowd comfortably. The home itself is frequently rented out for weddings, and you'll see why once you look around. It's spacious, with plenty of indoor space for entertaining, plus a sprawling yard with a pool, hot tub, and two big covered porches.
Best review: "All the ride share drivers are aware of how cool this property is. The location could not have been better. You don't need a car if you are doing South Lamar or even downtown — just hop a scooter or ride share away. This house made a lifelong impact on my college-age daughter and her friends for the UT - LSU game. It was the perfect refuge, gathering spot, and entertainment property."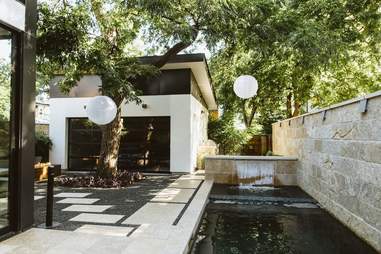 The backyard at Casa Escondida

| Airbnb
A quiet downtown retreat with a tranquil backyard pool and bar
10 guests (4 bedrooms), $1,399 per night
Walking distance to downtown Austin
If you're looking for a spa-like setting to call home while you're in Austin, this house should be on your radar. The modern spot -- which is walking distance to downtown -- comes equipped with a huge kitchen and plenty of space to chill inside, while the outside a respite unto itself thanks to an 11-seat hot tub, a plunge pool, and a gorgeous outdoor fireplace. 
Best review: "Fantastic home, loved the property. Really well designed and stocked. The lighting and sound system is great. The beds are very comfortable and the home has everything one could ask for. The property is located within blocks from all the restaurants, bars, and shops, therefore location is solid."
The sprawling house has a rooftop patio with panoramic views of downtown

| Airbnb
A palatial Tulum-inspired house minutes from downtown
10 guests (4 bedrooms), $2,400 per night
5 minute ride to downtown Austin
This luxurious retreat is decked out with a suite of top-notch comforts and amenities (including a dream kitchen with a gargantuan island) that'll make it tough for you to even want to leave the house. The sprawling, modern layout makes it feel like you're lounging in a villa, and nearly every room has windows or sliding doors that open out onto the back patio which showcases a 35-foot pool and sizable hot tub, and indoor/outdoor fireplace. There's also a terrific rooftop patio -- complete with its own bar and outdoor sofas -- where you can catch a killer sunset and sweeping views of the city. 
Best review: "The pictures don't do it justice. Jennifer's house is absolutely gorgeous in every detail, and she is a superb host. And just a short walk to Maria's Taco Xpress....what could be better?"
There's a swim-up bar, so you never have to leave the pool

| Airbnb
A modern escape with a swim-up bar
8 guests (3 bedrooms), $1,900 per night
Bouldin Creek (walking distance to downtown Austin)
Though the fact that it has a swim-up bar should be reason enough to book this spot, it's got quite a bit more to offer, too. Beyond the large pool and hot tub (and outdoor flatscreens) in back, there's a massive kitchen and multiple living rooms to take advantage of inside. 
Best review: "This house was incredible and perfect for our group. There was plenty of space so we didn't feel cramped and the location was key as we needed to be close to downtown. And of course, you can't beat the outdoor space! We were able to work outside by the pool and grill out for dinner in the outdoor kitchen."