Design by Maggie Rossetti for Thrillist
We independently source all of the awesome products and experiences that we feature on Thrillist. If you buy or book from the links on our site, we may receive an affiliate commission — which in turn supports our work.
Growing up on the west side of Puerto Rico meant going to the beach every weekend. My parents made sure we packed all the essentials to spend a full day there without interruptions. Everyone was expected to carry their own chair, and even if I complained about having too much to tote, once I got to the beach, it was all worth it. A quality, comfortable chair can truly make all the difference between a good beach day and a great one.
So, it's time to leave your sandy towel days behind and finally snag a chair that will allow you to relax under the sun for longer (with lots of sunscreen on and an umbrella, of course). Before you make any big decisions, though, we rounded up some of the best options to consider.
Looking for a chair that doubles as a massage bed or one with an insulated pouch to keep your drinks cool? Keep scrolling and find the one that fits your needs.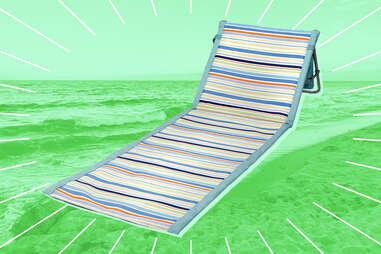 ONIVA Beachcomber Portable Chair & Beach Mat
Price: $72.95
This isn't your typical beach chair, but a mat-chair hybrid for those who still prefer to lie down and soak up the sun. It boasts a sturdy steel frame with a fully-padded body, adjustable reclining backrest, and back pocket to store personal items. It folds up for easy transport with an included adjustable strap.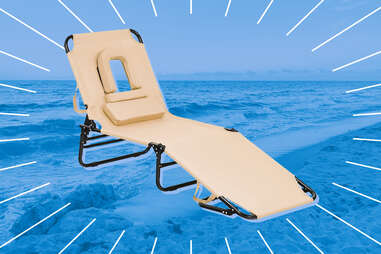 GYMAX Beach Lounge Chair
Price: $95.99
With five adjustable reclining positions, this lounge chaise is sturdy enough to withstand up to 330 pounds. Its ergonomic design allows you to comfortably sit or lie down, and it even has a cutout for your face for all the stomach sleepers out there. Yes, the massage chair resemblance is totally intentional.
KingCamp Low Sling Beach Chair
Price: $64.99
This small but mighty chair offers breathability even on the most scorching days in the sun. Its mesh detail allows your body to keep cool while the padded armrests and low seat design provide added comfort. It also weighs under seven pounds, so it's light enough to haul around everywhere without breaking a sweat.
SUNFLOW Chair
Price: $198
If you're looking for a simple design and a variety of colors to choose from, consider this chair from Sunflow—a compact, lightweight, and durable option that will make your beach days a lot easier. Our favorite part about this reclining chair is that it's easy to unfold and the back level can be adjusted smoothly without the the embarrassing potential of getting stuck at any point.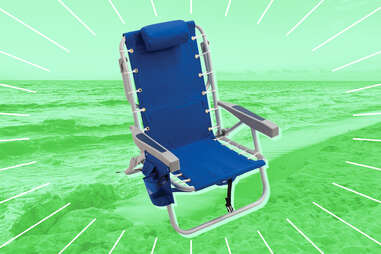 Rio Lace Up Backpack Chair
Price: $59.99
This five-position chair lays flat, straight, and everything in between. It features an insulated cup holder and cooler pouch, a spacious storage pouch, and two straps that allow you to carry it as a backpack, which means more free hands to lug booze.
While the origin of the margarita, America's most popular cocktail, is steeped in folklore, many agree that it was invented in the West. And it's where the inspiration for Lone River Ranch Rita comes from—a premium brewed, margarita-style beverage inspired by its western roots. Ranch Rita's deliciously light yet refreshing taste hits just right, thanks in part to a hint of organic agave nectar and lime—making it the perfect summer sipper for any occasion.
Eddie Bauer Backpack Chair
Price: $109
The fun print is not the only attractive feature this chair has to offer. It also comes with a pillow that you can adjust to your preferred level, a cooler beneath the seat that can store up to six cans, a cup holder, and soft backpack straps for easy transport.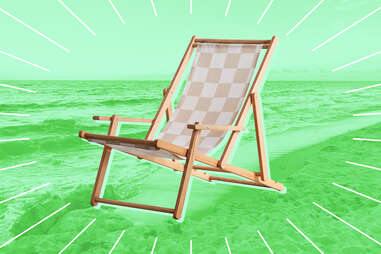 migraneuse For Deny 1989 Check Outdoor Folding Chair
Price: $149
Aesthetics and functionality converge with this beach chair. Made in the US, it boasts a solid wood frame that reclines to three different angles, a polyester sling seat patterned with a muted, modern check print, and a UV- and water-resistant finish for durability.
Rio Blue Breeze Hammock Aluminum Lawn Chair
Price: $46.91
There's never been a time I haven't wished I had a pillow at the beach, and this chair just made those dreams come true. It offers true convenience and comfort if you're planning to spend a long day relaxing, and the padded strap allows you to carry it around effortlessly.
Helinox Beach Chair
Price: $169.95
A favorite among campers and beachgoers alike, this easy-to-set-up chair is constructed with a proprietary aluminum alloy for an exceedingly stable seat in sand and loose soil. Need more reasons to own one? Its mesh panels prevent you from turning into a sweaty mess while integrated side pockets store small essentials, like electronics, keys, or wallets.