We independently source all of the awesome products and experiences that we feature on Thrillist. If you buy or book from the links on our site, we may receive an affiliate commission — which in turn supports our work.
You finally did it. You made it to the beach. The ocean beckons you to play in its whitewash while the sun kisses your skin. The sand cushions your feet with every step as you slowly meander through throngs of sunbathers to find your perfect spot on the shore. You've brought along an incredibly comfortable beach chair—and hopefully some sort of shelter to keep you shaded. Now, there's nothing left to do but kick back, throw on your "beach vibez" playlist, and sip on an icy bevy from the cooler.
But wait! This beach doesn't allow open containers and if the law catches up with you, you'll have to empty out your entire cooler, not only dampening the sand...but your spirits. A cruel summer indeed. Ensure this scenario never happens to you by picking up an insulated travel tumbler or koozie that'll keep your beers discreet and your mixed drinks cold for hours. Here are 8 that totally won our approval.
As I've gotten older, I've realized that there are certain situations which exist that I've never dreamed possible. Say, for instance, someone hitting a brewery and filling up a 32oz growler of a double IPA before heading to the beach. Would I do it? No. But there is someone out there who would. And who does. And that person would be wise to snag this MiiR 32oz insulated growler that keeps fresh beer cold for 24+ hours.
Showing up to the beach with a YETI Colster is like showing up to the bowling alley with a custom ball with your initials engraved on it. It's a flex. The Colster will fit regular 12oz cans and bottles and comes in a variety of colors. It'll keep your drink really, really cold for much longer than you'll actually need it to. And that's why we love it.
If you're the type of person who likes to grab an ice-cold beer and a floatie before hitting the water, this is the tumbler for you. It's shaped in such a way that it'll fit most cup holders and is fitted with a splash-proof lid so no saltwater will ruin that low-carb sour you've been saving. It's also straw-friendly for the seven people who sip beer through a straw.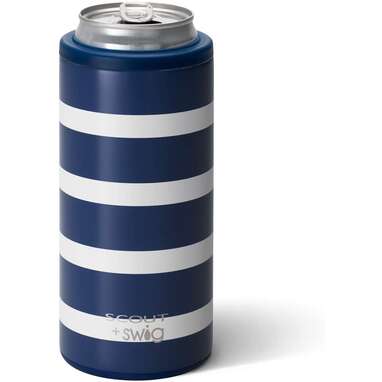 Do you love seltzers but sometimes feel alienated when you show up to the beach with that case of Natty Light Seltzer, and everyone quietly judges you with their collective gaze of disapproval because it's like, almost the same price as Truly?! Stand confident in your decision when you throw that fizzy Natty in one of these 16oz skinny koozies with cool, highfalutin pattern names like "Nantucket Navy," "Barnaby Checkham," and "Marble Slab."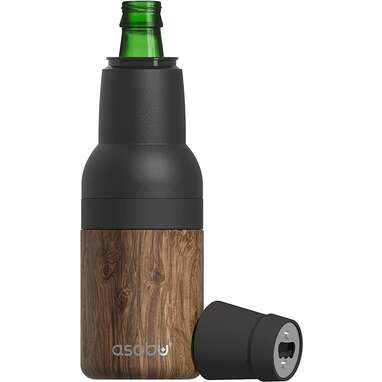 Apparently the preferred nomenclature for these things is "can cooler." I'll forever call them koozies. This number can hold both a can or bottle depending on the need. I can't stand when people bring glass bottles to the beach, but if you absolutely have to, at least keep the beverage cold, and the glass intact, with this koozie.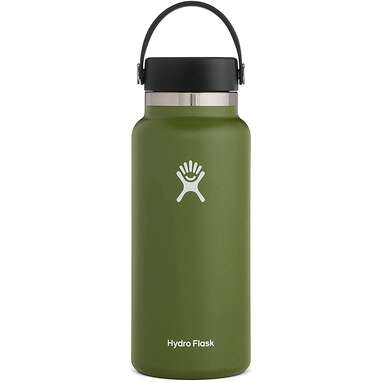 It's important to at least try to hydrate in between shredding White Claws in the sun. And this is the perfect vessel to hold your high-quality H20 (and keep it cold for hours). Everyone who's ever gotten back to the car after a long day at the beach only to find a hot plastic bottle full of water knows how good cold water tastes. Or you could throw caution to the wind and use this baby to hold a dangerously delicious punch. It's your life.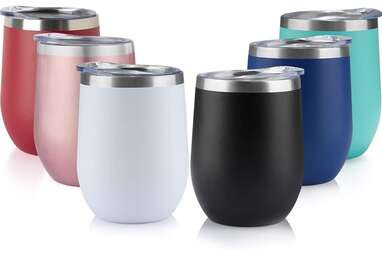 When you unveil six tumblers as the six-pack comes out, no one can ever claim you didn't bring enough for the whole class. These color-coded 12oz tumblers are great for wine, cocktails, and even beer—unless you brought tallboys.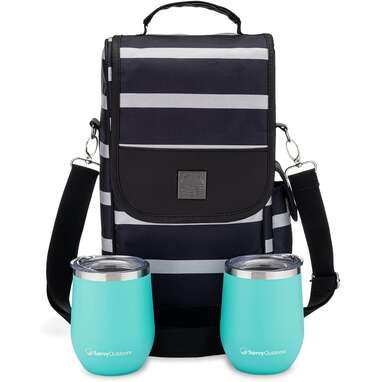 You don't play when it comes to rosé...or convenience. This bag offers an insulated sleeve to keep your pét-nat nice and chilled as well as two insulated wine cups—with lids, so you won't even have to worry about adding extra sand to your sediment.