11 Awesome Beach Games You'll Be Playing All Summer Long
Whether you're looking for a classic like paddle ball or want to try something new, like TidalBall, these are the beach games you definitely won't be leaving at home this summer
Design by Maitane Romagosa for Thrillist
We independently source all of the awesome products and experiences that we feature on Thrillist. If you buy or book from the links on our site, we may receive an affiliate commission — which in turn supports our work.
When I was a kid, "beach games" typically meant we were bringing a frisbee, paddle ball, and maybe a Nerf™ football with an unexplained chunk taken out of it on our beach excursion. And sure, these are time tested games that remain ubiquitous on shorelines across the globe. But progression is unstoppable.
Beach games today are, simply put, more advanced, more fun, more unique, and more portable than ever before. You might think throwing a single piece of wood at other pieces of wood is rudimentary at best, but until you've played a rousing game of Kubb, you'd never know how much fun it actually is. Below you'll find 11 of the best beach games to redefine what a day of fun in the sun truly means.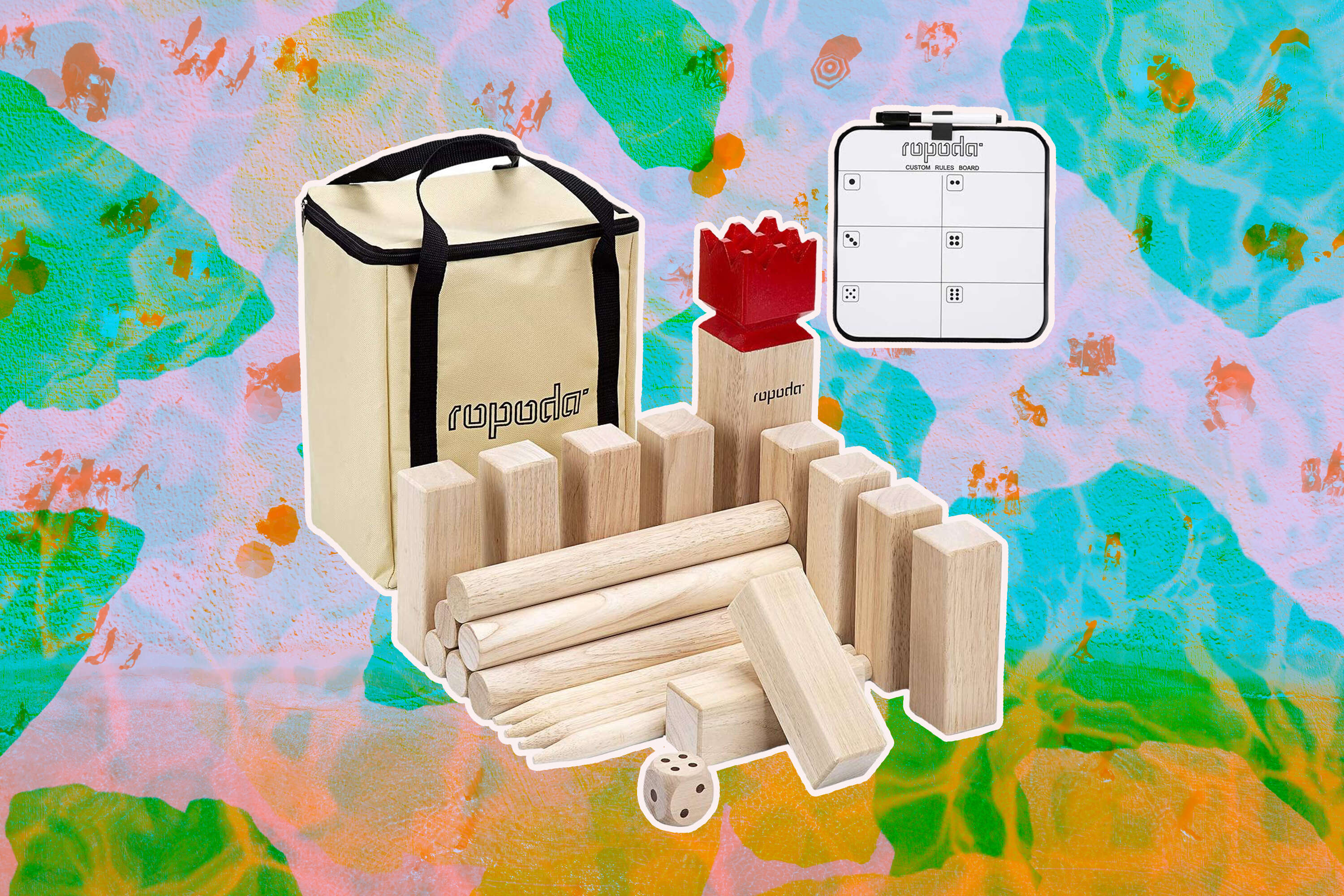 Price: $43
Kubb is a classic Swedish lawn game that the Vikings used to play. True story. It's gained a lot of popularity recently because a) it's really fun and b) you can say things like "I am the champion of the Viking sport, Kubb!" The purpose is to knock over the king piece only after you've knocked down your opponents' Kubbs. Kubb is also a team game (teams can have any number of players, but usually two-on-two or three-on-three is best), but can be played one-on-one.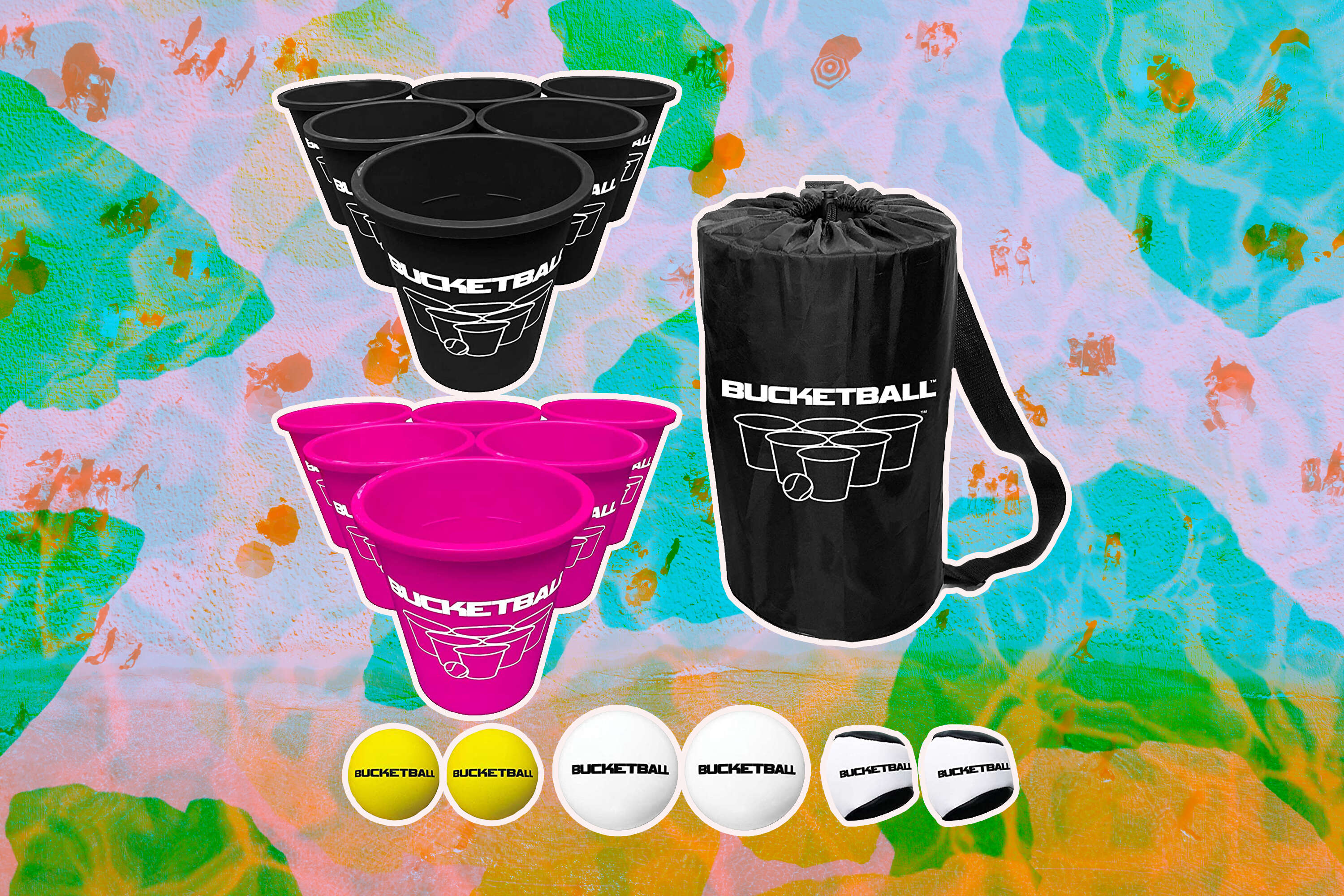 Price: $60
Bucket ball is what happened when someone was playing beer pong and thought "I could actually make a cup if they were 7x larger and played with a non-bouncing ball." The rules are the same as beer pong—except no one expects you to fill these buckets with beer. Though it's also likely no one would stop you. The first team to sink all the buckets wins. And this set comes with a carrying case, so hauling it is a breeze.
Price: $15
Pro Kadima—better known as paddle ball—is a timeless classic everyone should have in their beach game arsenal. The simplest way to describe this game is it's like tennis, but in the sand. You volley a ball back and forth (either counting hits or just trying to outplay your opponent) and then the game usually ends when someone gets tired and needs to jump in the water.
Price: $35
A favorite of college kids, adults, youths, and everyone in between. Kan Jam is a tremendously fun game played with four people (two-on-two). Teams take turns throwing a disc at the "Kan" while their teammate—across from them—tries to "Jam" the disc in the top for three points. If the frisbee goes directly in the slot, it's game over. If it hits the can, two points. And if your teammate taps the disc into the side of the can (not into the top), one point.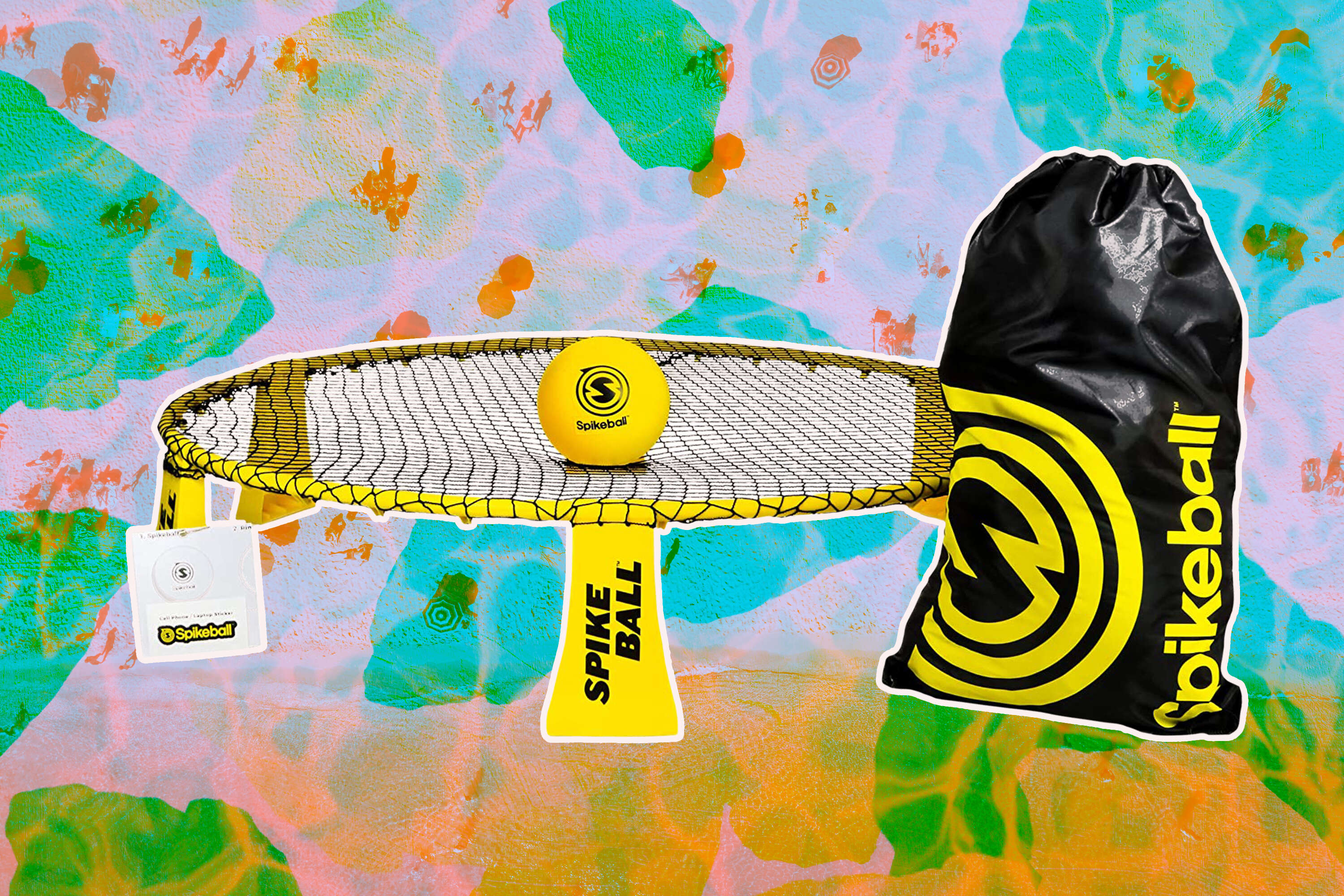 Price: $56
Spikeball is the progeny of volleyball and foursquare. It's a simple game to play, but a difficult game to actually master. The rules are simple—teams of two take turns spiking the ball down on the net at each other. Points are scored when one team messes up. From the makers: "There's a 100% chance this game gets you moving. After 10 minutes you'll be hitting MONSTER spikes and playing amazing points."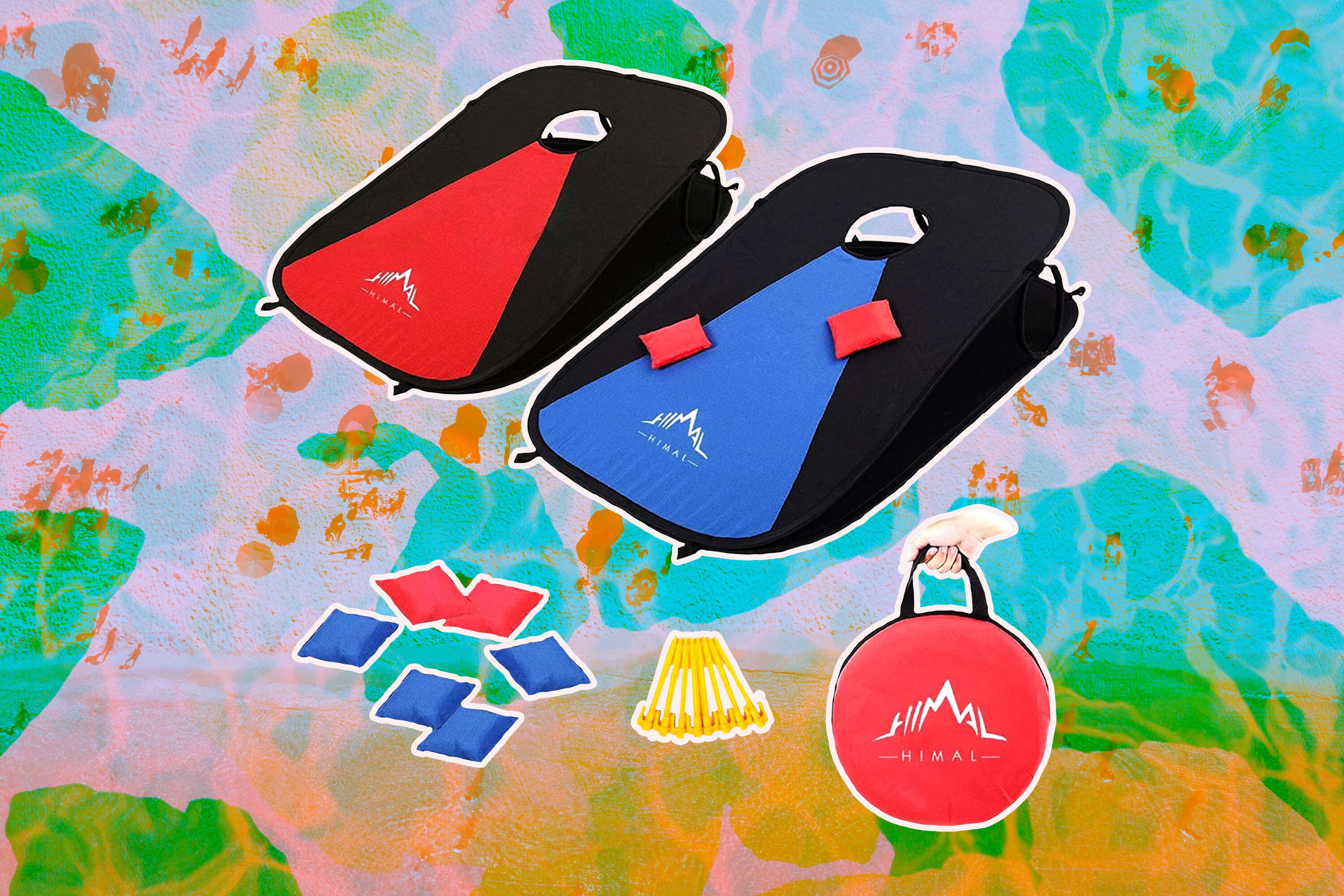 Price: $26
Corn hole is excellent beach game for those of use who want a little competition but are more into standing around, soaking up the sun, and sipping whatever de rigueur seltzer is on the market. This set here isn't one you'll see in a national competition anytime soon, but it's size, portability, and materials make it a perfect set to handle sun, sand, and spilled seltzers.
Price: $25
You've gotta love TidalBall for their description alone. "TidalBall's only rule is to have fun. Everything else is just a suggestion." Gameplay is simple, two teams dig a hole and then a U-shaped trench around it. Three points for making the ball in the hole, two points for making it in the trench. If you like corn hole and bocce, you'll love TidalBall.
Price: $25
Bocce is another classic that's been played on lawns from northern Italy all the way to southern Italy. And now, can be played easily on a beach near you. Traditional bocce sets are heavy (a disadvantage when hauling beach gear), but this set from Franklin is made with weather-resistant soft bocce balls, making for a lightweight bocce kit that's perfect for beach day.
Price: $35
Takraw is a very fun game that is suitable for all ages. To play, you set up a perimeter and a small net, pump up the ball, and basically soccer juggle it back and forth until someone drops it. It's soccer volleyball. The game is best played as singles or doubles matches.
Price: $10
Sometimes it's so hot the mere thought of physical activity is enough to exhaust you. On these days, break out the waterproof Uno, agree on the rules (can you stack a +2 on a +4?), and dramatically throw the cars down in anguish when you lose—they're made of plastic, it's fine!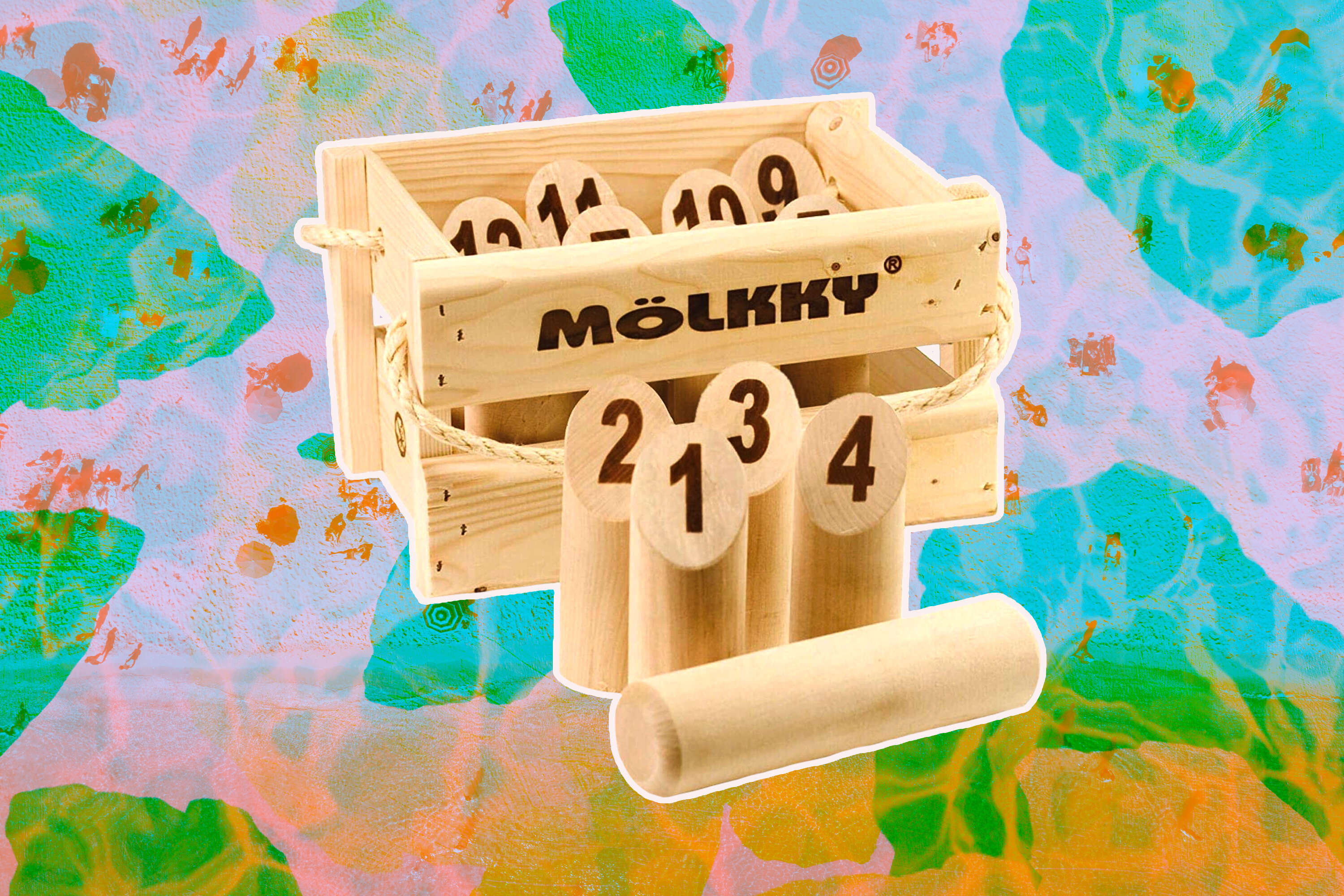 Price: $37
Molkky looks similar to Kubb but is a very different game. Molkky originally comes from Finland and it's unsure if Vikings played it, but it's still awesome. Molkky is played with two or more players. Here are the rules: "Players earn points by tossing the throwing pin. If a player knocks down more than one pin, their score for that turn is the number of pins they knocked down (4 pins = 4 points). The pins are round and roll after they are knocked down. Each turn the pins are put back up exactly where they rolled from the previous turn, so the entire playing area starts to spread out. If a player can skillfully knock down just one pin, their score for that turns equals the number on the top of the pin (knock down the #12 pin = 12 points). The first player to get exactly 50 points wins.