All the Gear You Need to Take Your Beach Day to the Next Level
When you're at the beach, there are 100 things that could go right. You could be sipping the best margarita ever...
We independently source all of the awesome products and experiences that we feature on Thrillist. If you buy or book from the links on our site, we may receive an affiliate commission — which in turn supports our work.
There's a reason "a day at the beach" is shorthand for easy, breezy, and stress-free. That's exactly the vibe you should be achieving when you hit the sandy shores on a hot summer day. And sure, just sitting by the water soaking up the sun is hard to mess up, but why not do a little planning to make it perfect?
We've pulled together a few essentials worth keeping in your beach bag to keep you sitting pretty all day long so all you have to worry about is regularly re-applying the sunblock.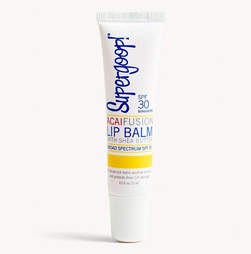 Supergoop Sunscreen
It's nice to look a little sun-kissed, but sun-worshippers and the ultra-pale among us should all be wearing sunscreen. We're not here to nag you like a mom, but protecting yourself from the UV rays is important. After all, nothing feels or looks worse than a blistering sunburn when it's already 90 degrees. One of the best brands out there is Supergoop, which somehow makes the whole lathering up process feel a bit like a spa treatment. While you're at it, their protective lip balm is also a wise investment.
Grab it for $19 on Amazon
Outdoor Voices
A mega towel
If you've been relying on old bath towels to do the job on the hot sand, it's time to graduate to a proper sprawling beach towel. A patterned or colored one is a good investment, since it'll hide any sunscreen (or margarita, or watermelon) stains. This one from Outdoor Voices is one of our favorites, boasting just enough square footage and sturdiness to make for an excellent home base for you and all your stuff. 
Get it from OutdoorVoices.com for $50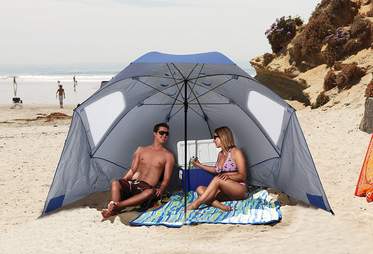 Amazon
A massive umbrella
The massive tent-like setup like is the Dad of all umbrellas, goofy and arguably incredibly unstylish, but it's also much wiser than you'd care to admit. Essentially a miniature escape hatch from the incessant sun, you'll be happy to have this little respite when you're desperate for a break (it's also a great place to keep your cooler and anything else that should stay out of the intense heat). 
Get it on Amazon for $49.56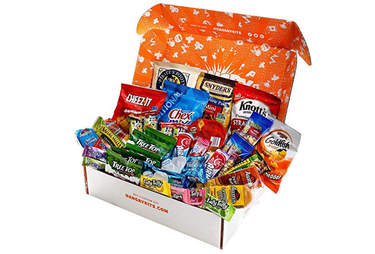 Amazon
A smorgasbord of snacks from Hangry Kits
Snacking is as essential to beaching as sunscreen and sunglasses. A variety of them is also key, which is what makes this stocked selection from Hangry Kits so perfect for a day out with friends. They come packed with a solid sampling of savory and sweet treats to treat everyone in your crew and every craving that might crop up.
Get it on Amazon for $29.99
Amazon
Water, water, and more water
Again, not to nag, but you should absolutely be drinking water out there. Lots of water. As much as you may be enjoying the light beers or pre-mixed margaritas you brought with, make sure you're regularly sipping and refilling your water bottle  This insulated version from Simple Modern is an especially sturdy beach-friendly option, and will keep your H20 nice and chilled even if it's sitting in the sun.
Get them on Amazon for $10.99
Amazon
A sand-proof blanket
Tracking sand back from your big day out is just something you'll have to deal with, but you can at least mitigate the mess a bit with a sand-proof blanket. They can get kind of pricey since they're engineered with special fabrics and layers to repell the pesky grains, but this nicely sized Roebury option is a solid choice, and an Amazon favorite. 
Get it on Amazon for $29.95
Ray-Ban
A sturdy pair of sunglasses 
Like sunblock and water, this is a bit of a no-brainer, but hey, we're just here to help. A classic pair of Ray-Bans are nothing if not the perfect beach shades. Yes, they're a bit pricier than the $10 pair you bought on the boardwalk, but they'll also last a long longer (and will probably look better on your face).
Get them from for $83
Amazon
A serious Bluetooth speaker
If you're the type to always look for the aux cord at the party and assume duties as DJ, you ought to keep a solid Bluetooth speaker in your beach day arsenal. This waterproof beast from AOMAIS is essentially a glorified boombox that will let you broadcast your chillwaves playlist for the crowd. 
Get it on Amazon for $69.99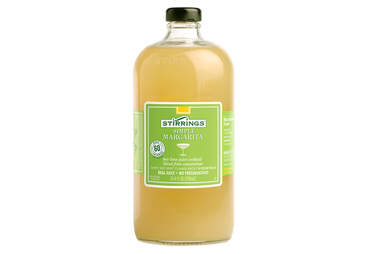 Amazon
Adult refreshments
Yes, it's entirely possible to enjoy the beach sober, but there's nothing wrong with a little buzz. Our go-to beach drink includes a large splash of your favorite tequila and Stirring's Simple Margarita mix. Just don't forget plenty of cups and a sturdy Coleman cooler.
Get it on Amazon for $11.08
Dick's Sporting Goods
Floats and games
Though a frisbee or football is always worth toting with you, you ought to consider adding Spikeball to your beach activity lineup. The simple game created by a former Microsoft employee is shockingly addictive and competitive. Once you've worked up a sweat playing, you can retire to this Giant Avocado Inflatable Raft, which comes with its own removable pit which doubles as a beach ball.
Get it from Dick's Sporting Goods for $59.99
Home Depot
A portable miniature grill
If you're going all-out and are in the mood for a proper beach BBQ, the Smokey Joe Portable Grill is just what you need. It's small enough to stash in your car trunk and tote back and forth onto the sand pretty easily. Pack some Beyond Burgers and buns and you've got just what you need to fire up a nice meal to close out the day. 
Get it from HomeDepot.com for $34.99