We independently source all of the awesome products and experiences that we feature on Thrillist. If you buy or book from the links on our site, we may receive an affiliate commission — which in turn supports our work.
How complicated could it be to find the perfect towel for the beach? You might think it's easy, but the truth is that heading to the towels section and picking the prettiest one you see is not enough. You need to track down something that suits all of your beach-going needs. For us, that means it needs to be soft, big enough to sprawl out on, quick-drying, and easy to keep sand-free.
If you're on a mission to upgrade your beach towel stash, we've got you covered! From the fluffiest designs to the most practical and travel-friendly offerings, we scoured the web for top-notch towels (and blankets) that will bring some added comfort and convenience to your day at the beach.
Brooklinen
Brooklinen not only makes amazing bed sheets, but its range of premium products also includes some incredible beach towels. This one has a beautiful design by artist Isabelle Feliu and is made of super soft, very absorbent velour and terry fabric to promise fast drying after your dip.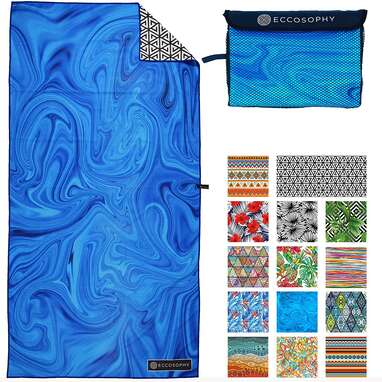 Amazon
Packing a beach towel can get bulky and heavy, but not with this one. Its microfiber fabric makes it much more absorbent and lightweight than the ones made of cotton, which means it's perfect for packing.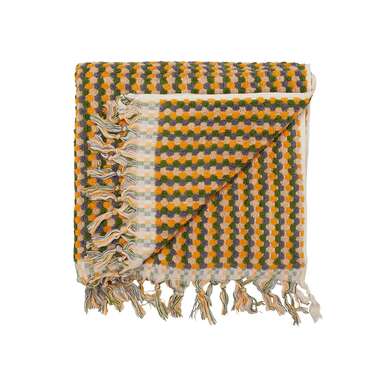 Verishop
If you still prefer a good fluffy towel, consider this one from Mayde. Combined with its beautiful design, this towel is handcrafted with the best cotton from South Turkey, which gives it a super-soft feel for getting cozy at the beach.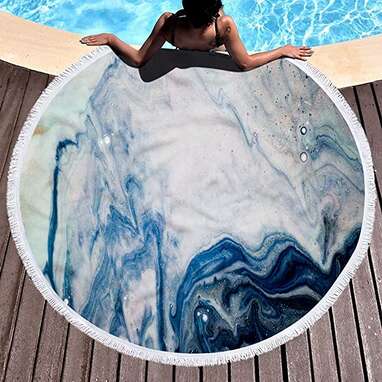 Amazon
A round towel might not be your first choice but we love that it gives us a little bit more space to stretch our bodies while laying out. Beyond that, this one is also made of microfiber which makes it super absorbent.
Parachute
A blanket/towel hybrid, this massive limited edition model from Parachute features a high quality design with its signature calming shades. At 70 inches long, it's perfect to use as a blanket for the park as well as a towel for the beach, lake, pool, etc.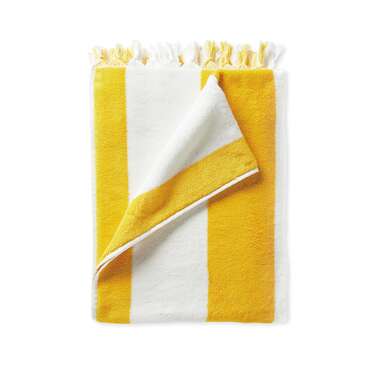 Serena and Lily
Grabbing a fluffy towel after popping out of the cold water is the best feeling and that's why we love this one from Serena & Lily. Made with 100% Turkish Aegean cotton, its fabric will offer you the comfort you need for a long day at the beach.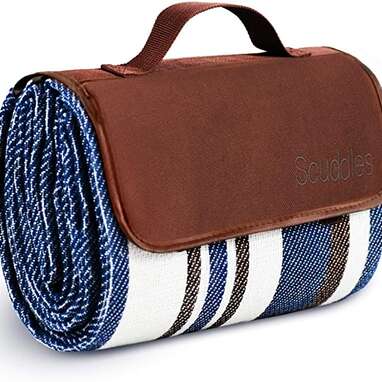 Amazon
In addition to towels, blankets are a must for keeping sand from piling up all over. This one from Amazon has a waterproof PEVA coating to keep out moisture for easy clean-up. It also easily folds into a bag with a shoulder strap for easy carrying.
Sand Cloud
This towel has earned 5 stars from nearly 2,000 customer reviews, many of which rave about how great it is for its price. Customers love both that it's huge and that it dries fast. Don't know about you, but that's enough for us to be convinced this is a great option.
L.L.Bean
Laying on a wet towel is not ideal, and that's when this blanket comes in handy. It has a soft flannel top and a waterproof bottom that also keeps the sand away. And, like great beach blankets do, it folds into a bag that has a secret pocket to store your personal items.