Phone-Friendly Telescopes That Will Help You Snap Mesmerizing Night Sky Pics
Wish you could take Insta-worthy pics of the stars? We found some great, budget-friendly telescopes that are designed to help you do just that.
Design by Grace Han for Thrillist
Design by Grace Han for Thrillist
We independently source all of the awesome products and experiences that we feature on Thrillist. If you buy or book from the links on our site, we may receive an affiliate commission — which in turn supports our work.
New smartphone cameras are so good now that you can end up snapping a truly stunning photo without even trying. Sure, you may not have the keen eye of a photographer with decades of experience, but it's still pretty incredible. Many can even capture crystal clear action in low light situations. However, when it comes to getting a good shot of the night sky and its myriad celestial wonders, your iPhone or Galaxy alone can't really cut it.
That's not to say that you can't still use your phone camera to shoot amazing pics of the moon, stars, and more. You just need the right equipment. More specifically, a simple telescope and a few accessories.
If you're willing to put in the effort and assemble the proper setup, "you can certainly do quite impressive nightscape photography with the most recent smartphones," says Laurent Marfisi, CEO of Unistellar—a company that makes a powerful and simple-to-use telescope that can automatically find, view, and capture images of celestial bodies visible from wherever you are (even in light polluted areas).
"You can see incredible views of the moon with relatively cheap telescopes," says Marfisi. "You can do a lot of other exciting stuff on a budget but it requires patience, time, learning and, if you want to make beautiful magnified pictures of deep sky objects or comets, certainly a bit more than $500."
He also cautions against setting high expectations for the type of imagery you'll be able to capture with a limited budget and beginner-friendly equipment. True astrophotography requires more advanced elements (and often special software). But you shouldn't let that discourage you from getting your hands dirty and seeing what sort of nightscape imagery you can achieve.
So, in the interest of helping you try your hand at shooting photos of the night sky, we tracked down some great telescopes (and accessories) to match all budget levels that will help you do just that.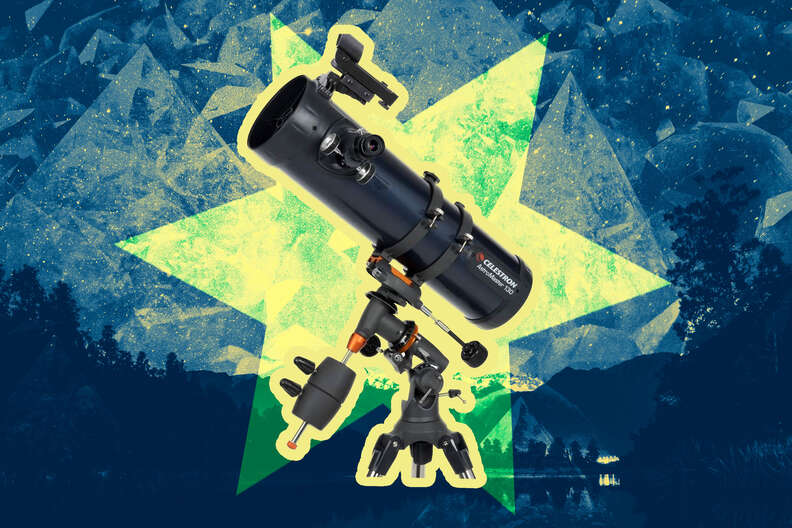 Price: $280
This Newtonian reflector telescope is a great option for beginners who aren't ready to drop a ton of money. While you won't be able to see detailed views of Mars or other more distant planets and objects, it will allow you to get a really great, sharp view of the moon, and features a manual equatorial mount (which allows you to easily track objects as they move across the sky). This model also comes with two eyepieces (one 10mm and one 20mm), providing you with the option to see a more magnified narrow field of view, and a larger, slightly less magnified field of view. As with a few other options on this list, you'll want to invest in a good smartphone mount like this one that will enable you to capture images and video with your phone camera lens through the eyepiece(s).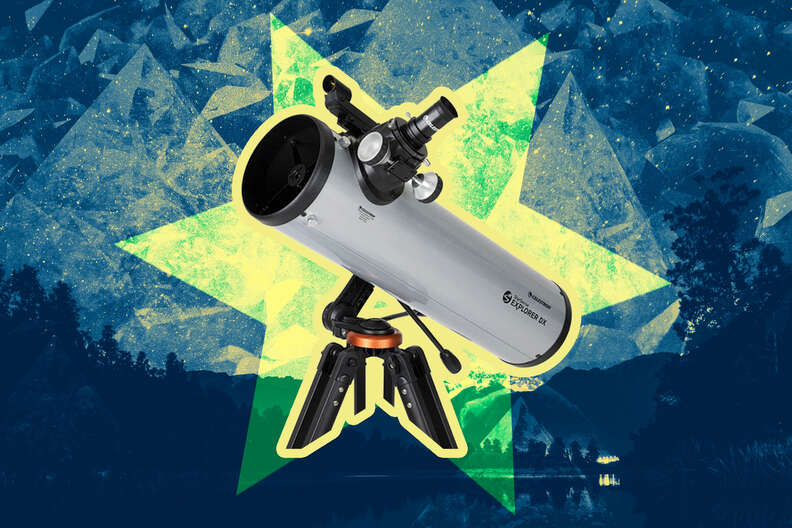 Celestron StarSense Explorer DX
Price: $400
The StarSense is incredibly simple to calibrate to the night sky wherever you have it set up, courtesy of the companion app you'll need to download and use with it. The app also makes it easy to browse and locate a variety of celestial objects viewable from your position, and will clearly direct you where to exactly move the telescope in order to see them through the eyepiece. And while it does come with two eyepieces included, you'll need to buy a smartphone mount in order to successfully capture photos or video through them.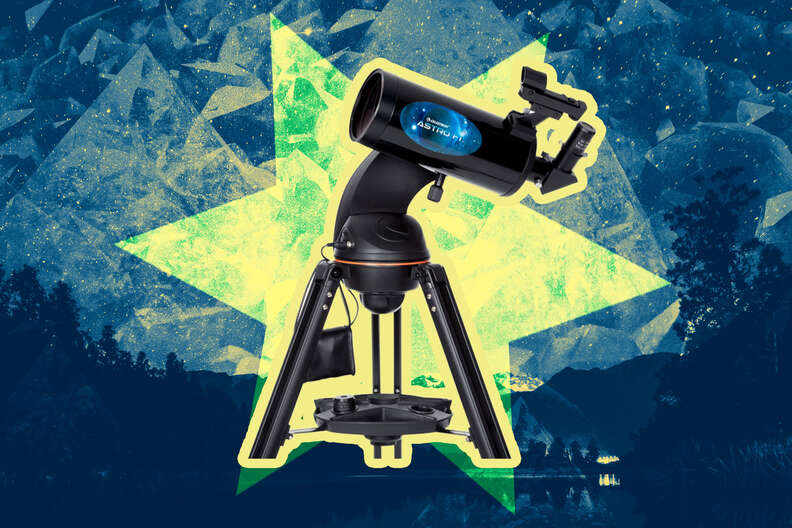 Price: $420
Another Celestron offering that's great for beginners, the Astro Fi will help you locate and see quite a bit in the night sky—even if you know little to nothing going in. It's equipped with SkyAlign technology that's operable via your phone to automatically move the telescope so that whatever object you'd like to see is set up to view from the eyepiece (depending on what's available to view from your location, of course). Like the Astromaster, you'll be able to see the moon in pretty vivid detail, and get a pretty good glimpse of planets like Mars, Venus, Jupiter, and Saturn. Plus, it not only comes with two eyepieces (10mm and 25mm), but also a smartphone adapter so you can start capturing images and video on your phone from the get-go.
Price: $290
Another excellent model for beginners, the Inspire offers the basics that you'll need to start exploring the sky at night. You'll be able to get a great view of the moon (as well as a decent look at some planets and even nebulas and galaxies). And while it doesn't pair with an app to help you locate and view objects like some of the others here, it boasts a StarPointer feature, which enables a wider field of view (even in slightly light-polluted areas) so you can more easily zero in on objects of interest. In addition to two included eyepieces (10mm and 20mm), you'll also get a red LED flashlight (good for ensuring your eyes remain adapted to the dark at night) and a smartphone mount so you can set yours up to snap pics right away.
Unistellar eVscope eQuinox
Price: $2,999
If you're willing to spend a bit more, Unistellar's amazing eVscope eQuinox is going to give you the power and ability to easily see (and capture) a whole range of incredible celestial objects—lots more than you'd be able to with any of the other telescopes on this list. Beyond that, it's also designed to view a wealth of the night sky even if you're setting it up in an area with some light pollution, which makes it a great option for folks hoping to get a good look above just outside cities.
The rig is not only highly portable, but also incredibly user-friendly for beginners and more advanced stargazers alike thanks to an onboard computer and special software controllable via your phone. It allows you to browse and select all manner of objects available to view from where it's positioned, and will automatically move and zero in on whatever you select. It's also equipped with an "Enhanced Vision" feature, which essentially stacks images it's capturing together to provide even clearer views of whatever object you've chosen to look at. Plus, you're able to save any of the images you're seeing directly to your phone's photo library for you to peruse and share later.
Right now, you can also save $150 on your purchase when you use code SUMMERDEAL at checkout.