State Bicycle Co.
State Bicycle Co.
We independently source all of the awesome products and experiences that we feature on Thrillist. If you buy or book from the links on our site, we may receive an affiliate commission — which in turn supports our work.
At the height of the pandemic, certain things were rendered inaccessible. We all remember the infamous toilet paper shortage, or the case of the suddenly-missing yeast that birthed a new generation of sourdough bakers.
But arguably the most health-positive result of the past couple of years was the world's expanded infatuation with bicycles, which provided a Covid-safe alternative to gyms and an antidote to staying inside all day feeling sad. It's no surprise that everyone started riding.
Unfortunately, this made getting a new bike a little tricky. Popular bikes have been on backorder since 2021, and would-be riders have been stuck in the waiting room.
The good news is that supply chain issues are steadily improving in 2022, so as spring blooms and the need to get outside increases, you have a pretty good shot at finding the right bike for you. Even better? You can do it on any budget. So, whether you're commuting, cruising, or just trying to get back into beach shape, you can find the one that'll suit your needs.
To help you in your search, we chatted with Nate Brown, an American professional cyclist who splits his time between Austin, Texas, and Girona, Spain, and rides for Human Powered Health. Brown has been a pro since 2010, and previously rode for EF Education-EasyPost and Hagens Berman Axeon. And in 2017, he became the first Tennesean to compete in the Tour de France, where he held the title of best climber through the third and fourth stages.
Currently, Brown rides a Felt racing bike which, at somewhere between $7,000 to $12,000, kiiiind of outpaces the budget we established for this article. However, Brown is passionate about bikes whether he's competing or not, and insists that the most important thing is to find something that rolls—no matter what it costs.
"I truly love it. Even when my professional career is over, I'll be out on a mountain bike or a road bike all the time," he says.
While most of his two-wheeled time these days is allocated to training and races, Brown has built relationships with bike mechanics and enthusiasts all over the world, giving him a unique and widespread insight into the best options available for amateur riders. We talked about some of his favorites, along with how much he looks forward to rolling over trails with them.
On top of Brown's picks, we gathered some thoughts from the bike shop courtesy of Samvel Boyajian, a veteran NYC bike mechanic, enthusiast, and decades-long bike boss. Boyajian's selections include a range of single speeds, geared bikes, hybrids, and folding options.
According to Boyajian, "Basically every big bicycle brand has an 'entry level' bike. It will be a hybrid with large diameter wheels and mid/low width tires. There will be a disc brake option for a slightly higher price. You will NEVER need that upgrade."
Boyajianl also noted that many of the bikes here share a ton of commonalities, meaning a lot will come down to personal preference, and that you should always test a bike before buying. That said, most of the bicycles here are commonly employed as commuter bikes and will stand their ground in major cities or on packed dirt. You're probably not winning any major cycling competitions with these, but they'll get you where you need to go safely, comfortably, and with money left in the bank.
So now that you know you're getting tips from all corners of the cycling world, here are 9 of the best bikes for under $500 available right now.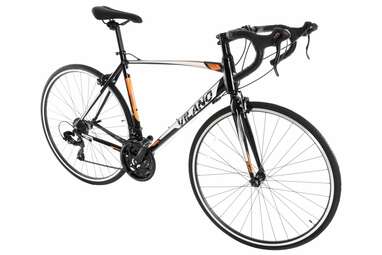 Walmart
Get this bike if: You're almost positive that you want to get into road biking.

There's a lot to like about long-distance road biking. It's climate conscious, fun to do with friends, and one of the best low-impact ways to kick yourself into great shape. That said, it's not for everyone, and you always have to keep in mind that however far you go out, you still gotta make your way back.

Perfect for the beginner, the Shadow 3.0 allows you to get out there without sinking your savings account into it. With a lightweight aluminum build and a precise braking system, it's the perfect entry-level option for newbie riders.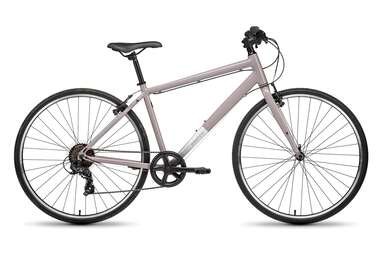 Batch Bicycles
Get this bike if: You want an affordable, reliable, high-performing, all-purpose bike.

Batch is a lesser-known bicycle brand but, according to Brown, these budget-friendly beauties perform just as well as a household name with a sticker price five times as high.

"This is the perfect around town cruiser," he says. "It might not be the most well-known brand, but you can take it to work or just as easily on a 30-mile ride."

That said, Batch seems to be catching on, and several versions of the Lifestyle bike have been out of stock for months. Fortunately, you have several options for where you can find one online right now.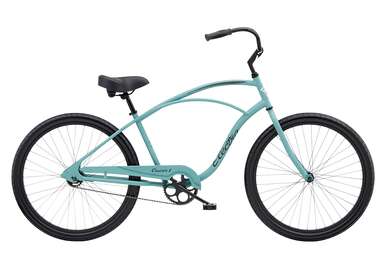 Trek Bikes
Get this bike if: You're new to the world of riding and want something reliable from a legacy brand.
The Electra Cruiser is a simple, single-speed bike that is both light and durable—perfect for leisurely rides on smooth roads. The frame will give you myriad option to add on accessories, like a bell, basket, or surf rack.
Performance Bicycle
Get this bike if: You live in a city and want something simple, easy to care for, and strong.
This bike is made from 1020 steel by a grownup BMXer that started a not-BMX brand. From Fairdale: "Don't overthink or over-complicate the bicycle, just hop on an Express and ride." Well said, Fairdale. Well said.
Dahon
Get this bike if: Convenience is key…
...and/or you want "the cheapest alternative until you get a Brompton," says Boyajian. A Brompton, however, will set you back almost double the price of a Dahon. The Dahon Dream D6 is a six-speed foldable bike that's tailored to city-dwellers who want the flexibility of biking but are lacking the space to store a full-sized cycle. The benefit of a bike like the Dream D6 is that it'll handle and ride like a full-sized bike, but can be tucked away in a closet or under your bed when not in use.
Bike Exchange
Get this bike if: Well, in the words of Fuji itself, this bike is perfect for "the fitness-minded rider, or the urbanite looking to ride to work or run errands."
This is another one that's similar to a Trek or Cannondale, but comes in at a lower price point and shares the name of a delicious apple.
Retrospec
Get this bike if: You want a non-nonsense bike to bop around town (and look cool doing it).

Possibly influenced by the fact that he lives in Spain half the year, Brown recommends this European-style city bike from Retrospec for everyday rides. The Beaumont comes with a sturdy rear rack to strap in a bag or basket, and with a 7-speed drivetrain, it'll still get you where you need to go efficiently.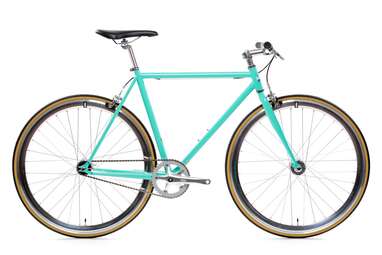 State Bicycle Co.
Get this bike if: You're interested in getting into fixies but donÆt want to dish out the big bucks to make it happen.
Boyajian isn't a huge fan of online bike stores in general, but did recommend State if you're going to take that route. He also recommends having the bike shipped to your LBS (local bike shop) for expert assembly.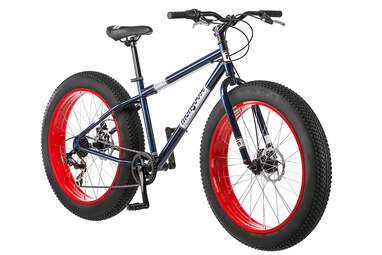 Amazon
Get this bike if: You want to get dirty.

Though he acknowledges that it might not be the best fit for everyone, the Mongoose Dolomite Fat Tire is the bike that Brown was most excited to tell me about.

"Honestly I would, and probably will, buy this bike. It's perfect for off-road—you can roll over anything, and even on the toughest trails you'll be totally fine. It's just awesome," he says.

While it's not the one for a leisurely ride around town or a commute to work (unless there's a mountain or two in your way), it's the perfect companion for those who get bored by smooth roads and adversity-free riding.
And though you can easily buy most of these bikes online, Boyajian recommends hitting your LBS to buy your ride. He says, "Bike shops are usually the best place to buy since they'll be doing the work on your ride. They may even have a repair bonus. It might be a little more expensive, but they can guide you towards things you need and new and/or cool stuff. And remember, things are crazy right now and most shops are busier and less staffed than they've ever been. So don't be a dick."
The takeaway: Be patient. If your local shop doesn't have what you're looking for, it's probably because the manufacturer doesn't have it either.
Samvel's NYC Shops to Support: Bicycle Roots, 718 Cyclery, and B's Bikes in Brooklyn; Dah Shop, NYC Velo, and Tread in Manhattan.