11 Nutty & Delicious Black Sesame Snacks You Have to Try
Sample this tasty Asian snack food staple for yourself with these cookies, lattes, mochi ice cream, and more.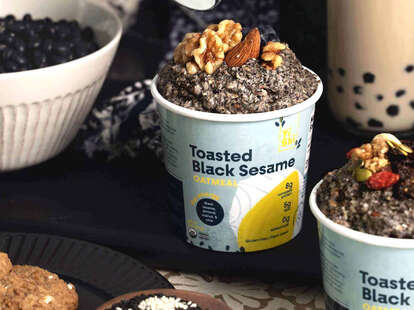 Yishi Foods
Yishi Foods
We independently source all of the awesome products and experiences that we feature on Thrillist. If you buy or book from the links on our site, we may receive an affiliate commission — which in turn supports our work.
"Black sesame is richly nutty, earthy, slightly savory, and naturally a bit bitter," says Ashley Xie, co-founder of Rooted Fare, famous for its crunchy black sesame paste. "The smell also reminds me of the scent when you walk into a coffee or chocolate roastery."
And while Middle Eastern foods like tahini and halva come to mind when you think of white sesame, black sesame is a major ingredient in Asian cuisine. In countries like Japan, China, Korea, and India, foods made with black sesame abound. There's Japanese kuro goma (black sesame) ice cream, mochi, and crackers; Chinese black sesame bao, tang yuan (glutinous rice balls), and soup; and Indian black sesame laddu sweets, to name just a few.
"According to historians, the seed may have originated from Africa and traveled along the Silk Road to other countries within Asia, the Middle East, and beyond," says Hedy Yu, the other co-founder of Rooted Fare. "In China, where my parents grew up, black sesame grew in popularity since its arrival thousands of years ago thanks to its amazing health properties—people believed it promoted hair health and helped you live longer. A story goes that the black sesame seed used to be so rare that only the emperor of China had it in his glutinous rice balls on special occasions."
Thankfully, today everyone has access to black sesame (even us non-royals). There are so many delicious black sesame foods and snacks out there, it's honestly hard to choose the best one—and so many people have fond memories of their childhood favorites.
"I have memories of standing in line to check out at Asian supermarkets (like 99 Ranch) and picking up the clear boxes of black sesame brittle candy," recalls Yu. "I'd have them out of the box before we even got to the car."
Want to get a taste for yourself? Here are some of our favorite black sesame snacks and products, in honor of AAPI Heritage Month this May.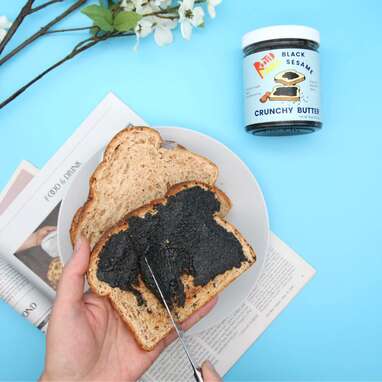 Rooted Fare
Chinese American childhood friends Hedy Yu and Ashley Xie both grew up in Southern California with Chinese immigrant parents. "My mom had a Chinese restaurant and the only dessert on the menu was tang yuan, a glutinous rice ball that's filled with a freshly ground black sesame, lard, sugar, peanuts, and toasted walnut paste," says Xie. "My mom and my aunt would tell me stories of how my grandma used to win tang yuan competitions in China, and they always snuck me a spoonful of filling, my favorite part!"
Two years ago, when Xie and her aunt were making tang yuan for Chinese New Year, she found herself curious about how it would taste as a spread. She took some of the filling, and added some breadcrumbs she saw sitting on the counter. It was love at first bite. She teamed up with Yu to found Rooted Fare in 2021 and produce Black Sesame Crunchy Butter, which quickly became their most successful product. The satisfying crunchiness balances the rich, creamy butter, while imparting a deep and delicious nutty flavor that's addictive on top of toast, cookies, oatmeal, ice cream, or just straight from the jar.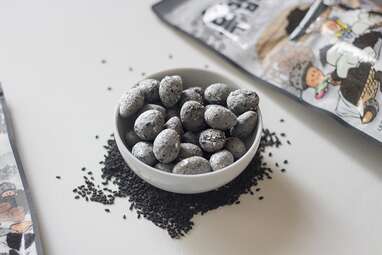 Amazon
Also known as Tom's Farm Almonds, these crunchy nuts come from Korea and join a long line of flavors from the brand that include Jeju Matcha and Garlic Bread. To achieve the black sesame flavor, freshly roasted almonds are coated in a light gray sesame chocolate paste dotted with specks of white and black sesame seeds. The flavor is nutty and earthy, and the texture is creamy on the outside and crunchy on the inside—basically, if you don't eat the whole bag in one sitting we'll be shocked.
Asian online grocer Umamicart, founded and owned by Andrea Xu, is a great place to look for black sesame snacks, as Xu (who was born in Spain to Chinese immigrant parents) prioritizes featuring immigrant-led businesses.
Kuki Sesame
If you're looking for a caffeine-free latte drink, this black sesame powder mixed with hot or cold milk is deliciously gratifying. And it's a way to get the Instagram-friendly black latte without the charcoal—win win. The powder is a blend of ground Japanese-grown black sesame seeds, cane sugar from the Amami Islands south of Japan, and Japanese-grown soybean powder. Try mixing some with vanilla ice cream or adding a few scoops to a simple baked goods recipe like banana bread or almond cookies for instant black sesame flavor.
Bokksu is a purveyor of Japanese products to the U.S. and they have an entire page devoted to black sesame items imported from Japan. They're also launching a Premium Market Black Sesame Box this month, and it will be filled with black sesame products from Japan.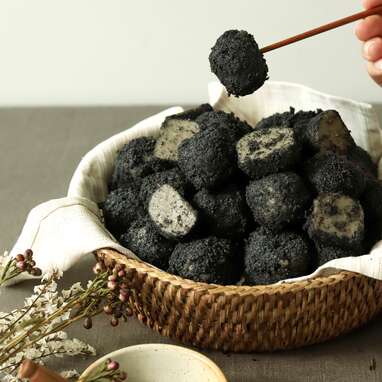 Maeumiga
One of Japan's most popular snacks, mochi is a chewy rice cake made of mochigome, a short-grain glutinous rice that's pounded into paste and molded into various shapes that have a pillowy, soft, and chewy texture. These black sesame-flavored balls come in individually wrapped packets of two, and once defrosted (they're best stored in the freezer) become soft and chewy on the inside, while the outside is covered with more crushed black sesame seeds for a double earthy, nutty, slightly sweet flavor.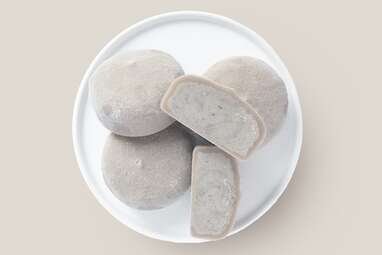 Mochidoki
Just like the mochi balls above, mochi ice cream is made from an outer shell of mochigome that covers a filling of creamy ice cream inside. Ken Gordon and Christopher Wong launched Mochidoki in 2015 after learning the delicate craft alongside Japanese pastry chefs. They have two shops in NYC and ship their creations nationwide, including these black sesame flavored balls, which are earthy with just the right amount of sweetness as they melt in your mouth.
Yishi Foods
Packed with protein and flavor, this hearty and tasty oatmeal combines black sesame seeds, almonds, and walnuts with toasty oats for a healthy morning treat. Based in Chicago, Yishi (which means "ritual" in Mandarin) was founded by Lin Jiang to celebrate her Chinese heritage by using healthy ingredients that encourage focus and relaxation. Each pouch contains eight servings.
Yami
These crispy, layered cookies are not too sweet and have a hint of salt, plus the earthy nuttiness of the black sesame. The basic ingredients don't have any preservatives and you can see, smell, and taste plenty of whole seeds. Individually wrapped and produced in Taiwan, these fragrant cookies go great with a cup of tea or coffee.
Yami is another great place to look for more black sesame snacks. The company was founded by Alex Zhou in 2013 when he moved from China to attend college in the Midwest, and soon realized he had to drive two hours to reach the nearest Asian grocery store. Today, Yami has more than 260,000 Asian products in the food, beauty, and home space.
Weee!
Almond milk is so 2010. Say hello to black sesame milk, which, okay fine, is made partially with almond milk. But the combination of the two milks (almond + black sesame) transforms your boring old nut milk into a flavorful drink that's great in everything from tea to coffee to a milkshake to straight out of the bottle. And it's sweetened with dates instead of processed sugar, so it really isn't bad for you.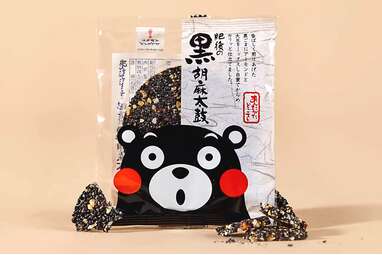 Bokksu
Coming from Kumamoto Prefecture in Japan, these sweet and savory crackers are made with roasted almonds, mizuame (a sugar syrup), and tons of crunchy black sesame seeds. Each taiko (which means "drum" in Japanese, so named because of its round shape) is handmade by roasting the almonds and sesame seeds, then mixing them by hand with the mizuame over heat, and finally pressing them into discs. The earthy, nutty flavor with a touch of sweetness mingles with the cracker's extreme crunchiness, making this an ideal snack when your afternoon slump hits.
Noona's
Creamy, fragrant, and nutty with just the right touch of sweetness, this black sesame ice cream is indulgent and buttery-smooth. Created by Hannah Bae, Noona's Ice Cream (noona means "big sister" in Korean) makes classic Asian and innovative ice cream flavors that use fresh, all-natural ingredients. All of the recipes, including the gray-colored black sesame one, are inspired by Bae's Korean-American heritage.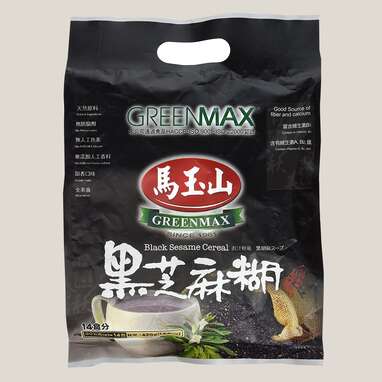 Yami
Black sesame hot cereal is a beloved breakfast and/or dessert for many Asians. For those not familiar, it's kind of akin to a black sesame version of Cream of Wheat, but with a much more intense, nutty black sesame flavor, and with sugar added. This version, available on Asian online marketplace Yami, comes from Taiwan and has 14 servings that are easily made simply by adding hot water. Comforting and tasty, this will warm you from the inside out.