How to Buy the Perfect Blender, the Most Underrated of Kitchen Appliances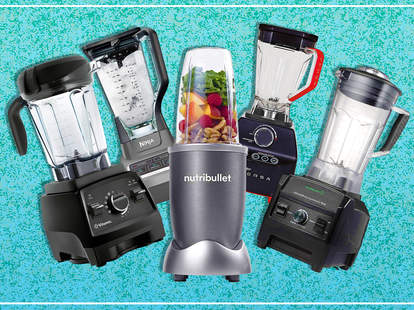 We independently source all of the awesome products and experiences that we feature on Thrillist. If you buy or book from the links on our site, we may receive an affiliate commission — which in turn supports our work.
While you'd feel naked without a coffee maker or microwave, you may not consider a blender a necessary kitchen appliance. However, like a spare tire or an umbrella, when you need one, you really need one. There's no good substitute tool to use in a pinch when you want to whip up a proper milkshake, some frozen margaritas, or a homemade soup. The humble blender is one of the most underrated kitchen essentials, and one you should invest in wisely.
Of course, much like coffee makers and microwaves, blenders range wildly in price and quality, and shopping for one can send you into a tizzy over specs, speeds, and sizes. So, to make it whole lot easier, we've pulled together some of the best ones out there for whatever chopping, dicing, pulverizing, and pureeing needs you may have.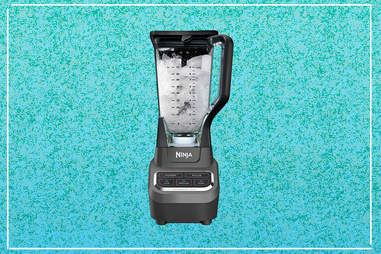 Amazon/Danna Windsor
The best blender for batches of frozen margaritas
Ninja Professional 72-ounce countertop blender
For frozen marg fans who won't settle for anything less than proper slush, this Ninja setup is the powerhouse you want at the ready. With 1,000 watts of power and three speed settings, it's capable of "blast[ing] ice into snow in seconds," and ideal when you want to whip up large batches of perfectly blended adult beverages (or, ya know, healthier ones, if you're into that). Of course, its six blade setup also makes sauce- and dip-making a cinch. In other words, this thing is your indispensable cocktail party sidekick.
Price: $77.99
Amazon/Danna Windsor
The best blender for making on-the-go smoothies
Nutribullet 12-piece high speed blender
Been meaning to make good on that New Year's 2019 promise you made to drink a smoothie every morning? It's a lot easier to build into your routine with a Nutribullet, which is designed to whip them up individually. Pack all the ingredients you want into one of its single serving cups (it comes with both tall and short versions), screw on the blade, and press it into the console to let its 600 watt engine go to town. When it's finished, you simply unscrew the blade and sip your silky smooth fresh beverage from the cup, or pop on a cap and take it with you. Even better, cleanup is far simpler than it is with a traditional blender since you only have to rinse off out the cup and removable blade.
Price: $49.88
Amazon/Danna Windsor
The best consumer blender on the planet, period
Vitamix 5200
A favorite among chefs and kitchen pros, the powerful Vitamix 5200 is the gold standard by which every other countertop blender is measured. Although it's pricey, it's equipped with aircraft grade stainless steel blades and a mighty motor, and is engineered to obliterate even the hardest ingredients -- and achieve perfect textures -- with ease. It also features a variable speed control knob, which you can tweak and adjust as you're blending to achieve varying levels of smoothness. Plus, it's capable of creating enough friction at its highest speeds to turn cold ingredients to piping hot liquids in a matter of minutes (that means you can make fresh hot soup without ever applying a heating source). Add to that the fact that it cleans itself in 30 seconds with a dash of soap and water and comes with a 7-year warranty and you have a sense what you're paying for.
Price: $395.46
Amazon/Danna Windsor
When you want a Vitamix but don't want to pay the Vitamix price
Cleanblend blender
With a beastly 1,800-watt motor, the Cleanblend is actually slightly more powerful than the Vitamix, and features a similarly tough plastic 64-ounce jar. That means it's perfectly capable of pulverizing just about anything you throw in it without any trouble. The main difference between the two (apart from the Cleanblend's more limited 5-year warranty) is the fact that the Cleanblend doesn't provide as much variability between its speeds, which may be frustrating if you insist on achieving a specific texture. Still, it's a great top-of-the-line blender for folks who aren't ready to drop nearly $400.
Price: $178.97
Amazon/Danna Windsor
The best blender if you don't want to spend more than $40
Ninja 400-watt blender/food processor
If you're on a tight budget but need a reliable blending setup, consider this versatile Ninja system. It comes with two different jars (one traditional pitcher and another "bowl" for food-processing), and a unique interchangeable motor that affixes to the container lids rather than their base. Although it doesn't have variable speed control or preprogrammed settings, its one-touch pulsing mode provides enough power to chop, mince, dice, and puree ingredients for all manner of dips, sauces, and smoothies. It may not be able to whip up piping hot soups or turn nuts and seeds into flours, but it's a great choice if you just want a go-to blender for conventional use.
Price: $34.88
Amazon/Danna Windsor
The most versatile blender under $200
Oster Versa
If you don't need something quite as powerful as the Vitamix or the Cleanblend but still want a powerhouse appliance that liquifies, mixes, and purees like a pro, the Oster Versa should be on your radar. Sporting a 1,400-watt motor that sends its stainless steel blades spinning at speeds up to 250 miles per hour, it's incredibly user-friendly thanks to three pre-programmed settings (smoothies, dips/spreads, soups) and a variable speed control dial. It also comes with a tamper included, to help eliminate air pockets and move hard-to-blend ingredients down toward the blade. Plus it comes with a 7-year warranty, which may make it easier to stomach the hefty price tag.
Price: $189.52
Amazon/Danna Windsor
What to get if you need an immersion blender
Breville control grip immersion blender
Although immersion blending is admittedly a more advanced maneuver for folks with above-average kitchen skills, certain recipes (soups, mayonnaise, whipped creams, etc.) require them because they allow for tight control. If you're ready to add one to your arsenal, this 280-watt Breville model is the one to get. Its ergonomic, pistol-like grip makes it incredible easy to use, and it's equipped with internal ribbing to protect against suction (that means less splattering and allows for gentler movement throughout your pot). Plus, it has an 8-inch immersion depth (so you can fully blend in pots of all different sizes), and 15 pre-set speed settings to help you achieve the perfect texture
Price: $86.43