The Best Wireless Headphones for Outdoor Adventures
No matter how you like to get outside and active, these Bluetooth headphones are the ones to wear for every adventure.
Amazon
Amazon
We independently source all of the awesome products and experiences that we feature on Thrillist. If you buy or book from the links on our site, we may receive an affiliate commission — which in turn supports our work.
Some people spend time outdoors purely to take in all the sounds of nature. Others may not want to run, hike, kayak, swim, stroll, or cycle without their choice of entertaining or inspiring audio—whether it be tunes, podcasts, or even an exercise coaching app. But don't worry; we're not here to judge what you're listening to. We're just here to recommend wireless headphones that you'll actually like to use when you're getting outside and active.
It's fairly simple to find headphones for working out, but adventure headphones require a few specific features that aren't quite as common. Like workout headphones, you'll want these to fit your ears comfortably and securely, so they won't fall out when you move. But you'll also want to look for ones that are reasonably resistant to water (think a minimum of IPX4 to withstand sweat or an unexpected raindrop, or up to IPX8 if your headphones might get fully submerged).
In many cases, you'll also want to look for headphones that allow you to hear what's going on around you, so you can be prepared to deal with situations like incoming traffic or approaching strangers. Open-ear headphones allow for situational awareness by not physically covering your ears at all, while headphones with ambient sound technology use microphones to pipe external sounds right into your ears. The former can be a great choice for headphones you'll be exclusively using for outdoor adventure, while the latter often allows greater versatility to turn the ambient sound on and off and can come in a more traditional earbud package.
Ready to get out there? Here are our top picks for wireless earbuds to wear while you're exercising or adventuring outdoors.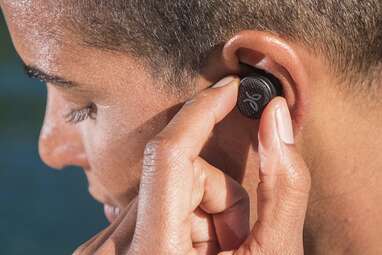 Amazon
Best for: Most outdoor adventures (& everything else)
For general use both outdoors and in, for a range of different activities and weather conditions, it's hard to beat the Jaybird Vista 2s. They look a lot like traditional earbuds, but they're super durable; they meet military standards for resistance to cold, shock, and impact, and are rated IP68 for being totally dust- and waterproof. In other words, these bad boys can fall hard, survive a lengthy drop into a body of water, be worn in extreme cold, and handle enough dust to give you a dirt tan—and they'll still work just fine. With 24 hours of battery life in total (8 hours per charge, plus an additional 16 hours from the charging case), they should be able to last you through a grueling day or two of trekking, cycling, or really anything you might want to do. Best of all, the Jaybirds have super adjustable, high-quality sound (especially if you use the companion app), with the option for active noise cancellation or SurroundSense (the brand's ambient sound technology)—so you can hear your surroundings exactly as much as you'd like, and your tunes will always sound sweet.
What reviewers say: "Love these. Have never been able to find ear buds that fit. These stay in during skiing and mountain biking. Love the sound, fit and functions. Highly recommend."
Amazon
Best for: Most sports & adventures
If you want a pair of dedicated sport and adventure headphones, these are your guys. They have an open-ear design that uses bone conduction technology so you can listen to music without blocking your ability to hear your surroundings. This type of technology essentially sits on your cheekbones instead of inside your ears, and the sound reaches your ears by vibrating the bones—which makes the Shokz OpenRuns ideal for maintaining situational awareness. The headphones also have an IP67 rating, so they're totally dustproof and waterproof enough to withstand a quick, shallow dunk, though you won't want to swim with them. The open-ear design is comfortable enough for longer wear, and the 8-hour battery life means they can certainly last through a lengthy sweat sesh before you need to recharge.
What reviewers say: "Never listened to music before while mountain biking. Speakers seemed [too] big to attach to my bike and headphones cut down on my situational awareness. These things are great. I can listen to music and hear everything going on around me. They stay in place, even when the terrain gets rough."
Amazon
Best for: Situational awareness on a budget
More affordable than the Shokz OpenRuns, the Shokz OpenMove headphones offer a lot of the same features for about $50 less. Chief among these features, of course, is Shokz's signature open-ear design, which uses bone conduction technology to keep your ears totally open to your surroundings during use. This design is also super comfortable for anyone who doesn't enjoy the feeling of in-ear buds over time.
The cheaper price does come with some drawbacks that are unlikely to matter much unless you plan to submit these headphones to rough or heavy use—with the exception of the 6-hour battery life, which is a 2-hour decrease compared with the OpenRuns. Both the OpenRun and OpenMove headphones come with the same Bluetooth technology and range, and are only a few grams different when it comes to weight. However, the OpenMoves do lose a bit when it comes to waterproofing (they're rated IP55 compared with the OpenRuns' IP67, meaning they're dust- and water-resistant rather than fully dust- and waterproof) and frame materials (the frame is only partially titanium, whereas the OpenRuns' titanium frame goes all the way around). The OpenMove headphones also use 7th-gen bone conduction technology, compared with the OpenRuns' 8th-gen, though it's unclear how much difference this actually makes. For an entry level bone conduction headphone with a significantly cheaper price, these are not unreasonable sacrifices, but you'll want to put some thought into which features are important to you before you choose between the two.
What reviewers say: "These are life changing. I bought these to use on my runs so I could safely hear traffic around me while allowing me to still listen to my favorite podcasts, music or audiobook. They have amazing sound quality as well as bass and do exactly what I hoped they would. You cannot go wrong purchasing these."
Amazon
Best for: Truly wireless listening with secure earhooks, especially for iPhone users
The Powerbeats Pro earphones may not be designed specifically for outdoor adventures, but they're totally up to a light adventure or few. I should know—I've had these for over a year and I've worn them during casual walks, vigorous workouts, and everything in between. I've had my fair share of bad experiences with other earbuds popping out while I run, but earhooks ensure these ones will absolutely stay put no matter what, which is great for peace of mind. The brand lists them as sweat- and water-resistant, and I've certainly found them hardy enough to withstand some rain and a lot of sweat (though without seeing an IPX rating I'd be nervous to expose them to even more water). It's worth mentioning that these don't have any situational awareness features, but since they also don't cancel noise, you can still hear any loud or especially nearby sounds. As far as battery life goes, these are pretty good, with 9 hours of playtime on a single charge, plus more than 24 hours if you use the (admittedly bulky) charging case. Finally, while these are easy to connect to Androids, Apple users will enjoy an improved connection speed and range, plus some nice bonus features like the option to locate your Powerbeats Pros using the Find My app.
What reviewers say: "I have used many earphones for running, cycling, hiking, workout and other activities and these are the absolute best (if noise cancellation is not a must). Highly recommend these - they are the most comfortable *and* secure earphones you can get. Used with an iPhone you get all the advantages of the H1 chip, they are durable, water-resistant, the case they come with is/looks great and the battery life won't let you down. Great product!"
Amazon
Best for: General outdoor use, especially if you might need to make a call
While the Jabra Elite 7 Pros might look like an ordinary (if compact) pair of earbuds, they're packed with useful features that make them especially great to use on the go. Adjustable active noise canceling is great for uninterrupted listening, but Jabra's HearThrough ambient sound technology ensures you can hear your surroundings when you'd like to. You can toggle between listening modes with a button on the earbuds, or use the companion app, which also allows you to personalize the sound. If you want to make a call, the four powerful microphones ensure you'll be heard—but if there's wind (whether because you're moving quickly or on top of a mountain), a combination of jaw bone conduction technology and noise cancellation algorithms will automatically activate to keep your voice sounding clear. If your hands are busy gripping a canoe paddle or climbing wall, you can also use the built-in Alexa voice assistant to play music, make a call, or even just ask about the weather. Finally, an IP57 rating means the earbuds are protected against dust and can be dunked in water without damage—and if you have any doubts, Jabra backs up this rating with a 2-year warranty. These earbuds can play for 8 hours before needing a charge, and last for 30 hours if you use the charging case.
What reviewers say: "I am super excited with these ear buds. The quality is out of this world and so comfortable that I forget that I have them on sometimes. They are perfect for running and they stay put! I use them literally everyday, they have become part of my wardrobe. I think I can't live without these!"
Amazon
Best for: Swimming
Yes, you can listen to music while you swim—you just need a special pair of headphones. Wireless headphones are obviously the move here, but Bluetooth has a very short 4-inch range underwater. To stream music from a device to these H2O Audio Sonar headphones, you're going to want to use a waterproof smartwatch and attach it to your goggles or swim cap so it's close to the headphones. If you don't have a smartwatch, these headphones also allow you to download MP3s directly to them (they can hold up to 2,000 songs), so you don't need to use Bluetooth at all. H20 Audio also sells a waterproof MP3 player that can allow for a bigger range, if you'd prefer, as well as a pair of headphones that have a clip to attach an Apple Watch.
All that aside, the H20 Sonar headphones are cleverly designed to attach to your goggles so they'll stay put as you swim. They have an open-ear bone conduction design, so they won't clog or block your ears. They're naturally 100% waterproof with an IPX8 rating, and they have a 1-year warranty in case you experience any issues. The battery life is more than 7 hours, though if you can swim for that long, I'm very impressed.
What reviewers say: "This is a great headset for any swimmer. But if you are an open water swimmer like me and want to have your tunes with you, then this is the headset you need in your life. While the others do well in the open water also, they create a dangerous situation for open water by blocking out all other sound because they block the ear canal. These do not block the ear canal, making them a safer headset by allowing other sounds in (i.e. boat engines)."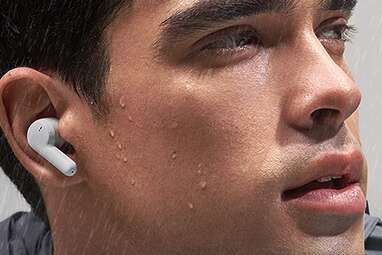 Amazon
Best for: Fitness tracking
There's so much going on with these Amazfit earbuds that it's hard to know where to start. They have a lot of the features you'd want from a pair of sport or adventure headphones: IP55 water and dust resistance, a 9-hour battery life (30 with the charging case), and a few different active noise cancellation modes including a workout mode that blocks some noises while still allowing you to hear traffic sounds. And while all of these features are great and potentially crucial for outdoor use, the thing that sets these earbuds apart is the fact that they double as a fitness tracker. They collect data (including time, distance, speed, heart rate, pace, step count, and calories) while you wear them, and can even provide voice notifications about this data in real time during use. They can also sense when you're running and start recording fitness stats automatically, and will automatically hit the bass and beats of your music a little harder when they sense you're working out. The headphones work with various voice assistants, too. Literally what more could you need?
What reviewers say: "I'm supper happy with these! They work great, charge super fast, connect very easy out of the box and a total game changer for working out. The feature I'm crazy about is the one were I can tune in or tune out of outdoor noises, all while continuously listening to music."