8 Great & Popular Bread Knives to Slice Like a Pro
A good bread knife should improve your slicing experience whether you're dealing with sandwich bread, bagels, pastries, or even produce.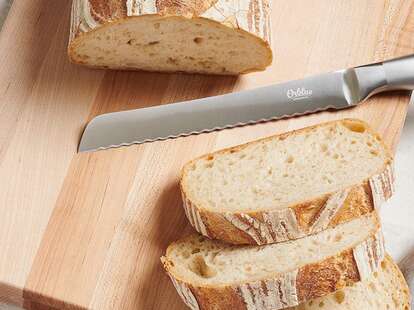 We independently source all of the awesome products and experiences that we feature on Thrillist. If you buy or book from the links on our site, we may receive an affiliate commission — which in turn supports our work.
Oprah spoke for all of us when she declared "I love bread!" But if you've tried to slice bread only to be left with a crumbly mess or squashed loaf, you know that a quality serrated bread knife is essential to any kitchen. A good bread knife should improve your slicing experience whether you're dealing with sandwich bread, bagels, pastries, or even produce. But when it comes to choosing which bread knife is the one for you, it's best to weigh your options.
The first consideration is price point, which varies according to materials and construction techniques (although you can't go wrong with any of the options below; they're all precisely engineered with a stainless steel blade). Another factor is the handle, which should be comfortable and ergonomic so you can maneuver the knife safely and easily. You'll want a knife that's not only sharp and easy to use, but also durable—meaning it's resistant to stains, corrosion, and rust.
Fortunately there is no shortage of bread knife options online. We've sifted through the choices and catalogued them below, so you can feel confident in your purchase. Whether you're assembling a full set of kitchen knives or looking to upgrade your current collection, you're sure to find something great among these choices.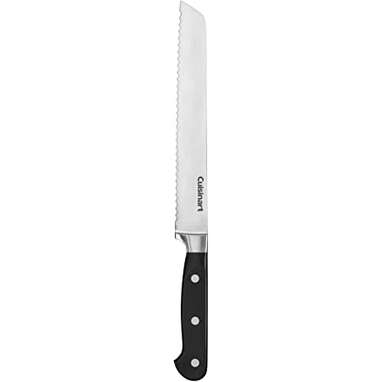 Amazon
If you're looking for a sharp, reliable bread knife, consider this option from Cuisinart. Tapered stainless steel blades bring stability and precision, and a safety bolster, blade guard, and quality construction make this knife a trusted choice. You can also feel confident in the knife's durability, because Cuisinart offers a lifetime warranty. Since Cuisinart carries a wide variety of kitchen tools, you'll be able to complete your collection if you're in the market for a matching set of knives and a block for convenient storage.
Amazon
This bread knife boasts superior comfort (thanks to its ergonomic handle), and a durable blade constructed with high-quality Japanese steel. Textured finger points on the handle prevent slippage and allow for improved grip, making the Mercer a great choice for safety. The single-piece blade is stain-resistant, although it's recommended to hand wash this knife to keep it in tip-top shape.
Amazon
Slice breads, pastries, and bagels effortlessly with the Orblue serrated bread knife. This eight-inch stainless steel blade is durable enough for everyday use, and the handle is comfortable for a wide range of hand sizes. Even though the Orblue is quite affordable, it doesn't skimp on quality—the entire knife is constructed from one single piece of stainless steel, with no plastic parts or screws that might wear out over time.
Amazon
With its razor-sharp blade and extreme durability, it's no wonder that the Wusthof bread knife has been a bestseller for generations. The higher price point reflects the blade's resistance to discoloration, fading, and heat, as well as the knife's versatility—in addition to bread and pastries, the Wusthof can glide through delicate produce with ease. What's more, the blade utilizes double serration technology, meaning each serration has twice the impact, resulting in effortlessly smooth cuts every time.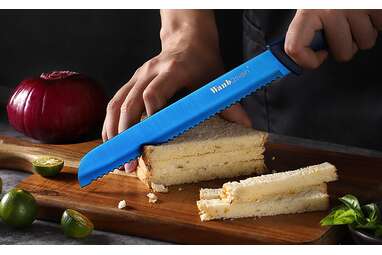 Amazon
The Wanbasion bread knife offers all the essential features mentioned so far in this roundup—durable stainless steel blade, ergonomic handle, and versatile applicability. Even better? The Wanbasion does everything you need at an affordable price. Outfitted with a protective sheath and comfortable handle, this knife also comes in a variety of sleek colors, if plain silver is too conventional for your tastes.
Amazon
This sleek knife delivers on both appearance and function. With its black blade and wood-inspired ergonomic handle, the Euna bread knife promises clean cuts and durability. The coating on the high-carbon stainless steel blade makes the surface non-stick, making cleanup simple and quick. Even more, the materials are resistant to corrosion and rust, and the Euna comes with a protective sheath and attractive box, making it a useful gift for housewarming or any other occasion.
Amazon
The Imarku bread knife is a classic tool you need in your kitchen. Its serrated blade, constructed of German stainless steel, ensures durability and precision. The ergonomic wooden handle reduces stress on the wrist and is suitable for left-handed and right-handed people alike. The elegant appearance and moderate price point of the Imarku knife make it a great choice to add to your cutlery collection.
Amazon
Expertly crafted from high-carbon Japanese steel, the Dalstrong bread knife features a carefully tapered blade and razor-sharp serration. The thoughtful design extends to the D-shaped handle as well—the Spanish pakkawood is hand polished and allows for nimble movement and precise cuts. Casual home cooks and dedicated chefs alike will appreciate the luxury and meticulous engineering of the Dalstrong bread knife—and if the aforementioned features don't convince you to buy this knife, the 100% satisfaction guarantee and lifetime warranty should.
Caroline Curran is a Thrillist contributor.