10 Excellent Tents Around $100 to Start Your New Life as a Camper
The range of tent prices can often seem drastic, but you can find plenty of durable options that will last for years for around $100.
We independently source all of the awesome products and experiences that we feature on Thrillist. If you buy or book from the links on our site, we may receive an affiliate commission — which in turn supports our work.
Choosing the right tent is a difficult decision for campers at every skill level. You have to take into consideration size, weight, effectiveness against the elements, and when/how you'll be using it. I believe every camper should have at least two tents: one for hiking trips and one for car camping (the latter being heavier, bigger, roomier).
And the range of tent prices can often seem drastic. You can grab a fine pop-up tent for $30 or a lightweight carbon tent for over $1,000 (they weigh about one pound and are crafted for very serious hikers). But what if you're new to camping? Where do you start?
While tent prices have gone up over the past two years, I firmly believe you can buy a tent that will last you for years for around $100—one that is both durable enough to not rip during set-up and will keep you dry during rain. Here are 10 budget tents under $100 (with a few exceptions) that you'll be sure to love.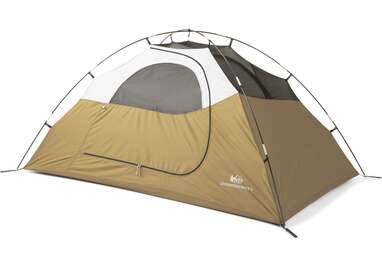 REI
What you're getting: A standard 2-person, 3-season dome tent that's incredibly easy to set up and weighs a mere four pounds. Set it up in minutes and keep it for years.
Amazon
What you're getting: An instant pop up tent for car camping (it sets up in about one minute). It's also super spacious—enough to fit an air mattress, cooler, chair, etc.
Walmart
What you're getting: Another beloved car camping tent from Coleman. If you want enough room to throw in a queen size air mattress and your stuff, this is the tent for you. It's 8' x 7' and the roof goes up to almost 5'. That means it's a bit bulky and takes a little more time to set up, but the payoff is essentially a small apartment.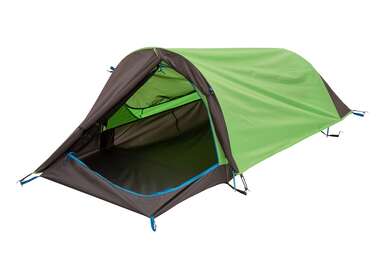 Backcountry
What you're getting: A 1-person tent that's great for hiking trips. It weighs only two pounds and will endure almost all weather conditions (aside from blizzards). It also opens up nicely so you can stargaze through the mesh and not worry about the mosquitos.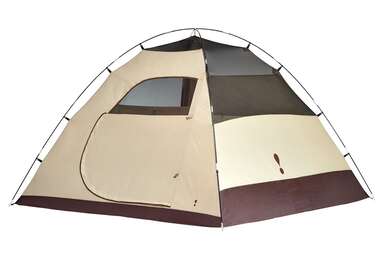 Backcountry
What you're getting: A standard 3-person, 3-season tent that is great for car camping. It's incredibly easy to set up and will give you four feet of headroom once it's standing. It's big enough for a full size air mattress (if you want to keep it as a 2-person tent, which you should).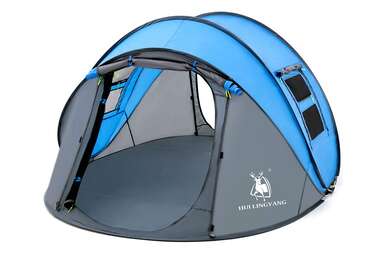 Amazon
What you're getting: A tent with pre-assembled poles that you basically frisbee out to set up. It is, in the most literal sense, a pop-up tent. It claims it can sleep four, but I'd recommend keeping it to two if you want to stay comfortable. When the trip is done? Just fold it back into itself and be on your way. It weighs about nine pounds, so you'll likely want to save this one for car camping.
Backcountry
What you're getting: A stylish and well-built tent from a company you can trust. Stoic is Backcountry's in-house brand, which means you'll be dealing directly with the manufacturer. This tent is 100% made for car camping, so expect it to handle pesky insects and light rain like a champ.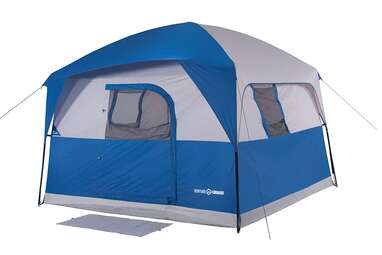 Camping World
What you're getting: Essentially a pop-up tiny home. This cabin tent stands 6'10" in the center, so unless you're camping with a bunch of basketball players, you & your group should be plenty comfy. The tent boasts a "watertight construction with no-wick technology" so dewey mornings or afternoon showers shouldn't be a problem. And there's even an e-port you can employ to seamlessly transition from camping to glamping.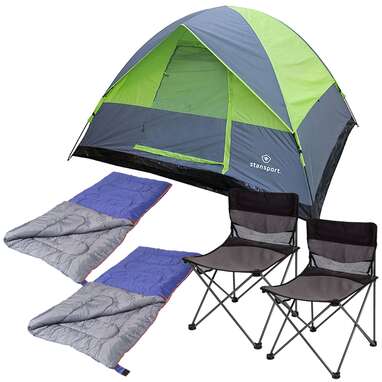 Camping World
What you're getting: The "First Time Camping Starter Pack." This under-$100 set gives you the three most cherished creature comforts one needs when car camping: a tent, a camp chair, and a sleeping back. You know what they say: warm and dry keeps spirits high.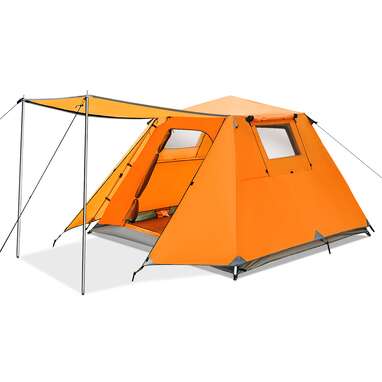 Walmart
What you're getting: An extremely versatile tent you can take on moderate hiking trips, car camp with, or set up comfortably at festivals. The tent bagged up weighs 14 pounds and measures 39" x 8" x 8". So, sure, it's not the smallest tent for backpacking, but it's absolutely not a dealbreaker (especially if you divvy up the supplies/equipment between packs). The tent can sleep four, but you'd probably be a lot more comfortable with just two or three.