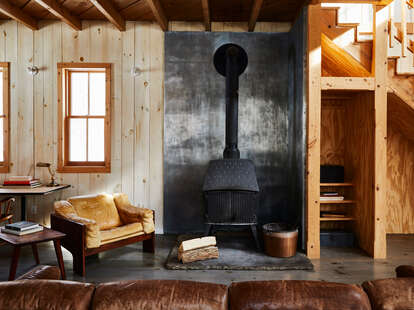 Airbnb
Airbnb
We independently source all of the awesome products and experiences that we feature on Thrillist. If you buy or book from the links on our site, we may receive an affiliate commission — which in turn supports our work.
Though it's only been five years since hygge became a mainstream obsession outside of Scandinavia (and, therefore, also an entry in the Oxford English Dictionary), most of us have been unknowingly fascinated with it for ages—especially when it comes to our dream winter getaways.
Hygge (pronounced "hue-gah" or "hyoo-guh," depending on who you ask—but definitely never ever "hii-gee" regardless of what you learned in kindergarten about sounding words out) is a noun the OED defines as "a quality of cosiness and comfortable conviviality that engenders a feeling of contentment or well-being." It is also regarded as a distinct aspect of Danish culture.
When it comes to aesthetics, hygge is basically everything you'd ever see on a "Winter Wonderland" Pinterest board: calming neutrals, fluffy pillows, thick comforters, flickering candles and twinkle lights, roaring fires, natural materials, and visual personifications of the "less is more" theory. It's loungewear and naps and coffee on the deck overlooking freshly fallen snow. Warm mugs of everything, vinyl crackling on the turntable, and snuggling in bed for another 45 minutes just because you can. It's exactly what every winter getaway should be—and what you'll certainly find at these nine Airbnbs, all of which promise to feel like a warm and welcoming hug.
Airbnb
5 guests/$259 per night

This riverfront cabin about an hour outside of Portland looks like your average rustic riverfront cabin from the outside (and we mean that as a compliment), but it opens up to a stylish interior that is light, airy, and streamlined—perfect for anyone who finds it easier to relax when there's no clutter in sight. Other things that will make it easy to relax: Views of the forest and river, an expansive deck to appreciate those views with a cup of tea, a fire pit on the riverbank, a backyard hammock, and a record player.

What guests say: "Absolutely loved this home. It was aesthetically stunning, incredibly clean, and there were so many thoughtful touches."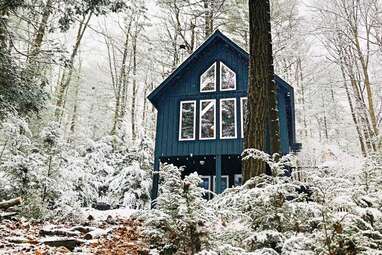 Airbnb
4 guests/$395 per night

This A-frame cabin is just two hours from New York City, but it feels worlds away thanks to its location tucked away in the woods. The dog-friendly home has two bedrooms—stay in the primary bedroom on the ground floor to enjoy easy access to the porch, or in the lofted bedroom above the living room (it doubles as an excellent reading nook). The house is perfect for catching up on paperbacks, playing games, cooking big meals, and decidedly not watching TV...because there isn't one. Outside, you can take advantage of the grill, wooden deck, fire pit, and 10 acres of woods.

What guests say: "Darby Cabin is truly a dreamy cabin in the woods. It is a thoughtful space with tons of natural light. Thoughtful details can be found throughout, with lots of fun and interesting books and games (inside and outside), high quality super cozy bedding and thick towels. Clean space throughout!"
Airbnb
6 guests/$463 per night
The fully renovated 1963 "Tahoe A-Frame" is on the West Shore of Lake Tahoe and close to Homewood Mountain Resort, hiking, snowshoeing, backcountry skiing, snowmobiling, and some great bars and restaurants. The house isn't huge (1,260 square feet), but if you don't mind close quarters, you can fit six people in three sleeping areas (two bedrooms and a loft). There are also two bathrooms, plus lots of room for cooking and relaxing. In the evening, cook some meat on the gas grill for dinner and then leave the dishes until after your hot tub soak (or, you know, just wait until the morning).
What guests say: "Beautiful cabin inside and out. The home is warm and inviting and has the most gorgeous and fun decor. This cabin has everything you would want or need during your stay. We loved the record player, the fireplace was amazing, and there was even a batch of cookies ready for us when we got there!"
Airbnb
Granite Falls, Washington
6 guests/$314 per night
This remote hideout in the woods, perched on a granite ledge overlooking Canyon Creek (a natural area about an hour north of Seattle), is a dream getaway for someone looking to truly escape. The space has been remodeled to feel open and airy (even with the low ceilings), sleek, and thoughtful, so you don't have to worry about musty air and spiders. The furniture is contemporary, and there are lots of plants adding pops of green throughout. You'll likely split most of your time soaking in the hot tub that sits on a deck overlooking the creek and sitting in front of the indoor fireplace playing board games, reading, and sipping drinks.
What guests say: "The house is so beautiful, and it has everything you could possibly need throughout your stay. Between the incredible river views, beautiful trees, and all the extra amenities like the wood-burning stove, surround sound record player, and huge deck with a hot tub - l just made this one of the best mini-vacations ever! We will definitely be back to visit again! We highly recommend this cabin stay to everyone!"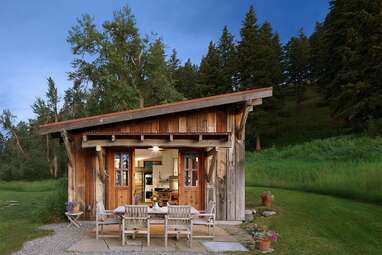 Airbnb
2 guests/$256 per night

If you're looking for cozy, you can't do much better than this reclaimed wood studio outside of Bozeman. Cook gourmet meals in the fully-stocked kitchen with a Bertazzoni range, open the French doors to let in some fresh air, create an indoor/outdoor living situation with the stone patio, and start a fire in the woodstove. Then if/when you get a mild case of cabin fever, explore the property's 100 acres of trails to mingle with cranes, elk, owls, and eagles, drive to Yellowstone, or hit the ski slopes at one of the nearby resorts.

What guests say: "We expected a beautiful place, based on the photos and other reviews, and our expectations were still far exceeded. It provided everything we could have hoped for on our honeymoon: A cozy retreat, a beautiful kitchen outfitted with all the best cooking tools, and a pristine property to explore."
Airbnb
2 guests/$224 per night

Typically, when one thinks of a cozy winter getaway, one doesn't think of Texas. But this private cabin retreat is the perfect place to unwind, relax, and reconnect with yourself—or someone you like enough to share a bed that doubles as a swing. The tiny house is set on the bayou and is very private (though boats do float by, so keep that in mind when getting dressed for the day). Spend your long weekend soaking in the rock tub in the bedroom or the outdoor hot tub (or both!), napping in the hammock, cooking a meal on the grill, and sitting around the fire pit at night.

What guests say: "What an amazing stay! The cabin was incredibly private, surrounded by beautiful nature. An incredible getaway to reconnect and unplug. The cabin was very comfortable, with tons of places to sit, lounge, soak, and enjoy the ambiance."
Airbnb
5 guests/$293 per night
You won't find this repurposed barn in an industrial part of Brooklyn; rather, it exists about 100 miles north of the city in Dutchess County, a place filled with retro diners, apple orchards, and gorgeous scenery. The serene, light-filled barn sits in the middle of a meadow. It feels open and airy, while still offering plenty of hidden nooks throughout. Throw burgers and steaks on the grill, play ping pong and pinball in the game room, watch the wildlife from the deck, or just sit around the 360-degree fireplace in the living room and chill.
What guests say: "This converted loft barn is rustic, yet has an understated elegance. We got snowed in and were so happy to just sit around the fireplace and watch the snowfall from indoors in this beautiful space. We all agreed we would stay here again and think it would be fabulous to stay in any season. Very close to Berkshires, Kingston, Hudson, Rhinebeck, and many more cute towns in the Catskills."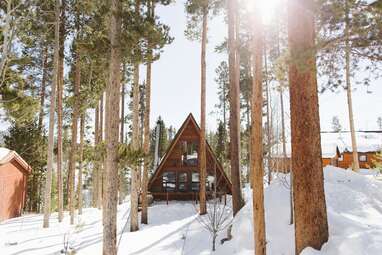 Airbnb
12 guests/$225 per night
This three-story A-frame in the self-proclaimed "Snowmobiling Capital of Colorado" is close to many places for, well, snowmobiling. But it's also close to lots of other winter activities, like snowshoeing, cross-country skiing, and endless opportunities to see moose, fox, mule deer, black bear, and herds of elk (and you're just as likely to see them while simply sitting outside as you are hiking inside of Rocky Mountain National Park). Back at the cabin, you can unwind around the portable fire pit on the large decks off the front and rear of the home, or, when the temps drop, in front of the wood-fire stove in the living room.
What guests say: "This Airbnb is so dreamy! It made for the perfect mountain getaway weekend with absolutely stunning views right from the deck. We enjoyed watching the alpine glow sunset each evening. The amount of space and beds was perfect for our large group and surprisingly so spacious!"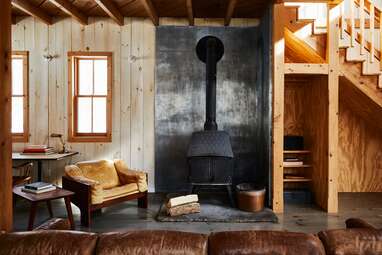 Airbnb
5 guests/$239 per night

Set atop Bramley Mountain, one of the most popular hiking destinations in the western Catskills, this dog-friendly "Owl Nest" home is tucked away in the woods (it is surrounded by trees on all sides) while remaining close to town. The space is sparse but not scant. Inside you'll find cathedral ceilings, an open first floor with a wood-burning stove, two cozy upstairs bedrooms, and a clawfoot soaking tub.

What guests say: "Simply put, The Owl's Nest is the dream winter cabin. Snow falling outside with amazing stew in the dutch oven playing chess with an indomitable partner over hot toddies by the crackling fire. I can't recommend it highly enough except for the fact that I wouldn't want it to become too popular to book for my next trip out there."
Daisy Barringer is an SF-based writer who will always choose a hygge-filled winter escape over sunshine and beaches. Follow her on Instagram
@daisysf
to see where her travels take her this year.