The Best Gifts for People Who'd Rather Be Camping Right Now
Even when the temperatures dip below freezing, camping enthusiasts love any excuse to stock up on new gear.
Design by Maitane Romagosa for Thrillist
We independently source all of the awesome products and experiences that we feature on Thrillist. If you buy or book from the links on our site, we may receive an affiliate commission — which in turn supports our work.
As the leaves turn and temperatures drop, those of us who just spent every spring and summer weekend in a tent in the woods might be feeling a little down and out. While autumn still offers plenty of opportunity for foliage-fueled hikes and refreshingly bone-chilling nights at the campsite, the sense of camping season drawing to a close is unfortunately only too apparent.
So, to help keep the spirits of your favorite trail junkie up, we decided to put together a gift guide full of stuff that'll be put to use this fall, or at the very least give them something to look forward to using in the spring. From a solar-powered GPS watch to some upgraded backpacking essentials, each of these items should ignite that calling from the mountains, no matter how far off the next adventure might be.
Plus, each and every one of our picks is available on Amazon, so you'll have some assurance that you're getting a great deal and that it'll arrive in just a few days. There's never a bad time to stock up on new camping gear, and now that the "off" season is within sight, you're in line for some pricing that's definitely gift-giver friendly. Keep reading to find out our top picks that'll recharge and reinvigorate the camper in your life.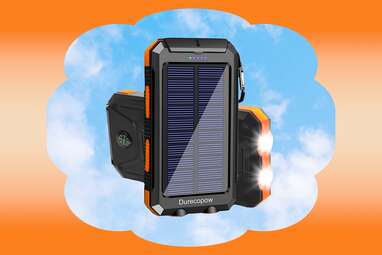 Design by Maitane Romagosa for Thrillist
If you're the type of camper who doesn't like to fully unplug while you're out in the woods, this solar-powered charger will keep you connected. It's compatible with most phones and tablets, and you can charge up to two devices at a time. The charger also doubles as a flashlight and has two built-in LED bulbs. Plus, if you're expecting some overcast skies on your next trip, you can charge it at home ahead of time with a handy USB plug-in.
Design by Maitane Romagosa for Thrillist
There's an increasingly strong divide in the camping community between those of us who prefer to sleep under a tent and those who love the freeing experience of spending the night under the stars in a cozy camping hammock. However, even if you don't plan to sleep in your hammock, it'll undeniably make a great addition to any campsite as a place to lounge. This one from Wise Owl Outfitters is both sturdy and cost-effective, and at just 24 ounces, it won't weigh down your pack. The hammock comes in 15 different colors, and you can choose from a single or double depending on your feelings about wilderness snuggling.
Design by Maitane Romagosa for Thrillist
Personally, I love the totally inconvenient process of hanging your sack of food up in a tree to keep it out of the reach of hungry bears, but even I can't deny the practicality that a bear canister brings to the campsite. This one, made by BearVault, comes in four different sizes, so you can pick the one that'll make the most sense for your trekking style. Each can is durable, lightweight, and easy to use, and it'll also double as a great stool for sitting around the fire. Most importantly, the canisters are bear-tested, so you can get in your sleeping bag assured that your breakfast will still be there when you wake up.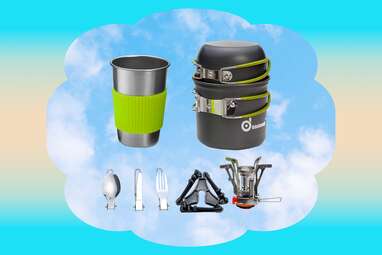 Design by Maitane Romagosa for Thrillist
There are few things that'll get a diehard camper more excited than a new camp stove, and this 9-piece beauty from Odoland checks all the boxes. To start, it's super affordable, but you won't be skimping on practicality or upgraded features. The entire stove conveniently folds up to fit in your pack, and once you set it up, it'll generate plenty of heat to help you whip up a gourmet camp dinner. Plus, the set comes with a cup and silverware, so you're covered once it's time to eat.
Design by Maitane Romagosa for Thrillist
Trekking poles make life on the trail a whole lot easier, and these lightweight poles from Cascade Mountain Tech are built with aircraft-grade aluminum that'll hold up on even the rockiest slopes. They weigh in at less than a pound, and you can adjust them based on height and comfort. The cork grips are ergonomic and sweat-wicking, and with adjustable wrist straps, you'll feel more secure than ever on uneven terrain.
Design by Maitane Romagosa for Thrillist
There's no shortage of smartwatches on the market these days, but you can take things a step further with a solar-powered GPS watch that's perfect for anyone heading out into the wilderness for a few days. Garmin is still the king of GPS gadgets, and the Instinct Solar is a high-performing watch that's packed with handy features. It works as both a navigation system and a fitness tracker, and the built-in compass paired with satellite tracking will keep you on the trail even on remote adventures.
Design by Maitane Romagosa for Thrillist
When you're camping, you often find yourself really appreciating certain things that you take for granted in your day-to-day life. For example: bowls. These collapsible Hydaway bowls are the perfect camping accessory, and they come with a sleeve for insulation, plus a secure lid to keep your food in and bugs out. They also make a great water bowl if you bring a canine friend along on your treks, and with several different sizes to choose from, you can get a whole set for all your camp life needs.
Design by Maitane Romagosa for Thrillist
Everyone needs reliable access to clean water while backpacking, and a lot of your chosen methods for getting it comes down to personal preference. Some campers swear by the traditionally bulky water pumps, while others prefer the space-saving purifying drops that'll fit in your pocket. Overall, a LifeStraw strikes a nice balance between the two, and it is probably the most cost-effective option you can find. The straw is 99.9% effective against bacteria and parasites, and it'll even filter out any microplastics. It'll hold up over time with proper care, and you can expect to suck a thousand gallons of water through it before you'll need to replace it.
Design by Maitane Romagosa for Thrillist
A new tent is a surefire way to encourage someone to start planning future camping trips in their head, especially if said tent is as roomy and practical as this one from Kazoo. The tent is made of breathable yet waterproof material, and with its super-easy setup, you can get it standing in just a couple of minutes. It also comes with a generously sized vestibule and two doors, so it's perfect for foursomes that are headed out on the trail.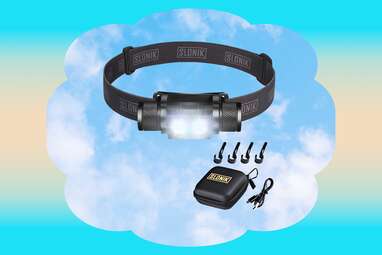 Design by Maitane Romagosa for Thrillist
A headlamp is without a doubt the least sexy piece of gear that any camper can own, but a good one is also among the most useful. If you're a new camper, you'll quickly forget how silly you look once you're setting up camp in the dark and still have use of both hands. This Slonik headlamp has a rechargeable battery, so you won't have to bring along any AAs with you — just make sure you give it a charge before you head out. The LED bulbs have six different brightness settings to flip through, and you can expect a beam that'll reach up to 60 feet at its brightest.
Design by Maitane Romagosa for Thrillist
For the campsite that's known to turn into a party once the tents are up, this highly-portable cocktail shaker allows for some more refined refreshments while you relax after a day on the trail. The shaker fits up to 30 ounces of liquid, and it comes with two stainless steel cups, a jigger cap, and even a citrus reamer for the perfect garnish. While it might not be a campsite essential (depending on who you ask), this cocktail set is sure to provide plenty of excitement.
Design by Maitane Romagosa for Thrillist
Finally, for the aesthetically-driven camper, these colorful LED tent lights will add a little ambiance and make the campsite just that much more Instagrammable. The bulbs are battery-powered, and three AAAs will get you 10 to 15 hours of light on the brightest setting. The bulbs have three different modes, so you can illuminate your site, use them in case of emergencies, or get the camp party started with ease. Plus, they're durable and water-resistant, so they should hold up no matter how deep into the wild you take them.