10 Great Tents You Can Get on Amazon Just in Time for Camping Season
Whether you're looking for a tent that sleeps 8 or a lightweight tent you can throw in a backpack, here are 10 top-rated tents on Amazon perfect for sheltering you on your next adventure.
We independently source all of the awesome products and experiences that we feature on Thrillist. If you buy or book from the links on our site, we may receive an affiliate commission — which in turn supports our work.
Camping season is just around the corner, which means you'll either be dusting off the ol' tent or setting your sights on buying a new one. Luckily, Amazon has an abundance of 4-5 star tents that come in all sorts of sizes, shapes, and purpose. So whether you're looking for a tent that comfortably sleeps 6-8 or a ultralight tent you can throw in your backpack and set up in minutes, you'll find it here. Plus, all of these tents have the in-depth reviews to tell you exactly what you're getting into.
Here are 10 great tents you can buy on Amazon right now.
This Coleman is the quintessential tent for casual campers. Its design has been relatively untouched for decades and there's a good reason behind that: If it ain't broke, don't fix it. With the Sundome, you'll get durability, quality, and a price point that'll leave you with plenty of extra cash to invest in other campground essentials.
This compact tent from Clostnature is a great budget option for those looking to do a bit more backpacking and/or out-and-back adventuring. It's also a great option for motorcycle camping. As for rain? Check out what one customer had to say: "I tested this in the mountains of middle Tennessee with rain overnight (temps in the low 50's) and the tent kept completely dry, ventilated and comfortable."
This is a six-person tent that features a screened in porch, so you can leave your dirty shoes out while making sure they stay dry, or throw a chair and just enjoy nature without any mosquitos bugging you. And if you're still on the fence about the durability of a Coleman, check out this review: "Our campsite was filled with water, the wind was 20-30mph, rain coming from all directions and we were under a flash flood watch. The only thing dry was the inside of my Coleman tent. Bone dry. Thank you Coleman."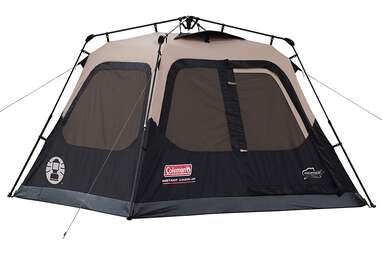 This Coleman is a car camper's dream tent. It opens up in under a minute, is plenty spacious, and can fit a queen air mattress in it. One customer had this to say: "Huge and ridiculous -- obviously not for backpacking -- but my husband and I love it. We throw a queen air mattress in here when car camping and we feel like kings. It's so easy to set up and take down; set-up is doable with just one person."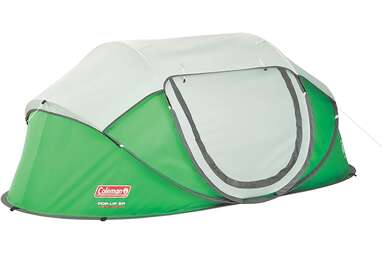 If you're hunting for a "lightweight camping tent that assembles in only 10 seconds," you've found it in this Coleman pop-up tent. You might be concerned about its roominess, but one reviewer put those concerns to bed quickly, "I am a big guy, 6' 3" and about 240 and I fit fine. It was a bit of a squeeze getting in, but I fit comfortably in my bag on some sleeping pads. Stayed dry and ventilated as well."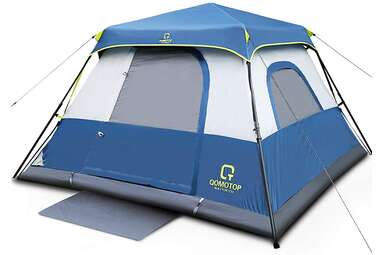 Here's an instant tent that's budget-friendly and carries an excellent rating. The ceiling is about 5-feet high, the space is 8ft x 8ft, and it'll sleep up to two adults and two kids in sleeping bags. You can also throw in a queen airbed if you want some extra room.
This four-person tent clocks in at just under $100, making it a great choice for car camping couples (or just single people looking for a little more room). However, the coolest part is that it takes under a minute to set up. Just lift the top of the tent and connect the joints.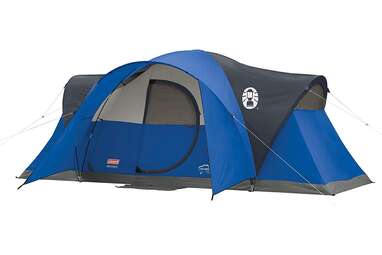 If car camping with the family is your speed, this Coleman tent is exactly what you're looking for. It can fit three queen-sized air mattresses, withstand 35+ MPH winds (just in case), and has a small e-port in the corner so you can even plug in your devices—though that kind of defeats the purpose of camping, but do you.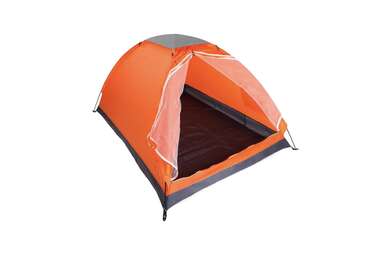 This lightweight tent is great for first time campers or those looking to test the waters (plus it's only $30). One satisfied reviewer had this to say: "A must buy for those looking for an easy to assemble light weight tent to throw up on the fly. Best bang for the buck."
Can you throw this tent like a frisbee and it'll just open up? Maybe. The big draw on this tent is that it literally pops out in seconds and folds down just as quick. It's great for kids or backyard campers and can also be used at the beach. Check out what this "urban camper" had to offer: "Tent is AMAZING!!!!!! I used it for 'urban camping' (read crashing in someone's living room) and it's perfect!! Zippers work, design is beautiful and it's huge! You will easily fit even if you're like 6'. It's HUGE from the inside. Would have loved this as a kid for a 'fort'. Pretty durable too!"