We independently source all of the awesome products and experiences that we feature on Thrillist. If you buy or book from the links on our site, we may receive an affiliate commission — which in turn supports our work.
The happiest campers are the ones with tents that actually keep them comfortable. After all, a bad tent can result in a sweaty, rainy, or mosquito-ridden evening (and no sleep to speak of), or can be heavy and unwieldy to assemble. Luckily, if you're in the market for a tent that's actually convenient and pleasant to sleep in, Amazon has an abundance of tents for sale in all sorts of styles and sizes.
From budget models to worthwhile investments, compact options to large tents that will fit the entire family and then some, you really have the freedom to pick a style that jives with your needs and budget. Whether you're a first-time camper, serious backpacker, or just need a cozy pop-up tent for the beach or backyard, we've chosen ten top-rated tents from the site that will make your campsite feel so comfortable you'll never want to leave.
Here are ten great tents you can buy on Amazon right now.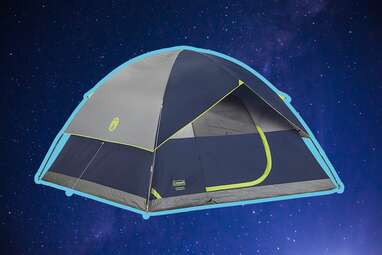 Amazon/Unsplash
This bestselling Coleman tent is basically the quintessential tent for casual campers. Its design has remained relatively untouched for decades, and for good reason: If it ain't broke, don't fix it. The durable, waterproof tent comes in multiple sizes for two, three, four, or six campers, as well as a few different colors, and every variation boasts an affordable price point so you can save your money for booking the coolest campsite.
What reviewers say: "I have never been camping before, but bought this to take to a music festival. I chose this one based on prior reviews, as rain was in the forecast. It did not let me down! It rained heavily on Saturday night and throughout Sunday, and everything inside stayed perfectly dry. It was also very simple to set up and tear down by myself."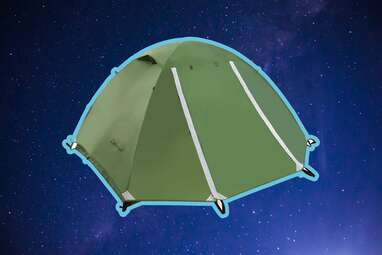 Amazon/Unsplash
If you're planning on backpacking or might need to carry your tent in and out of your campsite, this compact, lightweight tent is a great budget option. It comes in multiple sizes (a large one-person size, two-, three-, and four-person) and two different colors, and it's designed to fold down small so you can shove it in a backpack. The interior walls are made of mesh so it feels comfortably ventillated, but the outer walls and rainfly are made from waterproof material to keep you cozy and dry.
What reviewers say: "This tent is the cockroach of tents. Nothing will phase it. It's lightweight which is awesome but obviously as for all tents make sure that you stake it just in case of high winds. I've been camping since I was a child, so that is 35 years of camping experience. I am preparing to hike the PCT, so this tent is definitely the tent to trust. It might not look like much, but OMG. BEST TENT EVER. I've had good tents but strong storms always make or break my opinion of a good tent. This tent will hold up in the biggest storms. After a month of using this tent, I stayed completely dry and warm while sleeping through 45 degree weather during a steady Texas thunderstorm. It rained for a solid 6-8 hours, and I did not have one drop of moisture in this tent. I have had brand new tents of a different brands, for which, I could not say the same."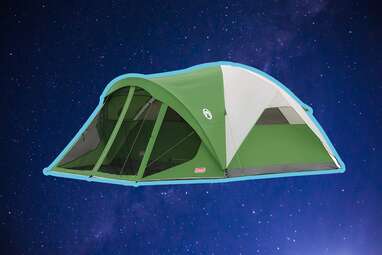 Amazon/Unsplash
This is a six-person tent (also available in an eight-person size) that features a screened-in porch, so you have a mosquito-free place to lounge... or just to keep your dirty shoes outside of the main tent but protected from the elements. The tent's weatherproof construction and sturdy rainfly will keep the rain off you, too, and the spacious interior (which is tall enough to stand in, if you're 5'8" or shorter) will fit two queen-sized air mattresses.
What reviewers say: "My husband and I purchased this for car camping, or 'glamping' as we call it. It easily fits us, our queen sized blow up mattress, and friends/family with their own blow up mattress, as well as dog beds! The screened in porch area is great for keeping gear and for escaping bugs. It sets up easily, with decent instructions, and has a bunch of cord for tying the fly off as needed. The fly is awesome, allowing the main compartment of the tent to vent really nicely. I am about 5'4" and I can easily stand up. My husband is about 6" and he has to hunch just a bit, but not much."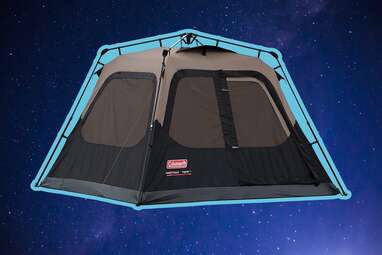 Amazon/Unsplash
This tent is a car camper's dream. It opens up in under a minute, is plenty spacious, and the four-person size can even fit a queen-sized air mattress. It also comes in six- and ten-person sizes if you're with a larger group. The large windows provide wonderful ventillation, but you'll need to buy the tent's corresponding rainfly (sold separately) to stay dry in wet weather. Still, this isn't a huge blow to any budget—the 4-person rainfly costs about $30.
What reviewers say: "Huge and ridiculous -- obviously not for backpacking -- but my husband and I love it. We throw a queen air mattress in here when car camping and we feel like Kings. It's so easy to set up and take down; set-up is doable with just one person (possibly of a certain height, we are 5'8"+), take down is easiest with two to help stuff it back in the carrying case."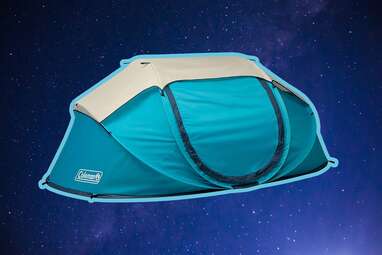 Amazon/Unsplash
It's lightweight, portable, and takes about 10 seconds to assemble—why wouldn't you want this pop-up tent? Available in two- and four-person sizes, the tent is surprisingly sturdy for something that can fold completely flat, with a rain-resistant design and adjustable rainfly. It even has gear pockets inside to keep you organized!
What reviewers say: "I bought this for a mountain biking trip so I would not have to mess around setting up a tent. After a few laughs from my buddies...POP! My tent was up! Faster than one guy could run his hammock line to a second tree. I proceded to enjoy a beverage or two watching the rest of the hang make camp... Stayed dry and ventilated as well. When it was time to go, I followed the directions in the bag and had it folded up and packed in the bag in less than 3 minutes. Great little tent!"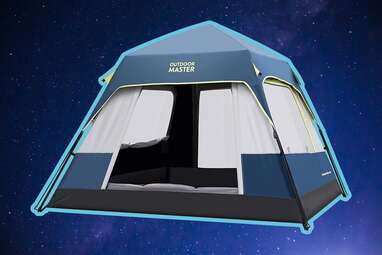 Amazon/Unsplash
This four-person tent (also available in a six-person size) comes with lots of features that would make any car camper very happy. It's large enough to fit a queen-sized air mattress with room to spare, and is designed to keep daylight out when you have the windows shut for anyone who doesn't enjoy waking up with the sun. When they're not zipped shut, the windows and door provide large mesh panels for airflow without mosquitoes. The tent's rugged construction and rainfly keep the weather out quite nicely, so you're always comfortable at night. The tent is easy to set up and take down, too, since its poles are attached.
What reviewers say: "A very nice tent. It is lightweight but I personally wouldn't back pack it very far. It's setup is fast and easy with a thrown style frame. I find holding out by the top and shaking it out to be very fast and easy. The interior is roomy and has great ventilation and a moon roof. Great for the cool night air to get it. It packs up just as easily as setup. A great tent!"
Amazon/Unsplash
Clocking in at under $100, this four-person tent is a great choice for car camping couples... or just single people looking for a little more room. It comes in two different colors and is super easy to set up in under a minute—just lift the top and pop the joints into place. The tent has two large doors and two ground vents you can unzip for comfortable airflow, and its durable construction is designed to keep you dry when it rains.
What reviewers say: "I got this tent after scouring reviews for a quality tent that was easy to set up and I think we've found it in this one! It's so nice to have the poles and rainfly all attached and ready to rock so you just have to pop it up and voila, tent is set up! Take down is just as easy... Also, there are doors/openings on either side, which is great, but they unzip in an upside down U shape versus the D shape of some tent doors/openings so just something to be aware of if that matters to you."
Amazon/Unsplash
Bring the whole family along with this eight-person Coleman tent (also available in a six-person size) that can fit three queen-sized air mattresses. It's made to withstand wind and rain alike (hello, included rainfly!), comes with nice features like awnings and a hinged door, and even has a small e-port in the corner so you can run an extension cord into the tent if that's the kind of camping you enjoy. Choose between blue, green, or black tent styles.
What reviewers say: "This tent is awesome. It has more than enough room for a family and then some. We have a family of 4 and fit 2 queen air mattresses in it with room for a third or lots of gear. We went camping in 50 degree weather with lots of rain. It kept us warm with the windows closed and dry with the windows open. It retains heat well, we were nice and toasty with just regular bedding, no mummy bags or anything. Plenty of height to stand up and change. I'm 6'0 and have no issue standing upright in it. It's very comfy. It takes about 20 minutes to setup and the same to break down, just make sure you have a helper. This was bought as our family tent to last us for many years and I'm sure it will."
Amazon/Unsplash
This lightweight and extremely affordable tent is great for first-time campers or those looking to test the waters before making an investment in pricier camping gear. You're not going to get maximum waterproofing here, so try to aim for fair weather, but this is a surprisingly good tent for the price; more than 1,600 people have given it a five-star rating on Amazon, if you can believe it! It comes in your choice of six different colors and just one (two-person) size and weighs about 3 pounds. The front door has a mesh inner wall, and there are mesh wall vents on top for extra ventilation. While the mini rainfly on top will provide some protection, multiple reviewers agree that this isn't a waterproof tent, but that treating it with waterproofing spray will certainly help keep the rain off.
What reviewers say: "This was the best tent for backpacking in a mild climate. So light. So easy to set up. Well made. Can't believe I got it for such a good price. ROOMY TOO! Two people and a large dog slept comfortably in it. I love that the manufacturer even left room so when a normal person folds the tent back up you can actually fit it in the pouch. I hate when tent bags are too small and it's impossible to get the tent bag in the bag. COULDNT RECOMMEND ENOUGH."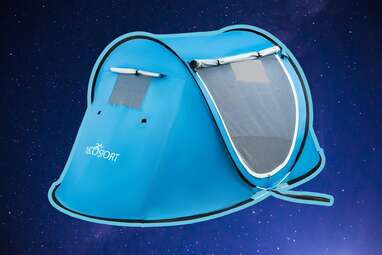 Amazon/Unsplash
To set up this tent, all you need to do is remove it from the carrying case and toss it like a frisbee—seriously. It'll open right up all on its own, so you can get right to work securing it to the ground with stakes, and then you're done setting up camp. This easy setup makes it great for kids or backyard campers, but also really handy to bring to the beach. It's large enough for one to two people and offers sun protection, though reviewers note that the seller's claims of waterproofing don't, er, hold much water. There are two double doors and mesh windows, so it's easy to come and go, and the interior stays plenty ventilated.
What reviewers say: "Bought this for the beach to shun the sun and have a respite. It's great. Pops up easily and folds away nearly as easily (be sure to follow the instructions. Love the double sided screens and flaps: allows the breeze through while shading from the sun and grit. Liked it so much I bought a second."