Airbnb
Airbnb
We independently source all of the awesome products and experiences that we feature on Thrillist. If you buy or book from the links on our site, we may receive an affiliate commission — which in turn supports our work.
It seems like literally everyone wants to go camping this summer. And while it's fantastic that more people are getting out in nature, the activity's newfound popularity may interfere with one of the singular joys that typically comes with sleeping under the stars: solitude. That's why some of the best campsites to book this summer are actually private ones rented out by hosts on websites like Tentrr or Airbnb, rather than small parcels of a crowded campground. Available with amenities that range from absolutely roughing it to full-on glamping setups, these private campsites are ideal for any type of camper — and they're a great way to enjoy stunning wilderness without encountering hordes of other people.
While it's true that having the proper gear is vital when you're venturing off grid, creating the ultimate campsite is about more than just ensuring your tent and camp chairs are on point. The best campsites begin with a beautiful location in an area you're excited to explore. We've gathered options below that run the gambit of gorgeous settings, from deserts to forests, mountains to river banks, farms and ranches to isolated meadows. No matter where you choose to stay, or with whom, these incredible campsites are prime spots for the best-ever camping vacations — you'll barely even miss your flush toilet.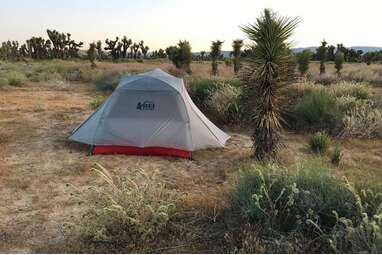 Tentrr
5 guests/$28 per night (but host may be able to accommodate larger parties)
Don't worry about making the long drive from Los Angeles to Joshua Tree National Park — this Antelope Valley campsite is a full 50 miles closer to the city and is surrounded by 2.5 acres of protected Joshua tree lands. Nestled between the Tehachapi and San Gabriel Mountains, the views here are gorgeous, and the lifestyle is easygoing. The host's guidelines are simple: "Don't hurt the joshua trees, and don't start any wildfires. That's it! Do whatever else you want! Let it all hang out and live your best desert life." While the property feels totally isolated, it's just 20 minutes from the nearest town, which has a general store and cafe.
What guests say: "Had a wonderful stay here! Great location, out far enough to feel secluded from the city, but close enough incase we forgot anything. Levi was a great host! Answered all questions we had and made sure directions were easy to follow to the location. Would definitely would come back again!"
Airbnb
6 guests/$115 per night
For campers who don't want to worry about bringing lots of gear, this campsite strikes a balance between glamping and truly roughing it. Located in the beautiful Adirondacks and surrounded by miles of private hiking and mountain biking trails, it's the perfect place to kick back at the end of a busy day, without having to worry about setting up a tent or camp kitchen. A three-sided lean-to offers all the shelter you'll need, and even comes furnished with some chairs and a futon bed, though you'll want to bring sleeping bags and pads. Outside the lean-to, you'll find a campfire area fully stocked with firewood and a covered picnic table, and the hosts provide a camp stove and cooler for any cooking you might want to do. They also provide a jug of water, though there's a spiget you can walk to in just a few minutes. A nearby outhouse comes supplied with toilet paper, and the hosts will even rent out a sunshower for an additional fee. It's the easiest, most comfortable camping trip you'll ever experience!
What guests say: "We had an outstanding weekend at this lean-to. A beautiful location and having camp 'set up' with all that was needed made this a perfect way to introduce the family to staying in a lean-to, and made this one of the easiest family camping trips we've had."
Airbnb
16 guests/$14 per night
Easily accessible from Denver or Colorado Springs, guests love that this remote campsite comes with stunning mountain views, dramatic sunsets, incredible stargazing, and free-roaming cattle. It's truly an opportunity to disconnect from the outside world, with nothing but 5 acres of undeveloped land to offer you — no bathrooms, structures, or shelters. You'll want to bring in your own tent or RV (and make sure you bring stakes for your tent, since some guests noted that it can get very windy), along with food, water, and any other necessities. Campfires are permitted, so long as there are no local fire bans in effect, and there's plenty of space if you want to camp with a larger group. Just be sure your car can handle the bumpy roads to the site.
What guests say: "It was a magical spot in the wilderness with nobody around for miles! The stars were beautiful and so clear. The view and overall ambiance of the land was something pictures can't put into words. Well worth the money!"
Airbnb
4 guests/$75 per night
If you're hoping to visit Denali National Park but want a private place to camp, you have to stay in this stunning campsite located 30 minutes from the entrance to the park. It comes with a fire pit and a few benches, a table, and incredible mountain views. A nearby lake and creek are perfect for fishing or canoeing. And while the campsite doesn't come with any amenities, one guest mentions that there's a gas station a few miles from the site with bathrooms and showers.
What guests say: "Such a beautiful location! Perfect place to camp. We spent a weekend here and drove to Denali national park one day (only 30 minutes away). This was a perfect location and the views are stunning."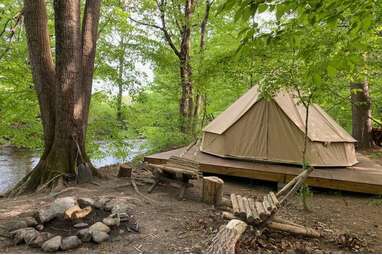 Tentrr
9 guests/$100 per night ($25 fee per additional person after first 4 guests)
Look for this dreamy campsite among the tall pines, beside a gently flowing river and near a lovely green meadow. A tent platform provides the perfect place to pitch your home for the night, and you have the option to rent a dome tent or a canvas tent equipped with beds, if you don't feel like setting up a tent of your own. A fire pit area is surrounded by chairs and benches made from branches, and guests also love all the other natural structures to be found at the site, including an A-frame structure, lean-to, and a suspended rope platform to relax on. A nearby swimming hole can be accessed via a short trail. And while it's not exactly glamorous, a sheltered composting toilet is there for your bathroom needs.
What guests say: "What a gem this site was! We found exactly what we were looking for here— seclusion away from people, water to swim in, fields to see stars at night, a dense canopy of trees to sleep under. The structures Angela built were great, we especially loved the suspended rope platform to lay on and relax. I would definitely go back here in a heartbeat!"
Tentrr
14 guests/$85 per night ($25 fee per additional person after first 4 guests, hosts may be willing to accommodate more than 14 campers)
With a killer location along the Klamanth River, surrounded by mountains, there's no better place to stay with a group (or a partner) than at this incredible campsite set on 27 acres of wild, beautiful land. Despite the fairly remote location, guests are hardly roughing it here, since the site comes with a number of amenities. Cook meals in the kitchen structure, which has running water (hot and cold!) and a two-burner propane stove, utilize the grill, and dispose of food in the composter provided. Relax around the fire pit (which comes stocked with firewood), tables, and benches. You won't get cell service here, but there are even lights and an electrical outlet. Toilet facilities are also onsite. As for activities, well, you have private river access for swimming, fishing, kayaking, and more. And it's a great place to observe nature, with deer, otters, ospreys, blue herons, foxes, and black bears, among other critters.
What guests say: "We spent six nights at Animal Land and it was magical! This is truly a special place away from it all, and our camp host Ken was simply wonderful. Each day we would walk from our tent/camp area down to the river (3-5 min walk) and swim, kayak or paddleboard, fish and generally hang out in the river! Lots of animal sightings including a bald eagle and youth (wow!) and much to our 7 year olds' delight, a friendly fox who would visit in the evenings. We came home relaxed and having felt like we truly stepped out of wilderness but without having to rough it too much! I highly highly recommend!!"
Airbnb
6 guests/$150 per night
The hosts claim this spot offers "the best views in Arkansas," and guests agree that it's absolutely stunning. Set in 250 acres in the Ouachita Mountain foothills, your campsite is a lookout platform atop a point of high altitude, overlooking trees and farmland below. There's a swing below the platform, as well as a picnic table and fire pit, plus two portable potties. The onsite pond is great for bass fishing, and guests especially seem to love the warmth and friendliness of the hosts. While the site is rural, you can buy bait, gas, and convenience store items from a shop 3 miles away, and everything from restaurants to a casino is available with just a short drive.
What guests say: "This property is absolutely gorgeous! It is nice and secluded on private property, so you have the camp site all to yourself. The view is fantastic, and Mike and Susan have a fire pit, grill, hammock, and chairs to make the stay even more enjoyable. The off-road path up to the site is rocky, so if you have an SUV I would recommend taking that. However, our small car made it up just fine, we just had to go really slow. Overall a 5 star wonderful trip!"
Airbnb
Metaline Falls, Washington
2 guests/$75 per night
Not for the faint of heart (at least when it comes to heights), Eagle Point Campsite is literally situated on the edge of a cliff. The payoff is absolutely epic views of the surrounding mountains, as well as the Pend Orielle River down below. There are two flat areas where you can pitch a tent, or there's enough space for a small camper measuring less than 20 feet. The campsite also comes with two campfire pits, a cute table and chairs, a hammock at the cliff's edge, and a portable potty that multiple guests praise for its cleanliness. Beyond the basics, it's up to you how much you'd like to rough it. If you don't want to bring your own camp setup, the hosts will set up an A-frame tent, a folding table and chairs, firewood, hot dog sticks, and Tiki torches for an additional fee. If you really want to enjoy the view in absolute comfort, you can pay a little extra for an air mattress. The hosts also offer a few activities you can book, such as a massage, kayak rentals, or guided tours. Just note that due to the site's cliffside location, you'll have to sign a waiver before you settle in for the night, and it's not recommended to stay here with kids under the age of 13.
What guests say: "Gorgeous camping spot with an unbeatable view. There were thoughtful touches including tiki torches and hammocks throughout the property. It is truly cliffside and with gorgeous views of the river and town of Metaline Falls. Truly off the grid, quiet and peaceful!"
Airbnb
Study Butte-Terlingua, Texas
6 guests/$22 per night
Catch the stunning view of Big Bend's Chisos Mountains from your private campsite, which is located just 5 miles from the entrance to the park, in an expanse of desert that feels more remote than it actually is. Beyond proximity to Big Bend, the campsite comes with just a fire pit and picnic table, but has access to a nearby outhouse, and coin-operated showers are just a mile away. According to guests, while proximity to the national park is one of the major draws of the site, the gorgeous mountain views, sunrises, and night sky are not to be missed. Just note that all guests must be over the age of 18 in order to stay here, and no pets are allowed. Also, you'll need a high-clearance vehicle from May to September.
What guests say: "Peaceful, scenic and secluded: I couldn't ask for anything more! The stars and sunrise were a once-in-a-lifetime experience. It was amazingly quiet and I slept fantastic."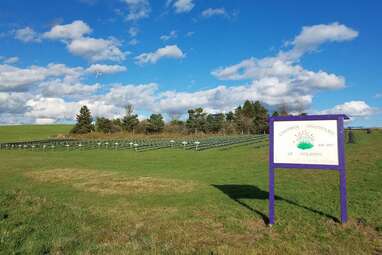 Tentrr
12 guests/$28 per night ($10 fee per additional person after first 6 guests)
Vermont's Northeast Kingdom is undeniably scenic, and it's home to this family-owned lavendar farm where you can book a private campsite. The hilltop meadow where you'll pitch your tent offers a 360-degree view of the surrounding countryside, with a pond, sunflower field, lavender labyrinth, and all kinds of cool places to explore. Your hosts also offer lots of extras to add onto your stay for an additional fee, whether you just want to purchase necessities like firewood, s'mores supplies, or eggs and bacon, or you want to rent an entire tent and tarp. There are also some fun add-ons if you care to pay for them, like sparklers and an outdoor Jenga set.
What guests say: "Wow is all I can say! The views are insane with the sunset going down behind the mountains! Michele makes you feel right at home! Be sure to stop in the shop for wide selection of lavender products! Would recommend to anyone!"
Airbnb
8 guests/$45 per night
Whether you're hoping to attend a rodeo in the nearby Cody, Wyoming, or drive a few hours to Yellowstone, this private campsite on a working ranch is a beautiful place to stay. It has a fire pit with wood provided, an outhouse, a picnic table, and may offer potable drinking water, though you should double check before your stay. Guests note that it can get pretty windy, but that a windbreak is provided. Beyond that, it's a stunning and secluded spot at the base of Heart Mountain, which you can also hike during your stay.
What guests say: "This was a perfect rustic stay! Brad and Donna were excellent hosts. They gave us our space but were excellent communicating with when we had questions. You cannot beat this view and ambiance. We stayed for 3 nights, they provided us with firewood, and water to drink and shower with (a hose). This was a quick 25 minute drive into Cody and about 2 hours from Yellowstone where we did a day trip. I would highly recommend this stay!"