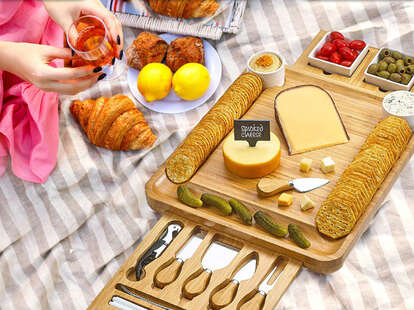 We independently source all of the awesome products and experiences that we feature on Thrillist. If you buy or book from the links on our site, we may receive an affiliate commission — which in turn supports our work.
A good charcuterie board is like a campfire—everyone wants to huddle around it. As a host or hostess, there's no better feeling than being praised for the presentation of your food, especially if you shelled out the cash for nice cheeses and other accoutrements. If you're putting in the effort to pay for high-quality treats, you certainly don't want to overcrowd them on a low-quality board.
We want to set you up for success here, so we've compiled a list of the highest rated charcuterie sets and knives on Amazon to level up your adult Lunchables. 'Tis the season of eating, after all, and the best way to impress your guests is to make sure you've got the right tools in your kitchen arsenal.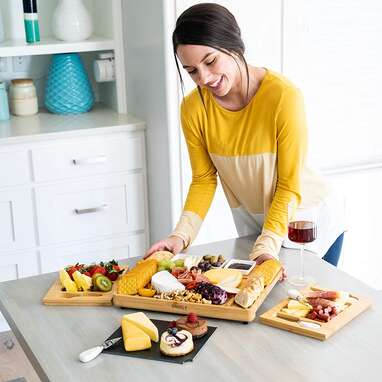 Amazon
This bad boy has an expandable design that features two drawers that hold serving knives and utensils, three ceramic serving bowls for sauces and dips, a round fruit tray, and a separate serving platter stone for even more decadent delectables. Considering how many individual pieces you're getting with this set, it's a surefire way to have a robust looking arrangement. It even comes with a guide for building the perfect charcuterie board of your own. (You can also find it in a smaller size here.)
Amazon
This is the fighter jet of snack trays—it even has expandable wings, for goodness sake. The complete set contains all the essentials: knives, serving dishes for dips and olives, a wine opener, and labels and markers for each respective item you decide to use. Its design has grooved slots to hold crackers in place and magnetic side drawers that nearly double the size. This product is efficient and luxurious, and made with sustainably-sourced bamboo.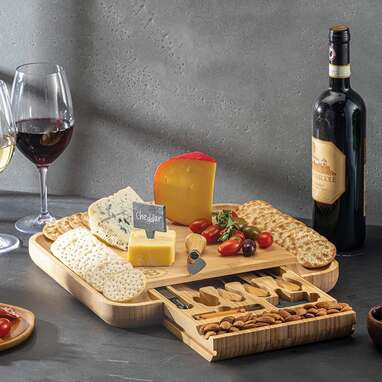 Amazon
The Bambusi set is very similar to the aforementioned House Ur Home one, sans wings. If you're looking for a well-stocked set that still includes markers and labels, knives, a wine opener, and carrying bag, this is a fantastic option. With a serving area of about 14x14 inches, its design features cracker indentations and a pull-out knife drawer.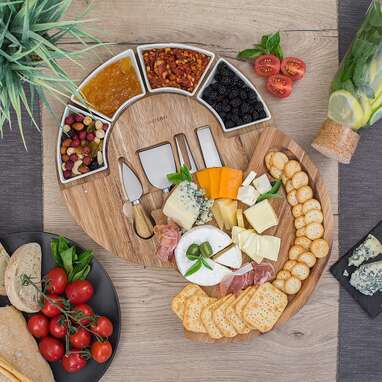 Amazon
Thanks to its wide 13-inch diameter, this acacia wood cheese-cutting tray has room enough for crackers, serving utensils, and cutlery for cheese and meat. The four ceramic bowls help you sort fruits, crackers, nuts, and meats, all while keeping them neatly arranged. Also included is a four-piece knife set, made of heavy-duty stainless steel. This set is great if you don't need too much cutting space, but do need more bowls to keep dips contained.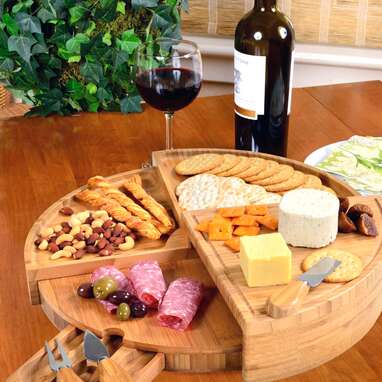 Amazon
The wedge design here is compact when needed, but expands to feature a ton of space to create your perfect cheesy expression. The 18-inch set includes three knives, and has four tiered quadrants of separation and grooved areas specifically built for crackers or nuts. It comes with a lifetime warranty as well.
Amazon
This Casafield board is a great deal, as it comes with a knife set included in a discreet drawer for compact storage. The board is about 13x13 inches, and features grooved edges for crackers. Considering the price point, and the fact that you're getting a beautiful, sustainable bamboo board plus four knives, this is a perfect option for anyone on a budget.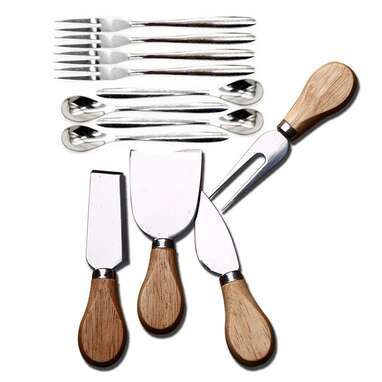 Amazon
If you are a charcuterie lover, this knife set is an essential part of any cheese toolbox. It's got several different pieces, four of which are the standard knives you'd expect, along with serving spoons and forks to make all your treats easy to share. Each knife features a high quality bamboo wood handle and stainless steel blade running throughout the entire length. There are several colors to choose from, and the low price point certainly doesn't hurt.
Amazon
If you're looking for a more modern look, the sleek, stainless steel design of the BOSKA knife set is a great option. The knives are lightweight with hollow interiors and are easy to sharpen. Plus, two of the knives have pronged tips, making serving after slicing a breeze. You can also mix and match different Boska tools, including spreading knives and a cheese grater.
Greer Glassman is a Thrillist contributor.