Airbnb
Airbnb
We independently source all of the awesome products and experiences that we feature on Thrillist. If you buy or book from the links on our site, we may receive an affiliate commission — which in turn supports our work.
Hawaii isn't exactly known for being a budget-friendly vacation destination, but with a little planning, a little flexibility, and a lot of adventurous spirit, your island getaway doesn't have to mean you'll be eating rice and beans for the rest of the year. Especially if you stay at one of these eight Airbnbs, all of which are under $100 per night—and because every holiday should result in at least one good dinner party story, they all promise a unique and memorable experience.
From oceanfront condos to glamping yurts to rooms in a beachside hostel, there's something here for every type of traveler. (Except, unfortunately, the traveler who wants to go to Kauai. For that, you'll have to fork over more than $100 per night, which is why the island didn't make this list.)
Airbnb
2 guests/$93 per night
Tropical pinks and blues brighten up this studio apartment in a 12-story 1970s-era building. The space is small (256 square feet), but there's a 44 square-foot lanai with ocean views, and who's really staying inside during a trip to Hawaii anyway? The studio is centrally located in Waikiki, two blocks from the beach (beach gear included), and has a queen-sized bed and a pink sofa that converts into a futon bed.
What guests say: "Very conveniently located in Waikiki Beach, walking distance to everything, but slightly on the periphery of the more intense tourist crowds. It's nice to have a more local experience and to be in the middle of everything, but have a quieter place to go home at night."
Airbnb
2 guests/$88 per night
If you enjoy a more unusual Airbnb experience and don't mind being a short drive from the beach, The Flower Bed, a greenhouse that's been converted into a comfy cabin, is a perfect choice. The greenhouse has open screened-in windows that allow the tradewinds to keep you cool at night, an outdoor patio with a grill, a rainfall shower (in a private bathroom), and "peekaboo" ocean views. It's located in a rural part of the island but is just 10 minutes from hiking, 30 minutes from beaches, and an hour from Volcano National Park.
What guests say: "I would highly recommend staying at the Flower Bed! Clean and comfortable bed. Beautiful outdoor shower and well-kept bathroom. You can tell lots of hard work went into making this place."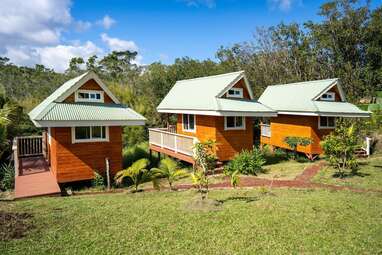 Airbnb
3 guests/$80 per night
You won't have any choice but to unplug at this off-the-grid "glamping" cabin facing the rainforest preserve next to the Kikala stream. You'll be surrounded by tropical beauty and breathtaking views, and there's a spectacular waterfall and swimming hole just a few steps away. There are three tiny cabins on the property, all of which are electricity-free, have lanais overlooking the rainforest, and are within walking distance to a community center with a bathroom and showers, Wi-Fi, laundry, a communal kitchen, and a meditation hall. Not convinced? There's also a petting farm with goats!
What guests say: "If you're looking for an off-grid place surrounded by a peaceful farm setting, this is the place to go. We truly enjoyed staying in this cute, small cabin with a view onto lush greenery and listening to the murmur of the little stream and waterfall nearby."
Airbnb
4 guests/$88 per night
Maui is the most expensive Hawaiian island to visit, so there aren't a ton of options if you're trying to do it on an aggressive budget. However, if you're willing to share a room with strangers (or travel with three other people) and don't mind a bunk bed, this boutique hotel has everything you need and will save you tons of money. There are four bunk beds per room, fully-equipped kitchens, and a backyard seating area with tiki torches. It's also steps from the beach and just a short walk to the center of Lahaina, where you'll find bars and restaurants with ocean views. Want to rent surfboards or bikes? The folks at the hostel can hook you up.
What guests say: "Great location, affordable, friendly people! Definitely a great way to ease into the culture of Hawaii. Walking distance to the beach and surf shops, this place was an amazing find."
Airbnb
2 guests/$79 per night
If catching waves in Hawaii (but also not spending a ton of cash on accommodations) is a priority, book one of the private yurts at this "surf camp" in the heart of Haleiwa. The yurts all have queen-size air mattresses and come with linens and towels, plus a tableside lamp and a power strip for charging your devices. You'll find lots of communal amenities on the property, including a fully-equipped kitchen, a backyard with hammocks, a fire pit, a barbecue area, and a picnic table. Restaurants, bars, coffee shops, grocery stores, and surf shops are all within walking distance, and there are food trucks just steps away. The only caveat? You have to stay for at least 30 days. Sounds like a pretty sweet caveat to us.
What guests say: "Such an amazing community! This unique place quickly became home, and the people are now considered family! If you ever have a chance to experience this once-in-a-lifetime place, don't hesitate—do it! You won't regret it!"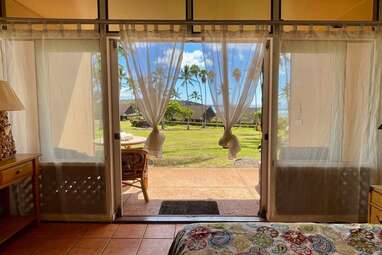 Airbnb
2 guests/$92 per night
Molokai ("The Friendly Isle") is Hawaii's fifth-largest island, but it's pretty tiny at just 38 miles long and 10 miles across at its widest point. It's also one of the more authentic tourist experiences you'll have, as most of the population is of Native Hawaiian ancestry. Perfect for adventurers, Molokai has the highest sea cliffs in the world, secluded white sand beaches, a historic coconut grove, and Hawaii's longest continuous fringing reef (where you can snorkel). With so much to see and do, you probably won't spend much time at this modest studio condominium, but it's a perfectly good place to rest your head at night and has an ocean view, a communal beachfront swimming pool, and has super-fast Wi-Fi so you can post nonstop pics on Instagram to make your friends jealous.
What guests say: "Mildrid's place was absolutely amazing! The location was perfect; it had everything we needed during our stay, and having the beach right across from the villa was an added bonus. I definitely recommend this place to anyone visiting Molokai. It's a hidden gem."
Airbnb
2 guests/$57 per night
Okay, so this is less of a tiny home and more of a glamping-style tent (the listing describes it as a "Lotus Dome"), but it has everything you need (like a comfy queen-size bed and outdoor bathhouse)—plus a bunch of stuff that you don't need but will make your space extra special. Think lava fields, Ohia trees, a star-filled night sky, ocean views, and lots of peace and quiet. It's also close to Kahuku Volcano park, some hidden snorkel and swimming bays, a black sand beach, and one of only two green sand beaches in the U.S.
What guests say: "The Lotus is full of personality with a unique 'off-grid' vibe. It's a great basecamp if you're looking to explore Hawaii Volcanoes National Park and the southern coast. Was nice to settle in here for a few days and feel like a local."
Airbnb
4 guests/$99 per night
This open-air bungalow on the Big Island is akin to glamping in that you'll use an outdoor shower and electric incinerating toilet, but it has clean sheets, a queen-size bed, and even an extra air mattress if you and your traveling companions don't mind getting cozy. It's very idyllic (and looks good in photos), but it's the historical aspects of the property—including a graveyard dating back to the 1800s where a royal princess is buried—that make it extra special. It's also close to Keokea Beach Park, Pololu Valley, and historical shops.
What guests say: "We stayed for a weekend getaway and had a great time. The property is up the road from Keokea beach park and has lovely ocean views. We could even see whales breaching from the lawn chairs in the front yard."
Daisy Barringer is a Thrillist contributor.