8 Excellent Noise Cancelling Over-Ear Headphones Under $50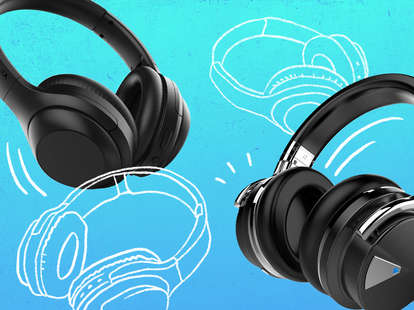 Rusted Root never sounded so crisp!

| Amazon | Emily Carpenter
Rusted Root never sounded so crisp!

| Amazon | Emily Carpenter
We independently source all of the awesome products and experiences that we feature on Thrillist. If you buy or book from the links on our site, we may receive an affiliate commission — which in turn supports our work.
Silencing the entire world around you while getting lost in a podcast or trying to narrow down which DMB song is the best is truly a luxury, but it's a luxury you can probably afford. True, you could spend hundreds on a pair of noise-cancelling headphones from a premium brand like Bose or Sennheiser, but there are a surprising number of great options out there for under $50, like the eight on this list.
To determine which ones made the cut, we did hands-on testing and scoured Amazon for the highest ratings and best reviews. And while they're all slightly different, they do share a lot of the same features (Bluetooth 5.0, quick-charging, excellent sound, included 3.5mm aux cords) that'll have you drowning out the sounds of your next flight (or loud neighbor) while you get lost in whatever it is you're into on Netflix nowadays.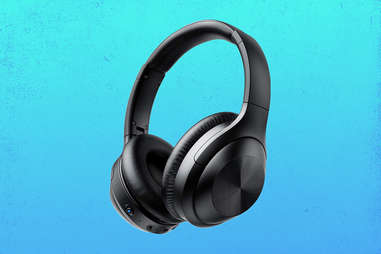 Price: $39.99 (with coupon)
Special features: Highlights here include 30 hours of playtime after less than one hour of charging, making these great for traveling, road trips, or wearing around your open office all day as you avoid Tevin and his unabating knack for asking when's the best time to circle back around. Also, great bass!
What reviewers say: "I travel quite a bit and my go-to seat is right over the wing, which on some planes is right near the engines. I've previously used earbuds but decided to upgrade to some ANC over-the-ear headphones. Wow -- what a difference. They also have the capacity to run on battery for a really long time -- which is good for long flights (or when you forget to charge them). Sometimes headphones provide really good ANC but only mediocre sound quality. Definitely not the case here. Deep, rich bass, clear mids and crisp highs. Last, but not least, they are super comfortable. I have rather...ummmm...large ears and these fit over them and I can wear them for hours without them feeling constricting. And they're priced way below many of the others I looked at for the same exact features and build quality."
Price: $49.99
Special features: These Anker headphones feature a waterproof casing over the ear pads, so no need to worry about getting caught in the rain or going extra hard in the gym. And without using ANC (active noise cancelling), they'll power you through 80 hours of music, podcasts, or really, really long telephone calls. Decrease that to 40 hours with ANC activated.
What reviewers say: "I can't find anything to dislike about these headphones, especially for this great value. These sound very nice wirelessly and work wired when you run out of power. The Hybrid ANC works fantastically. It cuts down more than half the ambient noises. I didn't expect it to work that well, even with music on. I didn't feel like ANC decreased audio quality. I'd prefer physical buttons over soft touch for play control. My ears feel a little warmer after half an hour of continuous use. It would work double purpose as ear muffs outside in the cold. These could seriously compare against any other bigger brands with best bang for the buck. Brand names are for showing off. These will do it for much less."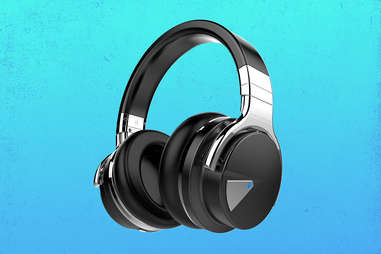 Price: $49.99 (with coupon)
Special features: The E7s are priced to move and offer excellent padding around the ears. Cowin has been in the affordable headphone game for a while and developed quite a good reputation. They sell a variety of other, more expensive wireless headphones, but for the price the E7s can't be beat.
What reviewers (me!) say: I've owned these for about 18 months now. I travel a lot and the Cowin E7s have been so dependable I nearly forget they need to be charged. I wore them on a 10 hour plane ride with no issues and they totally blocked out the engine noise. I also use them in my noisy open office constantly and would oftentimes forget to look up to see the world around me. I have a rather large head and these still fit comfortably over my ears for the most part (I'd sometimes have to take them off after 3 hours or so to give my ears a break). If you've had your eye on these, grab them."
Price: $34.99
Special features: Aside from the fact these will cover the entirety of your ears, they're also extremely light, weighing in at half an ounce (making them an extremely valuable item for your carry-on).
What reviewers say: "I use headphones all the time while working in front of my computer. I've tried all kinds of headphones but most of them are too bulky, too heavy, or don't cover my ears. This set is awesome, the charge lasts for a pretty decent amount of time, it connects really fast, the sound quality is great, they are very comfortable and the price is even better. I'm planning to buy two more sets for my son and my mom."
Price: $49.99 (with coupon)
Special features: Sleek, minimalist, and can play up to two hours of music after a five minute charge. You read that right. Oh, and out of 523 reviews, 96% of them are 5-star.
What reviewers say: "They were much nicer than I expected. Lightweight with great sound. Once they get a quick charge, you can put them on and flip the ANC switch on the bottom back right of the headphones. They cancel out most of the background noise like magic. The sound with music is clear with both ANC on or off and retain fidelity using Bluetooth or the wired 3.5mm cord included. The sound is excellent and crisp, especially for the price. This product is on par with big brand names like Bose and Sony. I would highly recommend this product."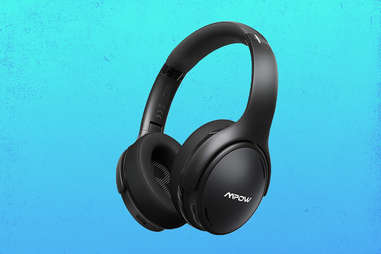 Price: $34.99 (with coupon)
Special features: Mpow is a brand that's been around since 2013 and as such, built a solid and positive reputation for itself. These particular headphones are known for their ability to balance bass, mids, and highs for a crisp, clear sound.
What reviewers say: "Pairing the headphones was quick and easy with my iPhone 11. I played some burn in audio from Youtube to help break in the drivers. After 5 hours of burn in, the full potential of the drivers came to life. The sound is amazing. At 50% volume, the mids are emphasized, going around 70% gives you a perfect balance, and around 85% you can feel the bass taking over. For me the sound signature is excellent. Turning on the ANC will just put you in a more immersive music experience. You wouldn't be able to hear yourself when you talk. I made a few phone calls and the person at the other end agrees that my voice is very clear, thanks to the CVC feature. And lastly, the build quality is great, it is very light, yet sturdy. Overall, I can't find any cheaper headphones with this great sound quality."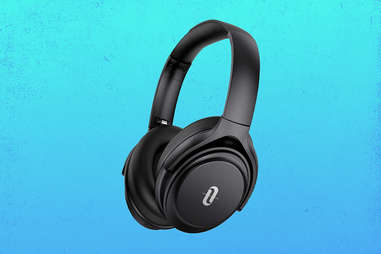 Price: $39.94
Special features: Frankly, the price point. For $39.94 you're getting a set of top-rated headphones for a fraction of the cost of bigger names. Like some others on the list, these are compact, comfortable, and will play up to 40 hours of music on a single charge.
What reviewers say: "These headphones changed the way I feel about headphones. I usually prefer earbuds for their convenience and portability, but I wanted a set to keep by the TV to use along with a BT transmitter, so I got this one. Here is what I absolutely love about this set… The ear-cups rotate. That makes so much sense since not everyone's head is perfectly plumb or square. Everything else about these headphones is top quality. These have good robust sound, and if the batteries die, you have the option of using the 3.5mm audio jack. Overall, I'm very glad to have chosen this headphone set for my needs."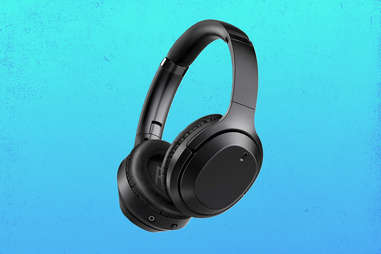 Price: $24 (with coupon)
Special features: $24 is an exceptional low price for an over-the-ear ANC unit. And while the battery life for these isn't spectacular (15 hours of music on a single charge), it's enough to get you through a flight or workday. They also have a perfect 100% 5-star rating with dozens of glowing reviews.
What reviewers say: "Needed a backup set to have at work and I'm glad I found these headphones. Lightweight yet powerful. Good bass and decent highs. Battery life is awesome… I use them about two times a week for about 4-5 hours and the battery goes to about 40-50%. Very affordable considering the price tag and features."
Want to know more about our favorite products and services, and get great deals on cool stuff? Sign up for the weekly Thrillist DealMail.