Amazon
Amazon
We independently source all of the awesome products and experiences that we feature on Thrillist. If you buy or book from the links on our site, we may receive an affiliate commission — which in turn supports our work.
Anyone with a home bar dreams of mixing up a perfect cocktail using artisanal bitters, rare liqueurs, and simple syrup. More often than not, though, they end up pouring themselves a vodka cranberry and calling it a night. Sometimes all you want is a tasty adult beverage, without all the hassle of actually crafting your own cocktail. Enter: the cocktail mixer.
Before you turn up your nose, the world of cocktail mixers has come a long way from the sickly sour margarita mixes you tried 10 years ago. Nowadays you can get many of your favorite cocktails in pre-mixed form, from Old Fashioneds to Moscow Mules, as well as more outlandish concoctions like Frosé slushies and blood orange mimosas. Each of the eight cocktail mixers below have hundreds of rave reviews on Amazon, so whichever one you try, you're bound to find your next favorite cocktail.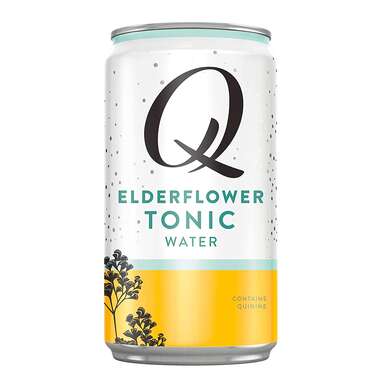 Amazon
If you like G&Ts, but you wish your T had a bit more flavor, check out Q Mixers' Elderflower Tonic Water. This natural mixer uses no high fructose corn syrup or artificial flavors, and is made with real elderflowers from France and quinine from Peru. Just combine the can with 1.5oz of your favorite gin, and you're off to the races. The Gin & Tonic races.
Amazon
Made with Madagascar vanilla, orange, cinnamon, bitters, and pure cane sugar, each 16oz bottle of WithCo's Ellis Old Fashioned mixer can make 32 cocktails. Just add .5oz of the mixer to 2oz of your favorite bourbon, rye, or even tequila, then stir for 15 seconds and add an orange rind for the finishing touch.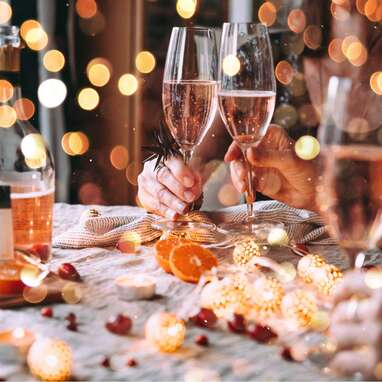 Amazon
Mimosas and Bellinis are two of the simplest cocktails around, but that doesn't mean you can't spice them up with a little mixer magic. These bubbly toppers let you get exotic with your brunch cocktails, including mixers for Blood Orange, Mango, and Mandarin mimosas, as well as Raspberry and Grapefruit bellinis.
Amazon
Nothing satisfies on a hot day quite like a frozen drink, and Kelvin slush mixes give you a way to make your slushies even more exciting. With six flavors to choose from including Frosé, Citrus, and Grapefruit, you can come up with your own combinations of wine, spirit, or wine-and-spirit slushies using your favorite booze. You can even go totally non-alcoholic…if that's a thing you'd want to do for some reason.
Amazon
Say adios to nauseatingly atomic green margarita mixes; Strongwater's margarita mixer is made with real lime juice, orange Cointreau extract, and a limited amount of sugar, resulting in a smooth and balanced Silver margarita. Just add in 1.5oz of tequila and a glassful of ice, shake, and add an ounce of water.
Amazon
Margaritas get most of the glory, but don't overlook the humble grapefruit Paloma; it's the national cocktail of Mexico, after all. Miss Mary's Paloma Mix makes it incredibly easy to serve up a tasty Paloma at home, made with fresh grapefruit, lime, and blue agave nectar. It's free from artificial colors and corn syrup, too, and each serving contains only 2g of sugar and 40 calories.
Amazon
Yes, the much-maligned Moscow Mule has been deemed overrated by many of our favorite bartenders, but guess what? Those bartenders aren't in your home, so they won't see you serve up your own Moscow Mule using Hella Cocktail Co.'s mixer, made with real lime juice and ginger pureé. All that's missing are the copper mugs, because if you're going to transgress with a Moscow Mule you might as well go all the way.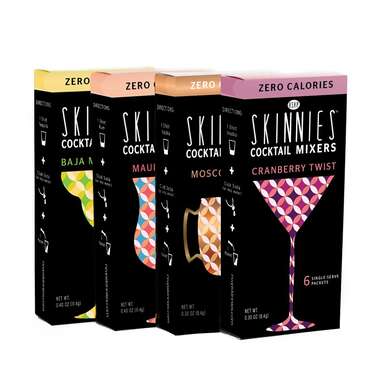 Amazon
Since not all of us can devote refrigerator space to a giant bottle of cocktail mix, RSVP skinnies offer a more convenient way to mix up Mai Tais, margaritas, and cranberry twists. Just tear open one of the powder packets, mix it with club soda and your booze of choice, and you're done. Best of all, the plant-based formula is Keto-friendly and gluten-free, with a grand total of zero calories per serving.