The Best Drip Coffee Makers for Every Type of Caffeine Fiend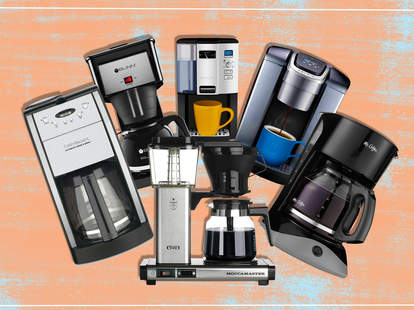 We independently source all of the awesome products and experiences that we feature on Thrillist. If you buy or book from the links on our site, we may receive an affiliate commission — which in turn supports our work.
For coffee drinkers, there's always a new trend in the brewing world that promises to deliver your sweet, sweet caffeine fix in a better or tastier way. And sure, nitro cold-brew and pour-over coffee are delightful if you can afford a $5-per-day habit (or wait for 10 minutes until your barista finishes preciously pouring yours), but for most of us, the old standby -- a countertop automatic drip coffee maker -- gets the job done just fine. 
That's not to suggest selecting the right automatic drip coffee machine for you is simple. Quite the opposite, in fact. Walk through any big box store's kitchen section and you're bombarded with a dizzying number of bells and whistles (and wildly different price points) packed into what should be a fairly simple countertop appliance. So, whether your decade-old Mr. Coffee is ready to croak or you're just looking to upgrade to something a bit snazzier, here are the best coffee makers on the market right now to match every sort of need.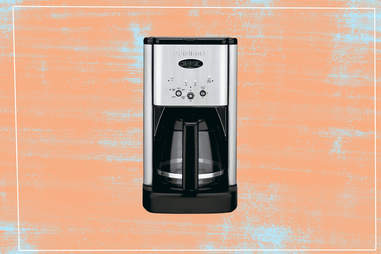 Amazon/Danna Windsor
If you want a great programmable drip machine
Cuisinart Brew Central 12-cup programmable coffee maker
Standout features: Adjustable heater plate, pause function
If you've never lived with a programmable coffee maker, you're missing out on one of the most simple joys -- waking up to the smell of freshly brewed java every single morning, patiently waiting for you to pour your first cup. This excellent, well-reviewed Brew Central maker from Cuisinart is the one to buy. Just set it to brew at a certain time (we recommend slightly before your alarm clock), and it'll do the heavy lifting before you even open your eyes. You can program it up to 24 hours in advance, and set an automatic shutoff time of 1-4 hours after it's finished -- so you don't have to panic mid-commute that you left the pot on. Plus, the heater plate has three temperature settings so your finished pot stays just as hot as you'd like it to and there's a "pause" function, should you insist on pouring a cup before it's finished brewing.
Price: $64.04
Amazon/Danna Windsor
If you want a hybrid two-in-one machine for full pots and single cups
Hamilton Beach 2-Way Brewer
Standout features: Brew strength selector, K-Cup compatibility
For mornings when you've overslept and don't have the time to dawdle waiting for a full pot to brew, this two-in-one machine has you covered thanks to a little sidecar-style setup designed for brewing a single cup. The programmable machine is otherwise a traditional automatic drip rig with a 12-cup carafe and a bonus brew strength selector that gives you control over how bold each pot it tastes. And while the single cup side has a mini filter for you to fill with a scoop's worth of grounds, it also supports K-Cups, should you feel like going that route. 
Price: $54.99
Amazon/Danna Windsor
If you want the best machine for pouring single cup servings
Cuisinart DCC 300 Coffee-on-Demand coffee maker
Standout features: Handy lever dispenser, removable water reservoir
If you aren't too keen on the idea of a carafe and the potential spillage that comes with using it, this on-demand dispenser is for you. It's essentially a regular programmable drip machine, in that it's capable of brewing a full pot of coffee, but it switches things up by storing the finished hot coffee in a special insulated reservoir up top. When you want a cup, just press the nifty lever and fill up as much or as little as you'd like in your cup. You'll know exactly how much is left in there at all times courtesy of the front-facing "coffee gauge" display, and clean-up is easy, too, since both the water and coffee reservoirs are removable. 
Price: $73.99
Amazon/Danna Windsor
If you need something that brews a full pot in 3 minutes
Bunn Velocity 10-cup Brewer
Standout features: Always-hot water reservoir, drip-free carafe spout
Impatient and always-scrambling-to-get-out-the-door caffeine fiends will appreciate this excellent Bunn machine, since it's engineered to brew an entire pot full of coffee in an astoundingly fast three minutes. It achieves this thanks to an always-hot internal stainless steel tank that can rapidly heat water as soon as you pour it in. The large flat bottom filter and multi-stream "shower" also ensure the water extracts maximum flavor from the grounds, which means you're not compromising taste or quality for quickness. 
Price: $77.78
Amazon/Danna Windsor
If you want the best single-serve K-Cup coffee maker
Keurig K-Elite single serve coffee maker
Standout features: Strong brew button, huge 75-ounce water reservoir
No matter how you feel about K-Cup coffee, there's no disputing how convenient it is if you simply want a single cup of coffee on-demand. Keurig's K-Elite is the machine to own if you're looking for a good intro to K-Cup life, with easy-to-use controls that allow you to drop in a pod and brew a 4, 6, 8, 10, or 12-ounce cup in a flash. Other bonus features include a 75-ounce reservoir (cuts down on how frequently you need to refill it) and a "strong" brew button, which increases the strength of the flavor of whatever pod you're using. And if you're curious which pods to stock up on, we have some advice on that, too.
Price: $159.79
Amazon/Danna Windsor
If you're ready to upgrade to something top-of-the-line
Technivorm Moccamaster Coffee Brewer
Standout features: Manual adjust brew basket, elegant design
Are you a self-proclaimed coffee snob who considers a counter appliance's aesthetic as equally as its functionality? You're in luck, because the Technivorm Moccamaster excels on both fronts. It's admittedly the most pricey model on this list, but for good reason. Apart from elevating the look of any kitchen, its equipped with a suite of features to give you full control over the quality of every finished pot. Specifically, there's a manual adjust brew basket, which allows you to toggle between three settings to change how long water steeps in the grounds (you can also choose from two hot plate temperatures if you prefer it hot or extra hot). Reviewers rave about the consistently high quality of the coffee, with at least one person describing it as a "revelation." 
Price: $299
Amazon/Danna Windsor
If you want a programmable machine with a built-in bean grinder
Cuisinart Grind & Brew automatic coffee maker 
Standout features: Automatic bean grinder, brew-pause function
Using pre-ground beans is certainly more convenient, but any true coffee fanatic knows that grinding whole beans moments before you brew them delivers a significant improvement to taste (trust us). Rather than add a preliminary step to the process by buying a standalone bean grinder, this Cuisinart machine does the work for you by automatically grinding whole beans directly into the filter whenever it's engaged (you can easily turn off the grind function if you're brewing pre-ground). Like its counterpart above, it's also programmable so you can set it up to freshly grind some beans and brew a full pot just as you're waking up in the morning. 
Price: $70.84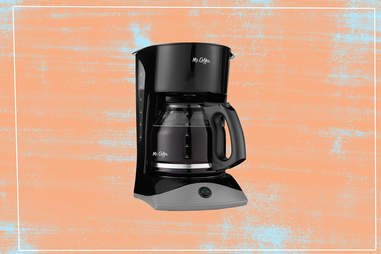 Amazon/Danna Windsor
If you want a solid, basic machine under $30
Mr. Coffee 12-Cup coffee maker
Standout features: Auto-pause, low price
This basic Mr. Coffee machine proves that you don't need to splurge if you just want something that can turn out reliably solid pots of coffee. Though it's missing most of the bells and whistles found in others on this list (no programmability, no grinder, no temperature controls), it's a no-frills workhorse that's both incredibly simple to use and easy on the wallet.
Price: $25.75