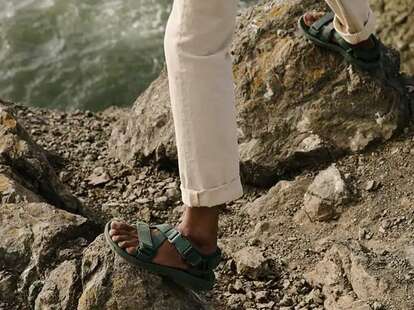 Teva
Teva
We independently source all of the awesome products and experiences that we feature on Thrillist. If you buy or book from the links on our site, we may receive an affiliate commission — which in turn supports our work.
Summer is finally here, which means your toes are ready to be out and about. If you're planning on hitting the trails this season, we highly recommend bringing a pair of the best hiking sandals with you. Yes, you heard that right — sandals can be a great trail-ready footwear option, especially if you think you might encounter water during your journey.
The best sandals for any hiking journey should offer a good amount of support, so there are a couple of things you should keep in mind when choosing the right pair. First, the sandals should have a back strap to prevent them from slipping off your feet and causing you to trip. In addition, their soles should be thick and be molded for arch support. Keep an eye out for sandals with lugged rubber outsoles, too, to ensure you get a good grip on the trail.
Ready to hike? Below, we've listed some of the most supportive hiking sandals built to protect your feet wherever you go.
Ecco
These Ecco sandals have one of the most sturdy designs out there, without sacrificing comfort. They feature three adjustable straps, made of upcycled leather off-cuts, and supportive cushioning in the sole to prevent your feet from hurting. No matter how challenging the terrain might be, their rubber soles offer reliable traction that will help you stay on your feet. However, due to its leather material, we would recommend to avoid soaking them in water.
Shop the women's version here.
Deckers X Lab
These shoes are the perfect hybrid between a mountain sandal and a classic sneaker, making them especially supportive. They boast an upper made from leather, perforated foam and mesh, with three cutouts to ensure enough airflow to keep your feet from sweating. An ergonomic footbed with temperature regulation technology makes them even more comfortable, while a Vibram leather outsole is both grippy and super lightweight. While these are great for hiking, these are not suitable for wet conditions.
Shop the women's version here.
Chacos
There's nothing to dislike about Chaco sandals, and avid hikers like Katie Boué agree. It's tough to pick a favorite, but if you're looking for a classic pair to match all your hiking outfits, we would go with the the ZX/2 Classic. Like Chaco's other styles, these sandals feature a podiatrist-certified footbed design and a vegan-friendly construction, so you can feel good about both your feet and the earth. The straps go around your big toe in addition to your heel for extra stability, and a lugged rubber sole offers superior grip on the trail.
Shop the men's version here.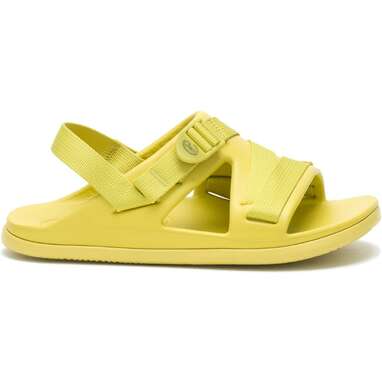 Chacos
The newest addition to the Chaco family is this ultra-light sport sandal designed with arch support that's approved by the APMA (American Podiatric Medical Association) to promote healthy alignment. While an EVA outsole and less supportive design means we wouldn't recommend wearing these sandals on long hikes, we do encourage you to wear them on casual strolls, or throw them on when you're done with the trail and feel ready to unwind.
Shop the men's version here.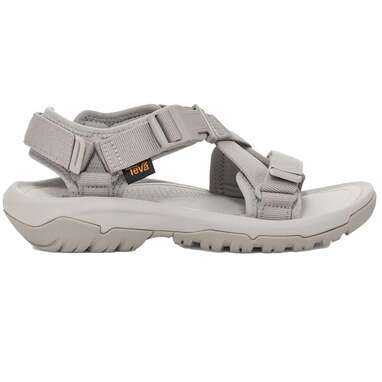 Teva
If Professor Utonium from Power Puff Girls mixed comfort, style, and durability in his lab, his results would probably look like the Teva's Hurricane Verge sandal, complete with its rubber outsole, cushioned footbed, and breathable mesh straps. From its super-comfy-yet-rugged construction to the cross-strap that secures with a buckle, this gender neutral pair will provide you with a locked-in fit so you can feel confident on your feet for any and all adventures.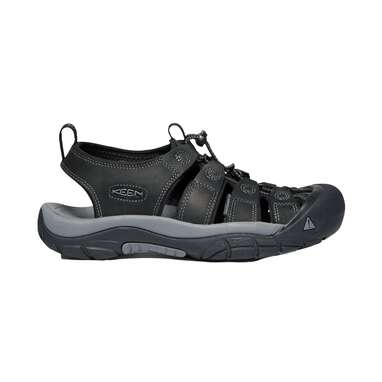 Keen
When you've got to protect your toes but still need breathability, the Keen Newport is here to help you get the most out of your adventure—whether you're trekking through the water or over rough terrain. The sandals are designed to offer comfort and durability when you're out in the wild, thanks to a mixture of waterproof leather, cushioned midsoles, and lugged rubber outsoles, plus protective toe caps. We also love that these sandals are machine washable, so they're a cinch to keep clean even after a particularly muddy trek.
Shop the women's version here.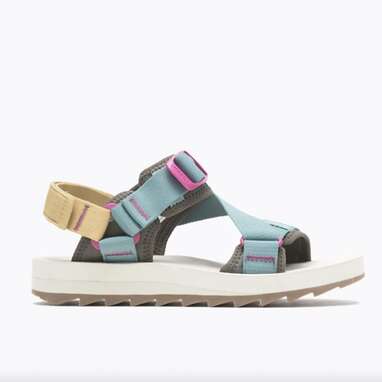 Merrell
These playful colored sandals from Merrell are going to bring all the fun to the hiking trails. In addition to its attractive design, this pair features a sticky rubber outsole equipped with durable traction that grips when and where you need it. Plus, the sandals have a dual top and back strap adjustable closure, so you can modify them to best fit your feet.
Shop the men's version here.
Teva
These sandals are designed to hug your feet securely, so you don't need to worry about tripping. They feature a molded PU midsole that will make your feet feel like you're walking on clouds, and an ultra-grippy rubber outsole that works perfectly on both wet and dry surfaces. Fabric straps around the ankle, heel, and toes are adjustable for a perfect fit.
Shop the women's version here.
Zappos
A hybrid between a sneaker and a sandal, this shoe combines the best of both worlds: support and breathability. Made from washable leather and mesh, the sandals also feature cutouts for airflow. They fasten with laces for a close fit, and have a cushioned footbed with a rubber outsole to keep you comfortably on your feet. Featuring natural odor control technology and a heel support structure that absorbs the impact of each step, they'll certainly help you reach new heights.
Shop a similar women's version here.