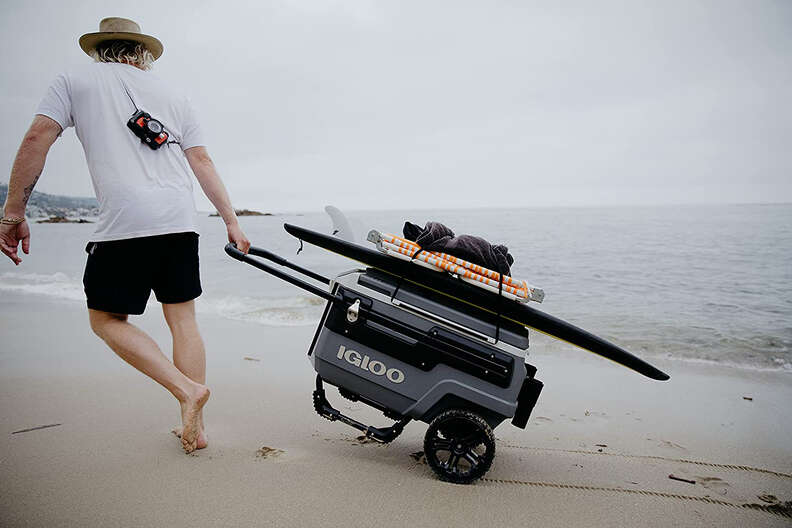 Amazon
Amazon
We independently source all of the awesome products and experiences that we feature on Thrillist. If you buy or book from the links on our site, we may receive an affiliate commission — which in turn supports our work.
The mighty beach cooler, much like beach chairs and insulated cups, is not one size fits all. When shopping for a beach cooler, one must ask, "How many Cutwaters can this baby fit, and how long will those Cutwaters remain frosty?" and search within themselves to determine whether they can live with the answer. As someone who has spent many a summer day at the beach, I know firsthand the importance of a good cooler. You'll not only be storing beers, waters, juices, and other things people drink, but food and snacks as well. This means you'll want something easy to transport, reliable, and—most importantly—well-insulated.
The coolers below are specifically coolers you'd want to bring to the beach. Of course they can double as backyard coolers, or pickup truck coolers, or boat coolers, but the important thing to know is that they have the features you'll need for a day by the water. A beach cooler is designed to withstand busy parking lots, vast seas of sand, the unfathomable heat of the summer sun, and your pals constantly opening and closing it.
Here are eight expertly engineered coolers made to navigate the beach in all its gritty, wonderful glory. Bring one of these to the beach and you'll find your trek from the car to the coast feels almost effortless—which is kind of the whole idea, because, who wants to put in effort on beach day?
Amazon/Unsplash
The elevator pitch that comes to mind for the Igloo Trailmate Journey is, "This is the 4x4 of beach coolers." It literally bills itself as an all-terrain cooler, so you know dragging this through dense sand or rocky shoreline is going to be easy work. The Trailmate Journey also boasts a ton of features we love. It has a butler tray to keep your food and drinks off the ground, built-in cup holders, two attached bottle openers, a storage pocket for your beach gear, and plenty of room to bungee down an umbrella or chair. It'll also keep ice from melting for up to four days and has the capacity to carry 112 cans.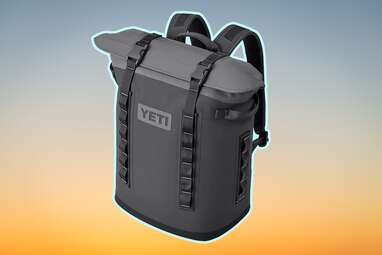 Amazon/Unsplash
By now, you've undoubtedly heard about, coveted, or used a YETI cooler. The brand's reputation precedes it as making some of the most durable and hard working coolers on the market. And YETI's Hopper Backflip cooler is no exception. Now, this soft-sided backpack cooler obviously isn't bear-proof, and it won't keep your ice cold for days—but it's incredibly comfortable for quick jaunts to the beach or the woods. This model holds around 20 cans or 26 pounds of ice, and the HitchPoint grid (all those little straps) make it easy to snap on tons of handy accessories, like your YETI mug or your YETI hat. Because when you have a YETI, you'll want everyone to know.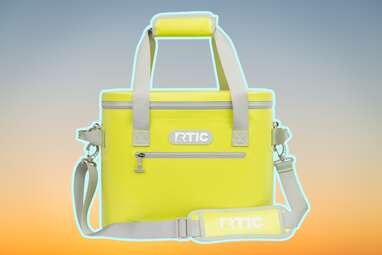 Amazon/Unsplash
Floatable, 100% leakproof, and able to fit 30 cans, this RTIC soft cooler is the perfect companion for those who love being in the water. Since the cooler is seaworthy, you could quite literally tie a line to it and pull it behind a canoe (or raft, or really any vessel that floats you), or just bring it in the pool or lake for the day. The cooler even has an exterior dry pocket for anything you don't want to get wet. It keeps your stuff cold for up to 24 hours—perfect for a fun day on the water—and comes in 12-, 20-, and 40-can sizes if a 30-can cooler isn't what you're looking for.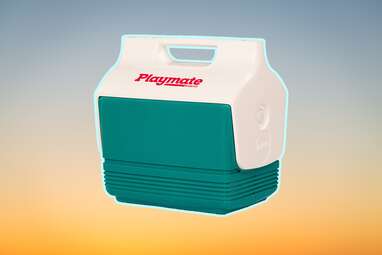 Amazon/Unsplash
My mom bought this cooler before I was born, and I have it now. I've nicknamed it my Coolbox because it's about the size of a toolbox and it carries the items I need to get things done—two to three Voodoo Rangers, to be precise. It ain't that big, and the design is about as simple as can be, but this little Igloo powerhouse will keep your six-pack icy, your food fresh, and your friends constantly saying, "My parents had one of these when I was a kid."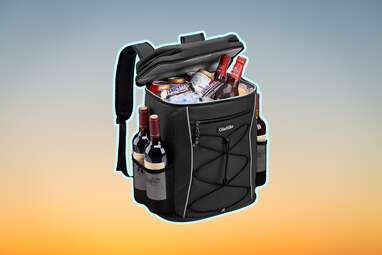 Amazon/Unsplash
The OlarHike 30 is a budget-friendly backpack-style cooler with the capacity to hold 30 cans, four bottles of wine, and—according to the picture—two frosty Snickers bars. It's a workhorse of a cooler, constructed with thick foam insulation and a anti-leak PEVA liner. It'll only keep ice for about 16 hours, but if you're out with this thing for longer than 16 hours you're either the slowest drinker in the world or lost in the woods (it's not exactly backpacking gear).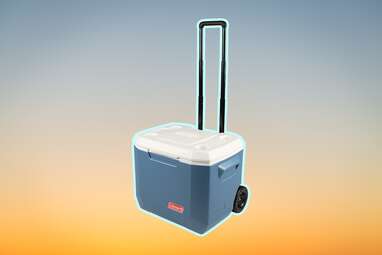 Amazon/Unsplash
If you've been to any moderately busy beach in the USA, I'm certain you've seen this cooler. And that ubiquity means it's doing something right. The price point is just where it needs to be, and the wheels and hardshell design ensure easy transport from the parking lot to your beach spot. This 50-quart model has cup holders on the lid, retains ice for up to five days, and can hold up to 84 cans. If you need more space, Coleman also makes a 62-quart version.
Amazon/Unsplash
If you want the more inconspicuous daypack look, take a gander at Tourit's leak-proof backpack cooler, which is made with comfort and accessibility in mind. The main compartment can hold around 42 cans, and there are multiple other pockets to hold your accessories (or picnic gear, should you be adorably picnicking). It doesn't have built-in cup holders, but you'd better believe it comes with an attached can opener on the strap.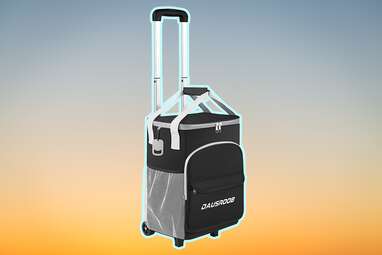 Amazon/Unsplash
If you're obsessed with roller bags as luggage, allow me to show you something: this roller bag cooler with a removable handle and wheels, so you can roll it along and then pick it up and carry it as needed. It'll keep your drinks cold for around 16 hours and boasts some extra pockets for your phone, sunglasses, towel, super cool frisbee, and anything else you might need. It has a beer opener on the strap, and when you're not using it, it folds completely flat.