We independently source all of the awesome products and experiences that we feature on Thrillist. If you buy or book from the links on our site, we may receive an affiliate commission — which in turn supports our work.
Coolers, much like beach chairs and insulated cups, are not one size fits all. And in the vast and tangled web of cooler discourse, we must ask ourselves: How many purposes should a cooler serve? I believe all coolers are fundamentally designed to do at least two things—keep your stuff cold and allow you to transport that stuff from one location to another. I hope you find this logic refreshing.
You know what else is refreshing? Beach drinks. Specifically ones that come straight out of a durable and convenient Beach Cooler. I'm emphasizing "Beach Cooler" strictly to identify it as a cooler designed and built for beach days. No one wants to schlep a 90-pound ice chest over unforgiving sand and under an unforgiving sun. Which is why I want to highlight eight expertly engineered coolers specifically made for the beach. These are coolers that will make your trek from the car to the coast almost effortless—because, honestly, who wants to put in effort on beach day?
If a cooler could be a Jeep Wrangler, this would be that cooler. This baby has oversized wheels to tackle the sand, two bottle openers attached to it, a pullout tray for food & drink, two umbrella holders (or fishing rod holders), and the capacity to hold 112 cans.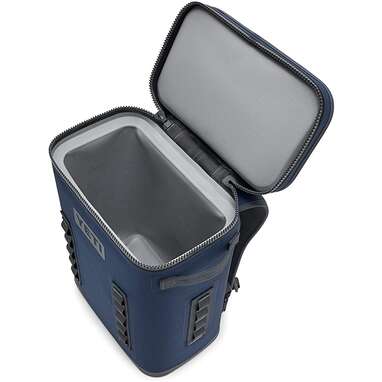 YETI hard coolers are easily some of the best coolers ever made, and this backpack cooler is no exception. Without anything in it, the cooler weighs 5-pounds. When packing it, it'll fit 20 cans with a 2:1 beer-to-ice ratio. Or Cutwater-to-ice ratio if you're feeling particularly messy.
This RTIC soft cooler is 100% leak proof and will hold up to 30 cans no problem. There's also an exterior dry pocket for your phone and the entire unit is wrapped in a vinyl shell (so no sweating). Plus, this particular soft cooler is on sale for just $100.
My mom has had this cooler since before I was born, so I know it'll last a long time (we're talking 35+ years here). It's not that big—it'll hold a sixer with ice—but it's easy to carry, pack, and store. And let's face it, this design will never go out of style.
This is another cooler backpack for the more budget-friendly. This bag can hold up to 30 cans, four bottles of wine, and according to the picture, two Snickers bars. The entire bag is leak proof and will keep your drinks cold for up to 16 hours—which is way more time than necessary to spend at the beach drinking.
Another wheeled cooler, this Coleman makes a great option for the budget conscious looking for a hardshell cooler they can drag through the sand. The wheels aren't as large as the Igloo's, but that's just because Coleman has nothing to prove to anyone. This cooler will hold up to 84 cans and provide you with 5 days of ice retention, which makes it great for Spring Break.
If you're one of those people obsessed with roller bags as luggage, you're going to love this roller bag cooler. The coolest feature on this is that the cooler itself can detach from the rollers, so you can carry it over rougher terrain if needed. It'll keep your drinks cold for around 16 hours and boasts some extra pockets for your phone, sunglasses, towel, super cool frisbee, etc.
For a more inconspicuous "this is only a backpack for my school books" look, check out this 30-can cooler from TOURIT. It's completely leak proof and insulated and weighs a mere one pound when empty. There's also a lid on top to keep snacks chilled and side pockets for your water, magazine, trendy new book, or portable speaker.