Airbnb
Airbnb
We independently source all of the awesome products and experiences that we feature on Thrillist. If you buy or book from the links on our site, we may receive an affiliate commission — which in turn supports our work.
We've been spending a lot of time at home the past couple of years (thanks, quarantine), which has spurned a newfound appreciation for cozy living spaces and nostalgic hobbies. We even got a fun new social media movement out of it: cottagecore, an aesthetic that totally embraces a rural, domestic lifestyle. (The term technically originated in 2017, but received a TikTok resurgence in recent years.) Pretty much anything old-fashioned and bucolic can be categorized as cottagecore, from vintage dishes and dried flowers to activities like embroidery and gardening.
Some of us aren't lucky enough to live in a beautiful English home surrounded by wildflowers, however. Luckily there are plenty of Airbnbs that provide the ultimate cottage experience, allowing anyone to embrace their inner Brothers Grimm character (minus the evil stepmothers) with a single booking. If you're hoping to live your best fairytale life in 2022, check out some of these vacation rentals—from Hobbit holes in Washington to treehouses in Hawaii.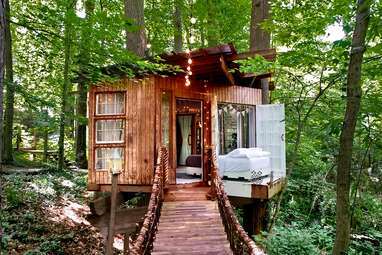 Airbnb
2 guests/$389 per night
This treehouse is the most popular Airbnb in Georgia (and one of the most popular in the entire country), and it's easy to see why. The secluded retreat sits pretty in the 165-year-old treetops, with three designated rooms: a sitting room with antique furniture and balcony; a bedroom with a rolling bed (so you can sleep indoors or on the outdoor platform); and a hammock deck, which is exactly what it sounds like. The whole home is draped with twinkle lights for some added fairytale flair.
What guests say: "If you are considering coming here, just DO IT. Magical property with tons of space to feel free and energized and relaxed all at the same time. I cannot say enough good things about my stay."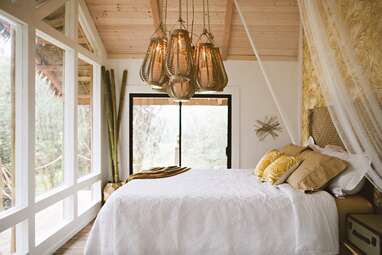 Airbnb
2 guests/$300 per night
Because one treehouse simply isn't enough. This arborous Airbnb is located in the dense jungles of Fern Forest, a tiny community of Puna on the Island of Hawaii (just 10 miles away from Volcano National Park). At ground level, the house has a hanging bed suspended beneath the main structure, which you can relax in or continue up the stairs to a trapdoor. The upper level features a wraparound lanai with views of the jungle, plus a bathroom and cute bedroom with vintage 1970s wallpaper.
What guests say: "I would recommend this property to anyone needing a time of relaxation and rejuvenation. Kristie is an excellent host who covers every detail of your stay to make it as easy as possible for you. The treehouse is immaculate and feels like you are in a fairytale surrounded by an enchanted forest."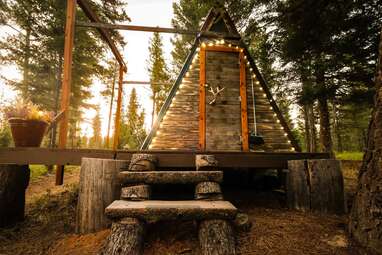 Airbnb
2 guests/$205 per night
When it comes to pure coziness, nothing compares to an A-frame cabin. This tiny home has just the bare necessities (two twin beds, a hot plate, and a couple mugs), plus a few special bonuses—namely an outer wall that rises like a garage door to create the ultimate indoor/outdoor space. There is also a hot tub on the property that guests can soak in, a few swinging hammocks, and a gorgeous Montana setting filled with woodland creatures. (Maybe you can convince a few of them to sew you a dress for the ball.)
What guests say: "I don't have enough adjectives to describe this beautiful place! The setting is serene and the A-frame is frigging adorable. It's the perfect mix of off-grid glamping but with amenities. The hot tub under the stars was perfect! We can't wait to come back!"
Airbnb
Charleston, South Carolina
2 guests/$235 per night
In no way affiliated with John Mellencamp, this little pink house is the epitome of Charleston charm. Aside from its rosy facade, the rental boasts a lofted master suite, kitchenette, two sprawling porches, and cozy living spaces with shiplap walls and pastel pillows. The entire house is conveniently located in downtown Charleston, shaded by live oaks and close to tons of great restaurants and bars.
What guests say: "We LOVED this place! Full of southern charm, thoughtful touches and walkable to so many good spots. We played cards on the balcony in the evenings and walked to coffee in the mornings. The proximity to cool local neighborhood haunts like Chubby Fish and King Street was a huge bonus. 10/10 would recommend."
Airbnb
2 guests/$258 per night
If Rapunzel lived in the Berkshires, she'd probably hole up in this whimsical and romantic tower. The two-story tiny home sits on four lovely acres of gardens and lily ponds, and it looks just as cute on the inside as it does on the outside. The lower level has a sitting room overlooking a babbling brook and kitchenette, while a canopied bed provides amazing views from the upper level. Curl up with a good book on the window seat, or spend the afternoon walking the stone paths winding throughout the property.
What guests say: "Not often do moments come about as an adult wherein I feel such a sense of whimsy and magic, but this stay was one of those moments. Cozy, relaxing, and everything I needed. Check-in and check-out was a breeze. The space itself was lovely and the grounds beautiful. Do yourself a favor and book a stay here!"
Airbnb
4 guests/$96 per night
This Nashville tiny home has all the cottagecore essentials: a clawfoot tub, lofted sleeping space with reading lights, kitchenette with plenty of tea tins, and potted plants galore. Guests can even pick vegetables from the owners' garden when they're in season—and it doesn't get more bucolic than foraging for your own food. And if you do find yourself craving a bit of urban comfort, downtown Nashville is just a short drive away.
What guests say: "This Airbnb is so adorably decorated and has everything you could need for your stay. My favorite touches were the movie projector, the clawfoot tub, and all the cute turquoise and copper knick knacks in the kitchen by the coffee & tea kettle. The bed is extremely comfortable up in the loft. It's now on my bucket list to build our own tiny home someday."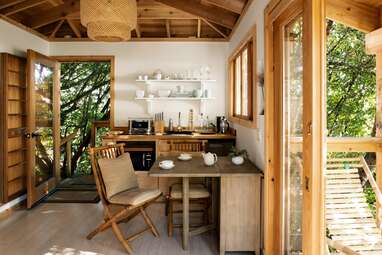 Airbnb
Stinson Beach, California
2 guests/$210 per night
Located about an hour's drive north of San Francisco, this Asian-inspired bungalow offers total quiet and tranquility. The outdoor shower and soaking tub afford views of the nearby beach, while the queen-size bedroom with bamboo walls and porthole windows is an absolute perfect place to recharge. The full kitchen comes with a little dining area, although you'll probably want to sip your tea on the adjacent wooden deck.
What guests say: "The Bird's Nest Bungalow is the sweetest, coziest nook tucked away in the trees yet a very short walking distance to the ocean. Everything you could need was provided with many thoughtful touches. The bungalow is beautifully and minimally decorated, with an outdoor area for morning tea or an evening bath. Simply lovely!"
Airbnb
6 guests/$150 per night
Basically a gingerbread house IRL, this property greets guests with half-timber work and flower boxes tucked under the windows. The house is just ten minutes away from the Delaware River, where you can enjoy a variety of outdoor activities, but you might find it hard to pull yourself away from the huge kitchen, living room with cast iron wood stove, and comfortable bedrooms decked out with antique sewing machines and fireplaces.
What guests say: "The chalet had everything you could want for a stay, even firewood for the wood burning stove! I love how even the newer appliances were old looking to make the chalet feel vintage. The wood floors and kitchen island were beautiful too! We absolutely loved staying here, and it gave us ideas as to how we would want our very own cabin in the woods to look and be laid out."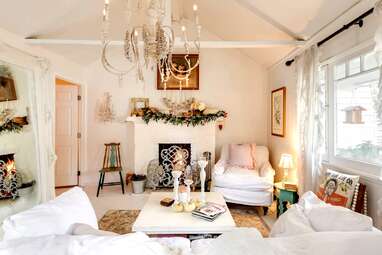 Airbnb
3 guests/$1,999 per night
Surrounded by trees and mountains, this cottage really is a fairytale dream come true. (There's even a Cinderella poster in one of the bedrooms.) The entire house is decorated with vintage chandeliers, white lace curtains, pastel pink walls, and rose-filled vases. The fireplace and clawfoot tub round out the cottagecore aesthetic. The host raises pigs and chickens on the property, and guests are invited to feed the pigs and help themselves to fresh eggs from the main house's fridge.
What guests say: "One of the most amazing Airbnbs I've stayed in! It's worth every penny. It looks like a magical wonderland, and you genuinely feel like you're staying inside a storybook. The piggies are super cute! And the little touches everywhere are so perfect!"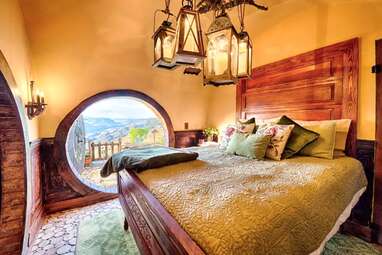 Airbnb
2 guests/$371 per night
Arguably the OG cottagecore influencers, Hobbits sure do know how to make a space cozy. This little rental in central Washington helps you live like one of Tolkien's hairy-footed creatures for a couple nights, right down to the iconic round doorway. Guests can explore the property's six acres if they're craving adventure, or light up the stone fireplace, grab a mug of cocoa, and settle in for a night of chess games and woodworking (both chess boards and whittling tools are provided).
What guests say: "We had a fantastic time, and would absolutely recommend this to any Tolkien fan or someone who wants to unplug for a few days. Kristie was an awesome host and got back to us quickly with any questions we had. We'll definitely try to stay here again!"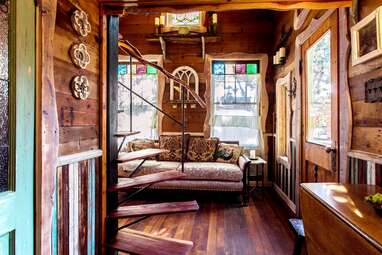 Airbnb
2 guests/$149 per night
Dubbed "Robin Hood's Hideout," this cottage was built with reclaimed wood, fixtures, and windows from about 30 different houses and barns. The conglomerate of salvaged parts now stands as an impossibly charming hideaway, complete with stained glass windows, antique brass lights, and cedar log ceilings. The best perk is probably the couple of friendly cats that roam the property, delightfully named Munchkin and Kristoffe.
What guests say: "The minute you open the door, you will be whisked into another time and place. Enjoy a cup of coffee outside in the morning while birds sing, and then at the golden hour of dusk sit under the pavilion and drink wine or spirits that you procured from the local distilleries and wineries. This little hidden gem will not disappoint."
Caitlin Morton is a travel and lifestyle writer based in Kansas City. You can follow her on Twitter @CaitlinMorton23.