8 Great Deals on Charcoal and Gas Grills Under $150
You don't have to spend a small fortune to find a great grill. Especially if you have limited space.
Thrillist|Emily Carpenter
We independently source all of the awesome products and experiences that we feature on Thrillist. If you buy or book from the links on our site, we may receive an affiliate commission — which in turn supports our work.
The timing of this article shouldn't come as a surprise. Memorial Day is upon us and millions of Americans will be grillside enjoying the three-day weekend. And while it may be a bit late to get a new grill delivered in time for your Sunday backyard BBQ, many stores like Home Depot and Walmart are offering free pickup when you buy online.
We know you could spend anywhere from $500 - $5,000 on a grill, but you certainly don't have to. Especially if your endgame is a low-key cookout on a patio, big balcony, or small yard. These are first-rate entry-level gas and charcoal grills that'll give you one to two solid summers of cookouts with little to no maintenance. If you take care of them (clean and cover, basically), you're looking at a few years.
Weber | Emily Carpenter
Charcoal Grills & Smokers
Price
:
$124
This is arguably the most iconic/legendary charcoal grill on the market. Weber was the first company to start manufacturing grills in the U.S. and has maintained a reputation for quality and durability since the 1950s. This all-weather grill features a porcelain-enameled lid and bowl (meaning no rust) and it can hold up to nine burgers -- or as I like to view it, three triple-stacks.
Don't forget to
:
Slap a cover on this number
. It'll be around for years and years if you do.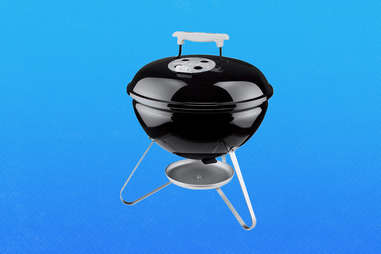 Weber | Emily Carpenter
Price
:
$35
You took a gander at the 18" Weber and thought "well, that might be too big for my rooftop/fire escape/and potential trips to the park or beach." Fair enough. Try out Weber's Smokey Joe instead. The portable grill is almost exactly the same as its larger sibling, save for its lack of legs/wheels. The grill grate is 14" in diameter and can handle 7 patties at once -- or as I like to view it, two triple-stacks and a kids' meal.
Don't forget to
: At least
bring a spatula and tongs
with you if you're taking this one to the park.
Panther | Emily Carpenter
Price
:
$69
For the price, you're getting a 23" stainless steel grill (that can handle 10-15 patties) with a warming rack built into the lid and a handy condiment rack attached to the frame. Unlike the Weber, you'll have to be a little gentler with this one, but if you're able to keep it stored after use, it'll be a solid investment under $70.
Don't forget to
: Scoop up a
chimney charcoal starter
that'll get your coals piping hot in under 15 minutes.
Char-Griller | Emily Carpenter
Price
:
$156
(it's close enough)
If you're curious about smoking, but aren't quite sure you want to spend $300-$400 on a higher-end model, consider this grill from Char-Griller. You'll get a grill/smoker combo large enough to cook an entire turkey, plus dual damper controls which let you adjust the airflow for perfect temperature control -- AND a convenient access point on the side so adding coals/wood will never be an issue.
Don't forget to
: Get
a solid cover
for this one. After cooking on it once, you'll want to be sure it sticks around for a while.
Akorn | Emily Carpenter
Price
:
$149
You've likely seen or heard about The Big Green Egg. It's probably the best Kamado grill on the market, and should be at around $1,300. What makes a Kamado so great is its ability to retain heat and moisture inside the grill, a process that'll enhance flavor and give you chef-quality burgers, steaks, pizzas, wings, and so much more. For an entry-level Kamado check out the Akorn, which is fully equipped with dual dampers, a heat gauge, triple wall steel, and cast-iron cooking grates.
Don't forget to
: Grab
a nice 20lb bag of wood pellets
to really kick it up a notch.
NexGrill | Emily Carpenter
Price
: $119
This grill is best described as "cheap and effective." The highlights include 550 square inches of grilling space (which include both the warming rack and main grill), a built-in temperature gauge, adjustable charcoal tray ventilation brackets, and portability -- it can easily be moved from storage to wherever it's needed. That said, you will need to get a cover for this one if you plan to leave it outside. Rust has been known to be an issue with this one, but only after a year or so left out in the elements.
Don't forget to
:
Get yourself a durable cover
if you're leaving this out back indefinitely.
RevoAce | Emily Carpenter
Gas Grills
Price: $144
Let's give it some gas. Finding a gas grill under $150 is no easy task. Most standard ones start at $200 and go way (WAY) up from there. That said, if you see yourself grilling 3-5 days a week, gas is the way to go. A couple of turns on the knob, hit the starter, and boom you're cooking. The RevoAce is an excellent choice for those with small patios or balconies as it's basically a tiny gas stove you can use outside. It's got 340 square inches of cooking space available, meaning it's able to cook up ~19 burgers at once (note: I've never seen someone cook that many burgers at once. By god, it'd be impressive). The grill is powered by three 10,000 BTU stainless steel burners that kick it up to 30,000 BTU (math!) and two foldable shelves for easy and convenient storage.
Don't forget to: What do you think? Get a cover! At $144, it's to be assumed that this grill might need a little help in the wild.
Dyna-Glo | Emily Carpenter
Price
:
$149
This Dyna-Glo, like the RevoAce, is an exceptional propane grill for the price. The biggest difference between this and the Revo is that the Dyna-Glo has a side burner that can be used to cook sauces and side dishes while the two main burners cook up your mains. Also, like the RevoAce, you'll want to be sure to keep up with cleaning the grill and trying to keep it out of the elements whenever possible. Although the lid is stainless steel, some of the other components are prone to wear and tear if left out.
Don't forget to
:
Grab the grillware you need
to level up to Grill Master. And
a cover, of course
.
Want to know more about our favorite products and services, and get great deals on cool stuff? Sign up for the weekly Thrillist DealMail.