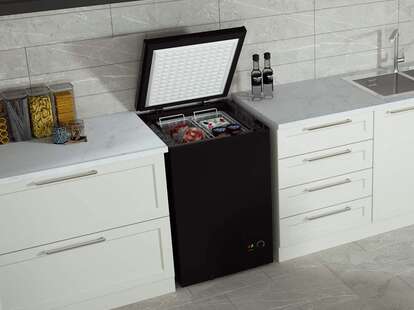 We independently source all of the awesome products and experiences that we feature on Thrillist. If you buy or book from the links on our site, we may receive an affiliate commission — which in turn supports our work.
For home cooks and heads of households, a well-stocked deep freezer serves as a treasure trove of deliciousness that you can keep on hand for as long as you need to. Whether you're clinging to the faint memory of summer by freezing seasonal veggies, loading up on ready-to-bake meals, or simply making the most out of your Costco runs, you'll be prepped for dinner parties, family feasts, and those nights where a trip to the market sounds like Dante's Inferno.
And if you just want to stuff it full of emergency ice cream and frozen pizzas? No judgment here.
A good deep freezer is something that you should only have to buy once or twice, so if you're reading this, odds are you aren't totally sure what to look for. Not to worry, as we've got the scoop (ahem) on all of the best compact deep freezers available on Amazon.
Amazon
When you're choosing your dream deep freezer, your first decision is whether you want to go with a chest or an upright option. Upright freezers look similar to mini-fridges and open from the front, while chest freezers open from the top and tend to take up a bit more floor space.

Arctic King makes some of the best chest freezers around, and this one comes with two stacked shelves and five cubic feet of storage space. It has a sleek metallic finish, and it should get cold in under an hour out of the box.
Amazon
Since deep freezers tend to live in a basement or garage, you might not be concerned about the aesthetic appeal of yours. But if you're the type of person who needs to have everything looking just right, then Whynter products should be your go-to in the cold storage world.

This particular model is on the smaller end at only 2.1 cubic feet, but it takes less energy to power than a light bulb and won't make a peep while it keeps everything frosty. It also comes with a reversible stainless steel front door and two removable wire shelves.
Amazon
A great option for apartments or homes with little storage space, the Koolatron Compact Chest is small but mighty. It uses energy-efficient compressor technology that allows for customizable temperatures and comes with a handy defrost drain for quick cleaning or relocating.

Also, despite its size, it manages to maximize its interior with 99 liters of total freezer space and a removable wire basket for quick-access items.
Amazon
If you're looking for the coldest of the cold, then this Midea model is your best bet with Ice Age-esque maximum (minimum?) temps of -28 degrees Celsius.

Otherwise, this is a similar option to the Koolatron Compact Chest with 3.5 cubic feet of storage and a single hanging basket. It also comes with a one-year warranty for the freezer and two years for the compressor.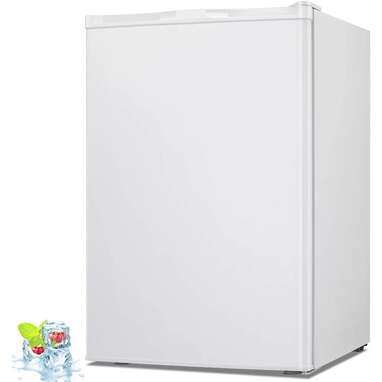 Amazon
If flexibility while freezing is what you're after, this upright option from Kismile should fit the bill. It comes in three different colors and three different sizes (from 1.1 cubic feet to 3.0), and has a 7-grade adjustable temperature control, removable shelves and a reversible door. It'll take up about as much space as a typical mini-fridge, and comes with adjustable legs to keep its balance on uneven surfaces.
Amazon
Northair is a lesser-known freezer brand, but its products stack up well with slick, minimalist designs and energy-saving, low-noise performance.

This chest freezer offers 3.5 cubic feet of storage with two wire baskets to hang at the top. Its air lock system keeps the chill where it needs to be, and you'll be able to play around with 7 different temperature settings.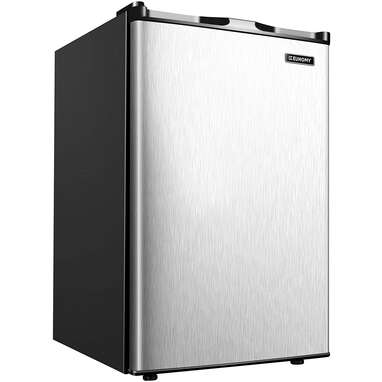 Amazon
E Euhomy uses 3D Reverse freezer technology to ensure consistent temperatures throughout your freezer space, so you can cool everything quickly no matter how full it is.

This model comes with plenty of space and temperature settings, plus a reversible door, adjustable feet, and an efficient R600a compressor. It comes in either black or silver, and should snugly fit in your kitchen, den, or dorm room.
Amazon
Sometimes, size isn't everything. The smallest option but certainly not the weakest, our second selection from Whynter is a perfect fit if you don't have a built-in freezer, or you just want a spot to stash ingredients for a need-it-right-now martini.

At 1.1 cubic feet, this mini freezer won't set you up for the long haul, but comes with enough space for a few frozen favorites. Plus, you won't have any trouble finding a good place to put it.
Chad Rafferty is a Thrillist contributor.