Airbnb
Airbnb
We independently source all of the awesome products and experiences that we feature on Thrillist. If you buy or book from the links on our site, we may receive an affiliate commission — which in turn supports our work.
If you have a dog, you already know it can be tricky to book a dog-friendly place to stay when you're on vacation. Sure, there are lots of options out there, but if you don't want to settle for a less-than-appealing rental that costs far too much, finding the right vacation home can feel like a tall order. That's where Airbnb swoops in to save the day, with lots of dog-friendly stays available. Whether you're looking to relax by the pool or decamp to the middle of the desert, you can easily find an ideal Airbnb getaway for you and your furry friends.
To make it even simpler for you to plan your next excursion, we curated a list of dreamy escapes that cater to the pet parents among us. From sprawling beach houses to secluded cabins, keep scrolling to find the perfect place to get away with your pup.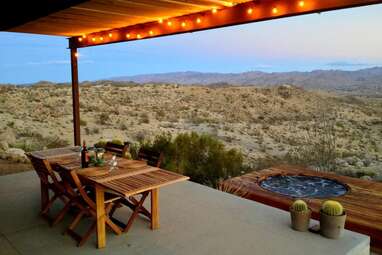 Airbnb
6 guests/$348 per night
This incredible home is smack dab in the middle of the Mojave desert, and a short drive away from Joshua Tree National Park (a perfect place to explore alongside your pup). Designed by the architects at Inverse Project, the two-bedroom house has a spacious multi-level outdoor terrace with an outdoor hot tub, grill, and chimenea, making it the ideal spot to relax and enjoy the beautiful sunsets and star-soaked night sky.
What guests say: "What a beautiful property! The perfect way to immerse in the magic of the desert & deeply relax. Whether outside on the deck or in the AMAZING hot tub, or cosy inside through the big windows, you always get to feel your surroundings and watch the sunrise/sunset. Kitchen is super stocked too which makes cooking so easy. My dog loved being there & we spend the days hiking straight off the deck which was so convenient."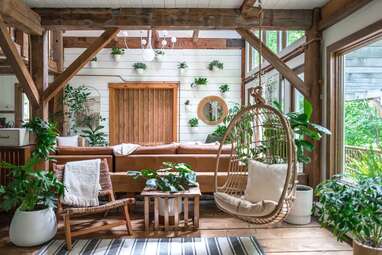 Airbnb
8 guests/$679 per night
Two hours north of New York City, nestled among ski mountains, this renovated 1845 barn house is filled with warm, stylish, and comfortable design features that make it an incredible place to relax. The house is surrounded by beautiful trees, and the green is echoed indoors by an array of house plants. In nice weather, you can sit on the porch under string lights, or around the outdoor fireplace. A wood stove keeps things cozy indoors during the colder months, and an outdoor hot tub is good for any season. Your dog might not enjoy the hot tub, but they're welcome in the house too—just be sure to send your hosts a message if you want to bring your pup along.
What guests say: "This space was hands down perfection. 10 min ride to hunter mountain, hot tub, outdoor and indoor fire places, so many cozy spaces to hangout at, large group dining table, and stunning decor. Truly can't beat it! [...] It was the perfect size for 7 of us, and the yard was amazingly spaced out from others. DOG FRIENDLY which is just so great and makes the trip that much better with your fur friend. I can't say enough good things!"
Airbnb
6 guests/$570 per night
Whether you're taking the family or a group of friends, this large house will satisfy all your getaway needs. Your pups can enjoy plenty of outdoor space and adventure around the nearby beach. Inside the house you'll find open common areas with exquisite mid-century modern decor, three comfortable bedrooms, and two bathrooms, making it perfect for up to six guests. With multiple outdoor areas equipped for entertaining and a roof deck that's perfect for stargazing, you'll probably never want to leave.
What guests say: "This is a lovely place. Short walk to a beautiful beach. We came here with the kids and our dog and it was a great relaxing getaway. Comfortable and enjoyable with views off the porch and the roof deck... Definitely would recommend this place to anyone."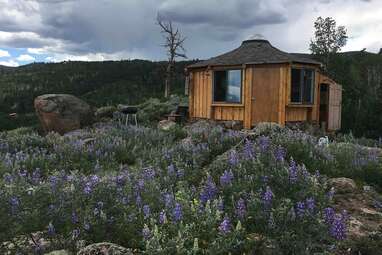 Airbnb
2 guests/$95 per night
While a stay in this off-grid cabin is a step above camping, it definitely still falls into the category of "roughing it." But if you don't mind the bunk beds, composting toilet, and lack of running water (though water will be provided by the host), you'll be awarded with absolutely stunning views and absolute solitude. The cabin (which one reviewer called "a dog person's remote paradise") is set at 9,000 feet along the Rocky Mountains' Park Range, with mountain views in all directions through the many windows. A dome in the roof lets you take in the stars at night. During the day, there are tons of trails if you want to hike, snow shoe, bike, or cross-country ski with your dog. There's a shower house within walking distance, solar-powered lights and phone chargers, an outdoor fire pit, and an indoor wood-burning stove to keep you warm.
What reviewers say: "This cozy spot has been an oasis and a delightful experience. Thank you so so much for sharing this slice of heaven . The land, animals, and environment has brought such a richness to my life. I came here to disconnect and unwind from the craziness of life and remind myself of what's important and wow this place has done just done that. This is a place I will cherish forever and hope to come back too. The views are unlike anything I've ever experienced before, from seeing a fox right outside the door to seeing the full strawberry moon on a cloudless night. Deb was an amazing host and very responsive as well! This tiny cabin had it all!"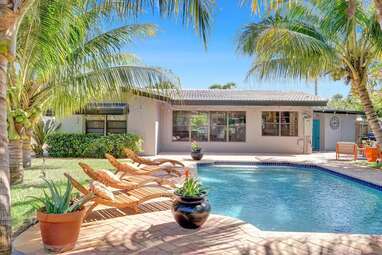 Airbnb
5 guests/$308 per night
If you want to stay in the Fort Lauderdale area, this Oakland Park Airbnb is a relaxing choice for you and your pup. The main attraction here is the backyard with a pool, loungers, a hammock, and outdoor table area (complete with a grill). The entire outdoor space is surrounded by palm trees, and your hosts encourage you to pluck fresh coconuts from them whenever you want to sip refreshing coconut water. The backyard is also fenced in, which is great for your dog. Inside the house, you'll find two bedrooms, a fully-equipped kitchen, and a spacious, cozy living room.
What reviewers say: "This house was absolutely perfect! Everything was better than expected and very much appreciated! The trees, the pool, the vibe was AMAZING!! Alex was very accommodating and quick to reply with every question, even gave us great suggestions for adventures, very helpful!! This was our first Air BNB experience and it was incredible. We drank straight from the coconuts, watched lizards crawl around, had mimosas by the pool, and relaxed just as planned."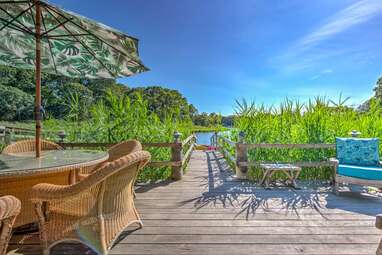 Airbnb
9 guests/$1,150 per night
With plenty of space for your pup to play, this Southampton waterfront home is the ideal getaway to kick back, relax, and soak up the sun. It boasts four bedrooms and a charming sprawling backyard equipped with a fire pit, hammock and deck designed to host up to nine guests and your dogs. The beach is located just a mile away from the property, but there's an oversized dock right in the backyard where you can launch kayaks, paddleboards, and all the other fun equipment included with your rental.
What guests say: "This was one of the best Airbnb experiences we've had. Extraordinarily clean, wonderfully cozy sheets, and a beautiful water view. We spent a lot of time in the backyard with the fire pit at night and sitting on the dock with a coffee in the morning. Our dog loved the backyard as well and having the small fence in front of the reeds made it feel safer for her. The kitchen was well equipped alongside the BBQ grill for breakfast & dinner. Our group of 5 felt like we had plenty of space. Easy drive to Southampton & Sag Harbor for daytime activities. We couldn't have asked for a better fall getaway!"
Airbnb
Swannanoa, North Carolina
6 guests/$268 per night
Located just 15 minutes from downtown Asheville and near the craft shops and galleries of Black Mountain, this A-frame cottage still feels totally peaceful and immersed in nature. The house is surrounded by tall trees and offers a fire pit and charcoal grill. Inside, the house has an unexpectedly contemporary style and is equipped with two bedrooms (one of which is in a loft), plus a pull-out couch. According to guests who brought their dog to the cottage, there's plenty of room for your pup to run around, tons of local hiking trails to explore together, and even a few large dog parks nearby.
What guests say: "My husband and I stayed for a week in this cabin, as a kind of "work-cation".. so we were both working full time during the day, and then doing some sightseeing and such in the afternoons / evenings. This was an excellent base for us!! We could let our dog run around in the woods, she had a great time exploring while we were working. There are a lot of great trails nearby, and outdoor beer gardens, etc. It was a lovely week."
Airbnb
8 guests/$343 per night (plus $30 pet fee)
Optimally located with easy access to various hiking trails for you and the dog, this retreat in New Mexico is the ultimate escape for nature lovers. Beyond the stunning, breeze, and peaceful interior, the home also offers sweeping views of the gorgeous surrounding area. There's an outdoor grill, dining table, and incredible treehouse outdoors, and various indoor stoves (plus floor heaters) if you visit in chilly weather. The property also has access to two viewing decks that double as great yoga spots, a fire pit, and a bocce court. Lake Abiquiu is a short drive away if you and your pup want to swim, fish, or boat. Just note that if you bring your dog, you'll have to pay a $30 pet fee to cover additional cleaning.
What guests say: "Fantastic getaway near Abiquiu Lake. Perfect for our whole family, including our dog. The treehouse was super neat! We also enjoyed exploring the whole property and watching the sunset from the yoga platform, looking across the whole valley. Our host Maya was super responsive during our stay. We highly recommend this place if you want to unplug and just relax."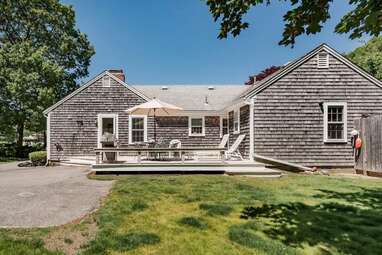 Airbnb
10 guests/$728 per night
If you're looking for peace and quiet, this beach cottage is the place to stay. Located near a private beach in Massachusetts, this beautiful and bright home has the space to accommodate up to eight guests and your furry friends. It also boasts a roomy deck, a shaded front porch with Adirondack chairs, and most importantly an amazing outdoor shower for rinsing both yourself and your dog after a long day at the beach.
What guests say: "We absolutely loved our stay in this beautiful, comfortable home. The beach is literally a two minute walk away and felt very private. The kitchen is well-appointed. The house was spotless. Cecil was an awesome host, extremely easy to contact. We would absolutely stay here again!"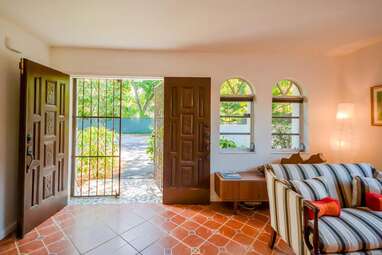 Airbnb
4 guests/$223 per night plus pet fee of $60-$200
This lovely Spanish style home is filled with light and artwork, and has a beautiful backyard decked out with a barbeque, multiple sitting areas, and a hammock (hello naptime!). It's also large enough to comfortably accommodate up to four people and any four-legged friends that may be in tow. Just note that there is a pet fee required if you want to bring your pup—it'll cost you between $60 and $200, depending on the size and quantity of dogs on the guest list.
What guests say: "We really enjoyed our stay here in Miami. We booked last minute for a quick trip and found the house to be perfect. It was nice to come home and sit downstairs and relax after a full day. The interior design was really cool and interesting. Having a backyard when traveling with a dog is always a plus. Would stay here again for sure."