We independently source all of the awesome products and experiences that we feature on Thrillist. If you buy or book from the links on our site, we may receive an affiliate commission — which in turn supports our work.
Like many dog parents, I hate leaving my puppy behind when I'm having an adventure. It feels especially egregious to go to the beach without him, since I know how much fun he'd have romping around in the waves, sniffing gross dead crabs, and getting as absolutely filthy as possible. If you're anything like me, you'll be relieved to know these dog-friendly beachfront vacation rentals are here to provide a comfortable place for you and your fur child to kick back and relax by the sea together.
From Florida vacation homes on white sand beaches to clifftop Malibu mansions, rustic Cape Cod getaways to whimsical Pacific Northwest cottages, we've rounded up these pet-friendly Airbnbs that are the perfect places to visit with your dog. Many of them come complete with incredible ocean views, outdoor hot tubs and pools, grills and fire pits, and all of the comforts you could possibly need to make the most out of your stay. Best of all? Most of them offer shockingly reasonable prices, so you can afford to splurge on dinners out, kayak rentals, and lots and lots of puppy treats.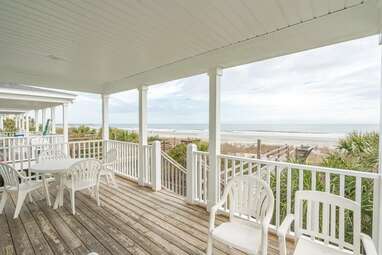 Airbnb
Surfside Beach, South Carolina
14 guests/$521 per night
If you're looking for a getaway with a larger group, check out this comfortable beach house on Surfside Beach, which can sleep a whopping 14 people in its four bedrooms and sofa bed — plus there's space for dogs too, of course! The house features a porch that leads to a private walkway, which takes you straight to a grogeous sandy beach. But for times when you want to swim without navigating waves and sand, the house also comes with access to a pool shared with neighboring homes. According to guests, the area feels family friendly, and it's a short walk to local shops and restaurants, too.
What guests say: "This was the perfect house for our family. The house itself was great - it was clean, comfortable, and had everything we needed. But the location - WOW! We have stayed at several different beach front locations but have never had such easy access to the beach with such a beautiful view. With young children, it made it easy to go back and forth as needed. We loved it!"
Airbnb
5 guests/$348 per night
Multiple guests have described this property as "magical," and it's not hard to see why. You can enjoy stunning views of Island Cove — complete with its whales, seals, and sea stacks — from the house's south-facing windows, sun deck, or even outdoor hot tub. You'll have private beach access, and guests with dogs mentioned that their pups enjoyed the beach, as well as the big yard and dog bowls provided by the host. Inside, the house has modern but comfortable decor, as well as a cozy wood stove. Just be sure to let the hosts know if you'll be bringing a pet — and be aware that they might add on a small pet fee.
What guests say: "This property is an absolute dream! From being dog friendly, to having breathtaking views, a private beach, a hot tub... everything! The kitchen is well equipped and the house had everything we needed for a week long stay. The views from the 2nd bedroom were incredible to wake up to each morning. We brought our dog down to the beach 3 times a day and he was in absolute heaven. The internet supported 8+ hours of video calls each day (as I was working remotely), which made this the perfect location for work and play! We loved our stay and can't wait to come back."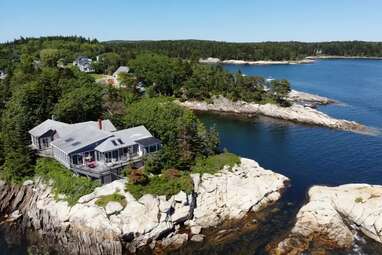 Airbnb
8 guests/$700 per night
Watch boats and seals from the deck of this four-bedroom Maine home, which is situated on an absolutely stunning rocky point that juts into the sea. While you'll find the oceanfront here to be on the rugged side, a pocket beach beside the house offers a place to swim or launch a kayak, and bigger sandy beaches can be accessed via a short car ride. When you're done with your day's adventures, feel free to rinse off in the outdoor shower, take a relaxing sauna, and hang out in the game room. The house is located in a fishing village, so you can even buy lobsters from the neighbors if you really want to eat like a Mainer. Best of all? Your dog can stay here, too.
What guests say: "The Point House is simply incredible! Comfort, relaxation and 360 degree views of ocean, lobster boats and the beauty of the Maine isles. Our host Sig, was welcoming and extremely helpful! All we had to do was arrive and enjoy! Whether simply relaxing on the gorgeous deck and gathering around a dinner of fresh lobster, or kayaking, swimming, and boating there was plenty to enjoy! One of our best family vacations!!"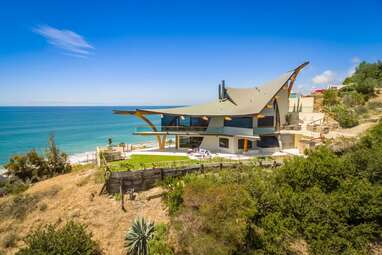 Airbnb
8 guests / $1,657 per night
The Eagle's Watch is truly one of a kind when it comes to seaside stays. The legendary home, designed by celebrated architect Harry Gesner, sits high in the hills of Malibu, overlooking the pristine turquoise waves. The house is designed to provide incredible views from every angle, whether you're peering out from the many tall windows, enjoying a soak on the balcony hot tub, or dining in any of the property's numerous outdoor lounge areas. The beach is a short walk or drive away, but your dog will also enjoy the fenced-in backyard. One thing to note, however, is that the house has lots of stairs, so it may not be the best choice for anyone (dogs, humans, or otherwise!) with mobility issues.
What guests say: "The Eagle's Watch home is a Malibu treasure and Katherine was a lovely host. Staying in this home is a gift and an experience all on its own. You wont find better views in Malibu. We really loved our stay and we were sad to leave. Book this if you want a once of a lifetime experience."
Airbnb
13 guests/$525 per night (plus $75 pet fee)
Planning a vacation can be a lot of work, but this Treasure Island home has the perfect combination of amenities and stunning location, which means all you'll have to do is show up. The beachfront home looks out upon a stretch of white sandy beach, with the turquoise waves of the Gulf of Mexico lapping at the shore. When you're not enjoying the beach, this house is decked out with everything you and a dozen friends or family members could possibly need to have an incredible time. The property has both a grill and a fire pit, plus outdoor tables, lounge chairs, and a hammock. There's also a heated pool, hot tub, and outdoor shower, along with a covered porch. The result? You and the rest of your party (including your dog, of course!) will have an absolutely stellar time. Just note that the host has a few requirements for any pups that come along: They should be well-behaved, and you'll have to offer proof of a rabies vaccine and flea and tick treatment, along with a $75 pet fee.
What guests say: "We came for Spring Break with ages 3-73 and all of us thoroughly enjoyed our stay. The house itself is super but the amenities, heated pool, hot tub, ALL of the beach accessories and the absolute best location make this house a home run! We walked to the Pass multiple times and with small children it was extremely convenient to go back and forth to the beach and the house. Our family goes on Spring Break every year and this was one of our favorite vacations ever. We would definitely love to come back and would recommend this house to all ages and all people!"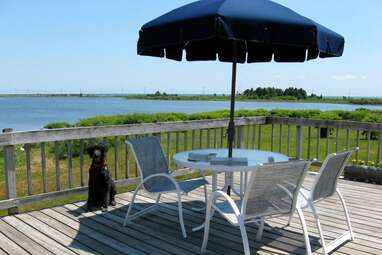 Oak Bluffs, Massachusetts
5 guests/$325 per night
There's something about this small cottage overlooking Nantucket Sound that has inspired many of its guests to return summer after summer. Maybe it's the ocean view from the deck, or the proximity to two community beaches. Maybe it's the peaceful, secluded setting, or the woodstove that makes for cozy nights in. Whatever the reason, it's clear that this little cottage, while nothing fancy, is the perfect place for you and your pet to enjoy that New England island life.
What guests say: "This house was really fantastic! There is a beautiful view for quiet breakfasts and dinners over the pond and a huge lawn that was perfect for my son to play soccer and our dog to run around. The bbq grill and sun umbrella really made meals on the deck wonderful. The location is very convenient to town, which has a great park with sports programs for kids in the mornings, but it was remote enough to have peace and quiet as well. I had lovely morning runs along the beach every morning and swam in the ocean nearby in the afternoons. We really enjoyed our stay and would love to return next year!"
Airbnb
4 guests/$256 per night
If you're looking for a quick getaway from Seattle or a Tacoma staycation, this beachfront cottage on Puget Sound is a wonderful choice. Ocean views abound, whether you're peering out the windows or relaxing on the deck, which guests say makes an especially great viewpoint for spotting whales, dolphins, and other wildlife. A short walk takes you to the private beach. Back at the house, an outdoor fire table and indoor wood stove will keep you cozy at any hour, and the interior features hippie-chic decor that gives the space a warm, lived-in appeal. While the living room sofa folds out into a bed, it's worth mentioning that the house's one real bedroom is up a steep flight of stairs, so be sure that's comfortable for your dog or any guests with mobility issues before booking your stay.
What guests say: "A great spot right on the water. We enjoyed sitting by the fire, the beautiful views and a lovely walk on the beach. Great for two people to get away. Thank you for allowing dogs!"
Airbnb
8 guests/$405 per night
This charming log cabin on the Oregon coast is only rustic at a glance; inside, it features three bedrooms and mid-century modern decor, plus a loft that offers an incredible ocean view. If you prefer to spend your time outdoors, the house has access to miles of sandy coastline for long walks with your pup. At the end of the long day, you can relax on the back deck. Pro tip: guests say that the outdoor hot tub is especially nice as the sun sets over the sea.
What guests say: "We loved our stay at Blue Moon. It is a cross between a cool, rustic beach house and a beautiful log cabin in the most excellent location. I am from the Oregon Coast and this is a rare find. The view and location cannot be beat. The section of beach, reached by a short, private patch to a very mellow, clean, beautiful beach has very little foot traffic and is perfect for families and dogs."
Airbnb
6 guests/$244 per night (plus $200 pet fee)
Located on the peninsula of Cape San Blas, part of Florida's Forgotten Coast, this cottage sits beside one of the region's pristine, sandy beaches. The two-bedroom bungalow has beautiful coastal-style decor with unique vintage vibes, and it's perfectly sized for a couple or small group. A wrap-around deck provides a great location from which to grill, relax, and take in the tranquil atmosphere of the bay. Nearby activities include kayaking, birdwatching, and exploring wildlife preserves. Up to two dogs can join you during your stay, but just note that there's a pet fee of $200.
What guests say: "This cabin is absolutely perfect! The setting is so beautiful and the view of the bay is stunning. I loved the way it was decorated. It was comfortable and peaceful. I'm really grateful that we were able to stay here."
Airbnb
7 guests/$372 per night (plus pet fee)
The Cape gets notoriously expensive in the summer, but this beachfront cottage is reasonably priced year-round, housing seven guests in four bedrooms for under $500. You can bring your dog along, too, though the host requires an additional pet fee. The house sits on a wooded bluff overlooking Wellfleet Harbor, and you can follow the steps down to the secluded beach below for a swim, kayak, or paddle boarding excursion. It's a short walk into the charming town of Wellfleet for ice cream or shopping. The house itself is decorated comfortably with an eye towards vintage charm, and it features a sprawling back deck with a view of the ocean.
What guests say: "The Bluff House could not be in a better location. The beach was private and so beautiful. The kids loved to explore the mud flats at low tide and we enjoyed paddle boarding at high tide! We could walk to the harbor for ice cream or walk into Wellfleet Center to browse the galleries and shops. We loved our two weeks there!"