We independently source all of the awesome products and experiences that we feature on Thrillist. If you buy or book from the links on our site, we may receive an affiliate commission — which in turn supports our work.
Have you ever wanted to spend the night in an igloo but aren't sure about the whole "house made out of snow" concept? If so, a geodesic dome is the perfect compromise for you. There are actually tons of dome homes on Airbnb to choose from, and they come in all shapes and sizes. There are tiny domes, big domes, and clothing-optional domes. There are domes for glamping and domes that feel like fancy houses. There are even entire dome resorts.
We compiled some of the most unique dome rentals on Airbnb right now, from the Grand Canyon to New York. Even Goldilocks would find one on this list she'd be happy to call Dome Sweet Dome—at least for a night or two.
Airbnb
4 guests/$201 per night
This heated dome has a skylight so you can gaze at the stars as you drift off to sleep in the comfy king bed, and a large front "window" so you can wake up to mountain views. It's close to the South Rim of the Grand Canyon for daytime adventures and has solar-powered outlets for charging electronics, a propane grill for meals, an outdoor shower, and a fire pit for late-night cocktails and conversation.
What guests say: "This was a fantastic experience all around. We were close to the Grand Canyon and loved doing our day hikes and retreating to the warm and cozy yurt-style dome. The bed was firm and comfy. The star views were spectacular and fire pit area wonderful."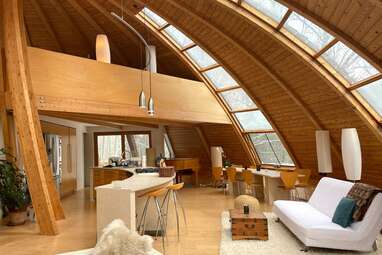 Airbnb
6 guests/$735 per night
You know what you're not going to find in most dome homes? A baby grand piano. But the acoustics of this dome home are amazing, so…why not? The home also has an amazing sound system, hot tub, kitchen with everything you could possibly need, and 28 acres of private forest where you'll see all kinds of wildlife. And, thanks to the huge glass floor-to-ceiling panels that run up the side of the dome, you'll get to enjoy the surrounding nature even when you aren't out exploring.
What guests say: "This is an amazing place to visit when looking for relaxation and quiet. Lovely footpaths throughout the property, clearly marked and easy to follow. The house itself is an architecturally amazing space to be in with lots of areas for reading, playing games, hanging out."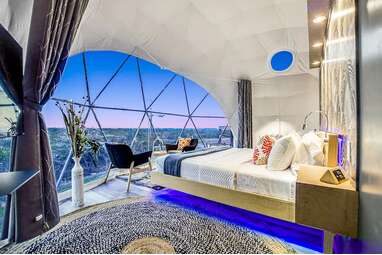 Airbnb
2 guests/$299 per night
This adults-only glamping resort in Texas Hill County has four decked out, hilltop pods with everything you need to be totally comfortable: a loft with a king bed, en suite bathroom, kitchenette, AC and heating, and a deck with comfy furniture for hanging out. There are also a ton of extra perks, like amazing views, a private hot tub, communal hammocks beneath twinkle lights, fire pits, and grilling areas.
What guests say: "We loved these pods! The hot tub was perfect on our cold nights and watching the sunrise from our bed was amazing. They really made sure we had everything we needed. We can't wait to go back!"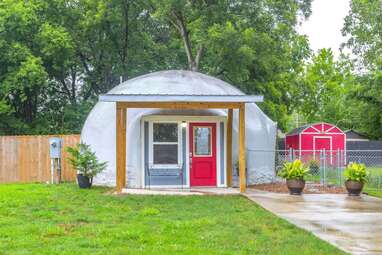 Airbnb
2 guests/$110 per night
This adorable dome has a quaint suburban vibe with all of the amenities one would expect in suburbia, but it's only ten minutes from all of Chattanooga's major attractions and restaurants—and it's a dome with amazing acoustics! You'll sleep in a murphy bed, cook meals in a full kitchen, wash up in a full bath, enjoy grilling and meals on the outdoor patio, and even do laundry if you're so inclined.
What guests say: "Amazing! This was one of the most unique places we've had the privilege of staying. We had a romantic dinner on the back patio one evening and we could watch the beautiful star lite sky. The acoustics are to die for. The place was spotlessly clean and aesthetically pleasing. It was the perfect getaway. We can't wait until our next visit."
Airbnb
Weaverville, North Carolina
4 guests/$77 per night
Somewhere between glamping and actual camping, this spacious but primitive dome is surrounded by wildlife and has amazing mountain views. Be prepared to rough it a bit: The outdoor shower on the deck only has cold water (but hey, there's a shower!), you'll have to keep the wood-burning stove going for heat, and the WiFi and cell service are spotty. If you don't love to wear clothing, however, you're in luck. The entire area is clothing-optional, so take it all off (just don't forget to put on sunscreen) to explore the 36 acres of land, including an antique tobacco farm. Need some civilization? It's only 20 minutes from Asheville and all of the adorable restaurants, shops, and breweries.
What guests say: "The Dome Home was a dream come true! Perfect blend of camping and comfort. The dome home is just as pictured and has great amenities like the mini kitchen and the wood-burning stove. Great hiking trails nearby and some small areas to explore around the property."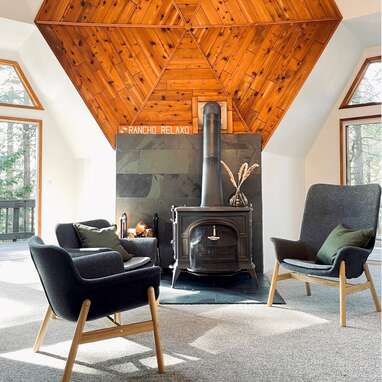 Airbnb
6 guests/$320 per night
You'll definitely get some hygge vibes at this geodome near Calaveras Big Trees State Park, where you can see giant sequoias year-round. You'll have everything you could need, including a fully-equipped kitchen, wood-burning stove, TV with all of the streaming services, and lots of games and puzzles. There's also a large wrap-around deck with a hammock, gas fireplace, grill, and dining table. And if you do get the urge to go explore, you're near tons of hiking and can take advantage of the community amenities, including tennis courts, a swimming pool, lake access, and a restaurant.
What guests say: "I would 1,000 percent rent here again. Views are beautiful. The house was a home! So lovely and cozy! I really could go on and on. For a small town that I had never heard about, there was still so much to do."
Airbnb
4 guests/$150 per night
Gather all of your friends for a dome party near Canyonlands National Park in Utah. You'll each stay in a geodesic glamping dome with a private bathhouse (the shower even has hot water!), all at a secluded resort with plenty of hiking trails and outdoor adventures close by. Of course, you can also go solo or with a friend, as each dome has a king or queen bed and air mattresses (if needed), as well as a kitchenette and WiFi. Wake up to the gorgeous desert sunset and go to sleep staring at the stars thanks to the "window" wall that can be opened and closed depending on the weather. And don't worry if that weather includes snow or low temps—all of the reviews promise you'll stay toasty warm throughout the night.
What guests say: "Place was amazing, staff was the best, the dome was cozy. Stars were bright! I can keep going and going, something you will have to experience on your own for sure!"
Airbnb
6 guests/$332 per night
Forget everything you think you know about sleeping in a dome—all preconceived notions go out one of the many windows at this geodesic dome near Joshua Tree and Coachella Valley. The Airbnb is located on five acres with views of windmills, desert, and mountains. The living room has 26-foot ceilings, the loft bedroom has cool skylights which make up for not getting the primary, and there's also an indoor fireplace, full kitchen, large covered patio, hot tub, solid WiFi if you need to check your email, and plenty of board games if you prefer to disconnect.
What guests say: "This home is spectacular. Located a bit outside of Palm Springs, adjacent to the windmill farms of the area, we found it to be a fantastic location to truly relax away from it all. And the views from the home are spectacular."
Airbnb
2 guests/$231 per night
This geopod close to downtown Boone checks off all of the latest home trends. First, it's tiny— just 130 square feet, but with all of the space used wisely. Second, well, it's a geopod. Third, it maximizes the outdoor space. That's where you'll find the main deck with a breakfast bar area, gas fire pit, and seating area to relax; a second deck with even better views and a hot tub; an outdoor kitchen (and bathroom) area with a gas stove and grill; and a gazebo perfect for lounging and napping (or working—there is high-speed WiFi).
What guests say: "Just what a couple needs for a couple of days, this place is fantastic. It's quiet, romantic, secluded aside from the road right below the geopod, but that's not a big deal at all. The way it lights up at night is amazing, and we loved the kitchen; we cooked every night we were there."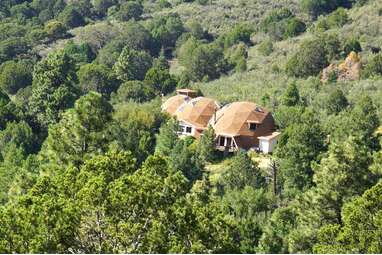 Airbnb
15 guests/$150 per night
Fifteen people at $150 per night? You do the math. Beyond that amazing price point, this booking guaranteed an amazing time. The two large geodesic domes are connected, so you'll have 5,000 square feet of indoor space with skylights, comfy floor cushions, a large kitchen, cool artwork, and six bedrooms to enjoy. Plus, there's outdoor space with a large deck with amazing views, access to tons of hiking trails, and two friendly Great Pyrenees dogs who roam the property and will be your new best friends.
What guests say: "I have never stayed in such a cool place before. Tons of room to spread out and relax in. An artistic, graceful place with wonderful personal details."
Daisy Barringer is a Thrillist contributor.