We independently source all of the awesome products and experiences that we feature on Thrillist. If you buy or book from the links on our site, we may receive an affiliate commission — which in turn supports our work.
Most homes seem to be made up of straight lines and right angles. But sometimes vacationing is all about leaving the confines of our daily lives behind—yes, down to the rectangular walls—and instead renting an Airbnb that's all about the curves. That's right; we're all staying in dome-shaped houses during our travels this year, from clear geodesic domes with expansive views to half-dome houses with contemporary architectural vibes.
Whether you want to stay in big domes with room for a crowd or tiny two-person studio domes, domes by the ocean or domes in the desert, there's really no wrong way to rent a dome for the weekend. The appeal is partially just the spherical shape, but most domes are also designed to center you in nature, with massive windows and beautiful surroundings.
If you're ready to stay in a dome Airbnb, we've compiled some of the most unique rentals on Airbnb right now—from Palm Springs to the Catskills—that you'll be happy to call Dome Sweet Dome.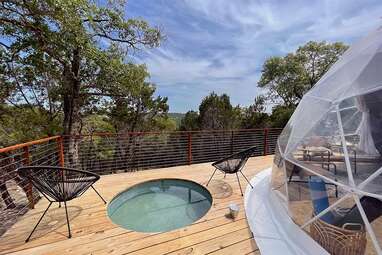 Airbnb
2 guests/$331 per night
Come for the geodesic dome, but stay for the deck with a personal-sized plunge pool and panoramic views. The interior of the dome is a stylish studio, complete with a little kitchen area and bathroom. Step outdoors to cook a meal over the fire pit or explore the rest of the property; you'll find hiking trails, mini cows, a tree swing, and more.
What guests say: "Absolutely beautiful and peaceful! We had some neighbors close by but it ended up still feeling relatively private. The space is spectacular, with a picturesque view, COMFORTABLE bed and the dip pool was fabulous!"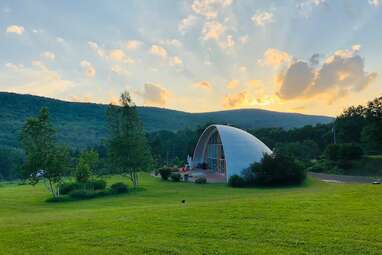 Airbnb
10 guests/$550 per night
This house might only be half a dome, but it can fit more than most full domes, with four bedrooms that can host up to 10 guests. That said, the common spaces are the star of the show—particularly the living room, which has 25-foot ceilings and a wall of floor-to-ceiling windows. Outside, you'll find a massive patio with a grill, fire pit, and stunning views of the Catskills. The house is located on five private acres, so you'll have plenty to explore, even if you aren't there to experience the nearby hiking, skiing, or cute local towns.
What guests say: "Dreamy upstate escape. We stayed in the dome for a small team off-site and had a marvelous time. Open living room and grounds were great for gathering but also spacious enough for folks to get quiet alone time."
Airbnb
5 guests/$350 per night
Perched in the woods overlooking a lake, this Tennessee dome is about as luxurious as a dome can get. The interior is stylishly appointed, with everything from the kitchenette, to the living room, to the bedroom, to the bathroom, striking a balance between coziness and thoughtful design. It has heating and air conditioning, so you can have a comfortable stay any time of year. Outside the dome, the multi-level deck has a hot tub and a fire pit area, perfect for relaxing while taking in the view.
What guests say: "Absolutely gorgeous one of a kind property! My partner and I had an absolutely amazing time and are excited to come back. Just an hour outside Nashville, and a hidden gem worth the booking. Super hot rain shower, hot tub, fire, comfy bed, and plush furniture for morning coffee overlooking Center Hill Lake, not much more one can ask for."
Airbnb
2 guests/$174 per night
This cute little dome is glamping as it should be. Sleep on a memory foam mattress and admire the wooded landscape through a 14-foot bay window. Cook indoors in the kitchenette, or outdoors over the campfire. Shower outside the dome, under the trees. There's heating and cooling to keep things comfortable, but you won't want to spend all your time in the dome, lest you miss out on the area's beautiful hiking trails.
What guests say: "A great oasis in the PA woods! Great little community of different glamping sites, and a short drive away to hiking, breweries, wineries, etc. The stars at night are breathtaking — staying at the dome was for sure a unique experience!"
Airbnb
2 guests/$186 per night
This tiny dome close to downtown Boone is only 130 square feet in size, but the emphasis is on outdoor space. Inside the dome, which gets its power from a nearby community solar garden, you'll find a cute bedroom with a lounge area. Outside, you'll find a main deck with a breakfast bar area, gas fire pit, and seating area—and a second deck with even better views, a hot tub, and an outdoor kitchen area with a gas stove and grill. Not to mention there's a gazebo setup perfect for lounging and napping.
What guests say: "We absolutely loved our stay! It is so beautiful and well kept. The surrounding area is absolutely gorgeous and fun to visit. We were very comfortable and the amenities are exactly as listed so we did not have any issues at all."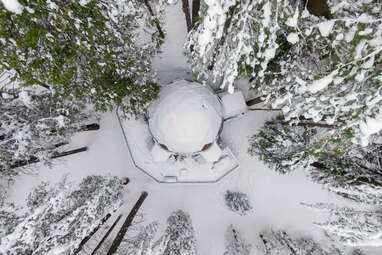 Airbnb
6 guests/$300 per night
You'll definitely get some hygge vibes at this geodome near Calaveras Big Trees State Park, where you can see giant sequoias year-round. You'll have everything you could need, including a fully-equipped kitchen, wood-burning stove, TV with all of the streaming services, and lots of games and puzzles. There's also a large wrap-around deck with a hammock, gas fireplace, grill, and dining table. And if you do get the urge to go explore, you're near tons of hiking and can take advantage of the community amenities, including tennis courts, a swimming pool, lake access, and a restaurant.
What guests say: "Maria's place was amazing. The house is bigger than it looks, with great decor and everything you could possibly need for your stay! The kitchen had every amenity and the playroom was such hit with our kids. We loved eating and relaxing on the large deck. Great location, super quick to the Big Trees and with access to the pool/private lake. I would highly recommend her home for families!"
Airbnb
6 guests/$268 per night
Forget everything you think you know about sleeping in a dome—all preconceived notions go out one of the many windows at this geodesic dome near Joshua Tree and Coachella Valley. The Airbnb is located on five acres with views of windmills, desert, and mountains. The living room has 26-foot ceilings, and the loft bedroom has cool skylights that entirely make up for not getting the primary. There's also an indoor fireplace, full kitchen, large covered patio, and hot tub.
What guests say: "Such a unique place to stay with incredible views, sunrises and sunsets in the hills above Palm Springs! We enjoyed an interesting and fun 'geo' experience. Everything from the overall design, art and furniture, to the dishes, knives and forks, and the blinking windmills in the distance added to an otherworldly experience. We enjoyed the hot tub and local hikes and restaurants very much."
Airbnb
Weaverville, North Carolina
4 guests/$86 per night
For an experience that straddles the line between glamping and actual camping, check out this spacious but rustic dome. It's surrounded by wildlife and has amazing mountain views, but be prepared to rough it a bit; there's an outhouse, outdoor shower, and a wood-burning stove for heat. However, guests say the stunning scenery more than makes up for the lack of luxuries. Need some civilization? It's only 20 minutes from Asheville and all of its adorable restaurants, shops, and breweries.
What guests say: "A wonderful outdoors experience. Staying in the dome home is essentially staying in a fancy tent but it is so worth the stay. The view from the dome is breathtaking and you can watch the sun rise and set over the mountains."
Airbnb
15 guests/$200 per night
This booking in New Mexico's Lincoln National Forest is practically guaranteed to be an amazing time. It's made up of two large, connected geodesic domes, so you'll have 5,000 square feet of indoor space. Think skylights, comfy floor cushions, a large kitchen, cool artwork, and six bedrooms to enjoy. Plus, there's outdoor space with a large deck with amazing views and access to tons of hiking trails. The house is 10 miles from the nearest neighbor and totally surrounded by nature, but if you want to leave the property, it's also a great jumping-off point for day trips. Hit up White Sands National Park, High Rolls, and nearby towns like Alamogordo and Truth or Consequences.
What guests say: "I have never stayed in such a cool place before. Tons of room to spread out and relax in. An artistic, graceful place with wonderful personal details."
Airbnb
8 guests/$200 per night
This dome sits on 2 acres of land, in view of the ocean. It has enough room to sleep up to eight people, between the king bed, two sofa beds, bunkbed, and optional floor mattress, and the decor is comfortable. A separate structure houses a full kitchen and bathroom, and there's a grilling area, fire pit, and outdoor seating nearby. During your stay, you can make your way down a set of stairs to relax on the beach, or spend your days at the nearby Acadia National Park or Bar Harbor.
What guests say: "We had an amazing stay at the dome sanctuary. It's charming, quaint, and equipped with everything we needed. We enjoyed hanging out by the water, chilling on the hammock, and cooking in the kitchen / grilling outside. Really nice spot to unplug and take in the nature. 10/10 recommend!!"