Why a Duffle Bag Is the Only Piece of Luggage You Actually Need
We independently source all of the awesome products and experiences that we feature on Thrillist. If you buy or book from the links on our site, we may receive an affiliate commission — which in turn supports our work.
Whether you take just one trip a year or have racked up enough frequent flyer miles to circle the globe a few times, settling on the right luggage to take with you is important. Maybe your go-to is a big honkin' hardshell roller you've been schlepping for a decade, or a single backpack you insist on stuffing until the zipper pleads for mercy. You have a plethora of options, for sure, but the most versatile and necessary bag to keep at the ready in your closet may not be the one you expect. The humble duffle is the only piece of luggage you actually need, and here's why.
They're roomy and can be stuffed into crowded overhead compartments
Unless you're planning to gallivant overseas for a couple months or bringing a DSW's worth of shoes with you, a duffle bag provides plenty of room and then some to pack whatever you need. Stack, roll, and organize like a pro, and you can fit upwards of a week's worth of clean clothes, a couple pairs of shoes, and still squeeze in some more before having to zip up. Even better, unlike a hardshell case with bulky wheels, you can typically maneuver a packed duffle into nearly-full overhead compartments and make it work even if you're last to board without getting the dreaded glare from flight attendants and fellow passengers. Plus, the fact that you'll practically never be forced to check it means you can breeze out of the airport as soon as you deplane.
There are no wheels to break
You can argue that the upside of a roller bag is that it glides seamlessly through airport terminals while a duffle must be carried, but a roller's pros are also its cons. If you've ever owned one, you know that it doesn't take long for at least one of the wheels to unceremoniously retire by popping off mid-trip. And even if they all remain intact, a few wrong moves or jagged surfaces can hobble one or more enough to make rolling the whole thing around a chore unto itself.
They look better with age
Over a lifetime, a hardshell bag gets dinged, bruised, scratched and even stained enough to resemble the luggage of a longtime war correspondent. If you're into that, then great, but for the rest of us, it's nice to carry around something that's earned a nice patina with age. That's where the right duffle shines. Invest in a good leather one and it'll age gracefully like your grandparents' Chesterfield sofa. Opt for one made from canvas, and you can expect something similar.
To help you make the switch to duffle life, we've pulled together some of our favorites below.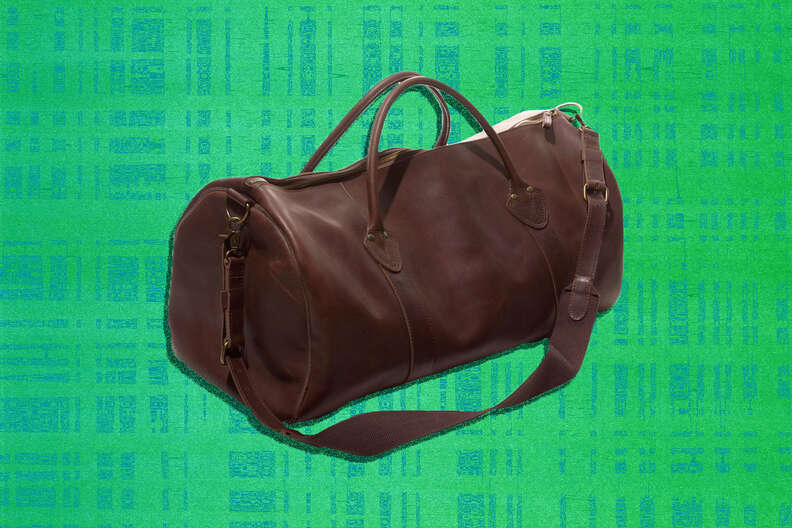 The best duffle when you want something a bit more sophisticated
L.L. Bean Signature Duffle
Oiled cowhide leather
The heritage brand's Signature Leather Duffle is a seriously sophisticated piece of luggage, with rolled handles and a shoulder strap fashioned from a deep mahogany leather. Inside, it boasts over 2,600 cubic inches of storage space along with a single zipped pocket and removable webbing to strategically stash your smaller belongings. This thing is designed to age like a fine wine, and thanks to L.L. Bean's renowned lifetime guarantee, you can expect to tote it around for a long time to come.
Price: $249
The best duffle to carry your suit
Crospack Suit Garment Bag
Tear-resistant oxford fabric and Crazy Horse leather
One of the pains of traveling for a wedding or on business is having to carry a suit or dress without rendering it unwearable (in-transit wrinkling is real, people). You could carry them safely in a traditional garment or suit bag, but those are all a bit clunky and awkward. Or, you could opt for this two-in-one number from Crospack, which seamlessly merges a duffle and garment bag into one low-profile and easy-to-carry package. Its durable design unfurls completely to reveal a traditional garment bag, and zips up into a proper duffle complete with a removable shoe compartment and space space to stash stuff -- functioning as both garment bag and duffle simultaneously. Add to that it's decked out with skid-resistant base and comfortable shoulder strap, and this thing makes for a go-to travel bag for any special occasion.
Price: $34.99
The best duffle to survive a tsunami
Yeti Panga
Laminated, high-density nylon
For adventurous travelers who typically find themselves in unforgiving climates or conditions, the Yeti Panga is built to survive it all. The bag itself is made from ultra-durable laminated high density nylon described as "impenetrable" to nature and thanks to its Hydrolok zipper tech you can fully submerge the whole thing under water and everything inside will stay dry. That said, it still has all your basic duffle necessities like mesh stowaway pockets to keep your packed gear organized and some sturdy straps along the top and sides that make a cinch to carry around.
Price: $299.99
The best duffle for light packers
Eagle Creek Cargo Hauler 40L
Abrasion-resistant poly twill
If you've fully embraced the Marie Kondo method and learned to love the joys of packing light, this Eagle Creek duffle is for you. It looks small, but inside this thing is engineered to the hilt with pockets and compartments to fit all the essentials and then some. Weighing barely over a pound when empty, it's also ultra durable with reinforcements at vulnerable points to protect against "even the most handsy baggage-handlers who give it the ol' heave-ho." Plus it's water-repellant to protect all your gear should you unexpectedly encounter a monsoon and equipped with a variety of straps that make it easy to carry on your back, shoulder, or by hand.
Price: $99