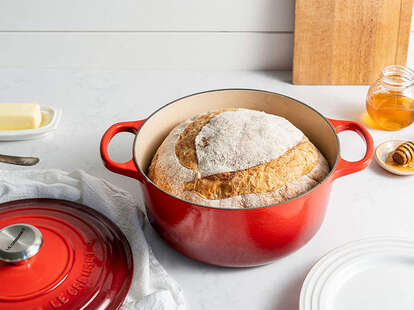 We independently source all of the awesome products and experiences that we feature on Thrillist. If you buy or book from the links on our site, we may receive an affiliate commission — which in turn supports our work.
If you don't currently have a Dutch oven hidden in one of your kitchen cabinets, it's time to remedy that ASAP. They look like unassuming heavy-duty pots, but come equipped with some powerful bells and whistles, like cast iron material, sturdy handles, thick walls, and lids that altogether help trap steam and heat (and ensure even heat distribution). You can use them on the stovetop like a regular pot, or put them in the oven like a casserole dish. The list of recipes that call for a Dutch oven is endless: We're talking hearty stews, homemade bread, braised short ribs, macaroni and cheese, and sweet cobblers—and that's just the beginning.
Once you make your favorite dish in a Dutch oven, you'll never go back to cooking with multiple pots and pans again. To help you find the exact rig to match your kitchen needs, we searched Amazon for the best, most popular Dutch ovens on the market right now—all with rave reviews from thousands of customers. Whether you need an inexpensive option for your tiny apartment or a best-in-class piece from Le Creuset that will seriously elevate your home-chef status, this list has you covered.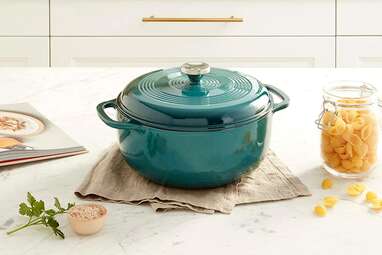 Amazon
This is currently the most popular Dutch oven on Amazon, with more than 25,000 five-star reviews. Lodge is known for its cast iron products, and the brand brings its trademark durability to this oven—plus, it has an enamel coating, which makes cleanup infinitely easier than with a regular cast iron pan. It's safe up to 500 degrees on the stove or in the oven, gets hot fast, cooks food evenly, and is available in 26 bold colors.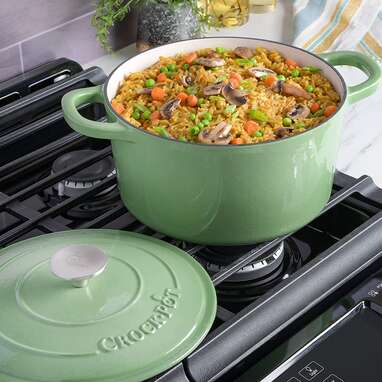 Amazon
This is another enameled cast iron Dutch oven, only it's slightly smaller and less expensive than its Lodge counterpart. It would be a great option for first-time buyers, especially since you can choose between round and oval shapes (round works for standard-size roasts, while oval is better for whole chickens or other large cuts of meat) and 12 cool colors.
Amazon
If you're a serious home chef and are willing to splurge a little, you can't do much better than Le Creuset. Owning one of these French beauties comes with a certain prestige, and it's favored by professional chefs thanks to its durability and naturally non-stick (i.e. Teflon-free) surface. Other perks include large handles for a sure grip and a tight-fitting lid to lock in heat.
Amazon
It may be the least expensive option on the list, but this Amazon Basics Dutch oven doesn't suffer in terms of quality. It is made of heavy-duty cast iron and can be used for baking, boiling, braising, or roasting. Note that it's slightly smaller than average at 4.3 quarts, so it's best used for side dishes, sauces, and cobblers, or to cook meals for roughly four people.
Amazon
You'll be amazed at how versatile this product from Lodge is—especially given its low price point. Aside from functioning as a high-quality Dutch oven, the lid also doubles as a 10.25-inch cast iron skillet when flipped upside down. The domed cover makes it a great option for roasts and bread, and it can be used in the oven, on the stovetop or grill, and even over a campfire. Another main selling point is that it comes pre-seasoned, which means a coating of vegetable oil has been applied to prevent rusting and make the product last for many years to come.
Amazon
If you're not really interested in cast iron pots and pans, this aluminum Dutch oven from Calphalon is a viable option. The non-stick body makes for mess-free food release and quick cleanup, and it is oven safe up to 450 degrees. It also has convenient measuring marks and pour spouts to make the cooking process that much easier.
Amazon
Need to feed a lot of people? This 6-quart Dutch oven from Ayesha Curry should do the trick. It's ideal for braising meat and slow-cooking one pot meals, and it can handle heat up to 500 degrees. It also features a self-basting lid, which means the grooves on the top catch condensation and rain it back down into the pot to keep food moist and delicious.
Caitlin Morton is a travel and lifestyle writer based in Kansas City. You can follow her on Twitter
@CaitlinMorton23
.