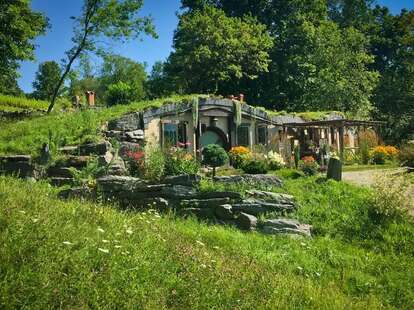 We independently source all of the awesome products and experiences that we feature on Thrillist. If you buy or book from the links on our site, we may receive an affiliate commission — which in turn supports our work.
It's more difficult to describe an earth house than one may think, so we'll go for the most obvious explanation first. An earth house is basically a Hobbit house (which you can probably imagine even if you never got into J.R.R. Tolkien), but just in case can also be described as a home built with soil (or other natural or recycled materials) against the walls or roof, or, in some cases, that's buried entirely underground.
These houses don't exist just because they look super cool (they're usually very futuristic or completely old world), but because they are a sustainable way to build and live. Also, because they look super cool. And to be clear, not every earth house is a "Hobbit home," but every "Hobbit home" is an earth home. Or something like that.
Regardless of the logistics, several things are guaranteed when settling into an earth house for a night or three: They're quirky, usually with lots of surprising details. They tend to be mostly off-the-grid and often hidden at first glance. They have endless amounts of charm. And—well, they're an earth house, which is probably unlike any place you're used to sleeping (although they may soon be just what we need to survive climate change).
Want to experience one for yourself? We found nine of the coolest earth houses in the United States where anyone can stay overnight. Whether you're looking for a romantic getaway or an unusual experience for a group, these earth-sheltered homes are guaranteed to be out of this world.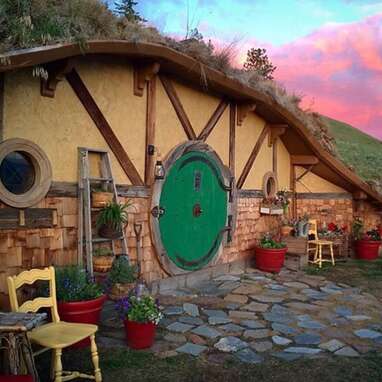 Airbnb
2 guests/$400 per night
You might have a hard time spotting the roofline of this charming home tucked into the mountainside, but once you make the short trek up the hill and through the vine-covered gate, you'll feel like you've transformed into a character straight out of a Tolkien novel. Climb through the circular green door to discover a stone fireplace, comfortable bed with a view you'll take a million pictures of, bathtub for two, and lots of other incredible details that will make you squeal with delight. As the day winds down, sit in the rocking chairs on the porch to watch the sunset before retreating inside for a game of chess played on a board built into a tree stump table. (Oh, and keep an eye out for unique and unexpected "Easter eggs" throughout.)
What guests say: "We loved staying at the Hobbit Inn! This was a much-anticipated trip for me, as I'd been eyeing this place for several years and finally booked it earlier this year to celebrate our anniversary. Honestly, I'm not a Lord of the Rings super fan or anything, but I just thought it looked like such a cool place to stay, and indeed it was! So many tiny details that made the place perfect and super unique. The view out of the front door is incredible. We enjoyed the sunrises, sunsets, and stargazing. This was the perfect spot to unplug and enjoy each other's company. It was unlike anything we've ever done and we'll always remember it and hopefully will make it back one day!"
Airbnb
2 guests/$199 per night
Two connected grass-covered domes on a hillside make up this romantic getaway with a mix of rustic and modern details throughout. Take a soak in the outdoor tub and then kick back next to the outdoor fire pit overlooking the waterfall and rock quarry pond. Unlike many earth homes, this interior is open and filled with natural light, so even those not that into confined spaces will be comfortable. If you want to go out and explore, there are hiking trails nearby, and shops and restaurants are just a short drive away.
What guests say: "Wow! Such a cool experience! We had a wonderful romantic getaway and are still in awe of the amazing architecture and beautiful location. The view from the house is unbelievable, and the grounds around the house are equally beautiful."
Airbnb
6 guests/$486 per night
This cozy dome "Hobbit hole" is a treat inside and out. Behind the red (almost) circular door, you'll find everything you need: two bedrooms with views of lush green foliage, a sizeable kitchen and dining area, a living room with a TV (with cable and Netflix that you'll never use), chandeliers, tons of board games, and two full baths. The outside is equally as spectacular. Three patios, a babbling brook, well-maintained grounds and gardens, a grill, two hammocks, two fire pits, and a hot tub. It's located just five minutes from a quaint town, but if you have read this far, you understand that you won't want to leave.
What guests say: "Our experience at the Hobbit House was outstanding. Despite bad weather, we felt wonderfully secluded in this incredible home, marveling at its craftsmanship and the warm hospitality of the hosts. The home is both beautiful and extremely comfortable, with every needed amenity. Sitting in the hot tub surrounded by beautiful nature was a great treat! Highly recommend."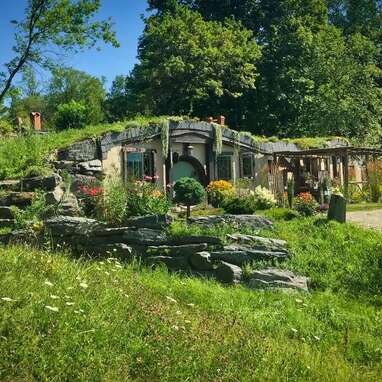 Airbnb
Middleton Springs, Vermont
4 guests/$350 per night
If you want to uncover every quaint and quirky detail (many Tolkien-inspired) of this 1,100-square foot "Hobbit house" and the surrounding property, you should definitely partake in the host-designed quests/scavenger hunt. Just a few things you'll find (without spoiling any surprises): a clawfoot tub in the garden, antiques throughout, homemade baked goods, fresh eggs in the chicken coop, a swimming hole, lawn games (including archery), a fire pit under the stars, hammocks, and even a pub with a player piano and darts.
What guests say: "Perfection. This was the most fantastic place I have ever stayed in my entire life. The Hobbit house and adjacent pub are ineffably charming and decorated flawlessly. There are gems everywhere you look, and the small attention to detail in each space adds up to an overall aesthetic that is completely immersive, warm, and delightfully cozy. If you are a Tolkien fan, this is a true must-see. If you need a vacation that will reset your heart and be a balm for your soul, this is a must-do. There are not words enough to describe how incredibly wonderful the weekend was and how astoundingly happy we were to stay here."
Airbnb
16 guests/$559 per night
This handbuilt home on a quiet lot consists of three connected structures: the tire home made of recycled tires (and the most Hobbit-like), the game room, and the straw bale home. Giant lush green plants bring the outdoors in, and if that's not enough, several of the six bedrooms have glass walls that look out to the backyard. Other perks include a large pool, two fully-stocked kitchens, a game room with ping pong and corn hole, natural lighting throughout, and the fact that your dog can come with!
What guests say: "The Hobbit House was perfect for celebrating my best friend's 50th Birthday. The beds and bedding are so comfy! The pool and fire pit were perfect. The extra-large kitchen in the Straw House was just what a bigger group needs to make meals together! The secluded location is wonderful, and the yards and foliage inside are incredible!"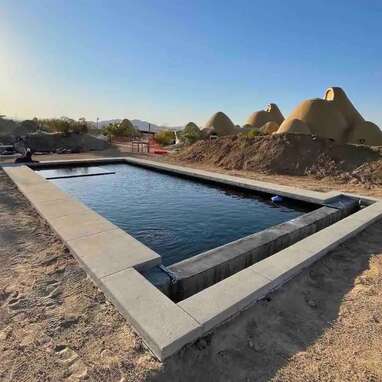 Airbnb
10 guests/$711 per night
Joshua Tree is full of unique abodes, but this is the perfect one for anyone who is a fan of Luke Skywalker's home planet. Or anyone who never got over the fact that Luke kissed his sister and is just looking to completely unplug. The spacious and natural light-filled domes in Bonita Village (just outside of Joshua Tree) were built with earth bags filled with sand arranged in layers and/or coils and are perfect for enjoying starry desert nights. Owned and operated by a contemporary medicine woman, this is a place you go to appreciate quiet and solitude (literally, there is zero noise tolerance after dark). The home has all of the amenities you'll need, and there is a brand new black bottom pool for soaking after a day of hiking in the desert.
What guests say: "What a unique experience. I'm amazed by the design and functionality of this dome home. My wife and I stayed here in the dead of summer, with temperatures reaching upwards of 110 degrees, yet we were both cool and comfortable inside these superadobe structures. What a brilliant achievement, and a peek inside what a hopeful future might look like for us human beings. It's hard to feel any kind of stress when you're waking up inside a dome. The whole property is very nice, with lots of areas for socialization and relaxation. The swimming pool is fantastic—a perfect complement to these domes in the desert. Stay here if you want to feel inspired. Domes are the future!"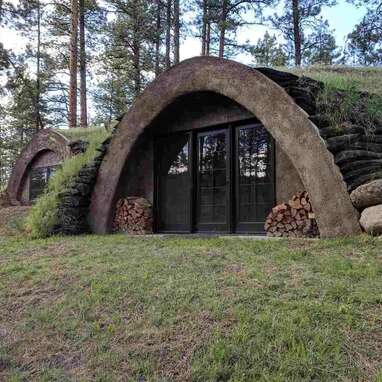 Airbnb
12 guests/$314 per night
This three-dome earth house tucked beneath a grassy knoll in the foothills of Montana's Elkhorn Mountains is very much a "Hobbit home," but it also has four full-sized sleeping nooks, as well as a secret (!!!) bedroom you enter through a tree trunk. There's a trail right behind the home that takes you to a nearby creek, and at night, your group can enjoy meals at the outdoor dining table before gathering around the fire pit.
What guests say: "This is a very special place to get to stay. It was amazing to me to find such a treasure in an unexpected place! The interior is very well styled and immaculately clean. It is also very impressively organized to allow for so many unique areas in a small space. Any woodworkers out there—prepare to fall in love with endless examples of impressive custom work and truly beautiful wood. Getting to sleep in a cubby in a wall and shower in a tree trunk are memories that will stay with me forever. If you want a once-in-a-lifetime experience, stay here!"
Airbnb
Asheville, North Carolina
4 guests/$321 per night
Ninety percent of this home is built into the earth, but that doesn't mean you won't get all the views and amenities needed for a relaxing getaway. Located on eight acres (there are five treehouses also on the property), this home looks out at the mountains, has locally crafted round doors, a large living area with a gas fireplace, and an outdoor area perfect for relaxing around the fire as you watch the sun descend below the mountain peaks. And, if for some reason you get bored of spending time in heaven, downtown Asheville is only 10 minutes away.
What guests say: "We stayed at the Hobbit Knoll and absolutely loved every second of it! The views and the property are so beautiful, and the pictures truly don't do it justice! It was a magical experience from the moment we arrived at our little hobbit home. The detail that has been put into this home is impeccable! We were completely immersed in hobbit culture and loved it!"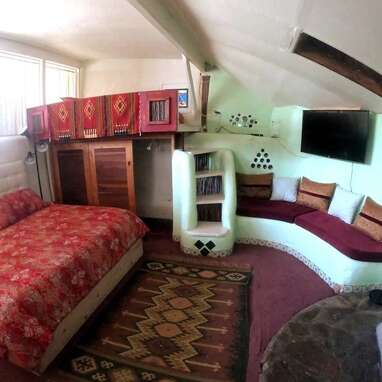 Airbnb
4 guests/$145 per night
Taos is known for two types of housing: Pueblo-style homes and Earthships. This recently refurbished Earthship was built by pioneer and architect Michael Reynolds in 1979 as an experiment in sustainable architecture. Today, it is still as simple as it was back then and nearly invisible (in a good way) if you're not looking for it, but it was built by the man who invented the modern Earthship, which is reason enough alone to book it. Plus, as cozy as it is, you can still enjoy modern amenities, like a full bathroom (down the hall and through the greenhouse with a shower that's almost, but not quite outside, a thing most guests list as a "pro"), a flower-filled patio, and beautiful views. It's also close to downtown Taos where you'll find galleries, shops, and restaurants.
What guests say: "Absolutely amazing experience staying in the Earthship. We had been very interested in Earthships and sustainable housing practices for a long time, but this was our first stay, and we were so excited to see where it all started. The space is so welcoming and comfortable, and the best bathroom of any Airbnb ever. We made the short drive to check out the visitor center and Earthship community—could not recommend this enough. Such an important vision for a better future. Thank you!"
Daisy Barringer is a writer who grew up in San Francisco and, for the first time ever, is questioning why she never got into "Lord of the Rings." Tell her about other important stuff she missed out on on Twitter
@daisy
. Unless that stuff is Star Wars. Or Star Trek. No offense!