Paid Content For
Rad Power Bikes
5 Excellent E-Bikes for Anyone on Your List
Spend the season in the fast(ish) lane.
Paid Content For
Rad Power Bikes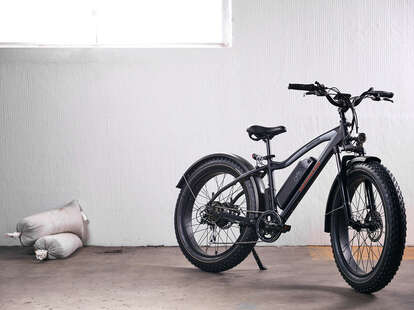 Rad Power Bikes
Rad Power Bikes
We independently source all of the awesome products and experiences that we feature on Thrillist. If you buy or book from the links on our site, we may receive an affiliate commission — which in turn supports our work.
Electric bikes are one of the trendiest ways to get around these days. It makes sense—they are eco-friendly, easy to use, and just plain fun to ride. While avid cyclists and gearheads tend to be huge fans, e-bikes are great for city commuters, outdoor enthusiasts, and even families with small children. In other words? They make fantastic gifts for pretty much anyone in your life. There are countless options out there at a variety of price points, so it can be hard to know where to start looking come gift-giving time. But if you're looking for high-quality bikes at reasonable prices, we suggest heading straight for Rad Power Bikes.
Launched in 2015 and based in Seattle, Rad Power Bikes is a company known for bringing e-bikes to the masses. The brand regularly appears on "best electric bikes" round-ups, and for good reason—their bikes are high-quality, comfortable, and priced reasonably. RPB even has a slew of cycling accessories (helmets, child seats, storage racks, etc.) to cover every aspect of your ride. And as an added bonus, they will ship any product for free within two business days.
Here, we've rounded up 5 of our favorite RPB e-bikes to help you with your search this holiday season. But be warned: You might be tempted to buy one all for yourself.
Rad Power Bikes
If you aren't exactly sure what your giftee is looking for in an e-bike, the RadCity 5 Plus is a safe place to start. It works for almost every type of rider, with a comfortable design, places to attach car seats and baskets, and three levels of pedal assistance to help get you up hills. As its name suggests, the RadCity bike is particularly proficient for urban commuters, thanks to its reflective tires and rear brake lights. And as with all Rad Power Bikes, this model comes with perks like phone charging ports and LED screens that display battery life.
Rad Power Bikes
The RadRover electric fat bike was the company's first manufactured model. The latest and greatest iteration of the OG bike, the RadRover 6 Plus, has tons of upgrades that make off-road riding a downright lovely experience—think more sensitive brakes, a more comfortable frame, and a custom 750-watt motor specifically designed to climb hills faster. The battery typically lasts for up to 45 miles of riding, meaning you can spend an entire day on the road without having to stop to recharge.
Rad Power Bikes
The RadMini has all of the beloved qualities of RPB's other products, plus one stand-out feature: It folds in half. That means you can easily carry it up stairs, throw it in the backseat of your car, or store it in a small apartment or office cubicle. But don't let the modest frame fool you: The RadMini is as sturdy and efficient as they come, with fat tires, extra room for cargo, and a 750-watt motor that lets riders get up to 20 mph.
Rad Power Bikes
Whether you want to bring home groceries or take the kids on a ride across town, the RadWagon 4 has all your needs covered. The bike is specially designed for carrying cargo, with smaller tires to achieve a lower center of gravity and an aluminum frame with multiple adjustment points. The biggest difference here is that the RadWagon can carry up to 350 pounds (most other Rad Power Bikes cap at 275 pounds), so go ahead and throw on that extra backpack or toddler. With a bike this versatile, you'll forget about your SUV in no time.
Rad Power Bikes
You might not notice the difference between the RadMission and other RPB e-bikes at first glance: It has the same LED control panel, twist grip throttle, and durable tires as the other bikes. But then you notice the price tag. At $999, the RadMission is the brand's least expensive option—and less expensive than almost any other e-bike on the market right now. (It's also the lightest option at under 50 pounds.) And even with the lower cost, you'll still get a 500-watt motor and long battery life.