Hit the Trail with These Fall Hiking & Camping Essentials
We've scouted out all of the most useful gear to keep you warm, dry, and loving life while you do your best John Muir impression.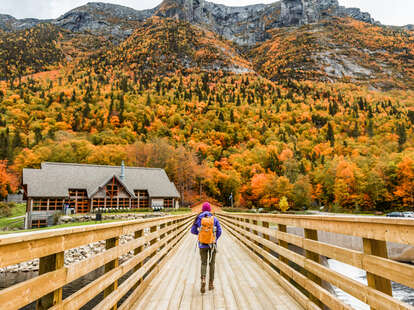 Shutterstock/Maridav
Shutterstock/Maridav
We independently source all of the awesome products and experiences that we feature on Thrillist. If you buy or book from the links on our site, we may receive an affiliate commission — which in turn supports our work.
It's fall y'all, so get out there and see some leaves! Sure, it might be a bit nippy, but this just means fewer crowds and less sweating as you hike along trails known for their technicolor leaf displays in the autumn months. Truly, there's no better time to enjoy a jaunt in nature than the fall.
Of course, the key to a successful outing (any time of year, but especially when it's getting colder) is to come prepared. A fall hiking or backpacking trip can turn dark pretty quick—literally. The sun goes down earlier, then the temperature drops, and soon you'll find yourself wishing you never delayed your progress on the trail by taking that pretty pic of your boots in fallen leaves. But don't let the shorter days and cooler weather stop you from spending some quality time among the trees and enjoying everything the season has to offer, because we've got you covered when it comes to preparation. You can get everything you need to crush your cold weather hiking or camping trip on Amazon, and we're going to tell you exactly what to buy.
From hiking boots and socks to thermoses and sleeping bags, we've scouted out all of the most useful gear to keep you warm, dry, and loving life while you do your best John Muir impression. So head out there and crunch some leaves, won't you?
Amazon
It all starts with your feet. If they're not dry and warm, you'll be pretty miserable for your whole hiking or camping excursion. Vermont-based brand Darn Tough makes some of the best socks on the market, ideal for tramping through the woods. Made from merino wool, these socks are moisture wicking and thermo-regulating, so your feet stay dry and (mostly) odor-free.
Best of all, Darn Tough socks come with a lifetime warranty, so even if you somehow wear them out (really you won't though) you can send them in for a brand new pair.
Amazon
While trail shoes or sneakers might cut it for casual summer hikes, you'll want a solid pair of boots when the weather turns cooler. The Moab is Merrell's most accessible hiking boot, and they recently came out with the third-gen version of the fan-favorite boots. With updated footbeds for even more comfort and new Vibram soles for extreme traction, the Moab is truly better than ever. Especially now that its laces, webbing, and mesh lining are made with 100% recycled materials.
The Merrell Moab is a trusted classic in the hiking world, and it's available in men's sizes, in addition to the women's sizes we've linked to above.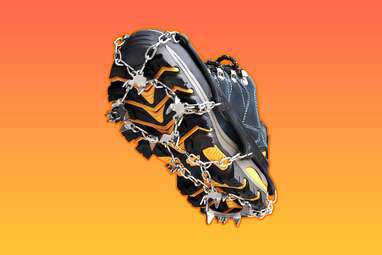 Amazon
We know what you're thinking: it's too early for snow. But even if snow and ice has yet to make an appearance at sea level, you can easily run into some slippery stuff on mountain adventures. Prevent any potential slips and falls at altitude with these packable metal cleats that will keep you upright and moving forward.

Available in three sizes, the crampons easily fit over any pair of boots. When you don't need them, they're compact and lightweight so you can throw them in a backpack just in case—better safe than sorry, as your mom would say.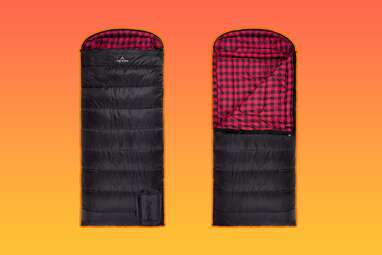 Amazon
Sleeping outside in fall or winter probably conjures up images of shivering in a flimsy tent. But really, if you come prepared, you'll be plenty cozy.
Enter this three-season sleeping bag with a poly-flannel inner lining and a mummy-style hood so you can cocoon yourself each night and then emerge the next morning as a beautiful, well-rested butterfly. If you luck out and get warmer weather, you can always unzip the top or bottom for ventillation, too. And we all know one of the worst parts of dealing with a sleeping bag is getting it to fit back into its bag, but this one comes with a compression sack, which means you don't even have to roll it up.
Amazon
A sleeping pad might seem a little extra, but once you've had a sleepless night without one, you'll realize they're well worth the money and packing space. And as the ground starts to freeze during the colder months, using a sleeping pad is actually a safety measure, since it creates a barrier between your body and the cold ground that allows you to retain body heat
If you don't have a sleeping pad yet, this pad from Gear Doctors is a great option. It's lightweight, cushioned, and insulated, plus it self inflates, making it a no-brainer addition to your pack.
Amazon
Our favorite part of a cool-weather hike—aside from the view— is opening up a thermos full of piping-hot tea or coffee (maybe spiked with something, no judgment here) to congratulate yourself on a trek well done, whether you're at the top of a mountain, entirely done with your hike, or just getting started. The classic look and feel of this thermos is retro extraordinaire, and it comes in your choice of 1.1- or 2-quart sizes. Plus, it's made with BPA-free materials and keeps liquids hot or cold for up to 24 hours.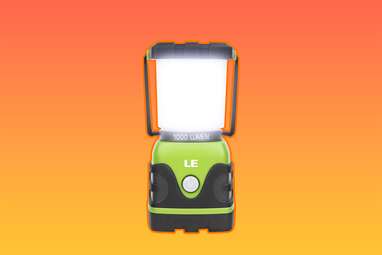 Amazon
A lantern is always a good idea when you're going camping, since setting up a tent in the dark is no fun. Plus it will help guide your way if you get stuck in the woods after dark or need to use the bathroom during the night.
This LED lantern has four different lighting modes and dimmable brightness settings, so you'll be ready to set up camp and get dinner going, no matter how dark it gets. You can also use it inside your tent to help you find your pajamas, or if you feel like reading before sleep.
Amazon
If you've never used trekking poles on a hike, you're missing out. These Trail Buddy trekking poles offer a little extra support and balance when you need it most, whether you're navigating a slippery trail, precarious footing, or could just use a little reassurance. They also take some of the pressure off of your knees and ankles, which can be extremely helpful in preserving your strength on any longer hikes.
Durable and light, the TrailBuddies should work well on any type of terrain. They have an adjustable length for a custom experience, and moisture-wicking cork handles ensure your palms won't get too sweaty during use.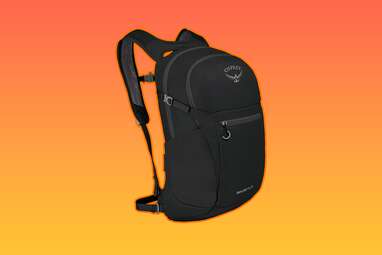 Amazon
Staying comfortable outdoors in colder weather means bringing lots of layers, so a spacious day pack that's reasonably easy to carry (read: legitimately comfy) will make your life a lot easier. This backpack's main compartments are roomy and easy to access, and the side mesh pockets are ideal for a water bottle, bug spray, or sunscreen.
If you're planning a longer trip, the Daylite Plus is designed to attach to Osprey's larger packs, allowing for customization and a variety of size options.
Amazon
We agree: zip-off pants are among the least stylish clothing items out there. But hear us out: they are actually super convenient, especially in fall when the weather fluctuates. Trust us, you'll be so grateful that you can cover or expose your calves at will depending on the whims of that autumnal breeze. These Columbia pants (also available in women's sizes) are not only easy to zip on or off, they're also quick-drying and breathable, which is important because getting and staying wet (whether through sweating or taking a tumble into an icy stream) can turn into an emergency situation in chilly conditions.