We independently source all of the awesome products and experiences that we feature on Thrillist. If you buy or book from the links on our site, we may receive an affiliate commission — which in turn supports our work.
Any outdoor space is worth cherishing, whether you have a sprawling yard, tiny patio, or simply access to your local park. And when the nights get dark or cold, a fire pit can create a little summer oasis that helps you do a better job of cherishing the outdoors. There are plenty of subtle touches that can quickly transform your backyard/patio/rooftop into a go-to hangout, but a backyard fire pit is certainly an important upgrade since it's the one thing that will keep you wanting to step outside all year long.
To pick the best fire pit for your backyard or outdoor space, consider what exactly you need. A basic fire pit or fancy fire table can be the perfect place to decamp with your nearest and dearest and toast to the day or keep the celebrations going after a fun BBQ, while portable fire pits can also go with you to tailgates, campsites, and casual park hangs. Some backyard fire pits are gas-powered for easier use, and many models even come with grill grates or the option to burn both wood and charcoal, so you can transform your fire into a grill.
If you've been on the lookout for the perfect fire pit to hang around this summer or sip cider cocktails around this fall, we've pulled together 10 budget-friendly options (including several that are city-friendly) that will take your outdoor area to the next level—no matter how much space you're working with.
Solo Stove
Best for: low-smoke fires, even if you live in the city
If you live in a city or crowded neighborhood with limited outdoor space, the Solo Stove Bonfire is a great option, providing all the perks of a proper fire pit without smoking out your neighbors. Solo Stove's innovative airflow design allows it to produce a good amount of heat by recirculating air (which also minimizes smoke), plus, it's a compact 20 inches in diameter so it won't overtake your patio. It also weighs just 20 pounds, making it easy to put away when needed.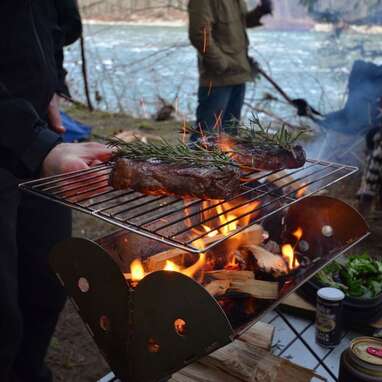 L.L. Bean
Best for: budget-friendly portability
Ultra-affordable and ultra-portable, it's hard to find fault with this portable fire pit-meets-grill. The fire pit packs flat so it's easy to store or carry, and you can choose from a very compact, lightweight medium size (which weighs just over 3 pounds) or a 9.5-pound large version, depending on what makes sense for you. Cook on the included grill grates, or just enjoy the light and the heat.
Wayfair
Best for: large groups
Part table, part fire pit, this 33-inch square setup is the perfect centerpiece when you're hosting a larger crowd. It's made from sturdy steel, with a lip at the edges where you can rest cocktails or s'more fixings. The center of the table is where you'll find the "pit" part of the fire pit. Place the included spark screen over the fire to prevent stray embers from escaping, or utilize the included cover to protect the fire pit from the elements in between uses. The fire pit also comes with a poker, so you can be sure you're making the most out of every log.
BioLite
Best for: high-tech flames
Whether you want a setup that's easy to store between uses or you're looking for a fire pit that you can tote to parks, campsites, and beaches, this nifty option from BioLite makes it easy. The under-20-pound design has handles for carrying, and can burn up to four logs at a time. Patented airflow tech uses a battery-powered fan for more efficient flames that never get too smoky, and you can even control the fan with the companion app if desired. Best of all, the fire pit can produce more than just cozy heat — replace the logs with charcoal, place the included grill grate on top, and you've got yourself a hibachi-style grill worthy of cooking up veggies, hot dogs, and more.
Amazon
Best for: quick, easy fires with minimal ash
From the makers of the traditional Tiki Torch, this hefty and highly rated fire pit is constructed from 16-gauge stainless steel and features a special airflow system that allows the fire to catch quickly and burn longer—all while producing less smoke and ash. A removable ashtray makes cleanup easy, while an included cover protects the fire pit from inclement weather. The fire pit also comes with wood pellets to make starting a fire that much simpler.

Much like those nostalgic red, white, and blue popsicles that were summertime staples when you were younger, these new Smirnoff flavors will be your go-to adult beverages this summer. We're especially loving the Red, White & Berry flavor—it's infused with notes of cherry, citrus, and blue raspberry that's refreshing on its own or served with your favorite cocktail.
Please Drink Responsibly. The Smirnoff Co., New York, NY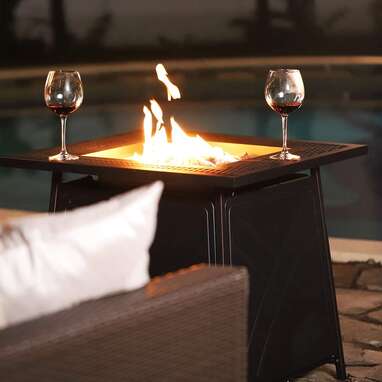 Amazon
Best for: easy, gas-powered fires
Although a wood-fueled fire pit is classic, a gas-powered version makes it a lot easier to enjoy the glow and warmth night after night, without stocking up on logs. This handsome propane-fueled fire pit table ignites at the flip of a switch and produces both heat and a beautiful glow courtesy of the included blue "fire glass" that glistens in the flames. When you're not enjoying a fire, you can cover the fire pit with the included lid, transforming it into a usable table.
Wayfair
Best for: rustic farmhouse-style yard decor
If you're interested in a super functional outdoor piece that also offers some rustic farmhouse-style flair, this chiminea provides both. The sturdy steel design has a rust patina for some antique charm and a triangular shape that's 70 inches tall. Once you've lit your wood fire inside the chiminea, its chimney will guide smoke upwards, away from your seating area, and a mesh screen will prevent sparks from flying. It's more outdoor fireplace than fire pit, but it's sure to keep you warm and illuminated in your backyard all the same.
Home Depot
Best for: spooky or woodsy vibes
Offering a 360-degree view of your fire, this globe-shaped pit features a tree branch design that's just right for a night in the woods—or for making your backyard feel more like a forest. The orb design encloses the fire entirely within a mesh cage, so you can rest assured rogue embers won't float up or into your face. A pivoting door allows you access to the fire, so you can easily refuel with logs as needed.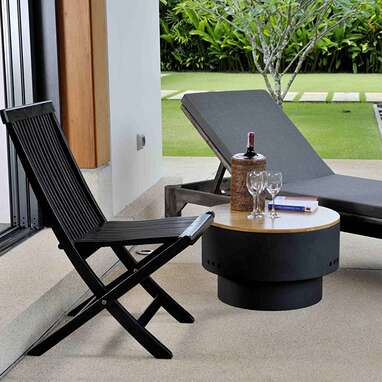 Amazon
Best for: when you need a fire pit and an end table
Whether you have limited space or just appreciate multi-functionality, this fire pit has you covered. When you're not planning to light a fire, it serves as a stylish cocktail/garden table. But, when you remove the wooden top, it transforms into a modest wood-burning fire pit, with an internal fire "cage' that keeps its finish protected while giving off atmospheric lighting and heat. It even comes with a grill top in case you want to flip some burgers, too.


Home Depot
Best for: using as a sculptural centerpiece
If your ideal backyard vibe is an austere sculpture garden, then this concrete half-moon-shaped pit should be on your radar. At 30 inches in diameter, it's a substantial centerpiece for any backyard hang, and it comes with a grilling grate, barbecue grill, and spark screen. It can be fueled with either charcoal or wood, making it super versatile, plus, it comes with a poker to help you keep the fire stoked and thriving.