Design by Maggie Rossetti for Thrillist
Design by Maggie Rossetti for Thrillist
A successful fishing trip is in the eye of the beholder. For some, the experience is all about enjoying the company of your friends while the blissful soundtrack of the water washes over the boat.
Others live for the thrill of wrestling the behemoth sea monster on the other side of the lure. Either way works—as long as you come prepared. From a disaster-proof rod roll that'll keep your equipment safe from the elements to a luxe, IPX7-rated speaker made to withstand a day on the water, here's some of the best gear you'll need to fish like a pro.
Rapala Fish 'N Fillet Knife with Sheath
Price: $21.99
While you certainly don't need to know how to fillet a fish to enjoy the fruits of your labor, keeping this Rapala Fish 'N Fillet Knife on your person will, at the very least, give off the impression you know what you're doing. This handsome fillet knife features a full-tang, progressively tapered Swedish stainless steel blade paired with a reinforced birch handle for style on the open seas. Or lake.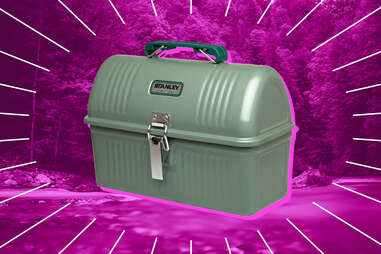 Stanley Classic Lunch Box
Price: $40
Much like an emerging brand trying to bait new users with tone-deaf memes and tweets fit for the top of r/fellowkids, you gotta have some patience if you want to get some bites. But when you're the only one ready to do the biting, Stanley's classic 5.5-quart lunch box is a solid choice for lunch on the go. Durable, secure, and guaranteed literally for life, it keeps your food safe from the elements (and devious flying fish) while the metal bracket inside the lid holds most Stanley 16-ounce bottles in place.
Patagonia Travel Rod Roll
Price: $69
Made from 100 % recycled surplus fabric, this lightweight rod holder can comfortably fit up to four fly rods without compromising on protection or style and has a water-repellent finish to keep your gear safe from the fishies. Crafted with a sturdy internal bracing structure, this rod roll is made to be moved from land to sea (and back again) without damaging your gear.
Polaroid Go Starter Set
Price: $119.99
As the age-old expression goes: pics or it didn't happen. Polaroid is a company that managed to rise from the ashes of bankruptcy by giving people what they want—proof you caught that uncatchable fish. Meet Polaroid Go: The most exciting thing to come from the brand since the Model 95 hit department stores back in 1948. This teeny-tiny, wearable camera is made for capturing unforgettable moments, like pulling a massive sturgeon out of the water only to lose it at the last second, and includes a ​​reflective mirror and self-timer for flawless selfies with Moby Dick.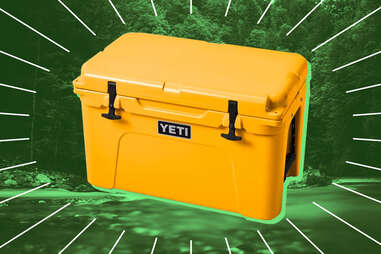 YETI Tundra 45 Hard Cooler
Price: $325
When it comes to keeping supplies fresh, like food, water, and the octopus you're debating keeping as a pet, YETI is generally recognized as the gold standard of coolers. Merging durability and versatility with style, this heavy-duty cooler uses rotational-molded construction with permafrost insulation to protect whatever's inside a heck of a lot better than wherever you're reading this from. Fun fact: YETI's Tundra 45 Hard Cooler features a bearproof design specifically made to keep out nosey grizzlies. So, keep that in mind the next time you're fishing in bear country.
Tronsmart Trip Waterproof Portable Speaker
Price: $28.74
Not everyone takes a speaker's susceptibility to water into consideration when making a purchase. It's about how loud it can pump those jams, baby! Why not find a speaker that does both? Promising up to 20 hours of playtime, Tronsmart's IPX7-rated waterproof speaker delivers rich and immersive audio for trips that need a soundtrack. Seamless stereo pairing, a built-in microphone, and a handsome fabric handle give this speaker serious sea legs.
While the origin of the margarita, America's most popular cocktail, is steeped in folklore, many agree that it was invented in the West. And it's where the inspiration for Lone River Ranch Rita comes from—a premium brewed, margarita-style beverage inspired by its western roots. Ranch Rita's deliciously light yet refreshing taste hits just right, thanks in part to a hint of organic agave nectar and lime—making it the perfect summer sipper for any occasion.
Marley Natural Walnut & Glass Bubbler Pipe
Price: $120
What better way to honor the water (and all that lives beneath its murky surface) than by harnessing the power of H2O for your THC. Made from materials like walnut wood, glass, and metal, Marley Natural's Walnut & Glass Bubbler Pipe is a tactfully designed smoking device made for peaceful afternoons, whether you're on the water or ashore.
Columbia Men's Field Creek Big Horn Vest
Price: $90
They don't make vests like they used to. There aren't nearly enough pockets—who's with me? Columbia's contribution to the cutthroat world of sleeveless clothing comes in the form of this powerhouse vest. Made from Columbia's Omni-Shield technology, a water- and stain-repellent material, and featuring an exterior adjustable waist, chest pockets, and zippered waist pockets, this thing is about as adventure-ready as it gets.
Shinola Rambler Sunglasses
Price: $295
The beauty of these Shinola Ramblers is the versatility behind the shape. It sports a land, air, or sea vibe that stands out in any environment with a bold, retro look that belongs on a boat. Normally known for its exquisite watches, Shinola is a Detroit-based brand that clearly takes pride in design. Each pair of eyewear features scratch-resistant, blue-light-blocking lenses along with an anti-reflective coating for days when the sun hits the water like a mirror.
Duck Camp Brown Trout Hat
Price: $29
Where's the fun in taking part in an activity that leaves you smelling like the bottom of the ocean without paying homage to your fishy little buddies? Rest assured that this stylish cap smells nothing like the fish prominently embroidered on the front of it. Duck Camp's legendary Trout Hat comes in navy blue and has that classic yellow cord to drive home a vibe that screams nautical by nature.